Development, Promotion and Maintenance Ecommerce Business
on CS-Cart

CS-Cart Partner
We provide full development services for any-scale project on CS-Cart.

CS-Cart is a one-size-fits-all solution for startups, medium size businesses and enterprises.
Launch online stores, marketplaces for B2B, B2C or D2C projects.
Quick start from MVP with a powerful engine. Turnkey solution with features from A to Z, with comprehensive tutorials and settings documentation.
Run your business with opportunities for scaling. Integrate with a huge range of services: CRM, payments and shipments, renting.
Easy maintenance. Visual layout editor for storefront, just like sitebuilder. Mobile-friendly and geo-dependent storefront helps to adjust your project for the whole world.
Your New Horizons with Cart-Power
We provide a full range of services from analytics to testing. You get a complete and profitable product.
Complex solutions
We provide a complex approach: pre-project analysis, design, development, testing and release a final product. Suitable if you need a comprehensive way.
Development and optimization
We provide a full range of development services and automate business process. Suitable if it's time to scale your project.
Design development and layout
We will develop a convenient and memorable store for your customers. We'll implement your mockup to marketplace or store. Suitable for new websites and already working.
Audit and promotion
We will find out what bottlenecks of speed, help you to increase website conversion and improve usability.
Support for online store and marketplace
We are always in touch for stable work of your store and your certainty. We'll answer any question and help you to set up CS-Cart features.
The website is a provider of signal lights for emergency services, construction machines and personal transports. We've redesigned the website and highlighted on the store the main advantages such as easy refund policy, free shipping, quality assurance, and competitive price.
Visual product catalog and product page have become more informative, it has such marketing tools like:
ratings and reviews;
video reviews;
opportunity to ask a question;
add to wishlist;
how many purchases were.
Separate registration and checkout forms are easier to fill out. You never miss the best price with a subscription form.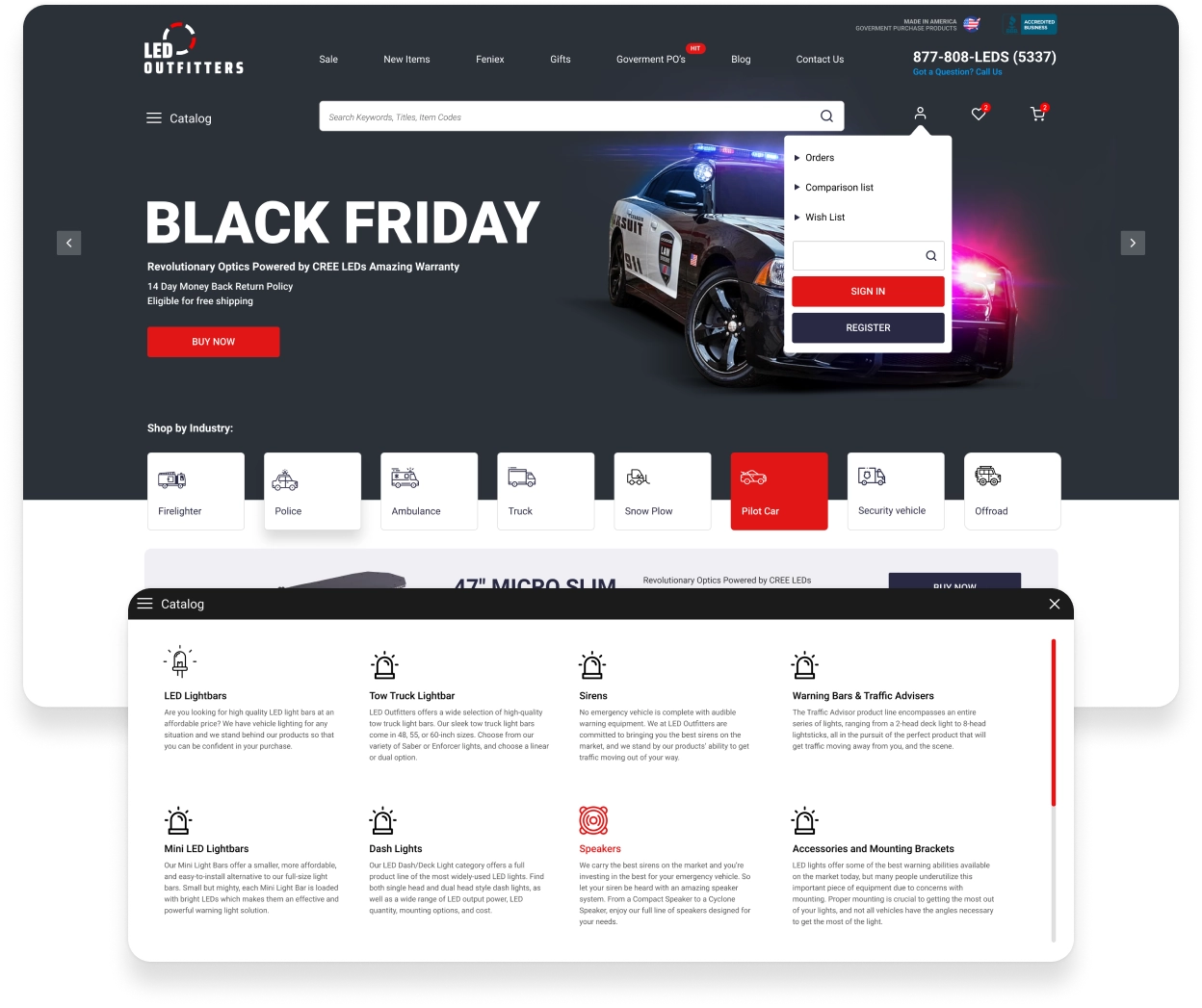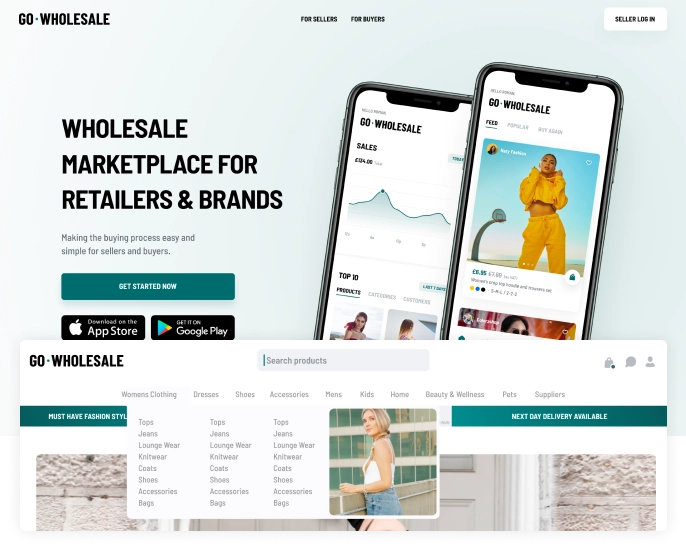 Gowholesale is a high-load marketplace with a wide range of products available for resellers. We've performed: Сomplete code refactoring; Optimized site working speed; Improved the mobile app;
Improved the next list of functionality: search, synchronization with Shopify, payment, integration, communication with customers.
As a result of work:
1700+ vendors attracted;
300к+ placed goods;
26к+ purchases made;
40% increased profit;
1350+ app downloaded;
200+ mobile sales in a month and a half.
The website offers customers to rent professional photo and video equipment. Automated estimated cost of renting based on order details. It's a flexible tool which calculates cost based on the number of days and days of the week.

The service lets customers take equipment in one geographical location and return it in another.

For checking the renter/lender/customer, we implemented enhanced verification using the Telesign, Emailage, and the USPS validators.
To make the service user-friendly, we developed separate forms of registration for individuals and legal entities. Convenient mobile versions help increase customer conversion.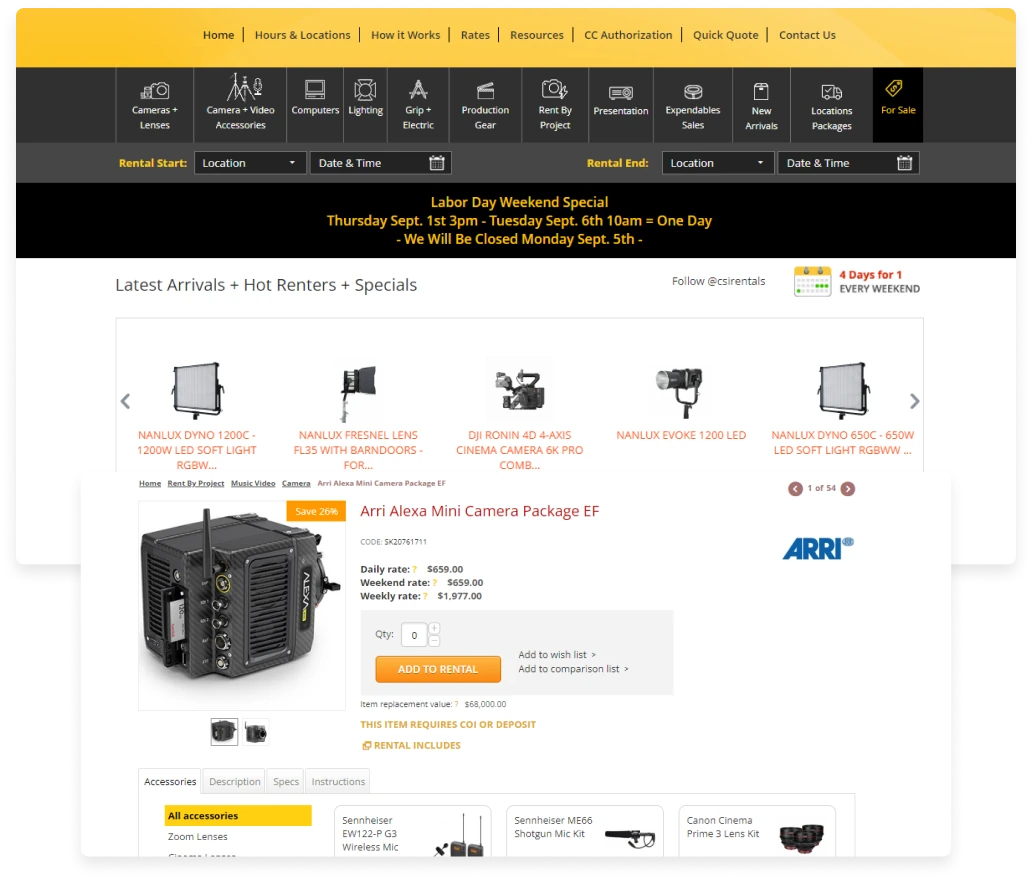 We work with clients from all around the world. Open mindset and immersion into the project help us stay among TOP developers.
labebe.ge/en
Karen Khachaturian
The best company we have ever worked with. Much more than just IT – thus who they are! Starting from the project evaluation to its final implementation, quick communication and after sale support - everything was and is being at the top. Yes, we h...
vectis.co.uk
Chris Hemingway
We can't thank the team at Cart Power enough for their highly professional approach to all of our customisation queries over the past 16 months. Considering the potential language barrier, they understood the requirements of each new add-on reques...
topmarca.com
Héctor Betancur
Thank you very much, you were very helpful, you are awesome. Excellent job and service. Keep working like that!
limetreehomeinteriors.co.uk
David MacLeod
A friendly, knowledgeable and efficient team. Excellent communication and I am looking forward to working with them on more projects!
fairfox.shop
Thomas
Having worked with several devs I can confirm that Cart-Power is a safe bet! They do solid work for reasonable prices and short waiting periods. Another important thing that really sets them apart is that there is virtually no language barrier.
bitspeed.nl
Bitspeed Computer Systems
Very professional developers. They rebuilt our webshop with the Youpi theme and some new addons and were very helpful with some little issues we had. Quick response when you have any questions.
k9shop.nl
Ralph Sweebroek
Cart-Power is a good company with the proper experience to do correct work for my company. Hope we will have a long and profitable business relationship together.
electricmojoguitars.com
Charles
Working with Cart-Power was amazing. They developed a custom add-on for our website and were super helpful and responsive throughout the whole process. Highly recommended!
Nikolaos
They are really professional. Good after sale service and solve all the problems. Thanks Cart-Power. Will come back to you again!
Krasnostop.ru
Andrey Stukalov
Our relationship with Cart-Power is not long, but for the whole period of work we had never had difficulties, which made have a question about their competence. Our partnership based on respectful and expertise thank to high efficiency teams work....
10 years of professional development services for online businesses of any scale.
TOP CS-Cart developers since 2014

Let's discuss your idea
We will provide you with any help to create your project, estimate the time and the cost of your marketplace
Нам доверяют
Работаем с клиентами по всему миру.
Быстро находим общий язык и основательно погружаемся в проект.
Открытый взгляд ко всему новому помогает нам оставаться в топе лидеров рынка и предлагать лучшие решения для бизнеса.