CS-Cart Licenses
for Online Stores and Marketplaces
Choose a ready-made solution and launch your business with Cart-Power.
CS-Cart licenses for online-stores
Cart-Power is a Certified Reseller and a Golden Partner of CS-Cart.
All licenses have a 30-day return guarantee, regardless of the reason.
Everything you need to quickly build a store from scratch
500+ features for full store management
Integration with warehouse accounting systems
Distribution of privileges among administrators
Simple launch of an online store without modifications
Unlimited storefronts
Stores and warehouses in different cities
REST API Admin panel
Easy installation on the server
CS-Cart Multi-Vendor licenses for marketplaces
Suitable for any business: for product or service marketplaces, for B2B, B2C, D2C eCommerce projects.
Quick launch of an MVP marketplace
500+ essential features
Full access to the code
Visual theme editor, CMS, texts & translations editor
Customer care Standard
Full-scale marketplace with a mobile application
Everything in Standard, and:
Mobile application
6 extra features for vendor administration
Over 70 payment methods for vendors
Customer care Plus
Advanced functionality for multiple domains with one storefront
Everything in Plus, and:
Multiple storefronts to run a multi-location marketplace
Warehouses
Mobile app source code
Customer care Premium
Lifetime licence available 
Perpetual license for a marketplace with multiple storefronts
Everything in Ultimate, and:
Lifetime license
One year of free updates
Free year of subscription to the source code of the mobile application
What you get with any license: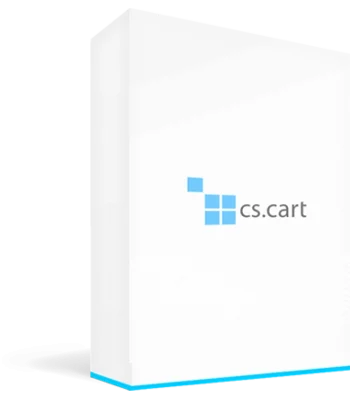 Intuitive website builder
Video tutorials on setting up
Simple and intuitive admin panel
Responsive design for mobile devices or a ready-made application
SEO optimization
Fast loading / unloading of products
Set up assistance
Consulting and training of your employees
Assistance in renting a hosting/server
Help with buying a domain
Free updates
Cart-Power Add-ons for CS-Cart
Simple and ready-made solutions for expanding the capabilities of an online store and marketplace.
Easy to embed and do not disrupt the site.
We collected 9 tools for SEO optimization and search engine promotion: SEO optimization, SEO templates, Advanced XML sitemap, SEO for brand pages, Advanced tags / SEO for tags, SEO for images, SEO for filters, JSON-LD microdata, Open Graph microdata. All add-ons complement each other to get the max SEO effect.
All features you need for successful email marketing. Use placeholders to customize notification templates for abandoned carts, wish lists, viewed products, event notifications, product review requests. Manage client subscriptions to notifications, set up optimal sending periods and the volume of messages sent.
The Live Search add-on is a free-of-a-monthly-fee alternative to cloud search services.
Clustering caching system provides maximum search speed in stores with a large number of products.
The Power Blog add-on allows you to work with different content – text, images, videos, publications about places and events with marks on the map, in order to write useful articles related to your store and get additional search traffic.

Shipping and Payment Restrictions
Flexible management of the availability of delivery and payment methods on the checkout page depending on the conditions: user group, delivery address, items in the cart and their categories, cart amount or subtotal of the order.
WebP Images add-on allows you to increase the performance of your store by reducing page load time. The module automatically converts images to a modern WebP format without quality loss, as a result of which images weigh, on average, a quarter less than their PNG and JPG sources.
Not sure which license suits you?
Ask all questions to our team if you have any doubts about the choice of license or add-on!