Technical Support for Online Stores
We'll answer any question, help you with and set up all CS-Cart features.
We fix bugs fast to minimize the downtime of your project.

CHECKING THE WEBSITE FOR ERRORS
It is important not only to fix the bugs at the right time, but to prevent them from occurring in the future.
SETTINGS UP ADD-ONS AND LAYOUTS
We will help by setting up new add-ons so you don't waste time on reviewing the documents.
EXPLAINING THE PRODUCT FEATURES
If CS-Cart documentation is not enough, we'll provide assistance for any product queries.
FIXING BUGS
We'll correct hiccups and shortcomings for the best site usability.
QUESTIONS ABOUT ECOMMERCE
Answers on questions about ecommerce or CS-Cart are more accurate because they are answered by experts.
Technical Support Workflow
01
You can make a request by 2 ways:
02
Customer support specialists will estimate answers with credits
Credits are internal unit of time taken to help a client
03
After researching a problem, the support specialist gives a comprehensive answer
Buy a credits package in the
Be assured of the every solution quality with Cart-Power
When there's an emergency
We'll carry out analysis and logging to investigate the problem.
We'll examine and resolve addons conflicts.
We'll adapt the addon with external services.
We'll tell you how the addon works and help with setup.
When the cause of the problem is unknown
We'll investigate problems with the operation of third-party addons.
We'll study problems in the operation of a store or marketplace.
We'll find and eliminate errors.
When you need comprehensive care
We'll install and configure addons.
We'll investigate and resolve conflicts with other addons.
We'll log and debug the operation of the addons.
We'll adapt addons to your website.
We'll answer any questions.
+4 hours of individual modifications per addon.
50% discount on Cart-Power addons (compatible with version 4.10+)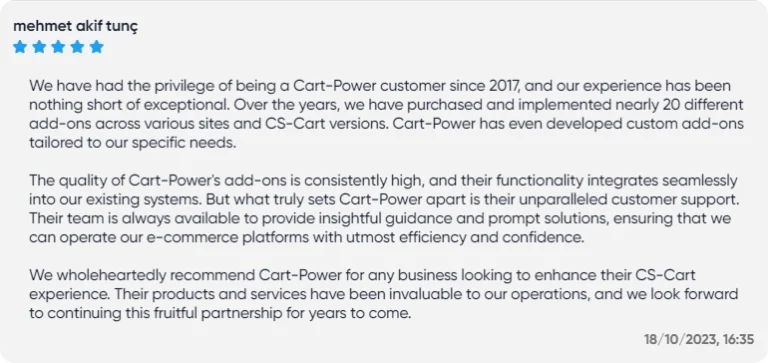 Your Trusted Partner in any situation!
Share your idea and we'll offer an optimal solution