In the previous article, we listed 12 elements that will make your product page ideal for online store visitors. However, these are not all the subtleties that you need to know about. Product pages should also be attractive to search engines.
If a relatively large online store has several dozen categories, then the number of products can be in the thousands. This means that most of the site is made up of product pages, and their SEO optimization will positively affect the promotion of the online store as a whole.
Consider what should be in the product page for good SEO indicators, and most importantly, how to set up and fill in these elements correctly.
Structured Data
Product pages use Schema.org structured data. It helps search robots understand where, for example, the price of a product is indicated, where is a description, and where is an image. Then the search robot will be able to correctly analyze the information, determine how relevant the information on the page is to the user's request and display it when generating snippets. From the informative snippet, the user finds out what awaits him when he goes to the product page. As a result, this increases the attractiveness of the resource in search results.
Here is how the product page snippet with structured data looks like in the search results:

In CS-Cart, Shema.org structured data for product pages is implemented by default, there is no need to buy or configure anything. You can read more about structured data in the article "All you need to know about structured data in an online store on CS-Cart" .
Meta tags
In short, meta tags help search robots to recognize the information on the product page: to understand what request it should be shown in the search results for and what exactly to show. For a product page, you need to fill in four meta tags: title, description, h1 and keywords.
Title
This meta tag must contain a keyword, usually the product name. You can also enter the brand, model, city, important characteristics and commercial entries (the words "price", "buy"). The title size should be 70-80 characters, this is how many search engines recognize and display.
Don't do it when you are filling a title:
list words separated by commas: for example, "plastic windows, buy, price, moscow, cheap";
make the title the same as the h1 heading;
make the title of one product page the same as the title of another. Within one site, all meta tags must be unique;
use period, exclamation or question marks.
What you can do, when you are filliing a title:
use dashes, commas, colons, and parentheses.
This is how the Title looks like for the user: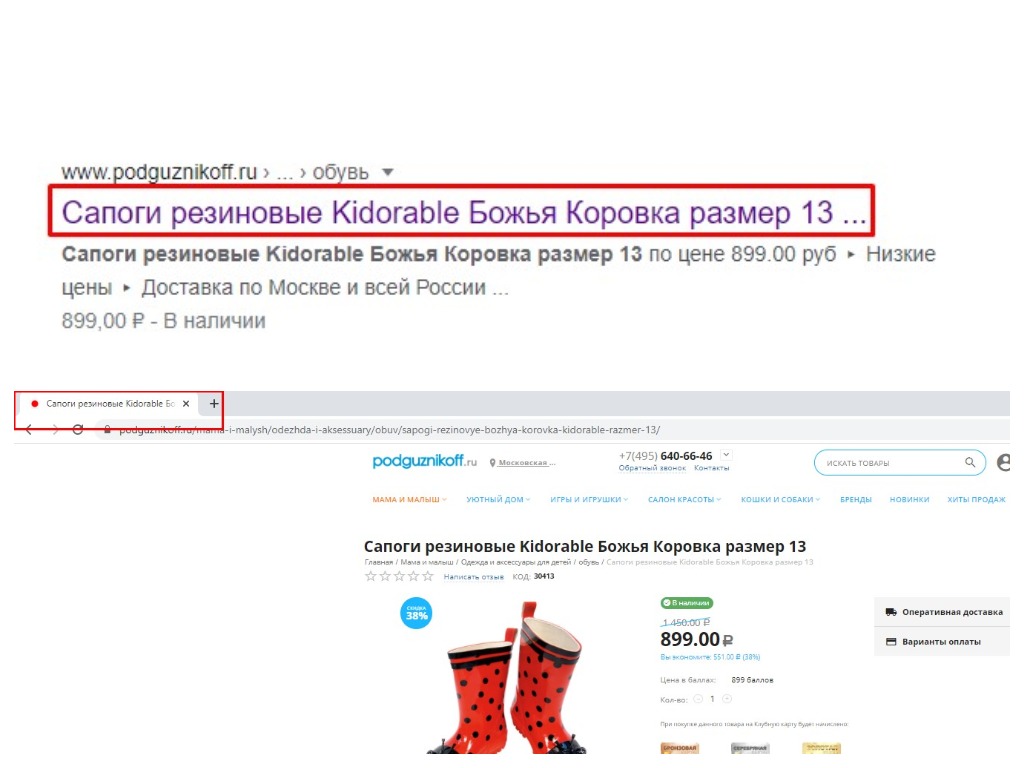 Universal template for title:
[product name] — [manufacturer] — [model number] — [specs] — [article number].
Description
Description should not repeat the title, but expand it. This meta tag includes the product name, brand, model, characteristics, shipping and warranty information, call-to-action, special characters. The length of description must be between 70-156 characters.
When filling description, don't:
use a period, exclamation mark, or question mark.
What you can do, when filling description:
use dashes, commas, colons, and parentheses.
For a visitor to an online store, the description looks like this:

Universal template for description::
[Product name] [brand] at the price [price] rub. Delivery to [city]. Full range of products on the site. Order [product name] now by calling [phone].
Heading Н1
This is the main heading of the text, in which you need to enter the name of the product.
Basic rules for the h1 heading:
it must be written on every page of the site;
there can only be one h1 heading per page. If you need more headings on the page, use h2-h6;
the text in the h1 heading should be different from the title.
This is how a visitor to an online store sees the h1 heading on the product page: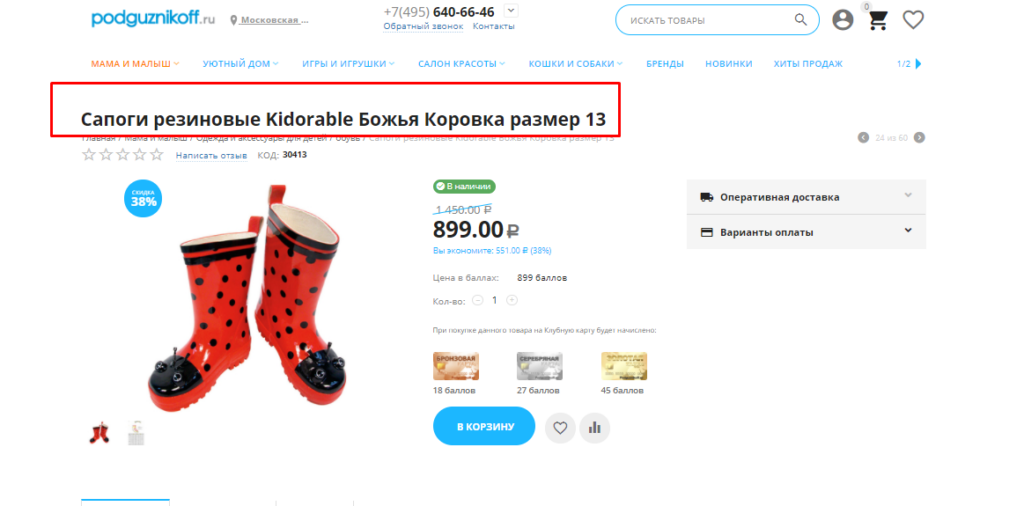 Keywords 
These are the keywords for which the page is being promoted. The user does not see them, they are only needed for the exchange of information between the online store and the search engine.
For keywords, you need to take only those queries that are on the product page. Usually these are the 2-5 most significant words from the title. Key words do not use punctuation marks, but are separated by a comma.
For example, the title on the card of this product is "Dolemikki all-wheel drive racing car buy at a price of 306R | Wholesale store G-Shopping":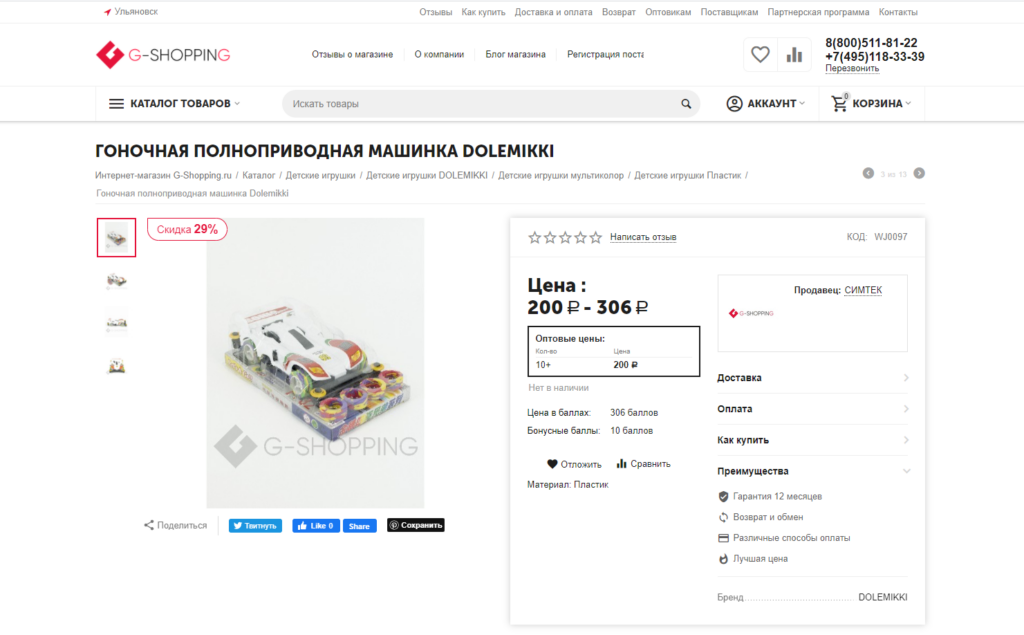 From this title, two keywords are composed: "buy Dolemikki all-wheel drive racing car" and "buy Dolemikki all-wheel drive racing car in Moscow". As you can see, there are no punctuation marks inside, but when filling in the data in the administrative part of the online store, these keywords will need to be separated from each other by a comma. Like this: "buy a Dolemikki all-wheel drive racing car, buy a Dolemikki all-wheel drive racing car in Moscow."
It is important that the keywords for each page are unique. If this is too laborious, then it is better not to fill in the keywords at all than to duplicate them. Duplicates greatly worsen the position of the site, and only one page from the duplicates gets into the search results.
The easiest way to work with meta tags in an online store on CS-Cart
The fastest and most convenient way to work with metadata in an online store is to set up a template, according to which everything will be filled in automatically. In CS-Cart, this can be done with the "SEO Templates" add on . Below we have given an example of how it looks from the side of the administrative part of CS-Cart. Placeholders and text can be taken differently, detailed information is in the documentation on the module page.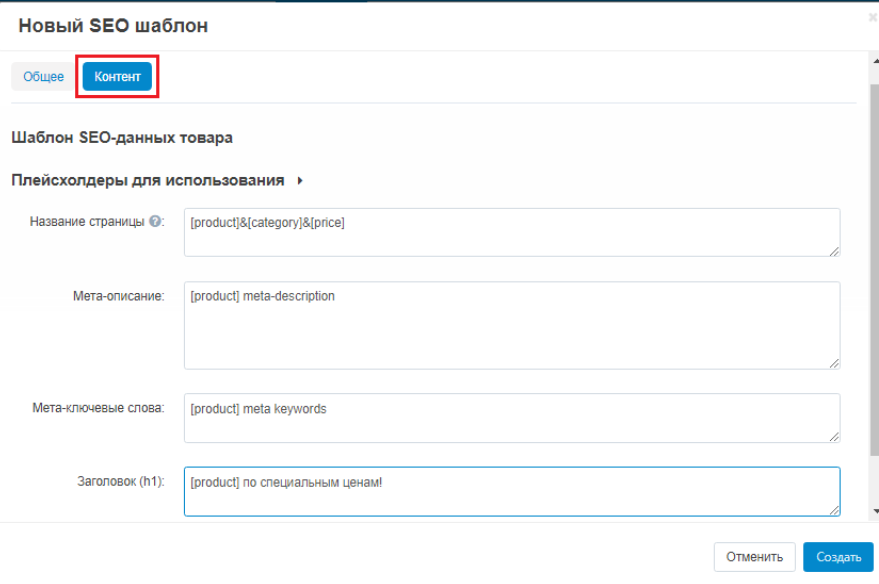 Breadcrumbs
Breadcrumbs – a navigation chain from the main page to the current page. This element is useful both for the user (it is easy to return to any previous page) and for SEO (gives additional page relinking).
This is how breadcrumbs look like for a visitor to an online store: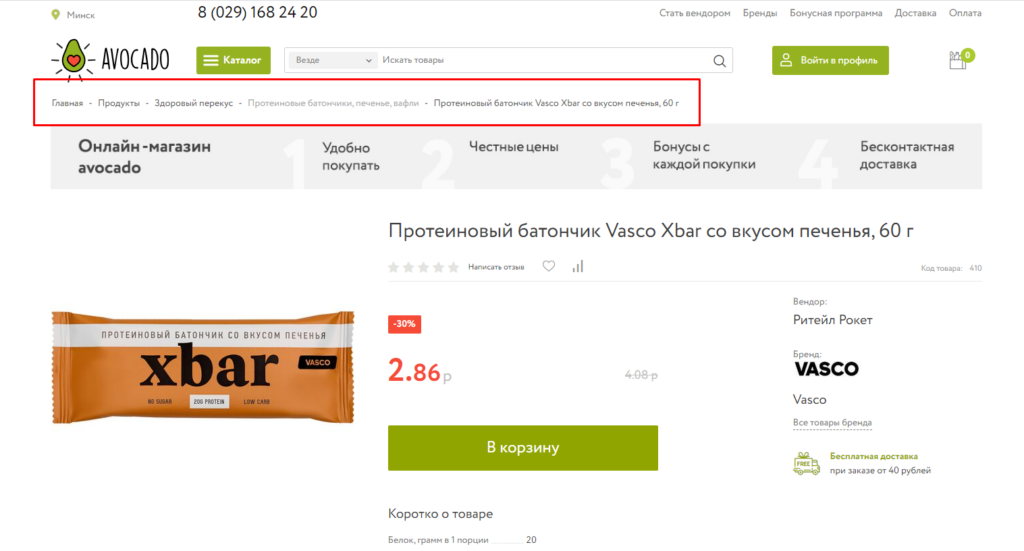 Breadcrumbs should be at the top of the page. Each element in the chain, except for the last one, must be clickable (if you make the last element in the chain clickable, you will end up with a circular link, which will negatively affect SEO).
---
Attractive design and usability of a product page without SEO-optimization does not make sense. Search engines won't see your products or won't rank pages high, which means users won't find you. The opposite is also true, if you have done good SEO, but people don't like your product page, then you will get a low conversion rate and a high bounce rate. As a result, negative user experience will reduce the position of the store in search results.
As you can see, everything is interconnected in e-commerce: you can't work on one thing and think that sales will skyrocket. The effect gives only an integrated approach. You need to constantly monitor the state of the online store and respond in a timely manner to a decrease in SEO indicators.
Choose SEO promotion from Cart-Power. A whole team of professionals will work on your project: not only an SEO specialist, but also a programmer, designer, marketer and copywriter. We will conduct a free preliminary audit of your online store. On its basis, in the first month of work, a promotion strategy will be created that is right for you. We will increase targeted traffic to your site and achieve an increase in conversion.
Do you need SEO promotion?
We will promote your project and help to increase conversion
Subscribe to stay up-to-date!
I want to be notified about ecommerce events.
Subscribe to stay up-to-date!
I want to be notified about ecommerce events.