When we enter a query into a search engine (for example, "buy an apartment in Moscow", "lunch delivery to the office" or "book a hotel in Prague"), we see that some sites come out on top in the search results, and some It can be found only by scrolling through a few pages. If your online store is far at the end of the list, then the buyer simply will not reach it. Targeted traffic will not get to the site, and there will be no sales. What to do? Answer: optimize.
Search Engine Optimization (SEO) is a set of actions aimed at moving your site to the first pages of search results.
The best place to start SEO is with internal optimization. Usually, after an audit, any site has technical problems that need to be addressed. We have collected the main things in one checklist so that when optimizing your site, you do not forget anything.
1. Robots.txt file
When a search robot crawls a site, it first of all reads the robots.txt file. This is a plain text file that tells the robot which pages to index and which not to. If the file is missing or incorrectly configured, the robot will even see the site's system folders, where users' personal data is stored, and may skip important pages. Therefore, website optimization always starts with robots.txt:
check for robots.txt. To do this, add /robots.txt to the site address in the browser search bar or find the file in the root directory. In many CMS in the administrative panel there is the ability to create and edit this file;
determine which directives to include in robots.txt. Each CMS will have its own directives. It depends on the structure of the site. We recommend that you always close from indexing: site pages under development, pages with parametric links, links to pagination pages, technical pages, personal data of customers. You can find this by parsing the site using special programs (for example, Screaming Frog SEO Spider). The reverse situation may also arise when you need to open certain sections for access by a robot (for example, Google Mobile-bot, which indexes mobile content). You can find out if the Google mobile robot reads your site correctly through the Google site mobility checker;
include a link to the sitemap in robots.txt to make it easier for the robot to find it;
check the correctness of the file using the Yandex Webmaster service or the Google analysis tool. Remember that Yandex and Google check the file for compliance only with their own requirements. If the file is correct for Google, this does not mean that it will be correct for Yandex robots, so check in both systems.
An example of a valid robots.txt
2. URL structure and format
A URL format in which it is immediately clear where the visitor is located is called user-friendly URLs. For online stores, this is especially important.
Compare:
URL optimization rules:
if the situation on your site is the same as in the first picture, correct the URL for user-friendly ones. This can be done manually or using CMS tools. If it is problematic to make user-friendly URL for a page, hide such a page from indexing through robots.txt. Don't forget the clean URL for the filter pages. Usually this can be solved with the help of special add on or improvements by the developers;
URL length should not exceed 110 characters. This recommendation applies mostly to category pages. Product names can be very long and difficult to fit into 110 characters;
The URL must contain only lowercase letters. For example, for a search robot, the links cart-power.ru/SEO_Optimizacia and cart-power.ru/seo_optimizacia are duplicates;
in the URL, use transliteration or translation into English. Choose one and keep the style throughout the site. There are many services for transliteration, you can easily find them on the net;
the URL must not contain any characters other than Latin letters and the "-" sign;
the URL must not contain two hyphens in a row, a hyphen at the beginning or at the end of a line;
if you have a multilingual online store, make sure that the same page in different languages ​​has different URLs.
3. Redirects
A redirect is a redirection of a user from one URL to another. It is used to ensure that the user immediately gets to the final version of the page with the current address.
When one page completely and permanently moves to another address, a 301 redirect (permanent redirect) is used.
Rules for using redirects:
if the URL of the page changes and you do not want to lose your place in the search results, then you need to put a 301 redirect from the old address to the new one. Remember that the presence of redirects in the internal structure of the site is bad. The overall rating of the site by search engines is deteriorating, so you should avoid changing the page URL if possible;
all pages without a slash at the end should redirect to the corresponding page with a slash (or vice versa) to avoid technical duplicate pages. It is necessary to come to a uniform format for all URLs;
set up a 301 redirect from www. your_site.com to your_site.com or vice versa. For us, these addresses seem the same, but for search engines they are different addresses with duplicate content or so-called "mirrors". In the search, in any case, there will be only one main mirror, so setting up redirects is required;
if your site has an SSL certificate, set up a redirect from HTTP to HTTPS.
4. Mixed Content
You need to check the site for mixed content. It appears if any page of a site with the HTTPS protocol contains content transmitted over the HTTP protocol. In this case, the page is considered only partially encrypted and therefore untrustworthy. You can solve the problem of mixed content by changing internal links from absolute (http://site.com/image/image.jpg) to relative (/image/image.jpg).
5. Site map (file sitemap.xml)
The sitemap is an XML containing the addresses of all the pages and images on the site. A proper sitemap significantly speeds up the indexing of pages by search engine robots, and they will not miss important pages when crawling.
For a correct sitemap you need:
remove links to service pages and pages closed from indexing;
leave links to pages that need to be indexed;
place an XML-map of images and an XML-map of video materials (if such materials are available). Google has requirements for these maps: for an image map, for a video map;
check if robots.txt contains a link to sitemap.xml. If there are multiple cards, they should all be listed in robots.
6. Pagination pages
Pagination in an online store is the display of a limited piece of information on one page. For example, you have 10 products displayed on one page, 10 on the next, and so on.
In 2019, Google published new guidelines for the design of pagination pages. Now we need to place all the content on one page using "infinite scrolling" or a button like "show more". We advise you to follow the recommendations of Google, but keep the paginator itself so that search robots can find links to products.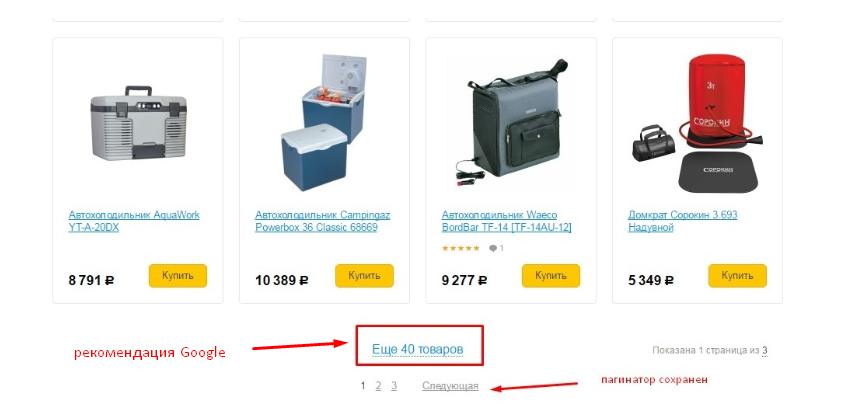 In order for pagination pages to be correctly indexed in both search engines, both the requirements of Yandex and Google must be taken into account at the same time.
7. Basic SEO data of the page (H1, Title, meta tags)
Pay close attention to this section, as SEO-optimized data influences the ranking of a site and helps to form the right search snippet.
Basic principles of page data optimization:
each page must have unique content in title, description, keywords meta tags;
each page must contain a unique title enclosed in h1 tags;
It is acceptable to use several h2-h6 headers on one page of the site and only one h1 header. At the same time, the h1 heading on each page must be unique within the entire site;
there should be no nested tags inside the h1 header.
To generate meta-data, many popular CMS have modules that perform this operation automatically according to templates. If your CMS does not have such a module, then you will have to resort to the help of a programmer or register all SEO data manually.
8. Pictures
Basic principles of image optimization:
image names must match their content or page content, for example, tshirt-size-S.jpg, not 1.jpg;
image titles must not contain spaces, punctuation, or underlining. If there is, change it to a hyphen;
each image must have alt (image description) and title (image title) attributes;
images should be placed as close as possible to the piece of text they illustrate;
images must be of good quality, it is possible with watermarks;
for a product, it is better to use at least 2-3 photos with a magnifying glass (enlargement) function.
9. External links
It is necessary to limit the use of external links as much as possible. If an external link is needed by meaning, then you need to add the rel="nofollow" attribute to it and enclose it in tags:

10. Website loading speed
Test the site in Google Pagespeed Insights. Your task is to enter the green zone, or at least reach 80/100 for both mobile and desktop.
11. Mobile version of the site
Creating a mobile version of the site is a prerequisite for an online store. According to shopolog.ru, the mobile audience in Russia in 2019 is 61% of the total number of Runet users. In order not to miss customers, the site must be displayed correctly on any device – computer, tablet or phone. Search engines take this into account and give priority to adapted sites.
Whether the mobile version of the site works for you will be shown by Mobile-Friendly Test. If everything is good, you will see: "Awesome! This page is mobile-friendly."
12. Micro markup
The use of microdata makes it easier for search engines to collect information and form an attractive search snippet. And this causes more clicks to your site.
Micromarking can be implemented on the following website elements: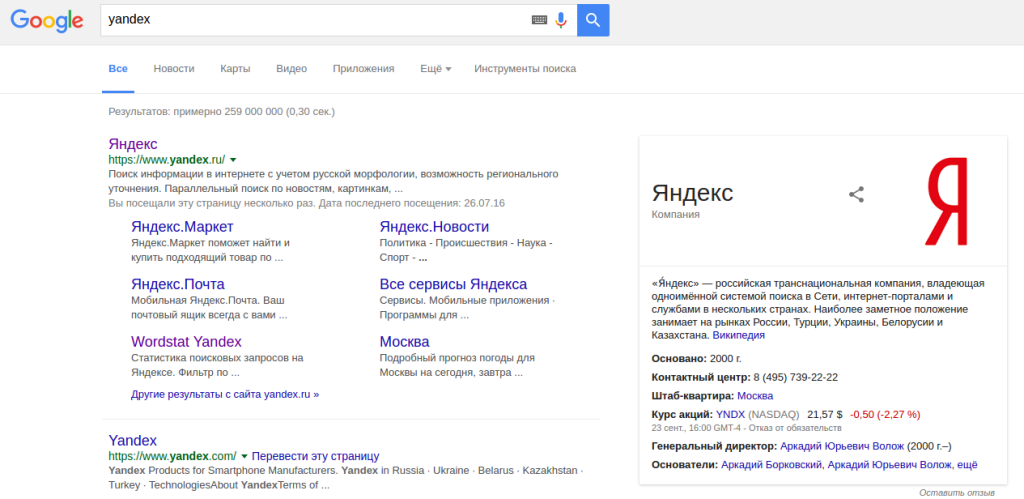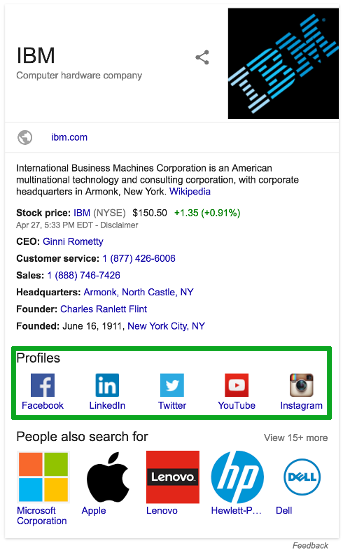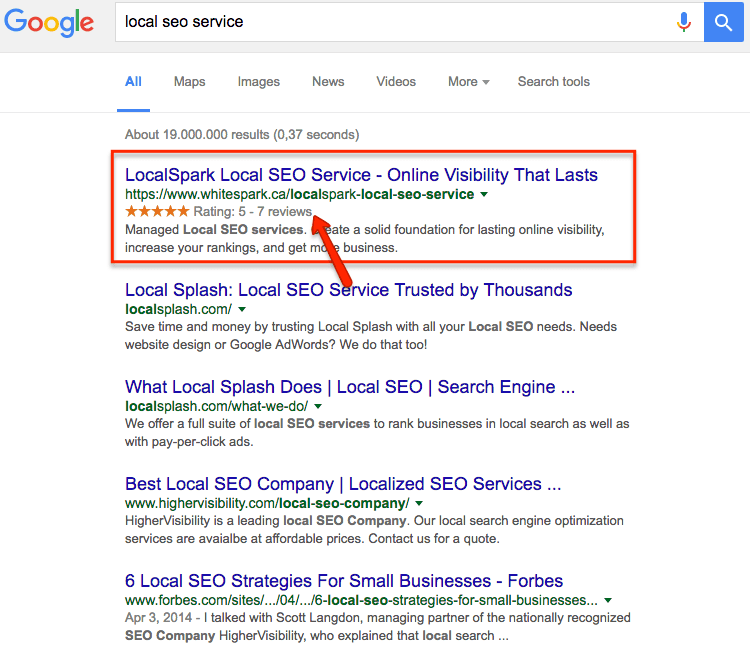 implementation of the Open Graph protocol. The implementation of such markup will allow you to set the title, description, photo, and other parameters that will be displayed in the page snippet when sharing to social networks.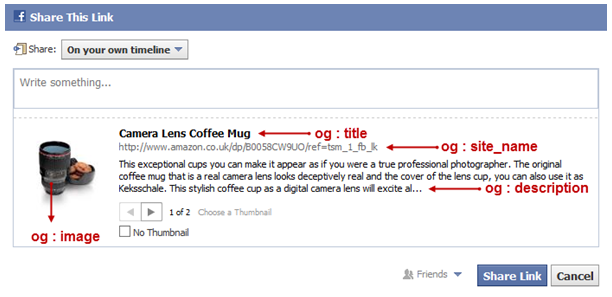 13. Social networks
Add social sharing buttons and subscribe buttons. This will help increase returns to the site, attract traffic, and most importantly, give a signal to search engines that your online store is of interest to users.
Sharing buttons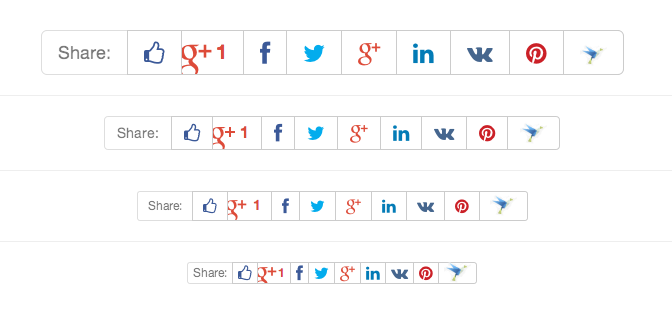 Subscribe buttons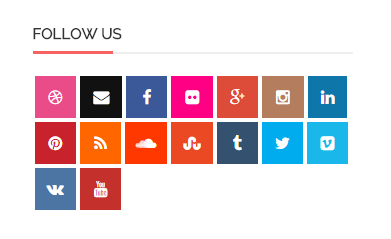 14. Error pages
Imagine that a user searches for a product in a search engine, goes to the website of an online store, but lands on a page with 4XX or 5XX errors. Of course, he immediately closes it. Statistics collection systems and web analytics define such user behavior as a failure. This, in turn, negatively affects the behavioral ranking factors. The search engine may conclude that the page is not relevant to the search query and lower the site's ranking.
This can be avoided by optimizing pages with 4XX or 5XX errors. Even if the user has landed on such a page, he needs to provide maximum useful information and keep him on the site:
404 error (page does not exist). A page with such an error should contain a site search form, main menu, useful articles and contacts (phones, instant messengers and e-mail). Apologize for the fact that the user did not find what he was looking for;
500, 501, 502, 503, 504, 505, 507, 510 errors (server error codes) . There should be two links on the page: "back to home" and "refresh page".
If internal errors on the server are repeated, this negatively affects search engine optimization. You need to contact the developers to fix the problems.
15. HTTP headers Last-Modified and If-Modified-Since
The number of pages of the site that the search robot indexes in one crawl depends on the quota allocated for this. It is logical that the quota should not be wasted on re-crawling content that has not changed since the last indexing. You can set the Last-Modified and If-Modified-Since headers, and then the crawler will crawl only new (updated) pages. Thus, page indexing becomes faster and more efficient.
How it works?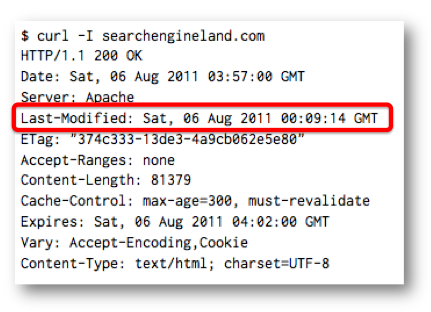 The purpose of the Last-Modified header is to tell the client (browser or search engine) information about the latest changes to a particular page.
The client then sends an If-Modified-Since header to the server. If no changes are found on the page, the server returns a 304 Not Modified header and the page is not loaded. If changes were made, this will be taken into account, and the server will return the "200 OK" header, that is, the page will load with updated content.
You can check the correctness of the headers in one of these services:
---
In the checklist, we have collected the main points of internal optimization of the online store. Do not forget to work with the semantic core and content, improve usability. There are hundreds of ranking factors in Yandex and Google, and their value can change at any time. Therefore, it is important to work on the promotion of an online store in a comprehensive manner.
Subscribe to stay up-to-date!
I want to be notified about ecommerce events.
Subscribe to stay up-to-date!
I want to be notified about ecommerce events.