Your online store is a platform where potential buyers come. How to find out whether it is convenient for visitors to use your site, whether they can easily find the products they need, how many of them reach the checkout? After all, all these actions directly affect your income.
To answer these questions, you need to collect and analyze traffic data. Having information about the behavior of the buyer, where visitors come from, what they do on the site, you can find out how they react to new products or promotions in your store. You can check if your ad is working and which audience is ready to make a purchase in the next 7 days.
Having the right data analysis tools ensures that you get the expected results from your investments.
Everyone who uses Google Analytics knows that as of July 1, 2023, Universal Analytics will stop working. Instead, you will have to get acquainted with the new version – Google Analytics 4. In the article we will tell you how to upgrade to the new version and what is useful in it.
Do you need SEO promotion?
We will promote your project and help to increase conversion
What are the benefits of using GA4
Google Analytics 4 is a completely new version of GA and is based on technologies that Google has been developing over the past few years. The main difference is that in the new version, all analytics is built around user actions, that is, events. In previous versions, page views, that is, sessions, were analyzed. The new approach allows you to better understand and measure customer behavior.
For example, if you have a running app running in the background on your phone. You want to unlock your screen and test your speed. Will it count as a pageview every time you unlock the screen? To correctly describe the user interaction with the application, you can name each event "page view" and "screen view".
As a result, it is still possible to analyze page views, but this is not the foundation for building all your analytics. Due to this difference, the activity on your site will be analyzed more accurately.
What other advantages are there in the new version of GA4:
Cross-platform tracking. 

The new version allows you to track and analyze data from both Android / iOS mobile devices and the desktop version at the same time.

Identification of users from different platforms. 

Previously, when accessing from a different browser, the user was considered new. 

The new system has 3-level identification, which will allow you to recognize the same user on different devices.

Deep statistics. 

You can view data on scroll depth, clicks on outgoing links, interaction with site search.

Purchase forecast analysis. 

By analyzing customer purchase data, the system predicts the likelihood of a purchase and the likelihood of bounces over the next week.

Research. 

Here you can create any reports by adding the necessary metrics. 

And the construction of these reports has become easier and more intuitive, thanks to ready-made templates.

Integration with BigQuery. 

Integration has become free, analytics data is stored for only 14 months. 

Further, it is better to upload them to the cloud database – 

BigQuery

.
So, to use the GA4 tools, there are two ways:
Set up a new account in GA4.
We go or create a mailbox on Google 

here

.

Create an account and resource in GA. The system immediately offers GA4.

Next, fill in the information about the company and set up the data collection flow: web, Android, iOS.

For a web stream, the system will give us a piece of code with a tag that needs to be inserted into the site.

For streams from Android, iOS, please contact Cart-Power support. They will help you with the mobile application of your site.
2. Add GA4 to a site that already has Analytics.
To migrate from Universal Analytics, use the Setup Assistant on the Admin tab. In this case, the collected data will be lost and the analytics will be collected from scratch.

To use both Universal Analytics and GA4, create another resource. The data will also be analyzed from scratch, but stored in Universal Analytics.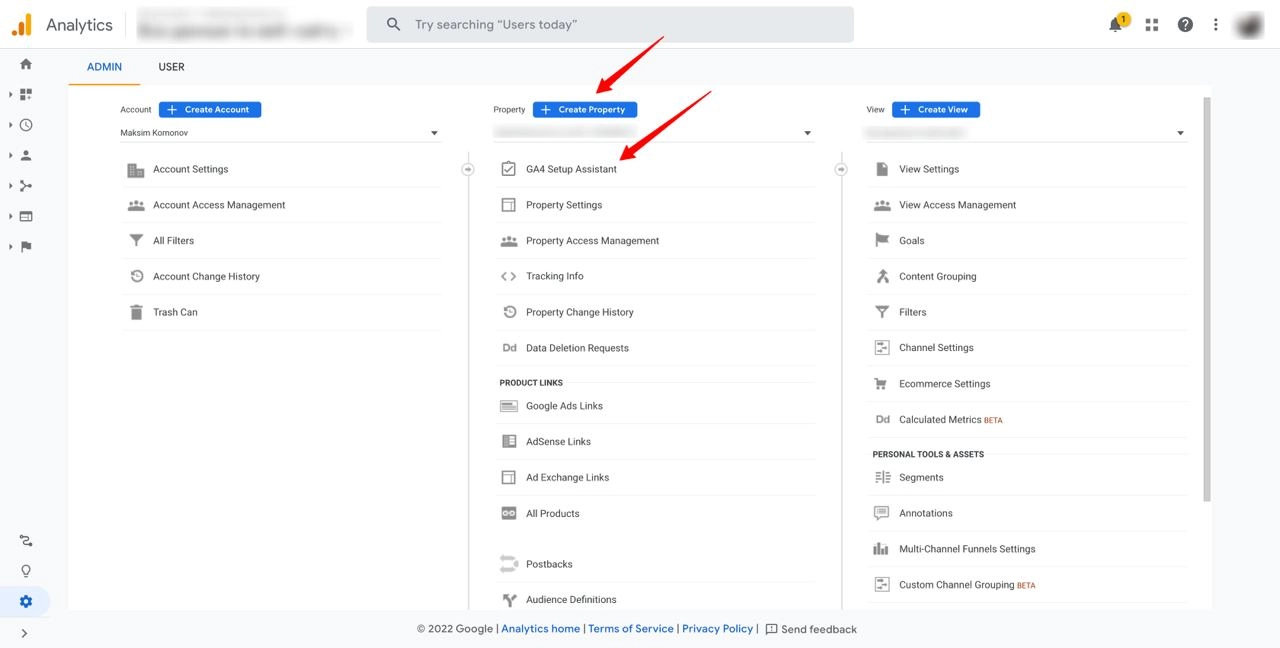 Important settings and work with the GA4 interface
It is very important to set up the correct data collection before working in GA4 so that some reports do not become useless. All basic and important settings before work are done in the tab Administrator.
In the Data storage

tab, by default, the data storage period is 2 months, do not forget to rearrange it to 14, or better, link the data to cloud storage (BigQuery).

In order for Analytics to receive all the necessary information, including from different devices, check whether Data collection for Google signals is enabled in 

Settings – Data collection.

In advanced settings for ad personalization, check which countries you need to enable to work with ads.

Be sure to click on the "I agree" button in Agree to the terms of collecting user data. You will warn the audience that visits your site that you are collecting and processing personal data. The appropriate warning should be on your site, Google can check it.

Check that you have Enhanced Statistics enabled in 

Data Streams

 in the selected stream. Here, as a bonus, information is collected on page scrolling, site search, outgoing clicks, video interactions, file downloads.

In order for the statistics to be more accurate, you should check whether internal traffic is disabled. This is especially true if your store still has a small number of visits per month. You can check this in 

the Data Filter

: Internal traffic Excluded. In addition, in the advanced settings of the tag in Dataflow, select "Define internal tag" and create a rule in which your IP address will be defined as internal data and will be excluded from analytics.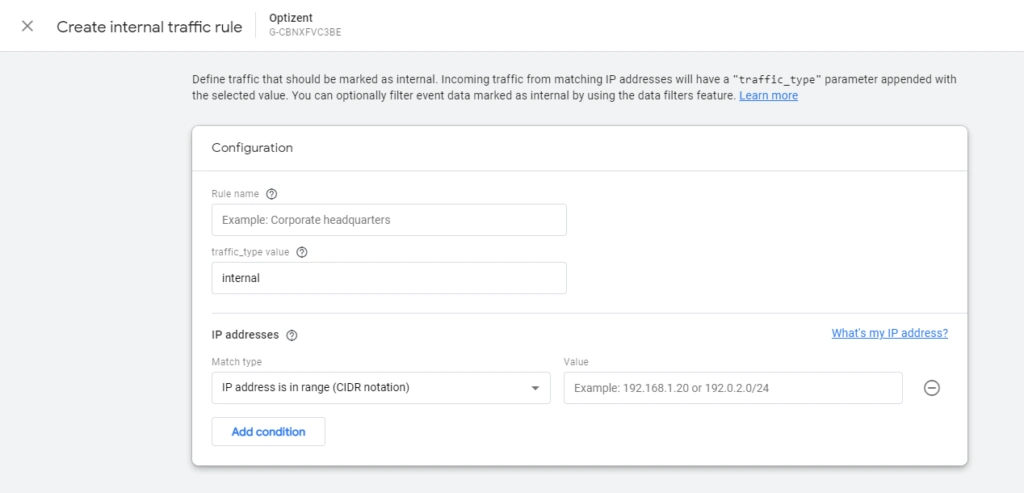 After you have created the rule, go back to Data Filters. We create a filter, select internal traffic with the exclude operation, the parameter value is the name that we wrote in the rule. Filter state, for starters, select "Testing", so the traffic will be marked, but not excluded. If everything works correctly, you can return here and set the status to "Active".
What and where to look in the interface
Now let's see what the interface is.
1.Reports
Summary of reports. 

All overview information is presented here in the form of dashboards: site visits, number of new users, time of interaction, where new users came from, user retention, the most effective pages, what events occurred during the selected period, etc. It's like a desktop, each report you can open and fall into its details. In addition, there is an interesting Hint tool. They track deviations in statistics and help you come up with new reporting ideas.

Real time report. 

It displays information about the actions that are taking place right now. You can see where the path in the user's conversion begins, what attracts more, what they begin to interact with.

Life cycle. 

It collects data on traffic sources (all information about user sessions), interactions (conversions, events), monetization (data on revenue and purchases made) and retention.

User. 

It collects information about demographic data (country, city, gender, age, etc.) and technical data (from which device, browser, platform, screen resolution, application version visitors enter and interact).
2. Research
Here are ready-made templates and useful reports, which we will discuss below. But other than that, you can customize and do your own research.
3. Advertising
Here you will see traffic reports from the Google Ads network. You can see how advertising works: the path through which the buyer came and made a purchase or conversion, etc.
Configuration. Events, conversions that you can customize and import are collected here. The DebugView tab shows user activity on the site over time. It will help you determine if the settings and changes you made recently are working correctly.
Useful reports and tools for online store
If you used a previous version of GA, you will notice that some reports are not in the current version. But the advantage of GA4 is that it gives you complete freedom to create your own reports in the Research tab. And to save time, there are a large number of ready-made templates.
Next, we will talk about the most useful reports for an online store.
How to find out the source of the main traffic and conversions?
Open the template gallery in the Research tab and select the Ecommerce industry.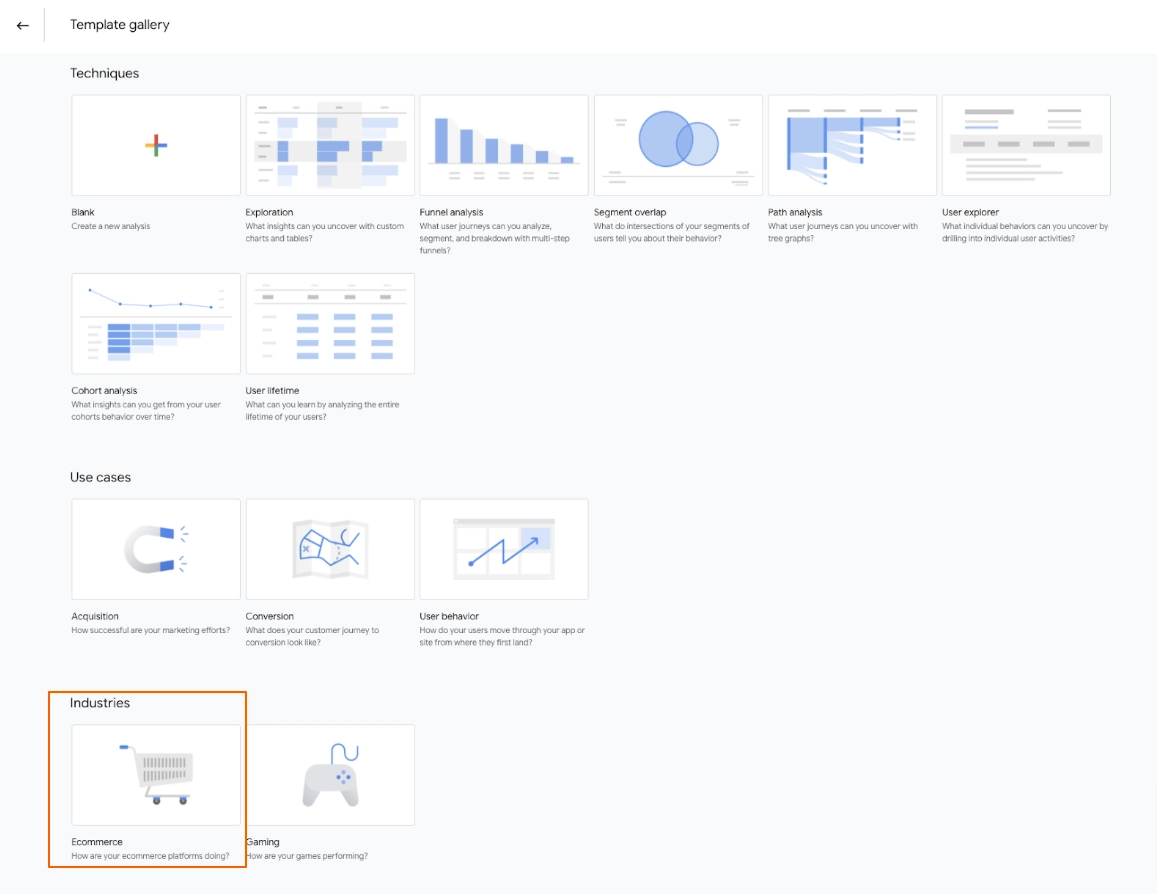 Next, you can set the target values ​​that you want to know for each source. For any online store, the most important metrics will be: transactions, conversions, and total revenue.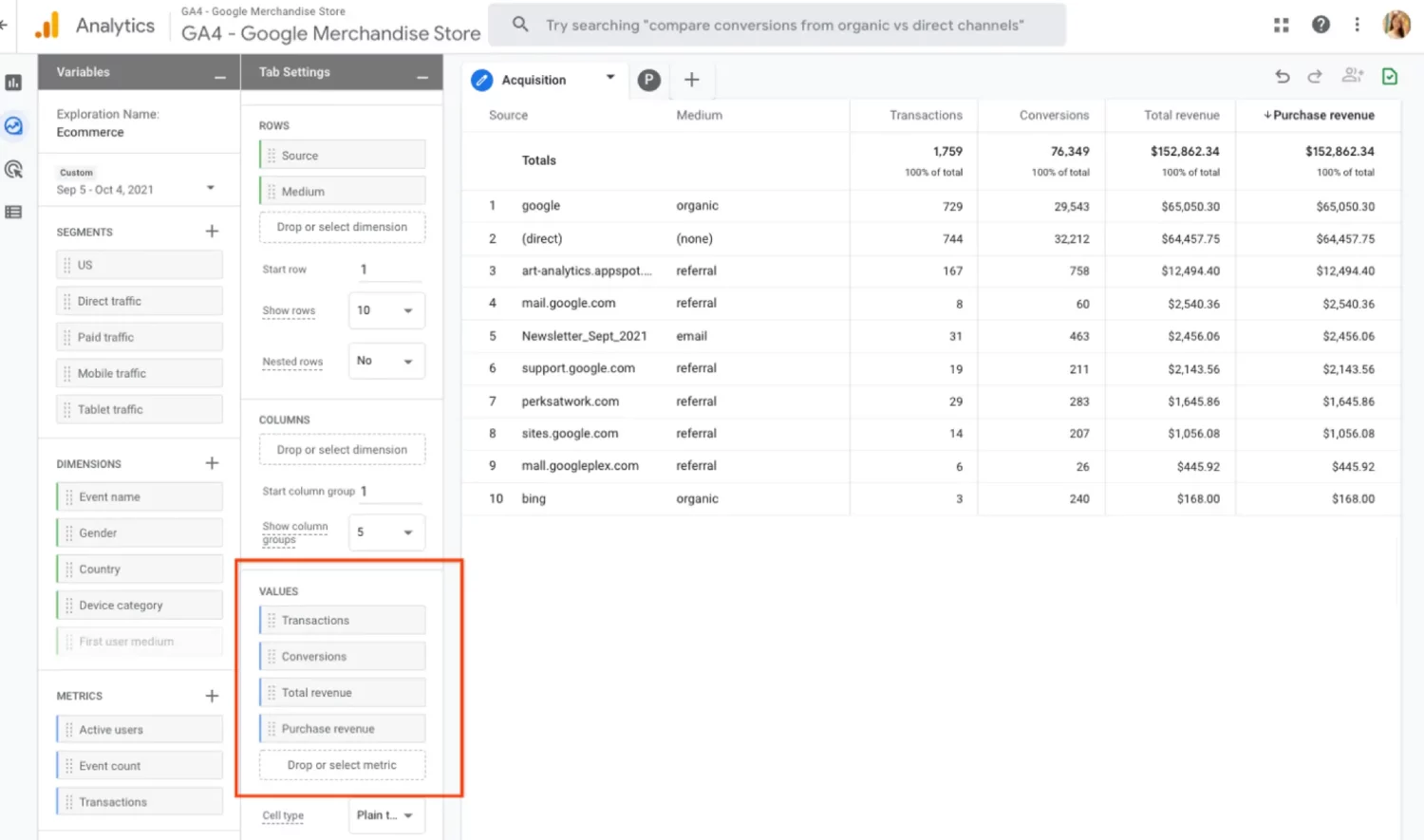 That is, thanks to this report, you can find out that, for example, more customers click on the link on Instagram and buy, but the total income it brings is less than from the Google website. Conclusion: You might want to invest in advertising on Google to attract more buyers and increase sales.
How to find the bounce rate?
To do this, go to the "Funnel Research". But before you study the data on the sales funnel, set up its stages. That is, what actions the buyer should take in your sales funnel. It could be:
view the product page;

adding to cart;

placing an order;

purchase.
Here you can add the "Time between steps" indicator, so you can understand how much time the buyer spends at each stage. If the buyer spends a lot of time on the checkout page, then he may not understand all the fields that he must fill out.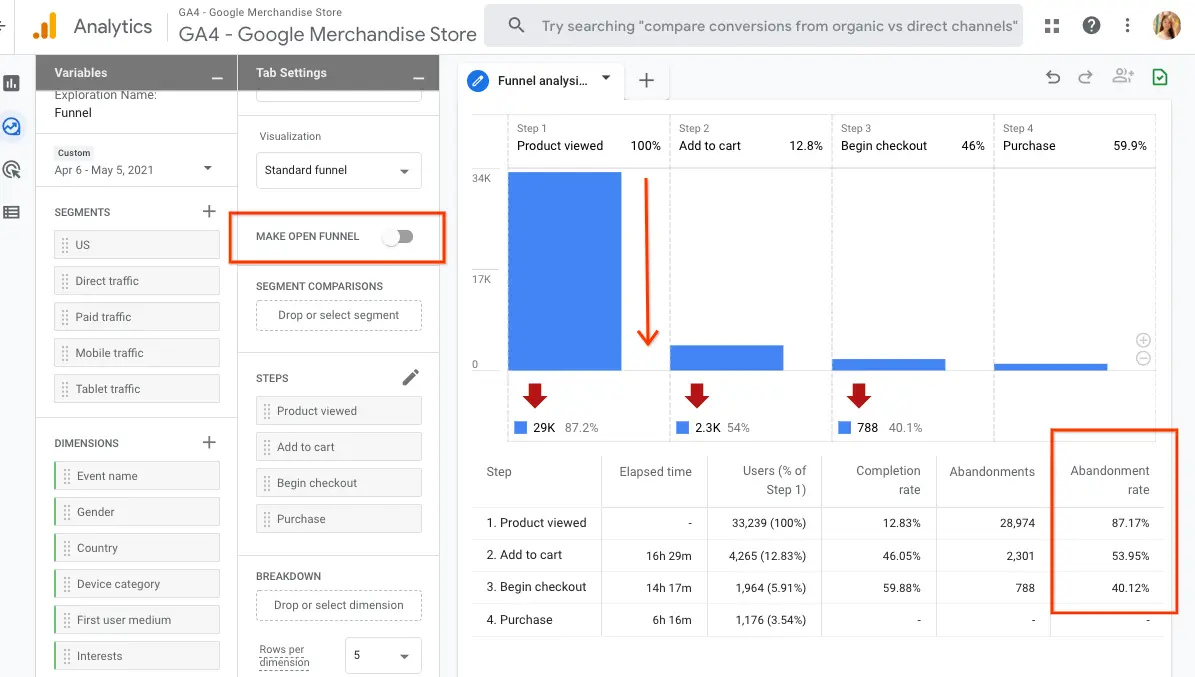 This report will show failure data at each stage.
For example, a product page or product card has a high page exit rate. This is a reason to think about what on this page repels buyers? Possibly insufficient product description or unattractive photographs.
Here you will also see information about abandoned carts. This is a field for thought on how to re-engage these users.
Sales funnel data can be analyzed by geography, gender, age, device type. All this will give you a better understanding of whether it is convenient to make purchases in your store for different categories of people, with different devices.
How to identify potential buyers?
Google Analytics 4 introduces predictive analytics that rely on more than just past data or demographics. In this version of Google, using machine learning, it assumes what the user's behavior will be. It is based on indicators:
Buying probability. 

The probability that a user active in the last 28 days will make a purchase within the next 7 days;

Loss probability. 

The probability that a user who has been active on the site for 7 days will not be active for the next 7;

Income forecast. 

Expected revenue from all user purchases over the next 28 days that have been active in the last 28 days.

Based on this data, you can understand how users will behave and build the right marketing strategy. These can be, for example, such predictive audiences:
Users with predicted high spending within 28 days – Predicted 28-day top spenders;

Users who can make a purchase within 7 days – Likely 7-day purchasers;

Users who can stop being active within 7 days – Likely 7-day churning users;

Users who can make their first purchase within 7 days are Likely first-time 7-day purchasers.
With this data in place, you can fine-tune ads with a specific offer to target visitors who are most likely not to visit your site. The same targeting of visitors who can make a first purchase will further push them to take action.
To create the predictive audience you want, go to Configuration – Audiences and create a new audience.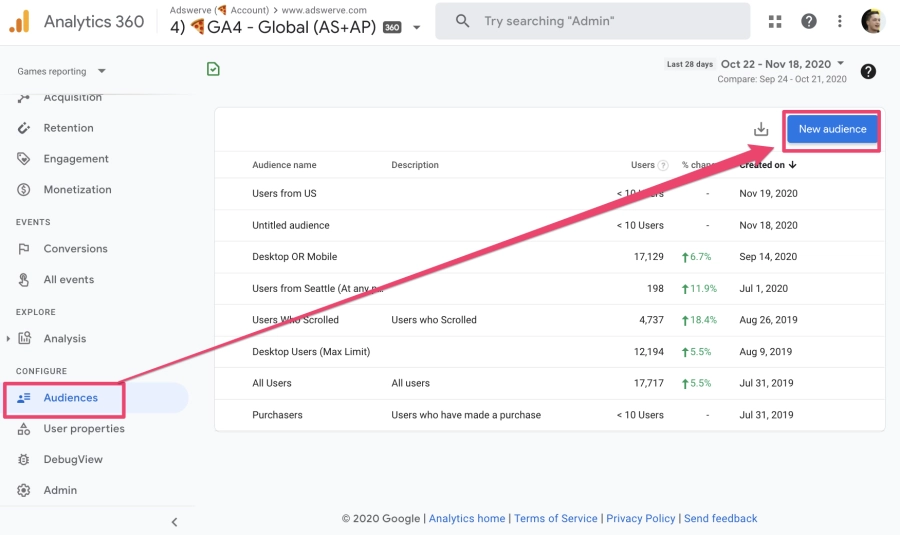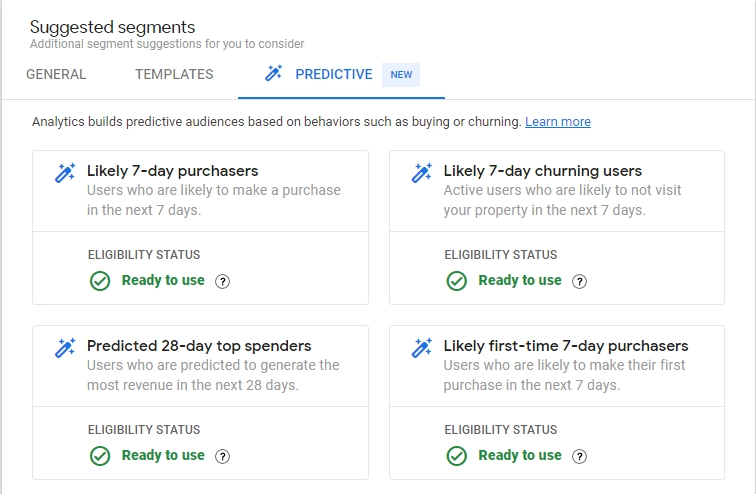 Of course, in order to create predictive reports, Google needs data for a certain period. It is not yet known exactly what period is required, but it is possible that data collection will take up to 6 months. You also need to link your Google Ads ad account to GA4.
Conclusion and recommendation
Thanks to machine learning, the new GA4 has become a smarter and more flexible tool for analyzing the effectiveness of sales channels. It differs significantly from the previous version in its interface and approach to data analysis and interpretation. The undoubted advantage is the accuracy in the separation of traffic channels: the application or the web version of the store.

Users of the previous version will need time to get used to the new data collection systems and reports. But you don't have to uninstall the previous version to do this. You can analyze data in two systems at once. So you will gradually get used to the new version of GA and, perhaps, get unexpected insights to increase sales in the online store.
Subscribe to stay up-to-date!
I want to be notified about ecommerce events.
Subscribe to stay up-to-date!
I want to be notified about ecommerce events.