Shopping for children's items online is more convenient compared to physical stores due to its organization and time-saving nature. With everything available in one place and the ability to shop from home, it offers a seamless experience. However, the competition in this market segment is fierce. In this article, we will guide you on how to create an outstanding online store for children's products that will help you stand out from your competitors.
Is selling children's products profitable?
According to Statistica, children's products have high demand globally, despite being seasonal. Furthermore, the diverse range of products in this niche provides an advantage wherein you can choose a direction for development based on maximizing profit.
Research indicates that the global market value for the "toys for kids" segment exceeds $69 million. Similarly, the "children's clothing" segment generated revenue of over $52 million. The market is projected to continue growing and expanding by 2026.
Do you have an idea? We have a solution!
We'll develop an online store on CS-Cart
Thanks to the growing popularity of online shopping, even teenagers are actively becoming online shoppers, further contributing to the potential success of your online store.
What target audience should you expect?
The primary target audience for your online store would be future mothers. These individuals will be looking for newborn products as they prepare for the arrival of their child.
New parents tend to spend a significant amount on clothing since it's their first time and they are exploring different brands to find the best quality children's products.
Experienced parents, on the other hand, tend to balance price and quality and are more conscious of discounts and promotions.
Grandparents represent an audience that often spoils their grandchildren with toys.
Additionally, adolescents aged 12-14 typically have their own pocket money and some degree of online shopping experience.
The main drivers of purchase in this segment are as follows:
Time-saving: Parents with one or more children understand the challenges of shopping in a calm and efficient manner. Online shopping allows them to conveniently purchase children's products without the hassle of navigating through crowded stores or waiting in line. It offers the opportunity to make purchases at a convenient time without any rush.
Convenience: Online shopping offers various benefits such as the quick delivery of essential products, sometimes even with door-to-door courier service. Customers can compare products without leaving their homes, save items to favorites for future reference, and receive notifications when items are back in stock. These features enhance the overall shopping experience.
Cost savings: Purchasing items through your online store can often be more budget-friendly compared to offline options. Automatic discounts, loyalty points, and promotions make the process seamless, eliminating the need for additional steps to acquire them. Customers can take advantage of these savings effortlessly.
Product variety: Online shopping expands the range of choices available to customers. Many interesting and high-quality products, which might only be found in large chain stores or offered through custom orders, are easily accessible in the online environment. This allows customers to buy exactly what they want, rather than settling for what is readily available.
By understanding the needs and preferences of this target audience, you can create a customer-centric online store that caters to their specific requirements.
Dropshipping, Franchise, or Your Own Brand: Which Option to Choose?
Dropshipping is a business model where you sell products without physically handling them. Instead, you partner with a dropshipping supplier who takes care of inventory storage, packaging, and shipping.
As a dropshipping retailer, you showcase the products on your website and handle the sales.
Advantages of Dropshipping:
Beginner-friendly: If you're new to e-commerce, dropshipping is a great option as you don't need to worry about order fulfillment or inventory management. You can quickly start your business without extensive knowledge of logistics.
Minimal investment: With dropshipping, you don't have to invest upfront in buying bulk products or renting a warehouse. This significantly reduces the financial risks associated with starting a business. You only pay for products when a customer places an order in your online store.
Flexible pricing: You have the freedom to set the prices of your products, allowing you to attract customers through competitive pricing or create promotional offers and discounts.
Scalability: Dropshipping allows for easy expansion. You can collaborate with multiple suppliers and diversify your product range to cater to a larger customer base. There are no restrictions on the number of business partners or the variety of products you can offer.
Dropshipping is an accessible and low-risk option for aspiring entrepreneurs looking to enter the e-commerce market. It offers the flexibility to start and scale your business without the challenges of inventory management and order fulfillment.
Franchising is a business model where you enter into an agreement with an established and well-known brand to operate a store within their chain. Similar to dropshipping, the franchise company provides you with products and grants you the right to use their brand and corporate identity. They also offer support to help you develop and thrive in your store. While you have sales targets to meet, it is still your own store.
Advantages of Franchising:
Simplified supply chain: With a franchise, you don't have to worry about sourcing products, negotiating with suppliers, or managing deliveries. The company takes care of these aspects, ensuring a smooth supply chain.
Built-in customer base: Since the brand is already established and well-known, you don't have to build customer trust from scratch. The brand's reputation and customer loyalty will attract customers to your store.
Lower initial investment: Franchises come in various investment levels, allowing you to start with a relatively low capital requirement. Some franchises offer entry options with as little as $10,000.
Support from the franchisor: The franchise company has obligations towards you outlined in the contract. This often includes training, marketing and advertising support, and sometimes even assistance in securing a territory for your business.
Franchising offers the benefits of a recognized brand, a simplified supply chain, and ongoing support, making it an attractive option for entrepreneurs looking to start their own business.
When you establish your own brand and sell unique products, you gain a competitive edge over your rivals. This allows you to have complete control over the development and sales strategy since you are the sole decision-maker. Furthermore, during times of crisis, consumers tend to prefer goods from local manufacturers, which gives you an additional advantage.
However, to successfully compete against larger companies, it is crucial to prioritize the quality of your products. Your items should appeal to both parents and children, addressing common parenting challenges. By focusing on your value proposition, you can create products that effectively solve these problems.
Take, for instance, the Russian brand Koftenyshi, which offers a toy that can transform into a cozy jacket when needed. They also have a line of sweaters that cleverly turn into backpacks. This innovative concept was brought to life by a married couple who experienced the need for versatile clothing during their transition from the warm climate of Uzbekistan to the chilly city of St. Petersburg.
Establishing your own brand allows you to offer unique products, giving you a competitive advantage. By ensuring the quality of your goods and addressing parenting needs, you can attract customers and thrive in the market.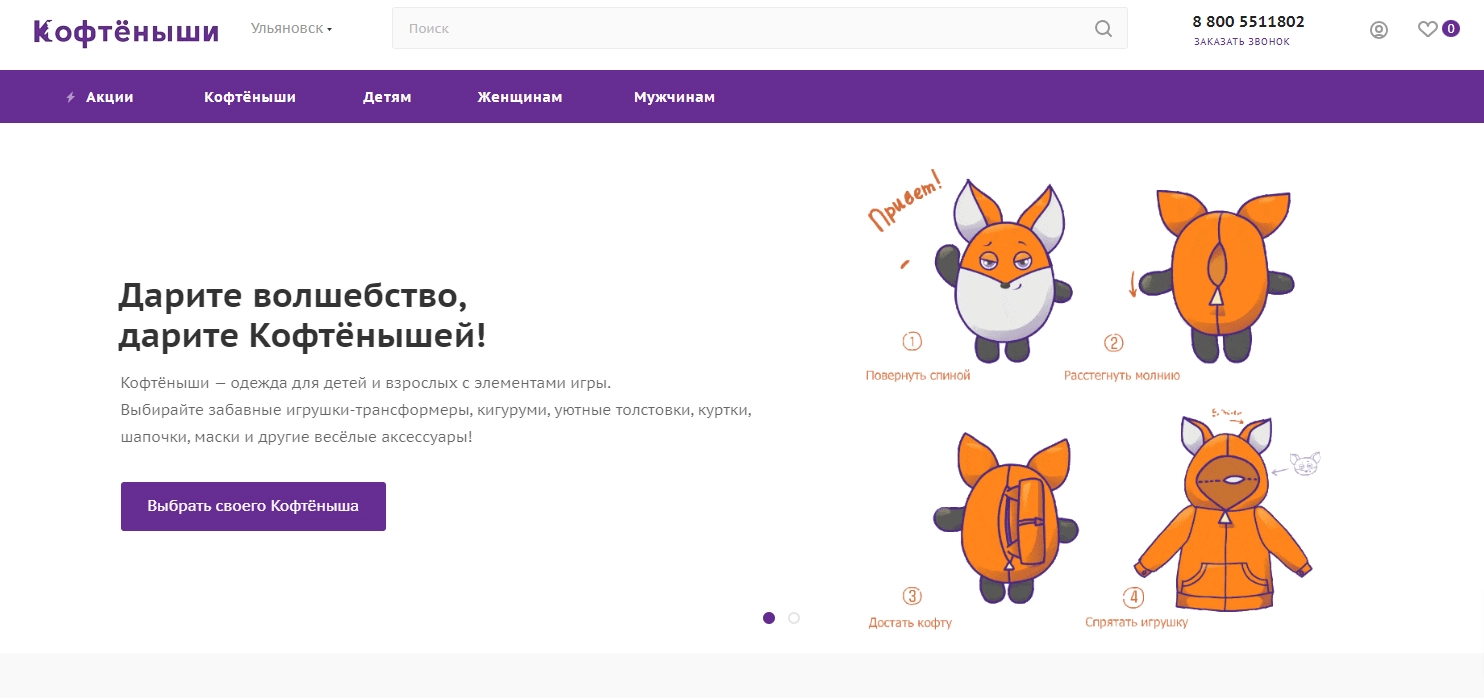 Regardless of your working arrangement, whether it is under your own brand or not, children's products offer a significant advantage in terms of their diverse range. Let's explore what a catalog of a children's products store can include.
Children's Products Catalog
The extensive range of children's products may consist of:
Clothing and accessories
Products for feeding
Car and travel accessories
Toys
Children's cosmetics
Bathing products
It is important to note that children's products are subject to mandatory certification to ensure safety. However, in certain cases, obtaining a certificate of state registration or registering a declaration of compliance with technical regulations may suffice.
One of the benefits of an online store is organized shopping, which is facilitated through the catalog.
Here are a few tips:
Balance the completeness of catalog categories. If one category has numerous products while another has few, consider creating additional subcategories.
Compile a list of user requests and structure the directory accordingly. The number of keyword queries will guide you in selecting optimal category names that enhance product visibility in search engines.
Feature separate categories on the main page, such as highlighting popular products, those associated with the latest cartoons, or seasonal items.
Follow the 2-3 click rule, ensuring visitors can find products quickly. If it takes more than three clicks to locate the desired item, it would be preferable to eliminate unnecessary subcategories.
Offer unique ideas by examining competitor directories for inspiration.

To optimize sales on a product page, consider the following:
Include photos that effectively illustrate the product's benefits. While you can provide detailed descriptions, visuals capture the attention of 90% of customers.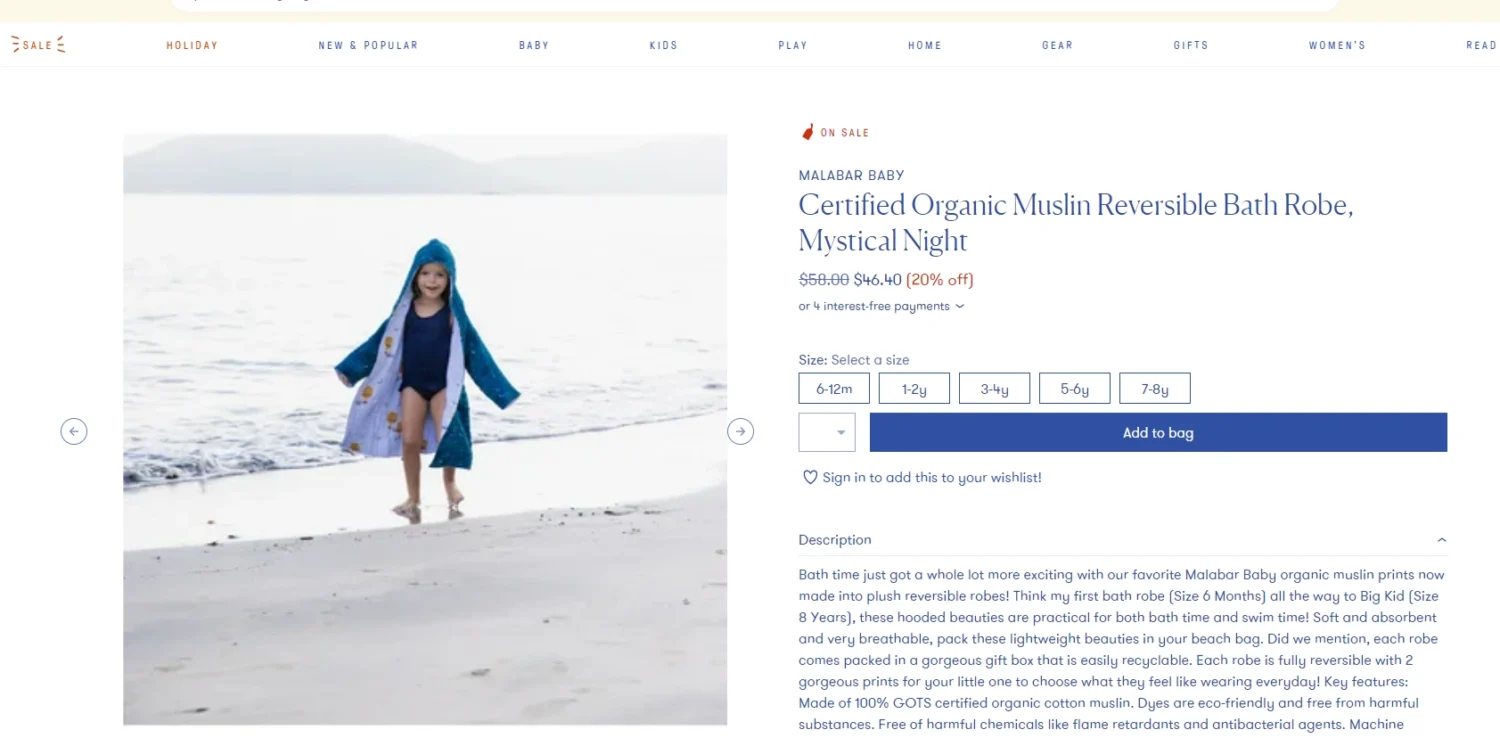 Provide a thorough product description, specifying materials, care instructions, and any warnings.
Engage customers emotionally. Dynamic and animated elements, 360-degree product views, augmented reality, and compelling phrases make the product more appealing to parents.
Ensure the product card is mobile-friendly. Avoid overwhelming users with excessive textual information, prioritizing readability on smartphones and tablets. According to Data Insight, 61% of visitors to online stores for children's goods use mobile devices.
Offer additional options such as product comparisons, the ability to leave photo and video reviews, and the option to add items to favorites. Utilize these features to enhance the convenience of online shopping.
Convenient delivery and returns
For children's goods, speedy delivery and flexible intervals play a crucial role, particularly in the era of marketplaces. This is especially important for items like baby food and essentials such as diapers, as customers often set delivery time limits due to their child's sleep schedule. Provide a range of shipping methods and courier services for customers to choose from.
The children's clothing category often experiences higher return rates due to size, color, or quality mismatches with customers' expectations. Each manufacturer may have different size charts, so parents often order multiple options and subsequently return the incorrect items. To win over customers, clearly communicate the conditions for returns, including whether packaging is required and the simplicity of the return process.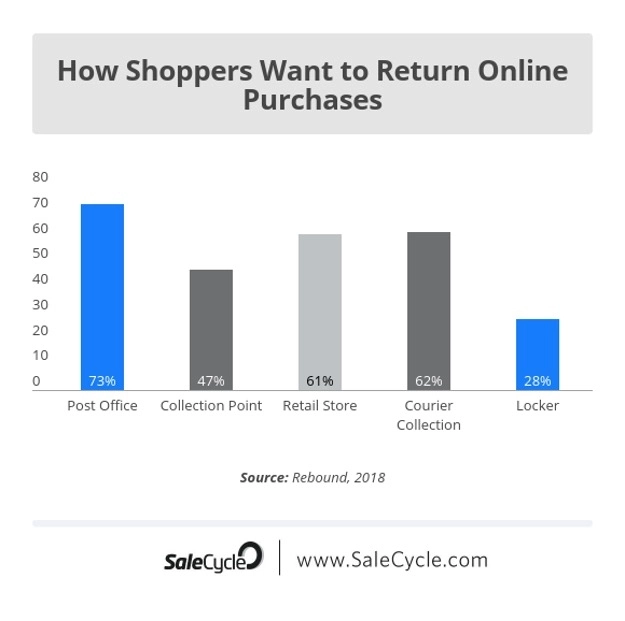 Having a blog on your online store serves as an additional channel for attracting visitors to your site. Firstly, it generates new traffic and improves search engine rankings. Secondly, it boosts customer engagement and loyalty. Share useful tips, life hacks, product reviews, details about production processes, and aim to build strong relationships with your customers.
Subscribe to stay up-to-date!
I want to be notified about ecommerce events.
Subscribe to stay up-to-date!
I want to be notified about ecommerce events.