Shopping for children's things in the online store is more convenient than in shopping centers. They are more organized and take less time as everything can be found in one place without leaving home. But at the same time, competition in this business niche is high. Today we will tell you how to create an online store for children's goods and stand out from the competition.
Is it profitable to sell children's goods?
According to Statistica, children's products are in high demand around the world, despite the fact that they are seasonal. The diversity of products in this niche gives you an advantage in choosing the direction for development, depending on what brings you the most profit.
Research says the "toys for kids" segment is valued at over $69 million worldwide. And the revenue in the "children's clothing" segment amounted to more than 52 million dollars. By 2026, the market is expected to grow and expand further.
Do you have an idea? We have a solution!
We'll develop an online-store on CS-Cart
Thanks to the popularization of online shopping, teenagers are beginning to join active buyers in online stores.
What target audience should be expected?
Future mothers. Preparing for the arrival of a child, they will look for goods for newborns.
New parents spend a lot on clothes because this is their first time and they are just getting to know the brands, find out the quality of children's products.
Experienced parents correlate price-quality, they pay more attention to discounts and promotions.
Grandparents are an audience that often spoils their grandchildren with toys.
Adolescents aged 12-14 in most cases already have pocket money and online shopping experience.
The main purchase drivers in this segment are:
Saving time. Those who have one, two or more children are well aware that there can be no talk of calm shopping. You will have to make a lot of effort to find the right things, and then still stand in line at the checkout. Online shopping is an opportunity to buy children's goods at a convenient time and without fuss;
Convenience. Many essential goods arrive the next day after ordering, and sometimes by courier to the door. The ability to compare products without leaving home, save to favorites and buy later, notify when in stock are just small useful features;
Saving money. The same thing in an online store can cost less than offline. In addition, discounts, points, promotions are applied automatically, so you do not need to perform additional manipulations to get them;
Variability. Many interesting, high-quality products and things can only be found in large chain stores or made to order. The online environment expands the possibilities of choice. Buy what you want, not what you have.
Dropshipping, franchise or own brand
Dropshipping is a model of work in which you sell goods, but do not physically contact them. You do not need to buy goods in bulk, rent a warehouse, store and hire staff. Your dropshipping supplier does this for you.
You, as a partner, place goods on your site and sell them.
Dropshipping Benefits:
Suitable for beginners. If you do not have experience in e-commerce, you do not need to understand all the intricacies, sending and delivering an order. In addition, there are no sales plans. This is a quick way to get started.
Minimum investment. Since you do not need to invest in products, premises, the risks of such a business model are minimal. You only pay when you place an order in your online store.
You set the price of the goods yourself. Flexible pricing policy will help attract visitors. You have complete freedom to create promotions or discounts.
Possibility for expansion. There are no restrictions on the number of suppliers, you can expand the range and cooperate with any number of companies.
In this model, you enter into an agreement with an already promoted brand on the market, and, in fact, you enter a chain of stores. In this case, just like in dropshipping, the company provides you with goods and transfers the right to use the brand and corporate identity. In addition, it provides support with the development of the store, as it is interested in your prosperity. You have sales plans, but this is still your store.
Franchise Benefits:
There are no problems with deliveries, search and negotiations with different suppliers. All this is done by the company-brand.
Customer loyalty. Since the brand is already promoted, you do not need to gain the trust of customers, you are already known.
Low start-up capital. You can find franchises where you can start with $10,000 of investment.
Franchisor support. The company has obligations to you under the contract, most often the support includes: training, advertising and promotion, sometimes providing a territory for doing business.
By selling one-of-a-kind items, you offer unique products. You will have an advantage over your competitors. In this case, you yourself determine the development and sales plan, since production depends only on you. During a crisis, buyers are more willing to choose goods from domestic producers.
But in order to withstand competition among large player companies, special attention should be paid to the quality of manufactured products. Products should be liked by both parents and children. Work on your value proposition by creating products that solve parenting problems.
For example, the Russian brand Koftenyshi is a toy that becomes a warm jacket at the right time. In their line there are sweaters that transform into backpacks. The idea was turned into reality by a married couple who were returning from warm Uzbekistan to cold St. Petersburg.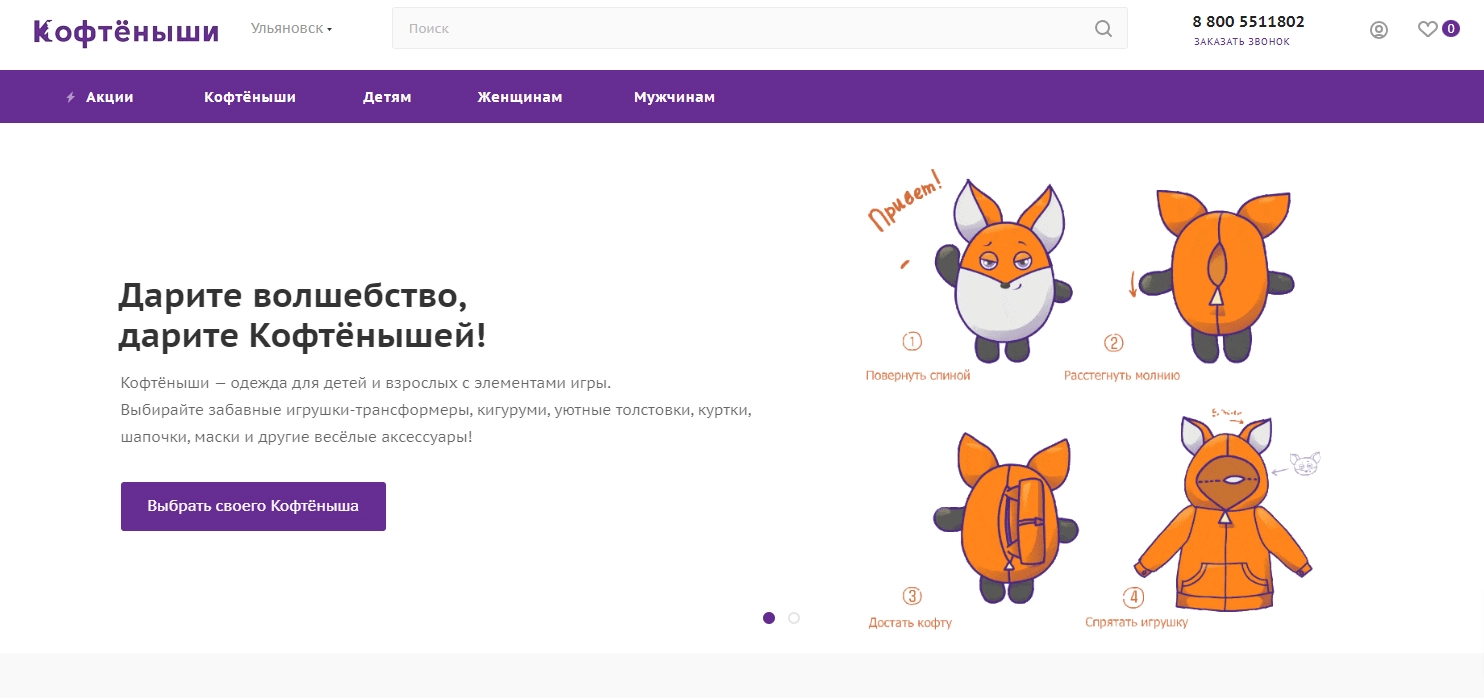 Regardless of the form in which you will work, whether it will be your brand or not, the main advantage of children's products is wide variability. Let's look at what a catalog of a children's goods store can consist of.
Catalog of children's goods
The width of the range of children's products may include:
Clothes and accessories
Goods for feeding
Car and travel accessories
Toys
Children's cosmetics
Bathing goods
Children's cosmetics
You should definitely know that goods for children are subject to mandatory certification to confirm their safety. However, in some cases, it is enough to obtain a certificate of state registration or register a declaration of compliance with the requirements of technical regulations.
One of the advantages of an online store is organized shopping, which is the responsibility of the catalog.
A few tips:
The balance of fullness of catalog categories. If there are many products in one category and few in another, create additional subcategories.
Gather a list of requests and build a directory structure based on it. The number of queries for keywords will tell you how best to name the category so that the catalog promotes products in search engines.
Separate categories on the main page. These may be the most popular products, with characters from the latest cartoon, seasonal items.
Try to follow the 2-3 click rule. It is important that the visitor finds the goods quickly. If the visitor needs to make more than three clicks to find the desired product, it is better to remove unnecessary subcategories.
Offer original ideas. To do this, you can peep directories from competitors.

For a product page to be a selling one:
Add photos to describe the benefits. You can describe a product for a long time, but 90% of people first of all pay attention to images.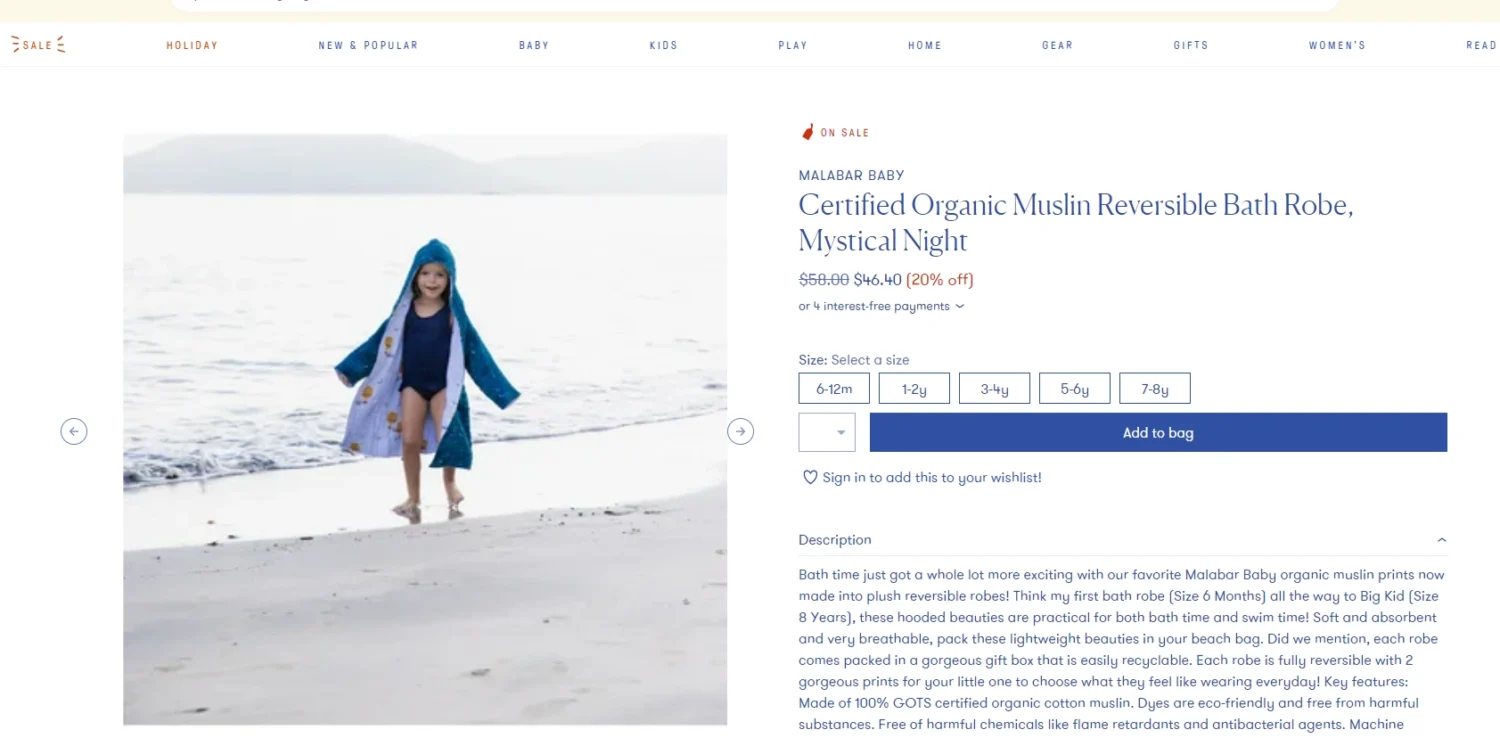 Good product description. Be sure to specify what material the product consists of, methods of care and warnings, if any.
Use emotional engagement. The product will be more interesting for parents if you use dynamic and animated elements, show the product in 360 degrees, use augmented reality, or stimulating phrases.
Remember that the product card should be convenient in the mobile version as well. Therefore, do not overload with textual information, remember that the text should be comfortably perceived through smartphones and tablets. According to Data Insight, 61% of visitors to online stores for children's goods use mobile devices.
Additional options: the ability to compare, leave a photo and video review, add to favorites – use all the tools to add comfort to online shopping.
Convenient delivery and returns
For the segment of children's goods, the speed and delivery intervals are very important. And in the era of marketplaces, speed is vital. This is especially important for baby food and essentials such as diapers. Often, customers set limits for couriers in which they can accept an order, since the child can sleep. Offer a variety of shipping methods and courier services to choose from.
The children's clothing category has the highest return rates. The most common reason is a mismatch in size / color, quality expectations. Each manufacturer may have a different dimensional grid. Parents often order several options and later return the wrong items. To win over customers, be sure to write down the conditions for returning the goods, whether packaging is needed and a simple way.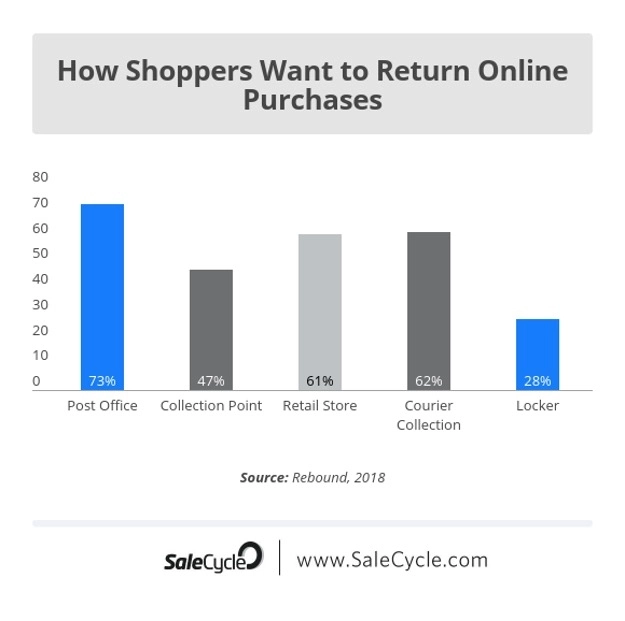 A blog in an online store is another channel for attracting visitors to the site. First, you generate new traffic, improve positions in search results. Secondly, you increase customer engagement and loyalty.
Share useful tips and life hacks, review new products, talk about production, build relationships with customers.
Do you have an idea? We have a solution!
We'll develop an online-store on CS-Cart
Subscribe to stay up-to-date!
I want to be notified about ecommerce events.
Subscribe to stay up-to-date!
I want to be notified about ecommerce events.