The MVP approach has revolutionized how startups are built. Developing a minimum viable version of a product has become a key step in launching and validating business ideas.
MVP (Minimum Viable Product) is a product with enough necessary features to test it and get an audience's view of the product. The right approach to creating an MVP will help to further scale the project and lead to success. A good example is Uber. In 2010 they had an app that bore little resemblance to the current version. The application was extremely limited in functionality, it only worked in San Francisco, and in order to access the service, you had to write to the founder. Now the application is distributed in more than 70 countries of the world, and more than 118 million people use it. At the MVP stage, Uber was able to better understand their target audience, the attitude of competitors, and also clarify legal issues.
What is included in the MVP. Creation approaches
What is included in the minimum number of features? Which of them are necessary and sufficient? In this sense, "minimum" should not be misleading, since the product must work according to a scenario for which a real client is willing to pay money.
There are several approaches to launching an MVP version: soft and hard. The main difference is that with a soft launch, you create a product for a limited audience, while with a hard launch, you attract as many customers as possible.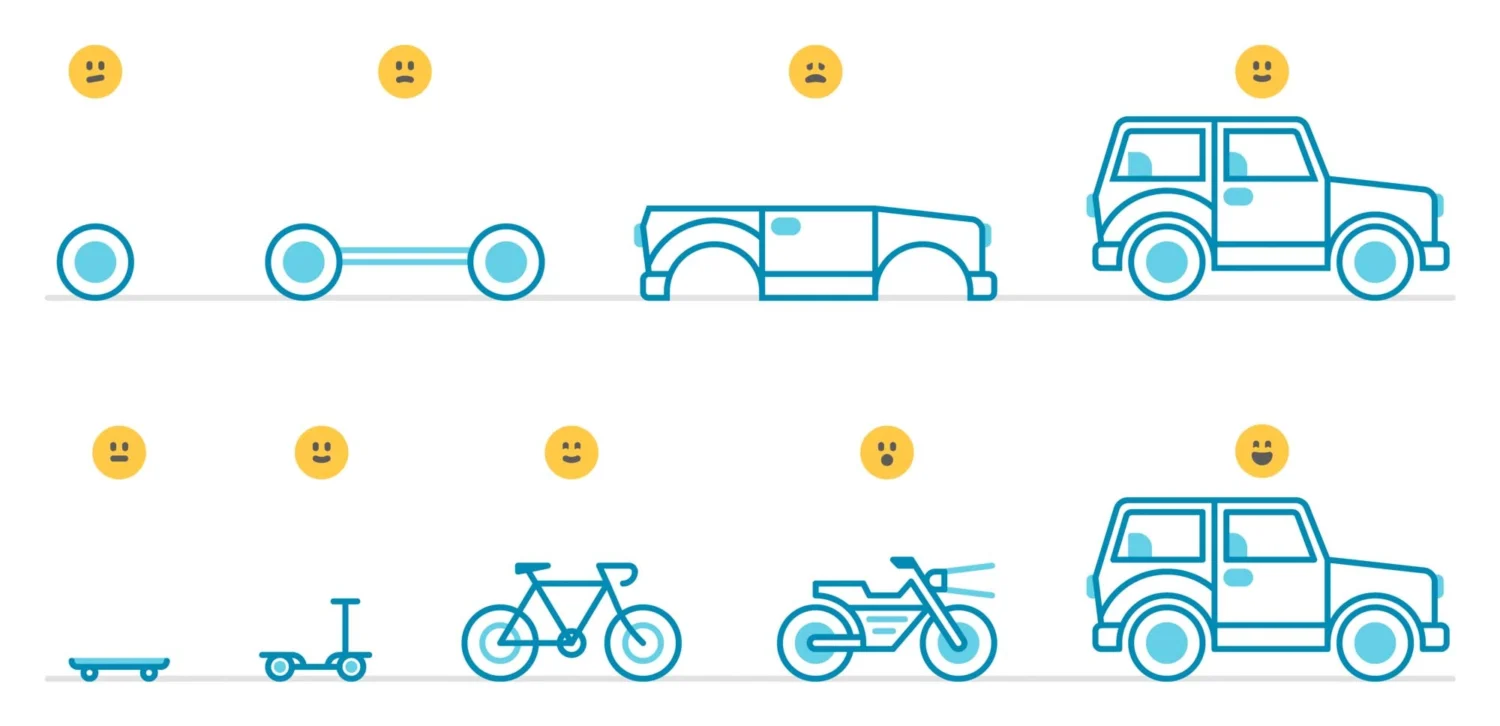 With a soft start, the risks are much less. The main tasks of this version:
Collect feedback from users. Based on it, you can figure out which features to work on first, second, and so on.
Find out purchasing power. To develop a competent pricing policy.
Check monetization methods.
Do you have an idea? We have a solution!
We'll help to launch MVP quickly
You can limit the audience by geographic location, a narrow niche, and use this approach to test any idea. So, Starbucks plans to abandon disposable cups. At the same time, they follow a soft concept of launching their idea, starting in selected countries. In South Korea, they gave up 200,000 disposable cups in 3 months.
A hard start is more costly. You are releasing a product to a wide audience with marketing costs to reach as many customers as possible. This approach is not recommended for innovative, untested products, or if the infrastructure is unreliable. But it is justified when:
You are confident in the product and need to quickly take a place in a new niche.
Consumer reaction will be expected.
The product is partially familiar and you only need to expand the audience.
The most important thing that MVP development will help with is to find out whether the audience really needs the product and whether they are ready to buy it. The sooner this becomes clear, the less risk there is to fail in the market and end up wasting the budget.
According to statistics, almost half of startups fail for one simple reason – "there is no need for the market." Before wasting time on developing a unique product, test it in test mode, but will it be of interest to anyone?
If the assumptions are not justified, then at this stage there is an opportunity to change the situation at a low cost, based on facts, not assumptions.
Agile approach goes well with MVP. After each iteration, you will be able to improve the product with facts, not assumptions. Ultimately, the product or service will reach the stage of market fit, i.e. it will fully cover the needs of the client.
The second big problem for startups is "run out of money". And most often it occurs due to early scaling. Creating and adding features that are not yet needed wastes not only budget, but also time. MVP iterations will help you collect real data and start developing additional features at the right time.
Take a place in the market
MVP helps to enter the market faster, get ahead of competitors, and attract the first audience. If the product is innovative for the customer, an MVP is a great way to build interest around it, communicate value, and build trust. Then, in the subsequent phase of expansion, the first clients will act as brand advocates.
Reduce the risk of errors
The market is quite condescending towards a start-up business. The price of a mistake in this case is not so high, and if something went wrong, then an apology should be made to a small audience. But as large startups grow or launch at once, product or people management becomes more complex, and the consequences of doing the wrong thing can be greater.
Startups do not always attract large investors. But even small investments will help to focus and focus on the essentials, gradually improving the product. You know exactly what you need to spend money on, without being distracted by the creation of secondary improvements or administrative costs.
There is the concept of a Minimum Viable Investment Framework (MVIF), based on which too much funding in the early stages will not help, but will exacerbate the situation. MVIF determines how much investment will be sufficient at each stage of a startup.
On the other hand, a lack of funding can keep the best idea from coming to fruition. Investors receive a huge number of applications for consideration, but in order to interest them, you need to prove its viability and show market interest.
What does an MVP look like? Examples
A mobile application that offers yoga, fitness and meditation classes to subscribers.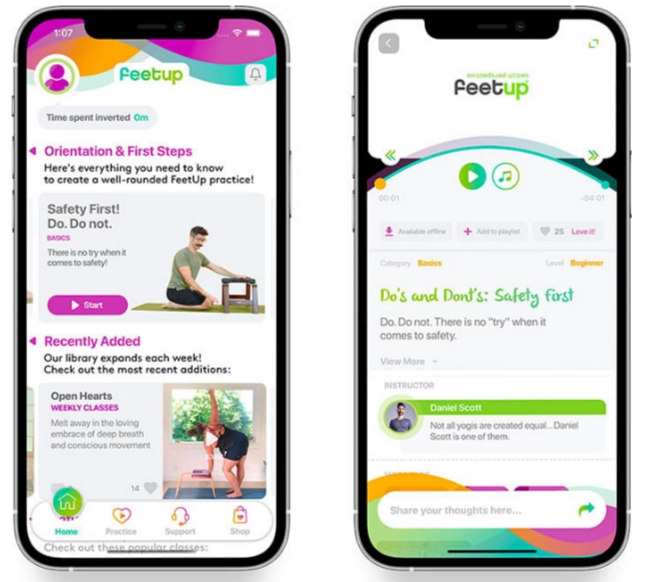 The app helps you do your favorite exercises without leaving your home and without hiring a personal trainer. Livestream with your teacher and interact with the community.

What features were created for MVP:
Possibility to log in
Database of audio and video content
Lesson progress tracking
Built-in related products store
Support service
The app has been downloaded over 10,000 times in a year and received a lot of positive feedback.
Platform for the exchange of knowledge and skills. Users list their knowledge on the site, look for suitable ones, agree on training and exchange of skills.
Necessary functionality for the platform to work:
Profile Management
List of skills and search function
Appointment management and calendar automation
Payment system
Skill promotion
At the moment, the platform works as a white label.
European platform for business travel. This is a web and mobile service that helps to quickly and efficiently organize business trips for travelers and companies.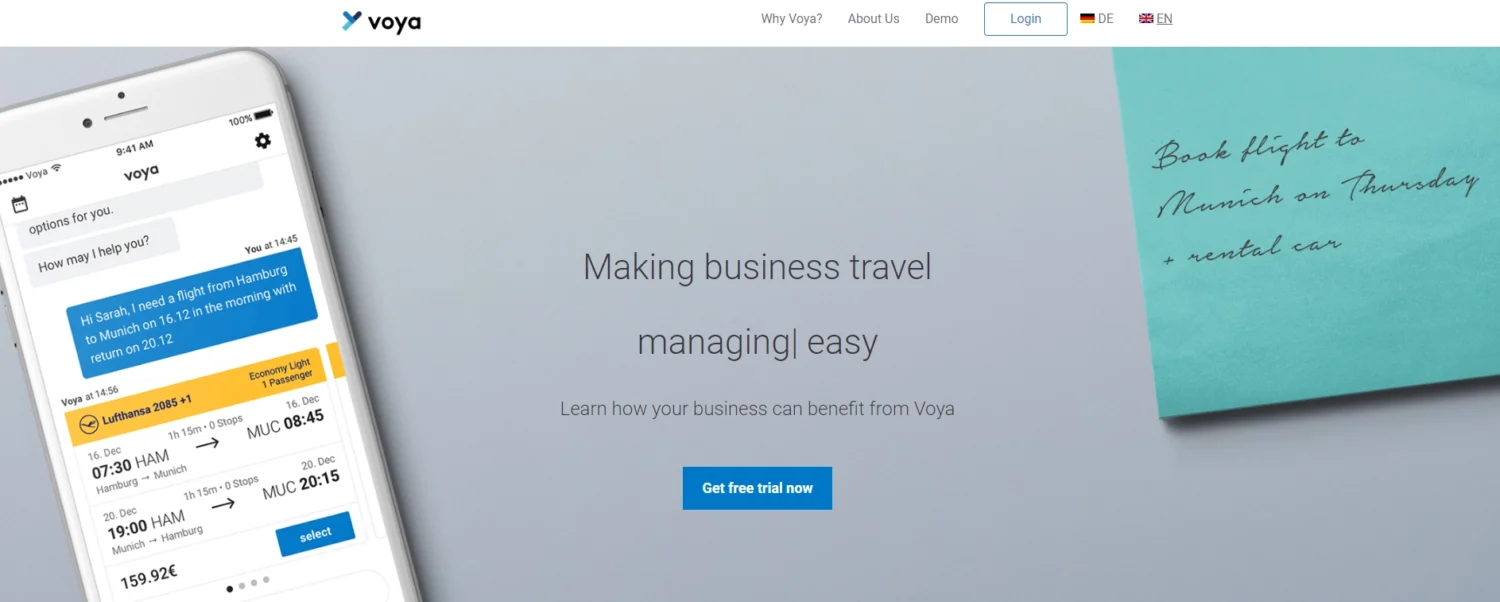 What functionality is implemented:
Registration and authorization
Booking and ticketing system
Chat with a personal manager
Personal Area
Reporting system and admin tools
Since the first launch, the app has been downloaded over 1,000,000 times. In 2020, Volkswagen Financial Services acquired Voya.
Performance Tracking Metrics
Qualitative and quantitative metrics exist for data collection and performance research.
Quantitative indicators are based on actual data. To evaluate the effectiveness of the project, you can use:
Number of registrations: shows how interested customers are in your product.
Number of users who pay: if you have a free version of the product, this indicator will help you find out if people are really willing to pay for your idea.
Conversion rate: shows the percentage of potential customers converted into real ones.
Retention and churn rate: the percentage of users who returned and the percentage of users who left.
Most and least used features: Helps you figure out what works great and what needs more work or more instructions.
Daily vs. Monthly Users: How many people are using your product and what are the trends.
Quantitative data based on analysis and metrics go well with qualitative indicators. For this purpose, various surveys and interviews with real users are conducted. So you can find out how accessible and understandable the functionality is, find out the wishes and disappointments of the audience.
The Sean Ellis quiz will help you figure out if you are moving in the direction of product-market fit. It consists of one question: "How would you feel if you could no longer use the product/service?". The responses are built as follows:
I will be very disappointed;
A bit disappointed;
Not disappointed (rarely use);
I no longer use the product/service.
You can read more about performance metrics in our article "Marketplace Analytics. How to measure performance?"
In conclusion, we'd like to add obvious tips, but which for some reason are often forgotten:
Don't be afraid to try. Develop, test, release, repeat – the main rule if you are working on an MVP strategy.
Don't make a complex MVP. Remember that you need to implement the functionality to test the idea and the reaction of customers.
Don't waste time on long development of functions. Cut out everything that is not vital to your product.
The following article covered how to launch a successful MVP with a step by step plan. They also told how the MVP approach differs from PoC, RAT and MLP.
Subscribe to stay up-to-date!
I want to be notified about ecommerce events.
Subscribe to stay up-to-date!
I want to be notified about ecommerce events.