Launching an online medical supply marketplace is a savvy route for manufacturers, distributors and retailers of medical supplies and equipment to maximize their bottom line.
As the need for medical supplies and devices remains unwavering, the requirement of an online presence is greatly influenced by the overall shift to digital transactions across all industries – including healthcare.
Do you have an idea? We have a solution!
We'll develop marketplace of any complexity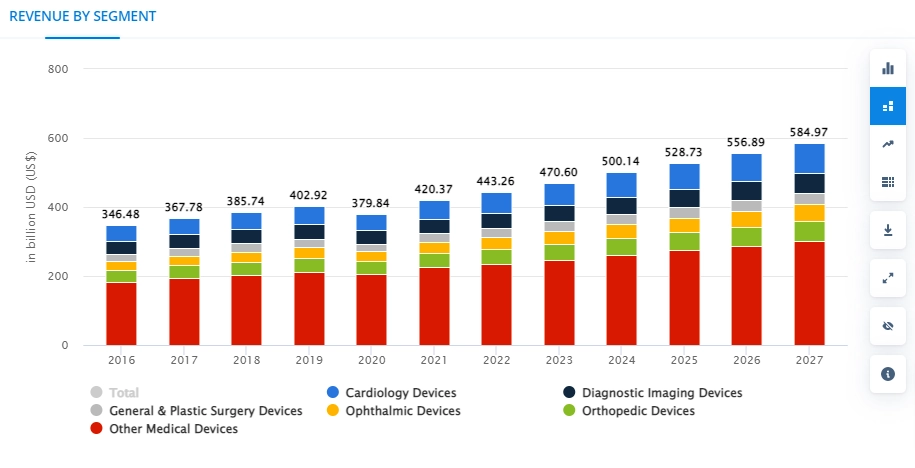 To save you time and get the gist of our guide, here are a few essential points to remember:
Business-to-Many (B2M) models offer manufacturers and distributors of medical products a high return on investment. To launch your B2M venture, you must develop a registration process as well as distinct user experiences for business buyers and individual consumers.
Selling medical equipment online is dominating the offline market. It's more convenient for all parties making the equipment and consumers more accessible.
Legal considerations include: product certification, local and international laws, safe transactions and proper product labeling.
You need an ecommerce platform that is specifically tailored to your business processes and customer needs. This customized platform must include all the standard features of a successful digital store as well as unique functionalities for offering specialized services in your niche industry.
Critical integrations to get started with include a vendor portal, order management system, ERP and data analytics solution.
Relationship marketing is undoubtedly the most powerful and effective technique to gain loyal, long-term customers in an intensely competitive marketplace.
$1,250 is the starting cost of an ecommerce platform for a medical e-business.
The Medical Supplies And Equipment Market Is Rapidly Digitizing
The online medical supply and equipment market is all about providing essential medical items – from doctor's attire to IV kits, diagnostic tools to durable medical instruments, surgical consumables and beyond – for hospitals, laboratories, nursing homes as well as individual customers who need these goods for home care.
In the last half a decade, we have seen an annual growth rate of 17% in the market. However, due to COVID-19 and its implications on medical supply demand from individual consumers as well as health care institutions around the world, that number has been skyrocketing lately.
Overcoming Obstacles When Selling Medical Supplies & Equipment Online
Challenge #1. Constructing a marketplace can be both costly and time consuming.
Solution: MVP approach
MVP will help to avoid unnecessary costs, as the project is launched with the minimum necessary capabilities. The functionality highlights the main thing for solving the client's problem.
This approach to creating a product will help not only quickly develop and launch it, but also find out the needs of the audience, purchasing power, and check out ways to monetize it.
If you've already got a presence online for your medical supply business – with an educational resource or product catalog built using a content management system (CMS) – it's time to make the switch from CMS to ecommerce platform in order to start selling items. The transition may seem daunting, as all of your existing pages will have to be re-created; yet this is essential in order for you to become competitive and offer customers the convenience of shopping directly on your website.
Challenge #2. Large corporations control the market
Solution: Harness the power of relationship marketing to exponentially expand your business reach.
Jumping into the highly competitive market of medical supplies and equipment can be intimidating; large manufacturers and suppliers have often developed relationships with clients for years. Many people may think that decreasing their prices is a great way to break this barrier, yet it could actually prove damaging – resulting in negative profit margins.
What Cart-Power recommends is relationship marketing.
Cultivate your product value and professional expertise. As a substitute of merely selling, inform customers how your products can upgrade their treatment outcomes and medical personnel's day-to-day duties. Generally speaking, this necessitates substantial content competency on the website to share understanding through interviews, research studies, debates regarding healthcare trends and breakthroughs among other topics.
Ensure that your customer relationships remain solid by practicing proactive communication. There are several strategies to accomplish this goal without coming across as too sales-y, such as creating educational materials, hosting training and networking events for healthcare specialists (potential customers), announcing the latest news about your brand through social media platforms, and more.
Challenge #3. By embracing online retail, businesses no longer need the sales team
Solution: Refocus your sales team.
For medical equipment businesses, an ecommerce portal offers a convenient self-service approach for clients to effortlessly select products, place orders and carry out payment transactions – all of which previously necessitated regular interaction with salespeople through email, phone calls or chats.
Ecommerce does not make sales teams obsolete; instead, it allows them to focus on higher-level tasks and cultivating relationships with customers. Consequently, their roles could evolve into:
Examining sales information to recognize patterns and customer requirements, which can then be used to create more effective approaches of customer engagement.
Cultivating prospective customers through cold calling, emailing and in-person meetings.
Crafting and delivering customized educational resources to our clients is something you specialize in.
Advocating for customer requests during one-on-one conversations to drive website evolution and introduce new features.
The Benefits Of Selling Medical Equipment Online
Launching an online business that specializes in the sale of medical equipment has its rewards. From increasing your customer base to improving convenience and accessibility, taking advantage of this growing industry can yield a myriad of successes.
Increased accessibility, as customers from all over the world can buy medical equipment from you.
Cost savings in terms of lower overhead costs and fewer labor costs associated with running a physical store.
Greater reach, allowing customers to browse and purchase medical equipment from the comfort of their own homes or offices.
Easier tracking and monitoring of sales performance, as eCommerce platforms provide detailed analytics on customer behavior and more.
Legal Considerations When Selling Medical Equipment Online
When selling medical equipment online, you should keep in mind the following legal considerations:
All products should be certified by a national or international regulatory authority.
Adhere to all applicable laws, including those relating to consumer protection, data security, and intellectual property rights.
Ensure that any transactions are secure, and take steps to protect customer data.
Properly label all products with clear warnings and instructions.
How to Start a Medical Supply Business Online: 6 Essential Steps
Every medical business's transition to digital sales will be unique, but there are six essential milestones that must form the foundation of your strategy.
Steps:
1. Investigate the licensing and regulatory requirements.
2. Develop a reliable supply chain system:
Narrow down your list of potential vendors for further consideration.
Gauge the approximate boost in supply that your business will experience due to online sales if it already operates in a physical space.
3. Identify a business model (B2C, B2B or B2M) and launch an ecommerce platform that will take your company to new heights.
4. Develop a streamlined ordering system to expedite the delivery of essential medical supplies.
5. Streamline the delivery of bulky medical apparatus.
6. Seize a competitive edge in the market by advertising your marketplace.
Pricing approach for medical technology producers
Outcome guarantee model
When the manufacturer's equipment does not deliver its promised clinical effect, they will reimburse you for the cost. This expected outcome is pre-established in an agreement before purchasing.
Gain sharing model
Medical institutions can save money on equipment by purchasing it from manufacturers who, in exchange for their discounted prices, benefit from a portion of the cost savings or revenue generated by using the equipment.
Device-as-a-service model
Medical institutions are able to acquire the hardware, software and networking solutions they need without owning them through leasing from manufacturers.
Management service model
Manufacturers are uniquely equipped to help labs and health care institutions optimize their operations, delivering complimentary tailored solutions.
Ecommerce models empowering medtech manufacturers and sellers
B2C model
By making medical equipment and supplies readily accessible, including to those living in rural areas with limited access to healthcare, individual consumers can quickly and easily take advantage of the much needed resources.
To ensure that customers make the most informed product choice possible, e-solutions must provide comprehensive product information and offer multi-channel customer support.
B2B model
By focusing on bulk sales, you can make product information more accessible while simultaneously minimizing transaction costs such as communication expenses.
E-solution must accommodate customers with self-service research and ordering options, as well as support for custom deals and bulk pricing.
B2M (business-to-many) model
To acquire a more reliable income stream, the focus should be shifted to B2B customers. Consequently, numerous marketing strategies must be employed in order to captivate and persuade this varied target audience.
To effectively serve business and individual users alike, your marketplace should offer distinct registration roles (individual or business) and webstore views.
Features of a Medical Supply & Equipment Marketplace
When it comes to electronic solutions for healthcare suppliers, Cart-Power takes a two-pronged approach and provides both customer-facing ecommerce features as well as crucial integrations that are integral to the back office operations. Our team strives to outline website functions while also mapping out technology integration setups required for successful business workflows.
Basic marketplace functionality
Catalog management
Configurable navigation, faceted product search.
Bulk import, download products.
Bulk edit product parameters for hundreds of products.
Export product feeds to shopping directories like Google Product Search, Shopzilla, Shopping.com, etc.
Price list for generating and publishing product information in the PDF and XLS formats.
Product templates with flexible product filters.
Product variations demonstrate product range and help to pick the right product from a range of similar products.
Stock control, low stock notifications.
360-degree product images for sophisticated medical devices.
Marketplace structure
Homepage: page builder, storefront customization and on-site content editing.
Catalog pages: online merchandising tools.
Customizations for vendors: vendor panel, payments, plans, moderation settings, locations, categories, separate micro-store, promotions, etc.
Detailed product pages.
Multiple images per SKU.
Video format of product description.
Product rating and reviews.
Product reviews moderation.
Shopping cart: automated tax and shipping calculation.
Checkout: out-of-the-box and custom payment methods.
Order management
Order management dashboard to view, edit and fulfill orders.
Invoices, order barcode, and shipping labels available for printing.
Return merchandise authorization.
Manual order creation for accepting an order by a phone call.
Automatic email order notifications.
Marketplace setup and layout
HIPAA compliance.
Template-based or custom website design.
Multi-store setup to different countries or represent different brands.
Functionality specific to B2C model
Purchasing process
High-value additional product information: product descriptions, downloadable product specifications, text or video guides, etc.
Price comparison for similar products.
Flexible filter customizations for prices (e.g. based on a customer group).
Sales processing
Prescription validation.
Health insurance submission.
Clear indication of non-refundable items.
Limitation of item quantity per user.
Shipment tracking
Estimated delivery date.
Order tracking number available in a customer's profile.
Personal account with updates and notifications on order status.
Functionality specific to B2B model
Multi-role account management
Multiple roles reflecting a company's procurement hierarchy.
Different user groups and admin level (split different rights for users).
Bulk order approval/rejection.
Shopping cart export for management approval.
Flexible price formation
Automated quantity-based discounts.
Customer segmentation.
Shared catalogs with segment-specific and individual pricing.
Negotiable price quotes.
Bulk and complex orders
Lists of frequently bought items for quick repeat orders.
Order by SKU and product files importing.
Requests for items out-of-stock or with insufficient stock availability.
Supply Chain Structure and Required Integrations
By adopting an integrated approach, businesses selling medical equipment online have the opportunity to make informed procurement decisions with real-time sales data while simultaneously eliminating arduous manual labor in regards to multi-warehouse management.
The supply chain includes following assets (integrations):
Vendor administration system
A different vendor moderation and plans consolidated in one database.
A system for split vendors by rating.
An onboarding guide for vendors with instruction and documentation.
A separate page or micro-store for every vendor.
Balance, report and statistics per each vendor.
Convenient system of vendors settlements.
Product information system
Integration with warehouses and inventory product systems.
Stock control and low stock notification.
Inventory control, management automation, and easy exchange product data.
Warehouse configurations by geolocation for better display products.
Order management system
Routing orders to an optimal warehouse based on geographical location and stock levels.
Customizable workflows to fulfill orders different in order value, quantity, and more.
Customer notification system with automated emails.
Data analytics and marketing solutions
Sales forecasting for different regions, types of medical equipment and supplies, buyers, etc.
Warehouse space optimization by preventing stale stock.
Customer loyalty retention.
What Are the Financial Costs of Starting an Online Medical Supply Marketplace?
When determining the cost of a project, there are numerous variables to consider including your product catalog size, web design needs, target audience scope and maturity level of automated business workflow.
Which is included in the pricing of medical supply & equipment marketplace:
Cart-Power has a successful example in developing an online medical marketplace. One of the large projects is Elit. It's not only a medical supply marketplace, but also a unique online platform which engages medical organizations, doctors, and sellers.
Do you have an idea? We have a solution!
We'll develop marketplace of any complexity
Starting an online marketplace for medical supplies requires careful planning and research. It is important to be aware of all applicable laws and regulations, and to obtain necessary legal documents to protect yourself from potential liabilities or lawsuits.
Creating an online marketplace also requires choosing the right technology platform, setting up user-friendly payment processes, and marketing your business so that it stands out from competitors.
With the right amount of preparation and research, entrepreneurs can create a successful marketplace that provides value for customers, vendors and rewarding experiences for owners.
Find out more about Vertical Marketplaces in "Comprehensive Overview of Vertical Marketplaces: How to Create"
Subscribe to stay up-to-date!
I want to be notified about ecommerce events.
Subscribe to stay up-to-date!
I want to be notified about ecommerce events.