Marketplaces are increasingly replacing brick-and-mortar stores. Nowadays it is difficult to find a person who has never ordered something on popular sites. The number of purchases is growing every year. And for the entire ecommerce market, marketplaces are the most important drivers. Their experience becomes a standard, and solutions are copied to other services.
A business with multiple brands and merchants is easy to scale, creating a unique online marketplace. However, as demand grows, so does competition.
In order to build a marketplace, you need a platform that suits your business requirements. Today we will talk about what a multi-vendor solution is and how to choose it among popular platforms.
What is a Multi-Vendor solution, how does the platform differ from a regular eCommerce solution?
A Multi-Vendor platform allows you to create an online platform by bringing together several suppliers to sell their products and services to customers. Each seller can simply list their products with other vendors or have their own microsite. It's like a mall, but without the long lines. The more suppliers and products on the site, the more opportunities for income.
Multi-Vendor platforms offer end-to-end solutions for marketplace owners and their sellers to easily manage their business. Seller registration on the marketplace, product management, order processing, customer support, sales analytics and marketing tools – everything can be done in a few clicks.
The main difference between a Multi-Vendor platform and other e-commerce platforms and solutions is that a customer can have several products from different sellers in their shopping cart. But he also buys them in one click.
In addition, such a platform is more complex to set up, as it offers more functionality than a regular online store.
What does a Multi-Vendor platform contain?
In order to manage and develop the marketplace, Multi-Vendor platforms contain the following functional modules:
Marketplace admin panel.
Separate panel for vendor/seller.
Appearance of the marketplace showcase.
Order management system.
Delivery and payment management system.
Products listings management system.
Marketing and SEO tools.
Integrations with third-party software solutions.
Marketplace statistics and trends
Marketplaces make up a huge part of all online sales. Just look at the statistics of large marketplaces: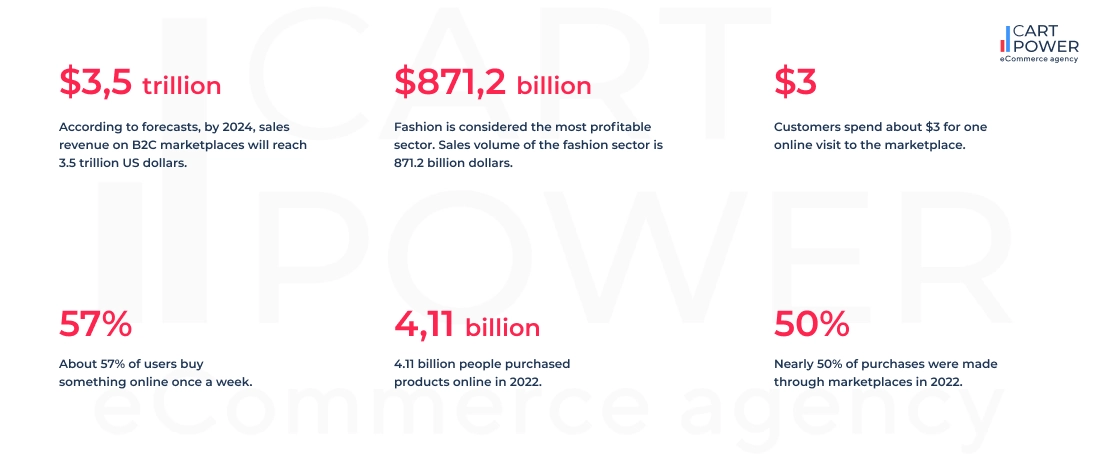 This business model is actively developing, if you look at the global statistics of marketplaces:
According to forecasts, by 2024, sales revenue on B2C marketplaces will reach 3.5 trillion US dollars.
Nearly 50% of purchases were made through marketplaces in 2022.
For one visit to the marketplace, a visitor spends about $3.
About 57% of users buy something online once a week.
4.11 billion people purchased products online in 2022.
Fashion is considered the most profitable sector. Sales volume is 871.2 billion dollars.
Functionality of a Multi-Vendor solution
To choose one of the many platforms for creating a marketplace, you need to figure out what features and tools you need. The marketplace includes the relationship between the administrator, the seller and the client. This means that there are more interaction scenarios than in an online store. It is important that the functional modules cover all the necessary needs of the participants.
Essential functionality for administrators
The administrator manages all business processes on the marketplace. If it is difficult to manage and control processes, and the tools are not enough, then the successful development of the marketplace will be in question. What you need in the admin panel, regardless of the specifics of the business:
Content and appearance management system for the marketplace.
Setting up user groups and accesses.
Supplier management.
Order management system.
Setting up payment and delivery ways.
Settlements with sellers.
Taxes and reporting.
Order and returns management.
Convenient system of communication and notifications.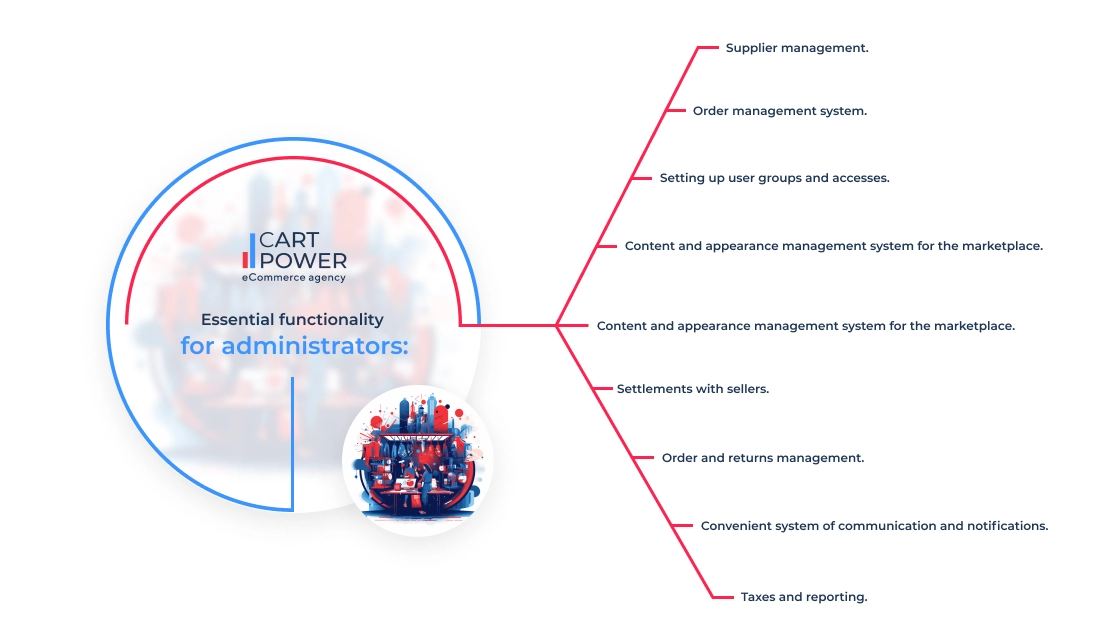 Essential functionality for sellers
If the administrator manages the business processes of the marketplace, then the sellers support its existence and provide opportunities for development. Therefore, merchants and suppliers should be able to easily register and gain access to the desired functionality:
Intuitive dashboard for the seller.
Customize the look and feel of your storefront.
Loading and managing the product catalog.
Management and processing of orders.
System of notifications and communication with the client.
Delivery management and setup.
Tools for marketing and promotion.
Analytics and sales reports.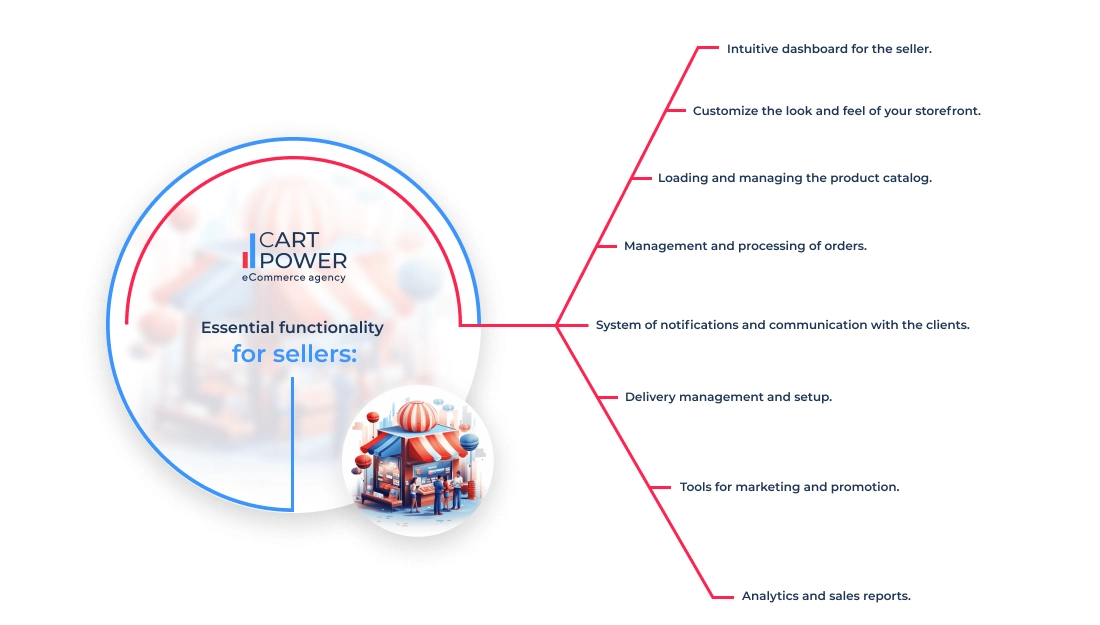 Essential functionality for customers
But in addition to modules for administrators and sellers, convenient functionality for the buyer is also important. Customers need to create such an interaction experience that they want to come back again and make a purchase. What does that require:
The site loads easily and quickly, there is a convenient mobile version.

Easy access to start shopping without complex registration.

You can get detailed information about products and services.

You can find reviews and ratings for products.

Convenient search, with filters and sorting.

Clear checkout.

Various payment and delivery methods.

Opportunities to compare, postpone products.

Receive personalized offers.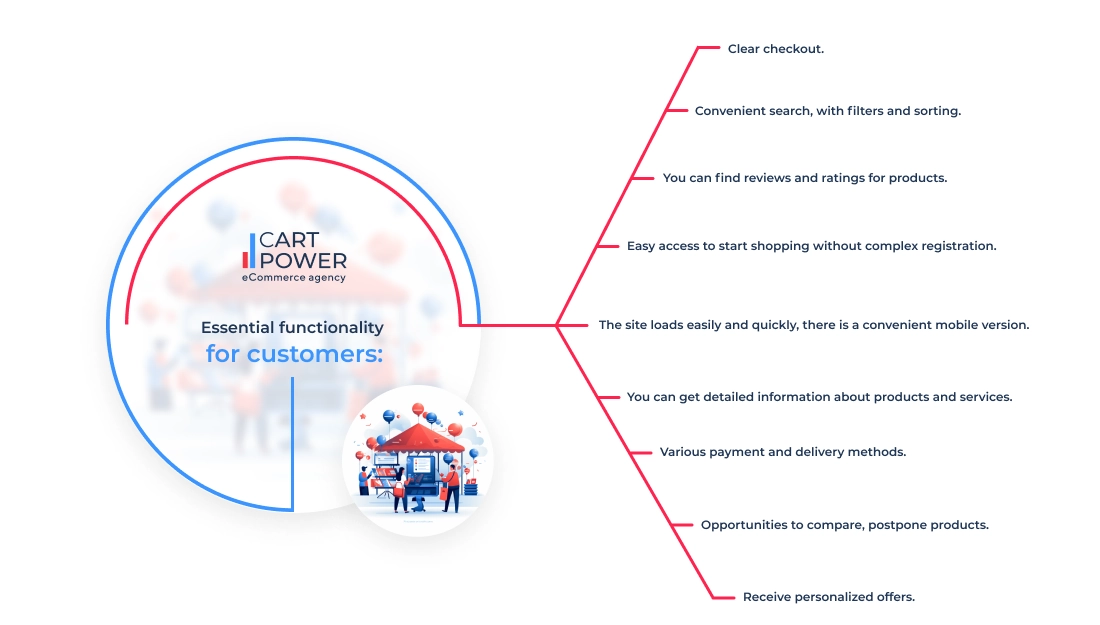 Review of the best Multi-Vendor platform
We conducted a brief overview of Multi-Vendor platforms and tried to collect information about the most famous solutions. This overview will give you a general idea of ​​the engines for the marketplace. But since there are no universal projects and each marketplace has its own exclusive features, you will need additional time to dive into the capabilities of each platform.
Multi-Vendor by CS-Cart is a specialized platform for creating open source marketplaces. The platform, developed according to the type of constructor, will make it easy to understand the controls and customize the appearance. To set up and launch the marketplace, you will need the help of programmers. Thanks to a wide partner network and community of programmers, you can find many agencies and developers.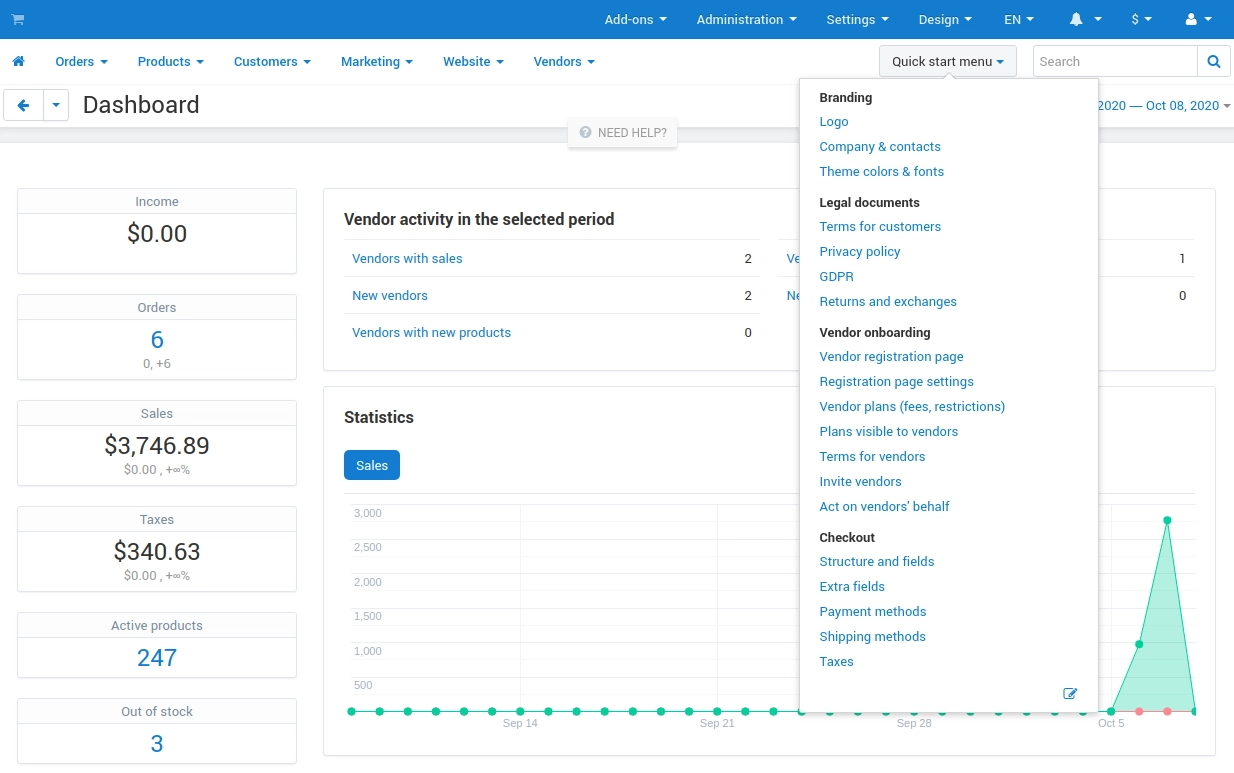 The capabilities of the platform do not limit owners in creating any marketplace: eGrocery, NFT marketplace, ePharma, a site for booking and rental services. 4 versions of Multi-Vendor CS-Cart will allow you to implement both small projects and high-load ones. The functionality of even the minimum version of the platform already has more than 500 functions, built-in modules for setting up more than 70 payment and delivery methods, SEO and marketing tools, integration with marketplaces and services for multi-channel sales (eBay, Facebook, Shopify, and so on). It is possible to get the source code of the mobile application to create your own application. Different groups of sellers and tariff plans for them: from the usual placement of goods to their own microstore with a unique design.
In addition to the available functionality, you can find various free and paid add-ons from partner developers for customizing the marketplace. However, for a deeper refinement, the services of programmers will be required. The same applies to the unique design if the ready-made theme templates do not fit.
Pros:
Wide base functionality.

A huge number of additional paid add-ons.

Suitable for any projects and easily scalable.

Available documentation, guides, video tutorials and developer community.
Cons:
Improvements and customization require additional resources.

Technical assistance may be required for setup and startup.
WooCommerce is not a builder, but a free WordPress plugin for creating an eCommerce website. The WordPress platform itself is open source and has many extension plugins available. With the plugin, you can sell both digital and physical products using different channels. Integrations with Google, Amazon, eBay, Walmart increase conversion on your site. The POS application easily integrates the marketplace with an offline store.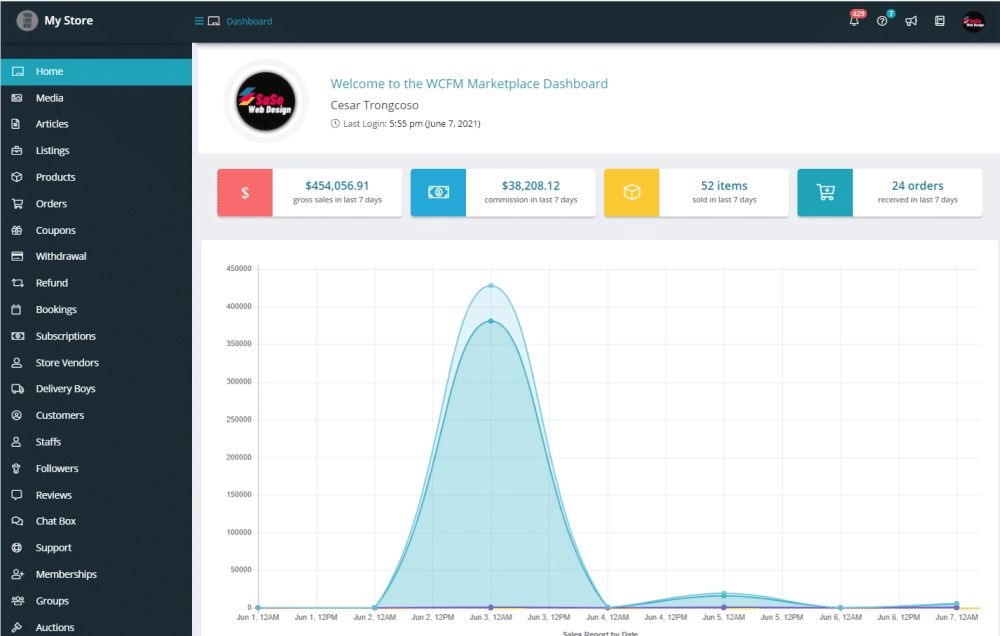 You may need help or technical knowledge to set up the marketplace. There are free and paid themes to create a custom design. Simple and clear management for both administrators and sellers. Adding different functions can be done through additional plugins and extensions. But this has its drawbacks. Too many connected plugins can slow down the site, and there may also be problems and failures in updates, plugin conflicts. The popularity of WordPress is so high among developers that it is better to choose plugins for additional functionality from trusted developers.
Pros:
Ease of setup and use.

A wide range of plugins and functionality extensions.

Lots of templates and design themes to create a creative platform.

Enough functionality to create a full-fledged competitive marketplace.

Built-in marketing tools, analytics.
Cons:
To expand and scale, you will have to install many additional plugins or contact developers for customization.
For large, high-load eCommerce projects, it is hardly suitable.
Shopify with Webkul add-on
Shopify is a popular eCommerce platform that allows you to create online stores. However, Shopify does not offer its own marketplace software. To do this, just like with WordPress, in addition to the Shopify license, you will need the Webkul plugin to turn a regular Shopify store into a Multi-Vendor marketplace.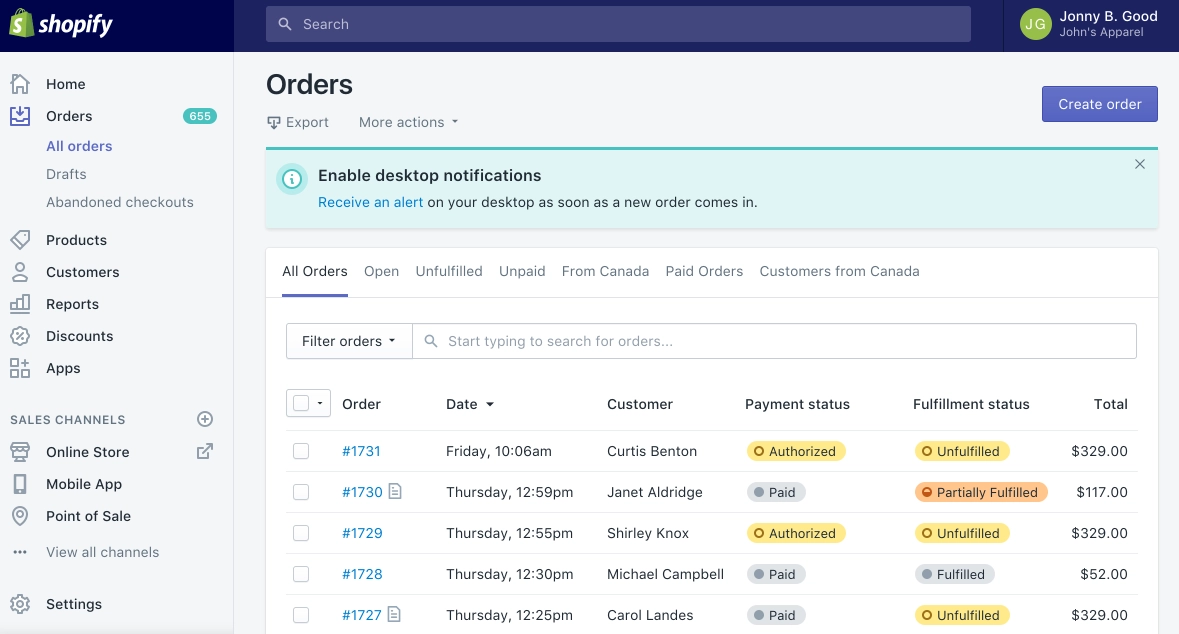 Shopify is a cloud-based platform, therefore it does not require updates and maintenance. All updates are automatic and do not require additional resources. Setting up and getting started is simple, for this you do not need the help of programmers.
One of the important benefits that Shopify provides is a POS system that allows you to sell online and offline at the same time. All data and product stocks are synchronized, and stores can be managed from one account.
To create a design, you can use paid and free themes. There is access to the store through the application.  In addition, depending on the tariff plan, the commission for each payment can be high.
Pros:
Easy start, no technical assistance required for settings.

Convenient intuitive designer.

Cloud platform, no hosting required, updates do not require the help of programmers.

It's easy to customize the look with a variety of templates and themes.
Cons:
Few scalability, not suitable for large high-load projects.

No email hosting. To set up work mail, you will have to look for another provider.

Not a simple migration to and from the platform (according to reviews).

The built-in payment processor only supports certain countries.

Commission on each payment.
Magento with Webkul extension
Magento by Adobe is originally designed for eCommerce of online stores. But a separate Multi-Vendor extension will allow you to add vendors and create a marketplace. Open source platform. So, you can create your modifications for any needs.
Under it, a lot of paid modules have been created that expand the functionality.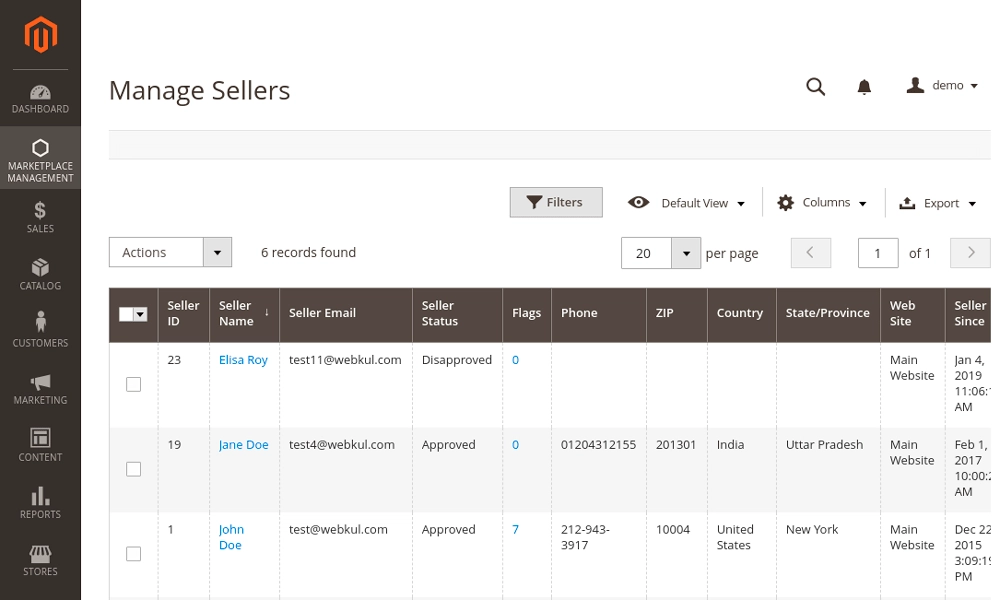 However, the platform is targeted and popular for Western commerce. Magento in Enterprise Edition contains a lot of features and functionality for both marketplace administrators and merchants. Perfectly adapted for SEO promotion, has advanced analytics, support in different languages, available manuals and instructions. The platform is great for large projects, it allows you to support individual services, such as ERP.
But to call it simple and convenient for a beginner is difficult. To install and configure it, you will need the help of professional developers. It takes a lot of tweaking to create a personality. There are also difficulties in customizing the design.
Pros:
There is a solution with a paid plugin for the marketplace.

Wide and powerful functionality of the Enterprise Edition, suitable for large businesses.

Community of developers, availability of guides, instructions and manuals.

A huge number of modules and plugins.
Cons:
Difficult to deploy and configure.
Highly costs for modifications and upgrades.
Not tailored for the CIS countries.
The BigCommerce platform helps create commercial projects for medium and large businesses, offering two solutions: Enterprise and Essentials. Enterprise is suitable for large, highly loaded projects where efficiency and speed of information processing are required. Essentials is a self-configuration builder with technical support.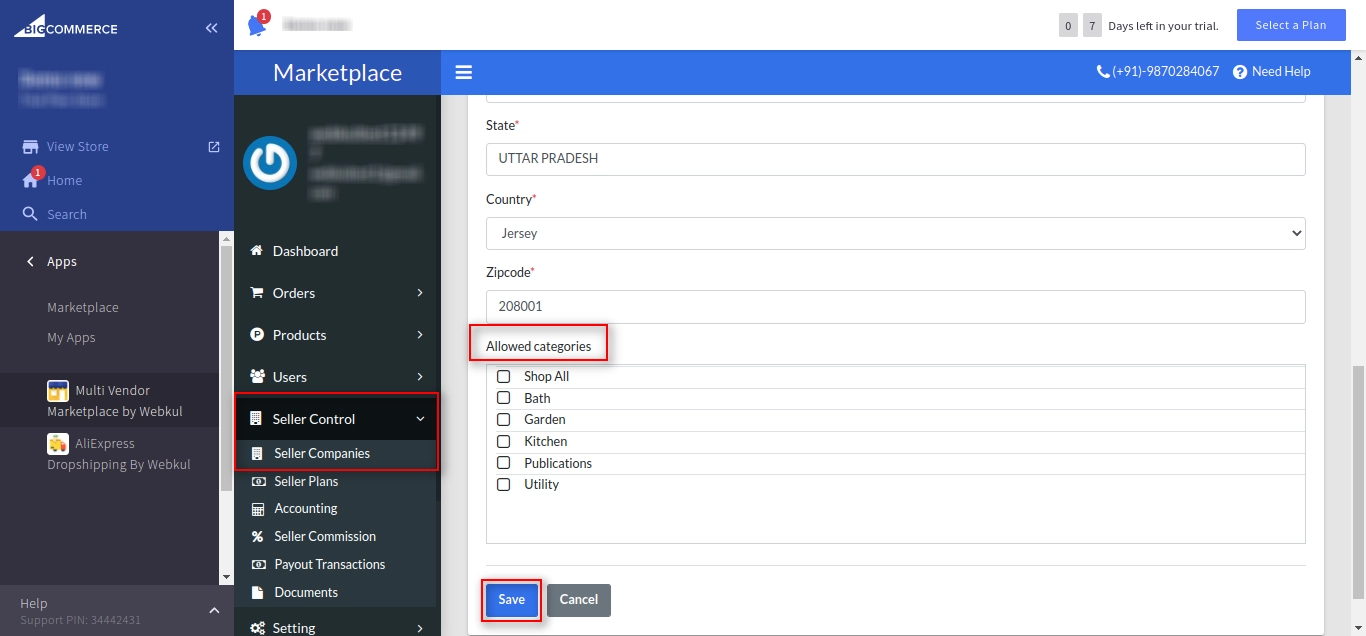 The advantages include: no commissions on payments, an unlimited number of products, integration even in minimal plans with other sales channels: Ebay, Amazon, Facebook, Google Shopping, Instagram.
Separate add-ons are available for the platform to expand functionality, as well as paid and free design themes. However, compared to other platforms, there are not so many extensions. The engine is optimized for SEO by default, but the basic settings do not have enough tools to promote a large marketplace.
Pros:
No transaction fees.

Lots of built-in features.

Flexibility of settings and easy scalability.

Suitable for large projects.
Cons:
Not many additional extensions.
Not enough SEO tools.
Poor marketing tools.
Few templates for the external diversity of the marketplace.
Some plans have a limited annual sales volume.
How do you choose a platform?
The choice of platform is desirable to do once and for all. Otherwise, moving to another engine will require a significant investment of time and resources.
The main criteria for choosing a platform were and still are launch time and development costs. But it is necessary to consider important issues that will help with the choice and may affect the cost. You can find information on them in the open source or ask these questions to platform developers and agencies.
Cost: a license, a add-on for the marketplace, a suitable theme?

What is the cost of additional extensions, plugins, modules?

Availability of technical support and what are the options for working with it?

Can the platform be customized to meet the requirements of the desired market?

What is the cost of platform customization? How much is a developer hour on this platform?

What payment gateways are built into the platform? Are there additional modules for the required payment methods?

How are third-party tools and services integrated?

How are settlements with sellers carried out?

What tools exist to manage vendors, orders, products?

How difficult will it be for a vendor to deal with the admin panel?

What security measures are in place to protect customer and supplier data?

What languages ​​and currencies does the platform support?

Can sellers independently create advertising campaigns, promotions, discounts?

Is the platform integrated with other sales channels?

What opportunities for scaling exist?

Can the platform handle a high volume of traffic and transactions without slowing down?

Is the platform's mobile app available, including to vendors?

How deep reporting is provided in analytics?

What SEO tools exist to promote the marketplace?

What communication methods exist between suppliers and buyers? What options are there for arbitration options to resolve disputes?
Subscribe to stay up-to-date!
I want to be notified about ecommerce events.
Subscribe to stay up-to-date!
I want to be notified about ecommerce events.