The NFT industry continues to gain momentum. And if earlier no one thought that memes could be sold, now it is more than crypto art. In the article, we describe the target audience of NFT and tell you how to make an NFT platform on CS-Cart.
NFT stands for non-fungible token, which means non-fungible token. In simple words, a token is an object, non-interchangeable means unique. In essence, NFT is the right to a unique digital object that can be sold like an original Da Vinci painting and only one person can be the owner of a genuine product – the buyer. The NFT Marketplace is a marketplace for selling digital art and collectibles.
The popularity boom of the NFT industry was born on the basis of popular memes. Now paintings, photographs, music, game items and equipment act as tokens for sale. Sales are conducted on the basis of an auction.
Starting from 2020, the NFT market continues to grow rapidly. According to the OpenSea platform, which has a market share of over 90% in the NFT market, the summer of 2021 was the peak of saturation, followed by a decline in activity. Today we can say that the activity of the industry is becoming cyclical with its downs and downs. The rise in activity is associated with triggers, which are most often some events that attract attention.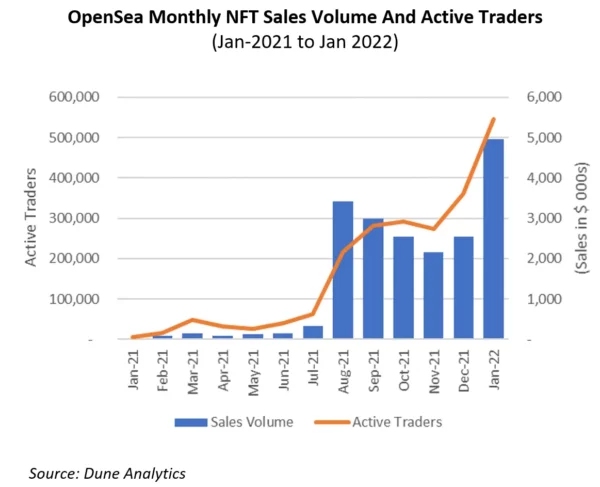 Such an event, for example, could be the public burning of a copy of a painting by famous street artist Banksy for $95,000. Blockchain company Injective Protocol has bought a copy of the Morons (White) work. The painting was turned into an NFT token, converted into a digital art asset, after which the paper copy was burned live.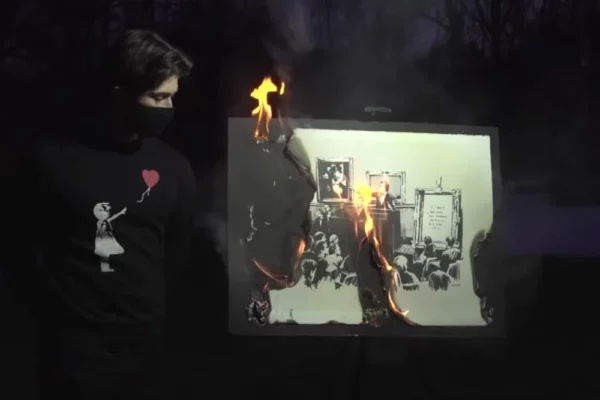 The artist Banksy himself is known for his street art works dedicated to acute political and social topics.

Or another example, Elon Musk auctioned off his NFT tweet for $1 million. Sell, not sold, but public attention to the industry has escalated.
The active involvement of celebrities and the media fuels interest in this digital art.
Do you have an idea? We have a solution!
We design online projects of any complexity on the CS-Cart
What is being sold as an NFT? Examples
GIFs. The most famous NFT sold on the Internet is the Nyan Cat gif, a cat that rushes through space and leaves a trail of rainbows behind it. In February 2021, she turned 10 years old, in honor of this, she was sold on the Foundation platform for 590 thousand dollars.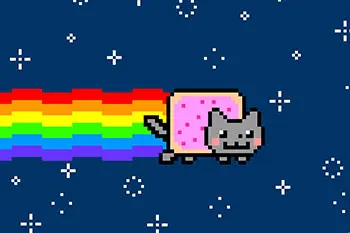 Photo. A photo of Kevin Ebosch titled Forever Rose was sold for $1 million on Valentine's Day. At the same time, before the NFT craze, the author managed to sell a photo of a potato for 1 million euros.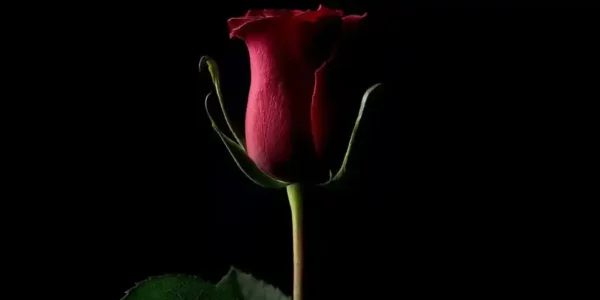 NFT game. For example, in Axie Infinity, players create and breed digital pets. Each character is an NFT token, which the creator can sell or purchase on a special marketplace. The game is very popular all over the world and some players earn up to $1000 every month.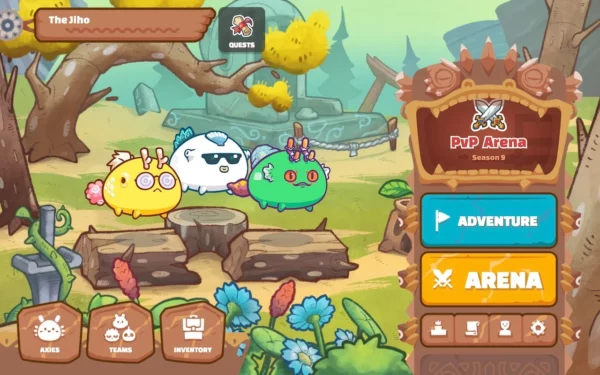 Audio tracks and albums. American DJ 3LAU sold his music album through NFT tokens. In total, he staked 33 album-linked tokens and earned $11.6 million. Linkin Park founder Mike Shinoda sold an animated music video for $30,000. Animated covers for his album "Happy Endings" brought him $6,600 in the same NFT industry.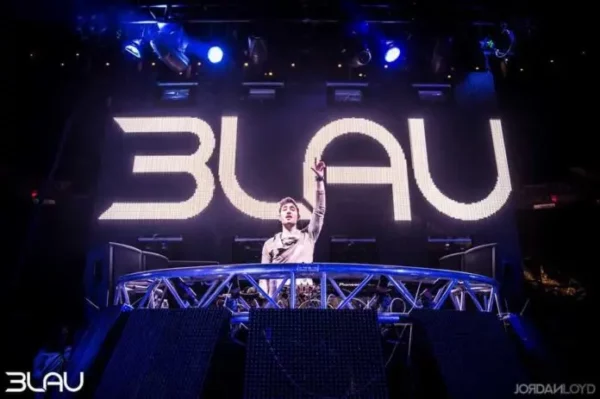 Tickets for events. FC Dynamo has released NFT tickets for the 2021 season. AirEuropa has created a series of tickets for a flight from Madrid to Miami on November 29, 2022. S7 also thought about selling tickets for tokens in order to speed up the processing of orders.
NFT collections. The China Winter Olympics mascot has been given a new lease of life in the form of tokens. The collection consists of a panda involved in different sports.
Gucci and Superplastic have released collections of NFT toys. There are 250 tokens in total. The owners promise to send NFT buyers the original of this toy.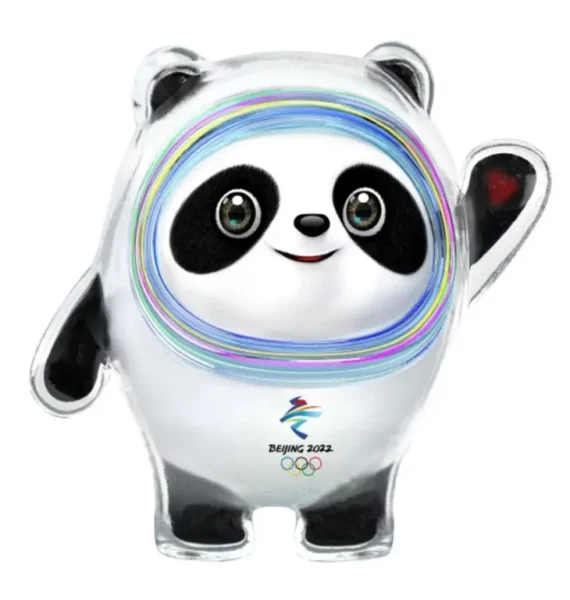 Personal items. Former CIA officer Edward Snowden has sold his portrait, assembled from a judge's ruling. The work was sold for 5.4 million dollars, and all funds were transferred to the foundation for freedom of speech in the press. The work was called "Stay Free".
Personal belongings of John Lennon and Paul McCartney up for auction in NFT format. Guitars, a jacket, personal notes are presented as tokens.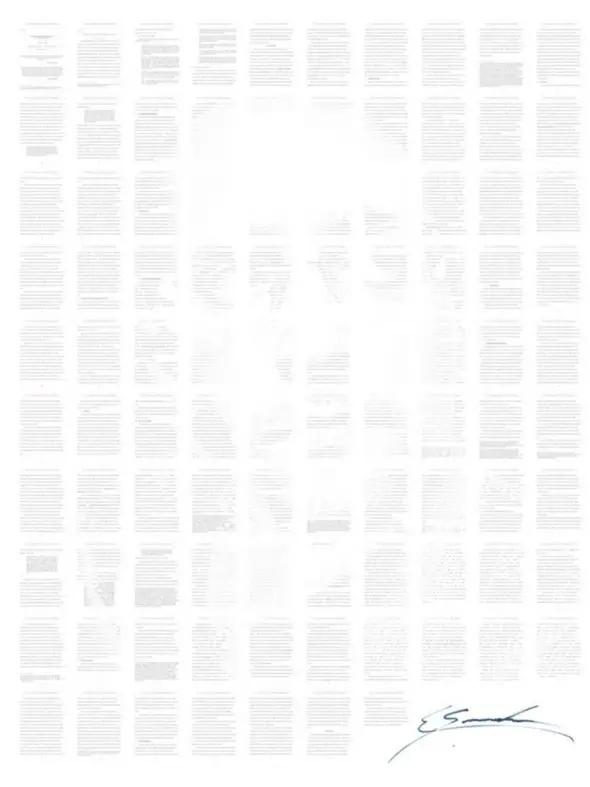 Currently, there are more than a dozen NFT sites. Some of them are dedicated to specific topics, such as game tokens. Others allow you to create and sell all kinds of tokens from paintings to virtual territories. Consider how the most popular ones work.
The largest platform at the moment. It produces more than 90% of NFT trades. The sales volume is from 3 to 5 million dollars a day, there are more than 13 million users. It features a simple way to create and sell a token. In order to enter the site, it is enough to have an electronic cryptocurrency wallet: MetaMask, Coinbase Wallet or Opera Touch.
Peculiarities:
Fully integrated with cryptocurrency;
To create a token, the site takes a commission, on average from 70 to 100 dollars;
Commission must be paid for each transaction;
The commission floats and may depend on: demand, time of day, and so on.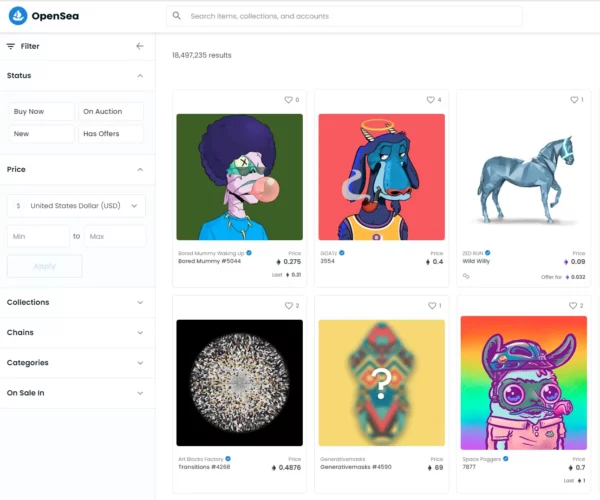 The Russian platform, launched in 2019 and already gaining popularity. It mainly gathers around itself the creators of digital art, but in addition to this, you can sell other objects: domain names, game cards, and so on.
Sales volume 1.5 million per day.
Peculiarities:
The commission is paid not only by the seller, but also by the buyer, 2.5%;
A commission is also taken for the creation of a token;
Authors own intellectual property rights and receive a commission for each resale;
Partnership with OpenSea: a user who registers in one site receives an account on the second one.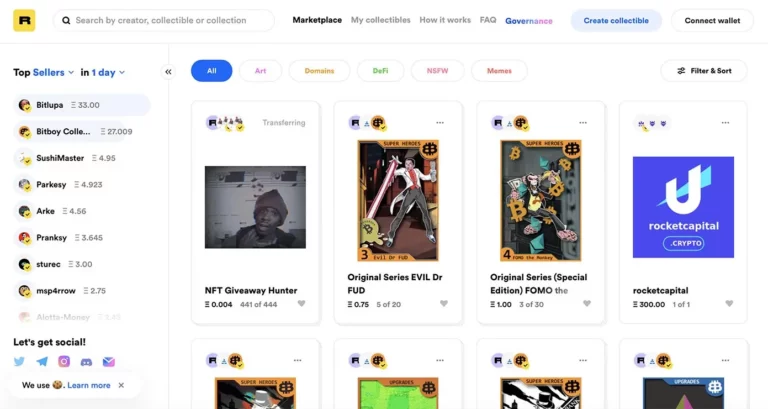 Auction platform focused on digital artists and collectors. Since its launch in early 2021, over $100 million worth of tokens have been sold on the site. You can get to the site only by invitation from a platform participant. Only participants with a high rating on the site have the opportunity to send an invitation.
Peculiarities:
The ability to share digital assets in social networks;
Job posting is free;
The commission from the sale of the token reaches 15%;
The author receives 10% royalties for resale;
Entry is by invitation only.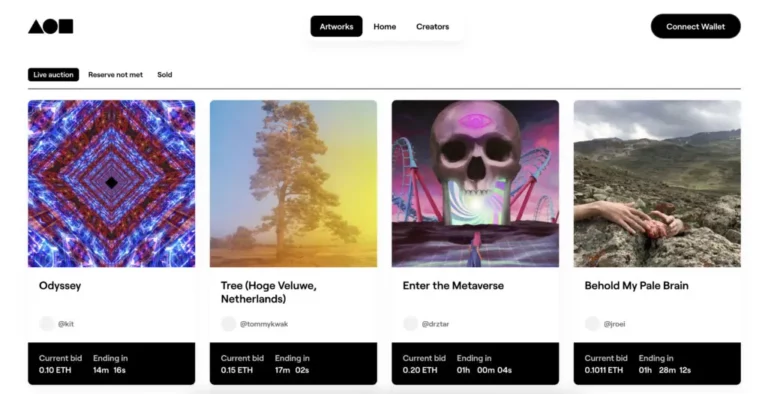 The platform is mainly for artists. The NFT platform was bought by Gemini LLC, which is a cryptocurrency exchange company. Thanks to this, you can buy a token using ordinary money from the card, and not cryptocurrency. In addition, tokens can be placed on the platform for free, but each application to add NFTs requires approval.
Peculiarities:
Possibility to make a deal with ordinary currency;
Commission for each transaction 15%;
The author is charged royalties for the resale of 10% from the transaction;
You can place tokens for free.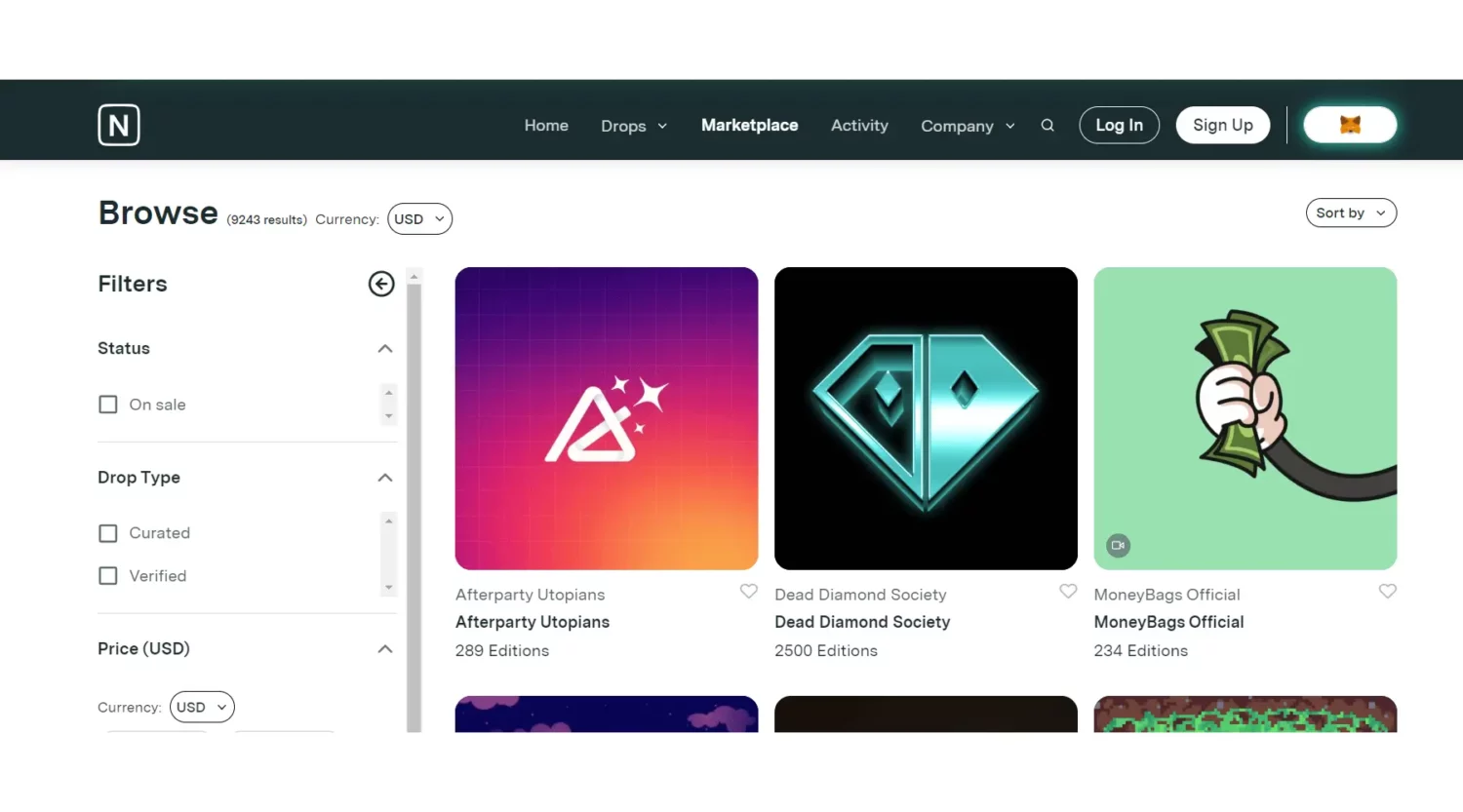 This marketplace is great for beginners, with a clear and simple interface. But the main feature is that you can exhibit your works for free and without commission. You can create your own token store as an alternative to collections. The platform allows you to monetize any electronic assets. To buy or sell, you will need a crypto wallet.
Peculiarities:
Free placement of tokens;
Takes no commission on sales;
Cryptocurrency payment;
You can create your own store.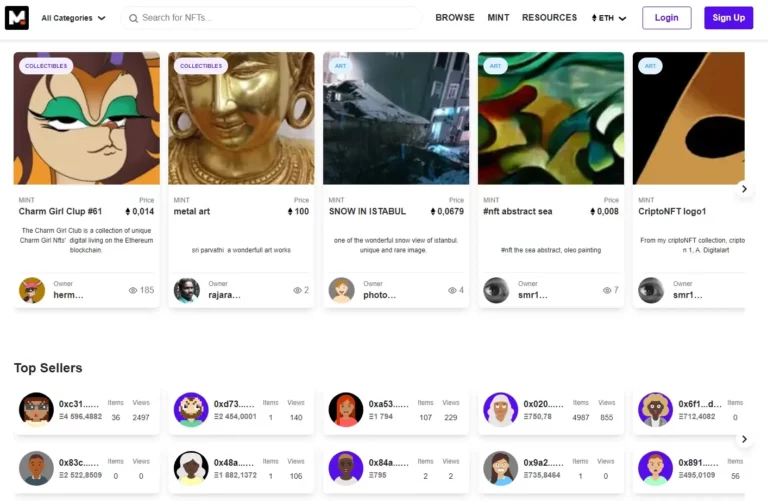 How does a classic NFT marketplace work?
The most common way to sell NFT tokens is through an auction. The lot is placed on the site and sold at the highest price. It should be possible to set the start and end date of the auction, the minimum price at which the token can be sold, as well as the minimum bid step.
Unlike a fixed price, the auction will be able to monetize your token as much as possible.
The classic NFT marketplace implements work through blockchain technologies. Blockchain is a distributed database that stores data on all transactions of marketplace participants. This is a large chain consisting of blocks where information is written. And if on the server information is stored in one physical place, then on the blocks it is stored on many devices in different places.
Due to this, the blockchain is considered a reliable way to store data. All cryptocurrencies work on blockchain platforms.
At the moment, there are many blockchain platforms, Ethereum, Binance Smart Chain are just a few of them. In addition, they evolve like any software, new blockchain projects appear with less power consumption, ease of use and scalability.
By means of a token, a record is created in the blockchain about what kind of digital property, who is the creator, who is the owner, what properties it has and the history of transactions. Tokens can be fungible and non-fungible.
Fungible tokens are like a currency, you can exchange 100 rubles for a banknote with a different serial number or exchange it for two 50 rubles each, while the value of the banknote remains the same.
A non-fungible token or NFT token is unique, each issued NFT token is unique and indivisible.
A smart contract performs the same role as a regular paper contract, only in the digital world. The conditions are written as an algorithm, after the successful completion of the transaction, smart contracts are written into the blockchain code. Due to this, they are not amenable to change and become mandatory for participants.
You can buy and sell NFT tokens through cryptocurrency, then you will need integration with a crypto wallet. It does not work like a physical wallet, but provides access to assets that are stored on the blockchain. Information about the owner of the token comes through the crypto wallet number.
When choosing a wallet, it is important that it is compatible with the desired blockchain platform. The most common are Metamask, MyEtherWallet, Coinbase Wallet and WalletConnect.

But as we saw from the examples of NFT marketplaces, some platforms allow you to buy and sell tokens for regular money.
Simplicity and convenience are two concepts that exist inseparably throughout the digital world. Therefore, for the user: the creation, purchase and sale of tokens should be as clear and fast as possible.
From the user's point of view, the process looks like this:
File creation
Wallet connection
Uploading to a resource
Putting up for sale
Waiting for crazy money to come in
In addition, simple features such as search, easy login and registration, creation of an ad, trading history, reviews or ratings, the possibility of promotion, technical support and notifications should be available.
Who buys, creates and sells all these gifs, pictures?
According to a study by Morning Consult, one in three Americans collects something. When it comes to NFT collecting, the most active NFT buying and selling group is men (45%) and millennials (42%). While the adult generation is generally not familiar with the concept of NFT.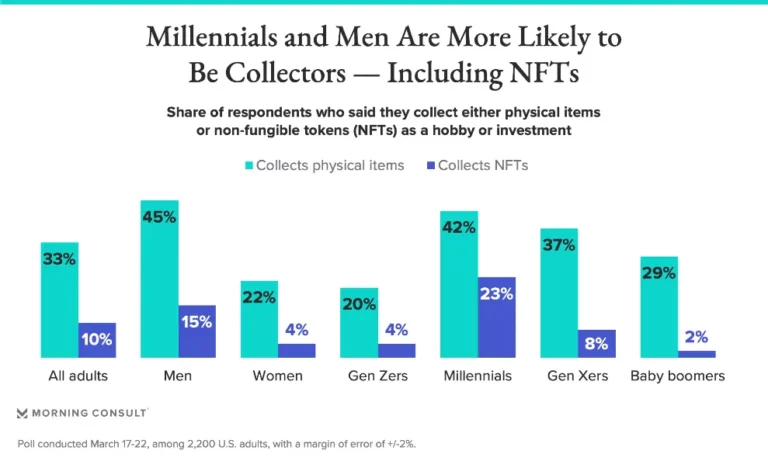 A study of requests for NFT suggests that Asian countries are more interested in this industry. Hong Kong, Singapore, China are the top three. Positions between them can change in different periods of time, but always remain in the top.
Investing and buying NFTs is not highly dependent on income, data from CivicScience confirms this . People who make less than $25,000 a year buy the same as those who make more than $150,000.
Portrait of target audience
If we conclude, then the portrait of the target audience of NFT will be as follows:
young man;
at the age of 24;
follows modern trends in the development of technologies and media resources.
He begins his career growth and one of the most important needs is self-expression, the desire to stand out from the crowd.
An active participant in online communities, the need for self-expression is realized through Internet resources. NFT will be a way for him to earn money and an opportunity to stand out or even become famous in some online communities.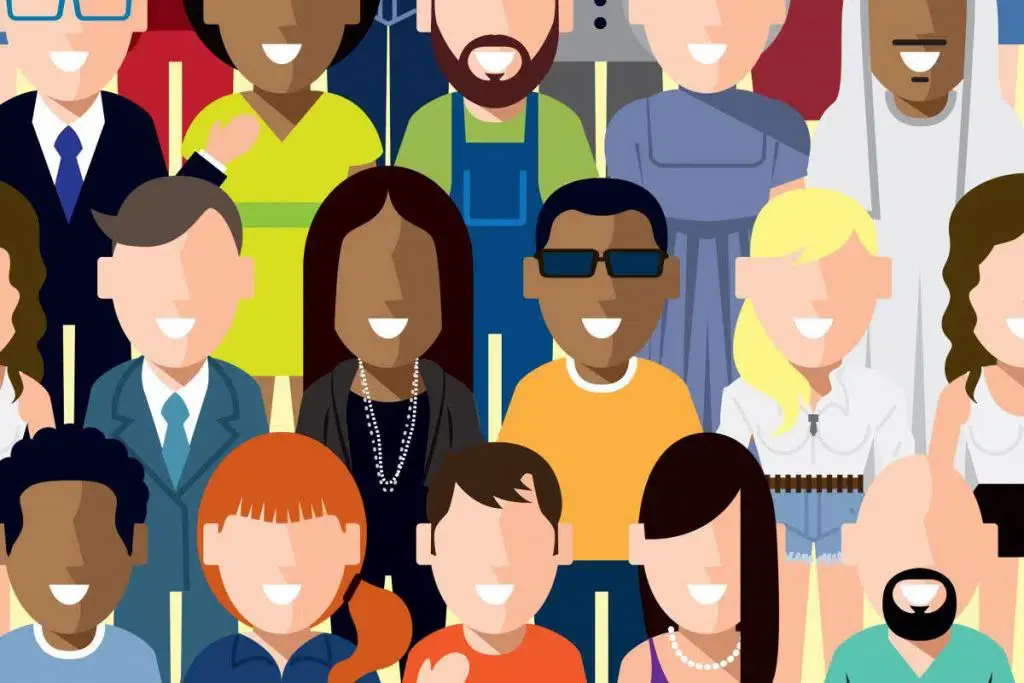 What should be on the NFT marketplace according to the target audience
Promotions and loyalty system. Be sure to think over programs of promotions, discounts, loyalty programs. This is an important part of the millennial shopping process.
Convenient mobile version. Please note that the platform is convenient to use on various devices. Since the audience is followers of new technologies.
Community. Implement the ability to create communities on the site, share information on social networks, or simply leave comments under tokens.
Lists and ratings. Create ratings of the most active sellers, the most expensive sellers, etc. — give the opportunity to stand out and be at the top of something.
How to create an NFT marketplace on CS-Cart
The NFT marketplace is not a standard marketplace, but Cart-Power can offer the creation of an NFT marketplace with wide functionality and smooth operation. So what is needed:
CS-Cart Multi-Vendor will make it possible to create a platform where each participant can create and sell their digital products, NFTs around the world. Resistance to high loads will not affect the speed of the marketplace and will allow you to download more than 1000 tokens at the same time.
CS-Cart has an adaptive mobile version. And open access to the platform code provides ample opportunities to change the finished functionality and add the necessary integrations.
2. Functionality settings
Create and configure the required number of storefronts for the countries in which downloads and sales are expected. At the same time, storefronts can be independent of each other, with their own domain name, languages ​​and currency, and they can be managed from one admin panel.
Customize page layouts and content through the built-in design editor.
Set up tariff plans and commissions for seller categories. For new NFT artists, you can make a zero sale commission and free token placement to make the market attractive.
The default boxed version of the platform already includes marketing tools for creating discounts, promotions, VIP user groups. Choose and customize the tools you need.
3. How to sell NFTs on CS-Cart
There are two ways to set up NFT sales on CS-Cart:
1. Selling NFTs as digital goods. To do this, you will need to set the required number of downloads, set up a link provision policy, add a license agreement for the use and sale of NFT between the creator and the user. To create NFT collections, simply create folders, this will group the digital goods.
The add on for the "Auction" platform will help organize NFT sales through an auction . Customers can track auctions and receive email notifications, or buy a token without participating in an auction. You can set the minimum, reserve, starting bid price, bid amount, start and end time of the auction.
2. Blockchain integration. As with any service, you can develop integration through the API for concluding smart contracts.
4. Payment services and mechanisms
The default version is already integrated with the most common payment services around the world. More than 70 payment systems provide ample opportunities for payment, including mobile payments: Apple Pay, Google Pay. You can set up payment methods depending on the country.

Or integrate the platform with cryptocurrency services , for the classic operation of the NFT marketplace. The Cart-Power team has experience in integrating with services of varying complexity, provides guarantees and technical support for all improvements.
After the NFT project has been tested by the developers, all that remains is to deploy your site on the server and start promoting it.
NFT tokens can not only be sold, but also resold. As with any asset, the price of a token can change with the popularity of its creator. Therefore, it is not necessary to create new NFTs every time, many visitors resell what they have. In this case, the NFT marketplace acts as a PR platform, which in turn can attract investment.
In Russia, representatives of classical and digital art also do not stand aside. Famous graphic designer Eduard Mikhailov published his work on the Nifty Gateway platform and earned $50,000. At the same time, many crypto-artists had no idea what NFT was before. For creative people, such platforms are another way to monetize their creativity and expand their audience.
But the NFT didn't just affect individuals. Companies and nonprofits are increasingly trying and experimenting with new features.
The State Hermitage sold paintings from its collection as tokens on the Binance platform in September 2021. In total, 5 works were presented and the most expensive was sold for 150 thousand dollars.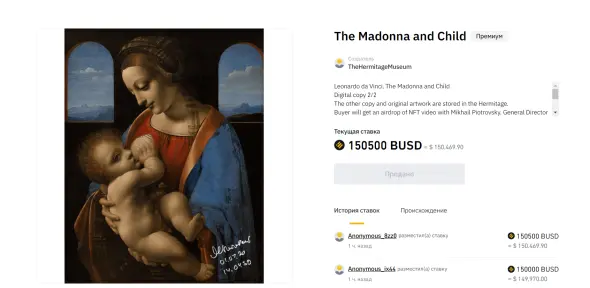 A group of young rabbis in Russia have released a collection of synagogue decorations. The collection consists of four tokens of a 3D model of the decoration of the "Moscow Jewish Community Center" in Maryina Roshcha and three made from coins. The initiators of the collection pursue charitable goals.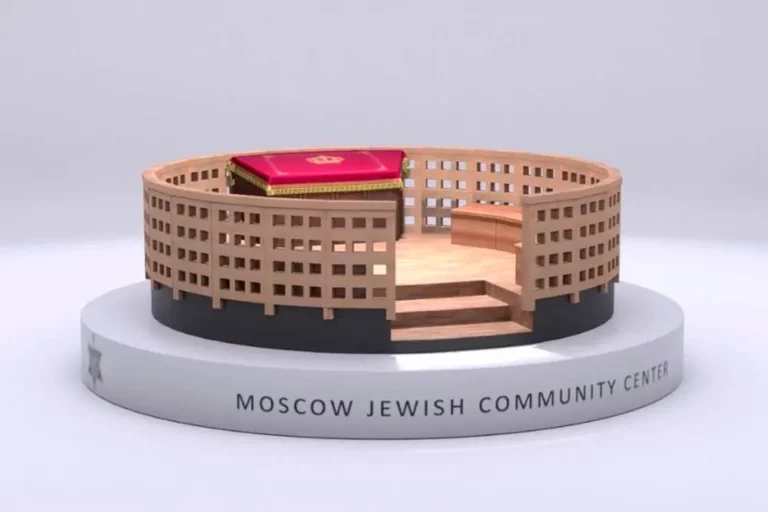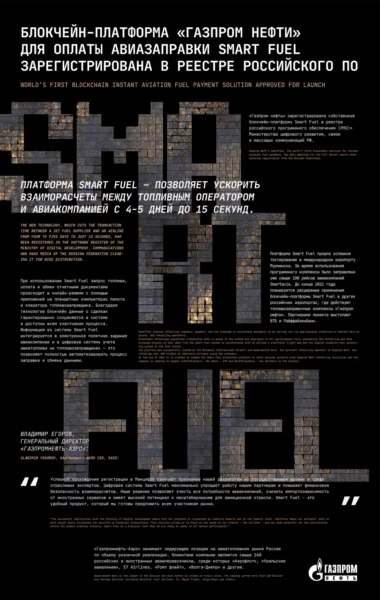 Gazprom has released its press release in NFT format in support of the Smart Fuel aircraft refueling blockchain platform. The name of the platform is displayed in the form of digital blocks, and the font of the release is printed according to the style of the program code.
The social network VKontakte plans to implement the placement of NFT tokens. The social network does not plan to create a separate blockchain platform, according to the technical director, the site will allow you to upload content, create a token and upload it to the exchange for sale.
However, despite the popularity of NFT in Russia, there is still a question about the legal regulation of this industry. A bill has just been submitted for consideration that will evaluate NFT tokens as a unique digital asset.
Russia is not the most active country in the NFT industry, but the community is growing rapidly. Promotions and exhibitions with the participation of blockchain technologies are held annually. More and more companies and non-profit organizations are trying and implementing new technologies. And activity in the legal field suggests that interest in this industry will only continue to grow.
What are the challenges facing the NFT market?
There is no single regulation. 

The lack of uniform standards results in a lack of proper oversight and accountability. Each platform has its own set of rules. In some countries, there is a general ban on cryptocurrency, and the existence of NFT sites is impossible. For example, China is creating its own digital platform on which NFT marketplaces will operate. The Chinese ban on cryptocurrency and mining is explained by the fact that public distributed registries do not require users to verify their identity. The digital yuan will become the only currency in circulation on NFT marketplaces.
Fraud and scammers.

As a conclusion from the first point, the number of dishonest transactions is growing. 

Over $50 million was stolen between 2021 and 2022. 

Fraud methods vary from phishing attacks to insider trading. 

Since blockchain technologies are based on privacy and decentralization, it is impossible to track who bought or sold an asset. 

By buying their own NFT assets, the owners raise their market value.
Decreased interest. 

According to Google Trends, the number of searches for the word NFT worldwide has fallen since the beginning of 2022 and continues to decline. 

The cryptocurrency market fell amid changes in the monetary policy of banks, everyone is afraid of inflation. 

Cryptocurrency does not inspire confidence amid such fluctuations. 

And since NFT is an investment in the crypto market, the popularity of investing in NFT projects is declining. 

In 2022, the number of active NFT wallets was 14,000, while a year earlier they were used by 119,000 users.
But, despite the problems and limitations, the NFT market remains the most dynamic and rapidly developing.
Development of practical applications for the use of NFT. For example, in the process of identifying a user, confirming the availability of certain certificates and licenses, passes to events, and so on.
Simplify transaction and payment processes. 

Implementation of payment by bank cards. 

Coinbase announced that its users will be able to trade NFT tokens on the Ethereum blockchain using MasterCard bank cards. 

That is why the whole process of making transactions will soon be greatly simplified.
Cross-chain NFT transactions. 

The ability to trade on the same platform on different blockchains will increase the flexibility and liquidity of NFTs and reduce dependence on a separate blockchain. 

It will be possible to move from one virtual world to another with all the "things", that is, tokens.
Integration of NFT into the gamification industry. 

The principle of using NFT in games is quite simple: all the assets that exist and the rewards that can be obtained are represented in the form of tokens. 

And if earlier games used the principle of "Play-to-Win", now "Play-to-Earn".

Now you can trade NFTs you win, get cryptocurrency for playing, earn money by renting NFT assets.
Using sidechens to reduce transaction fees. 

As the NFT market and blockchain systems scale, sidechain technology emerges. 

This is a parallel network with two-way binding to the main one. 

Now they work only for two blockchains: bitcoin and Ethereum and allow you to increase the speed of work and reduce commissions. 

However, the main disadvantage of sidechains is reduced security.
Integration with social networks. 

Some social networks stop supporting NFT, while others, on the contrary, implement it. 

But there is interest among social media users to monetize their activity.
Implementation of AI technologies, machine learning in NFT. 

The time of artificial intelligence began to actively develop in 2023. 

The symbiosis of AI and NFT technologies is expected to give users a unique experience. 

Creation of unique avatars with opportunities for learning and communication with users.
Decentralized Finance (DeFi). NFT is more actively merging into the financial space. This is a new way of providing assets and financial instruments.
The future for NFT marketplaces
In the near future, it can be expected that the NFT market will continue to develop further and become more than a collectible. A few predictions about the future of NFTs:
1. Wide adoption. As this industry becomes understandable and accessible, more people are looking into their possible uses. Applications for NFTs will be more common in games, digital art, music, alternative investments.
2. Increased liquidity. The market for non-fungible tokens is still new and is characterized by low liquidity and high volatility. As this market matures, the efficiency and liquidity of NFTs will grow.
3. Integration into new systems. Social networks, e-commerce, games, rent, finance. Integrations will become more complex and seamless to make it easier to use.
4. Strengthening security. To prevent cases of fraud and theft, new data storage solutions will appear, as well as the use of existing security technologies: multi-signature wallets, hardware wallets.
5. Regulation. The more popular the NFT market becomes, the more attention it will receive from regulators. For a more secure and transparent development, the rules of use will be tightened, and there will be more restrictions. Governments and organizations may seek to better understand the potential impacts and risks from the spread of NFTs and will therefore take steps to mitigate these risks.
Subscribe to stay up-to-date!
I want to be notified about ecommerce events.
Subscribe to stay up-to-date!
I want to be notified about ecommerce events.