Currently, significant shifts are occurring across Western Europe in consumer behaviors and the integration of technology, as well as the implementation of governmental regulations regarding e-commerce. This article aims to examine the statistical data and emerging trends that differentiate the top European countries from other regions worldwide. The provided information will assist e-commerce participants in gaining insights into the potential opportunities available when entering Western European markets, enabling them to embrace contemporary practices.
Comparison to Other European Regions
The region comprises several countries, namely the United Kingdom, France, Luxembourg, Germany, the Netherlands, Belgium, and Ireland.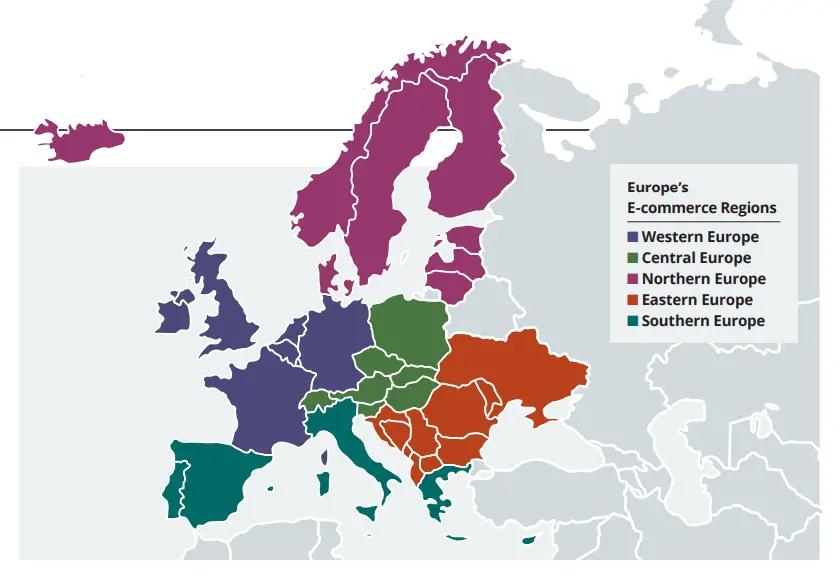 Unlike other regions that are still in the early stages of adopting e-commerce, the Western European market has already reached a mature state. The maturity of the market can be attributed to factors such as the high level of economic integration within the European Single Market and the earlier adoption of the internet compared to Eastern Europe. Presently, Western European countries boast one of the highest internet penetration rates in Europe, standing at 95%. As a result, nearly everyone in the region has access to online shopping opportunities.
As per the European E-commerce Foundation, Western Europe had the highest rate of online purchasing among European regions in 2022, with 87% of the population engaging in online transactions. This statistic represents the strongest indicator of e-commerce participation in the region.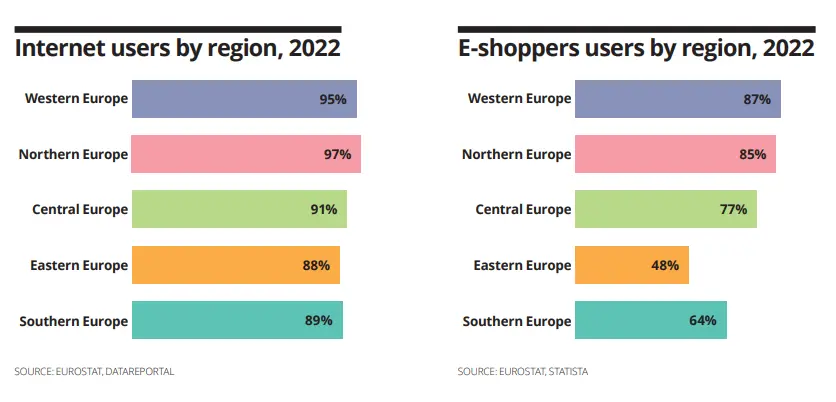 Western Europe accounts for 67% or €603 billion of total B2C turnover in Europe, according to 2022 data.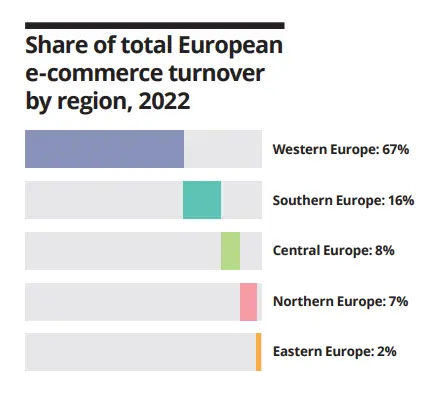 Notably, the Western European market experienced significant changes in 2019-2020 as a result of travel restrictions imposed due to the COVID-19 pandemic. During this period, the growth rate of B2C e-commerce sales surged by approximately 30% year-on-year. However, as the effects of the pandemic subsided, e-commerce sales stabilized, bringing an end to the exceptional growth observed.
According to eMarketer, in 2022, there was a substantial decline in sales volumes, with a decrease of 4.5% recorded. Furthermore, the projected growth for this year indicates a modest increase of 3% in digital commerce sales within Western Europe. This growth rate, though positive, is relatively low. National e-commerce associations have attributed this trend to rising inflation, which has led consumers to exercise greater caution when it comes to spending, even in the online sphere. As the market size continues to expand steadily, experts anticipate a decline in the growth rate of e-sales across the region.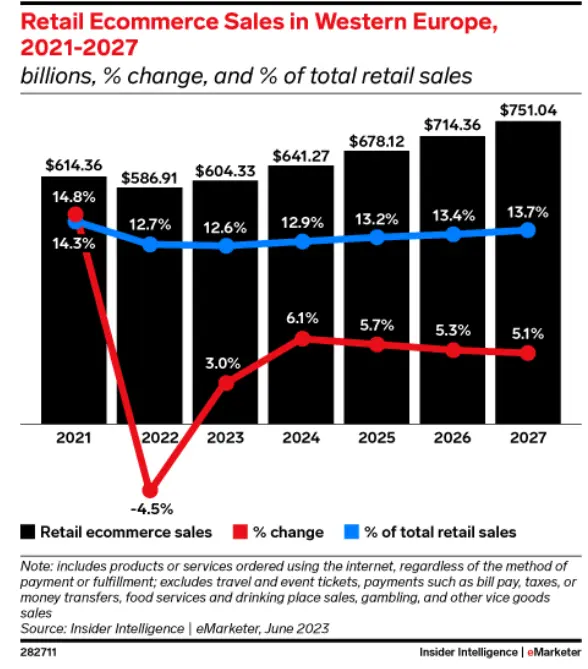 In 2020, there was a slight increase in the number of internet users and the proportion of individuals engaging in online shopping. However, over the past three years, these metrics have remained almost unchanged.

According to these metrics, the UK and the Netherlands emerge as leaders in Western Europe. In the UK, 95% of the population is engaged in online shopping, while in the Netherlands, the figure stands at 92%. Additionally, other Western European countries also rank among the top 15 in terms of the proportion of their population making online purchases.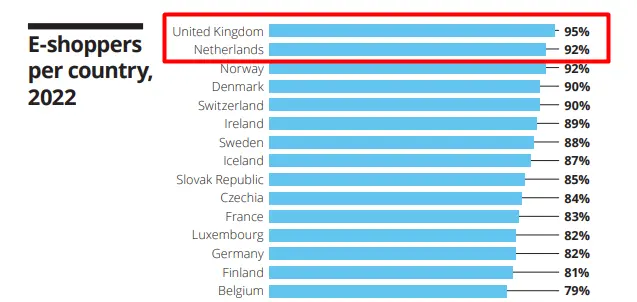 In 2022, there has been a 2% increase compared to 2021, with 15% of users in Western Europe expressing a willingness to make purchases from sellers whose country of origin is unknown. Meanwhile, the percentage of consumers purchasing from national sellers and sellers from other European Union (EU) countries has remained stable at 81%. These indicators apply to all European countries that are part of the EU.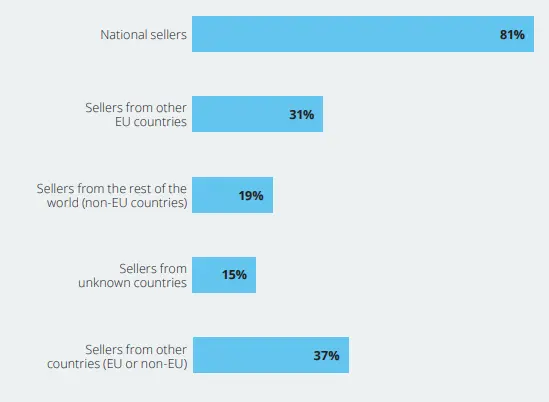 Features of Leading Countries

Bank cards continue to be the preferred payment method in Western Europe, with high adoption rates in countries like the UK, France, and Belgium. In the UK, 56% of shoppers prefer using bank cards for payments, followed closely by France at 55% and Belgium at 51%. However, Germany stands as an exception, with 49% of buyers favoring bank transfers through payment systems over traditional bank cards.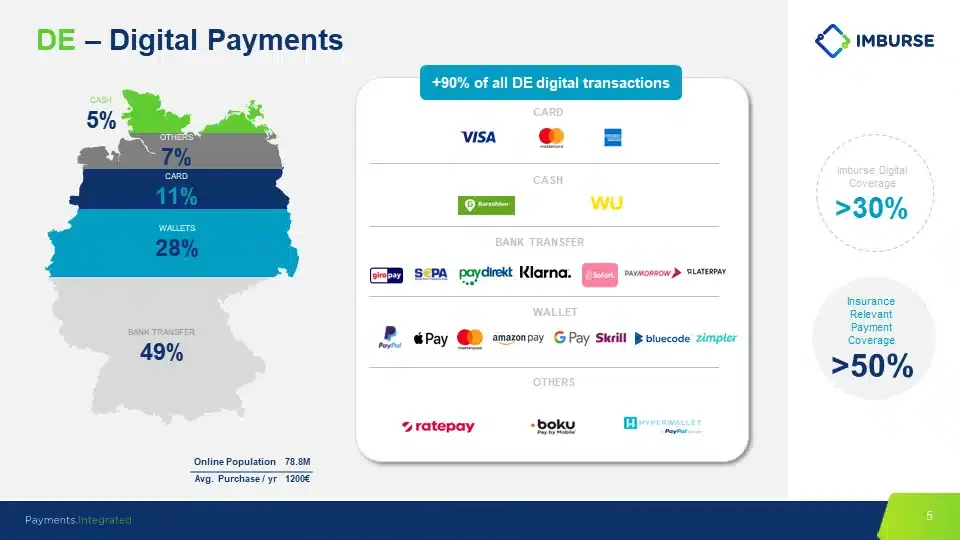 Digital wallet usage is on the rise, with increasing popularity among consumers. In the UK, 25% of consumers are already utilizing e-wallets, and in Ireland, the figure stands at 22%. It is anticipated that these numbers will experience significant growth in the coming years.
Popular payment methods in Western Europe by country:
Visa and Mastercard (UK, Ireland).
Open banking (UK).
PayPal (UK, France, Germany).
Cartes Bancaires (France)
iDeal (Netherlands, Belgium).
Giropay (Germany).
SEPA Direct (Germany).
Sofort (Germany, Belgium).
Bancontact (Belgium, Luxembourg).
Payconiq (Belgium).
Fashion.
Toys, hobbies, DIY.
Electronics and household appliances.
Cosmetics / skin care products.
Fast moving consumer goods (FMCG).
Delivery from restaurants, catering.
Pharmaceuticals.
Now, we will delve deeper into specific categories mentioned in the previous information.
Following the peak of the initial wave of the pandemic, Western Europe witnessed a significant surge in e-commerce volumes, particularly in the Fast-Moving Consumer Goods (FMCG) and Pharmaceuticals sectors. By the end of 2020, the penetration of FMCG e-commerce reached around 48% in the UK and France, while Germany's penetration rate exceeded 20%.

The beauty and personal care sector in Western Europe has been experiencing rapid growth in recent years. According to Cosmetics Europe, 72% of consumers consider cosmetics and personal care products to be essential in their daily routine. There is a growing emphasis on health, leading to increased demand for products with organic ingredients. Social commerce is also gaining traction in the beauty and personal care sector, with beauty brands collaborating with influencers and micro-influencers. Platforms such as Instagram and TikTok are being utilized to promote their stores and products.
Based on data from Statista, Amazon emerges as the leading online platform in Western Europe, attracting a monthly user base of 1.3 billion. In second place is eBay, with 474 million monthly users. While Amazon and eBay dominate the market, there are several other notable marketplaces with substantial traffic. For instance, Zalando from Germany claims the third position among the top online stores in Western Europe. Zalando specializes in the fashion, beauty, and sports segments and has established itself as a key player in the region.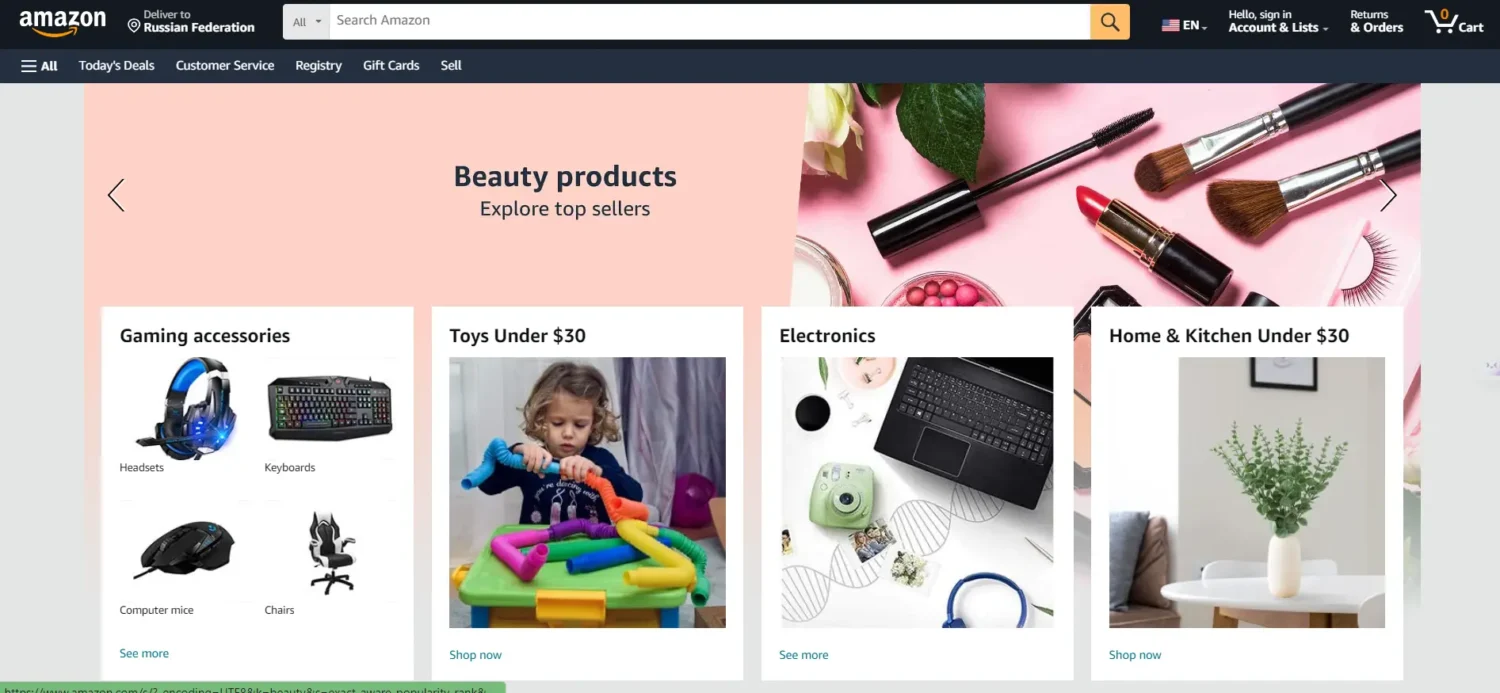 Categories: any categories.
Feature: site No. 1 in Germany, The UK, France.
Amazon's European trading platforms host a vast community of over 86,000 active sellers. The platforms witness an impressive turnover, with more than 2,700 products being sold every minute. The fulfillment options provided by Amazon, such as Fulfillment by Amazon (FBA), multichannel fulfillment (MCF), and global shipping, enable sellers to efficiently ship their products not only within Europe but also internationally. This ensures that products can reach customers throughout Europe and even beyond.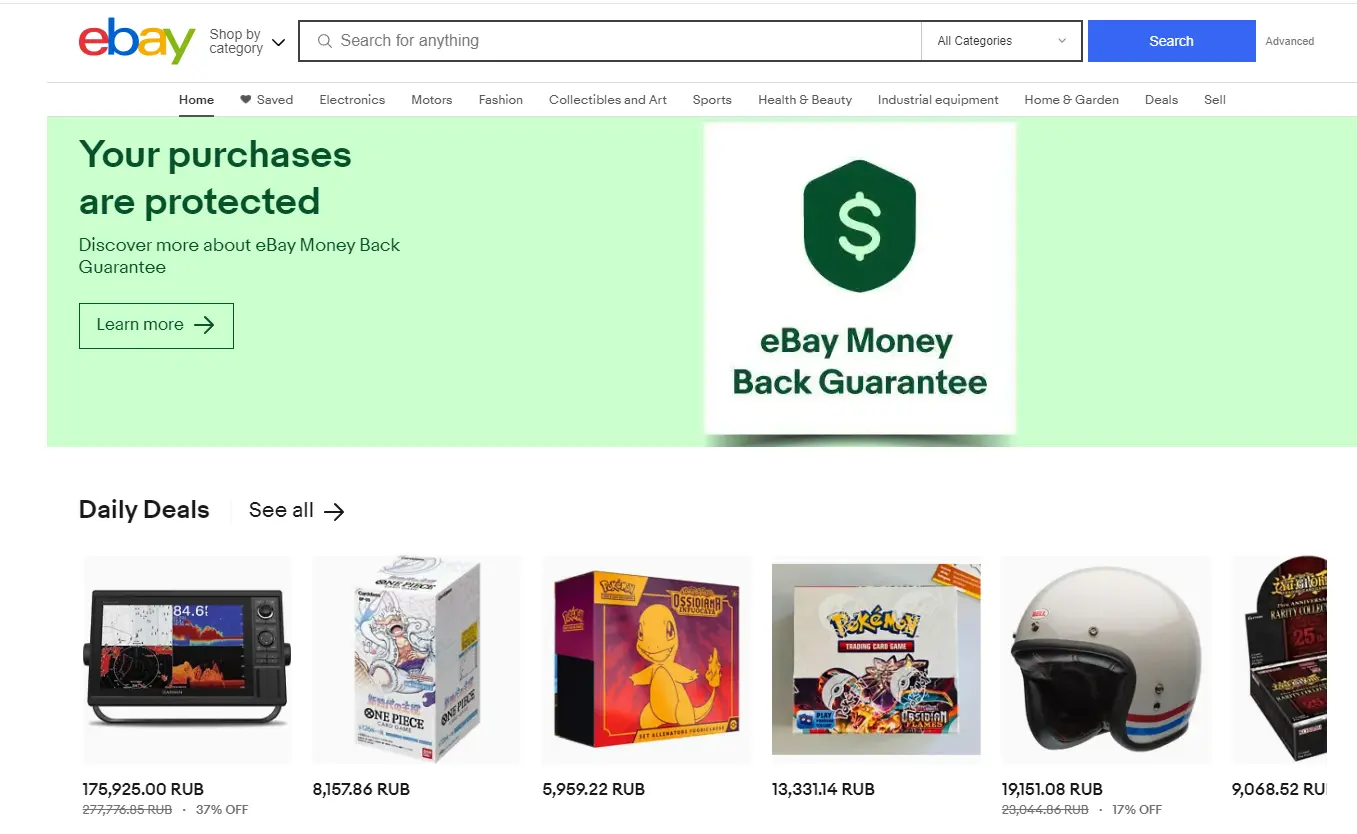 Categories: any categories.
Feature: site No. 2 in Germany and the UK.
The site is visited per month 232.8 million users from the UK, 147.8 million from Germany, 24.2 million from France.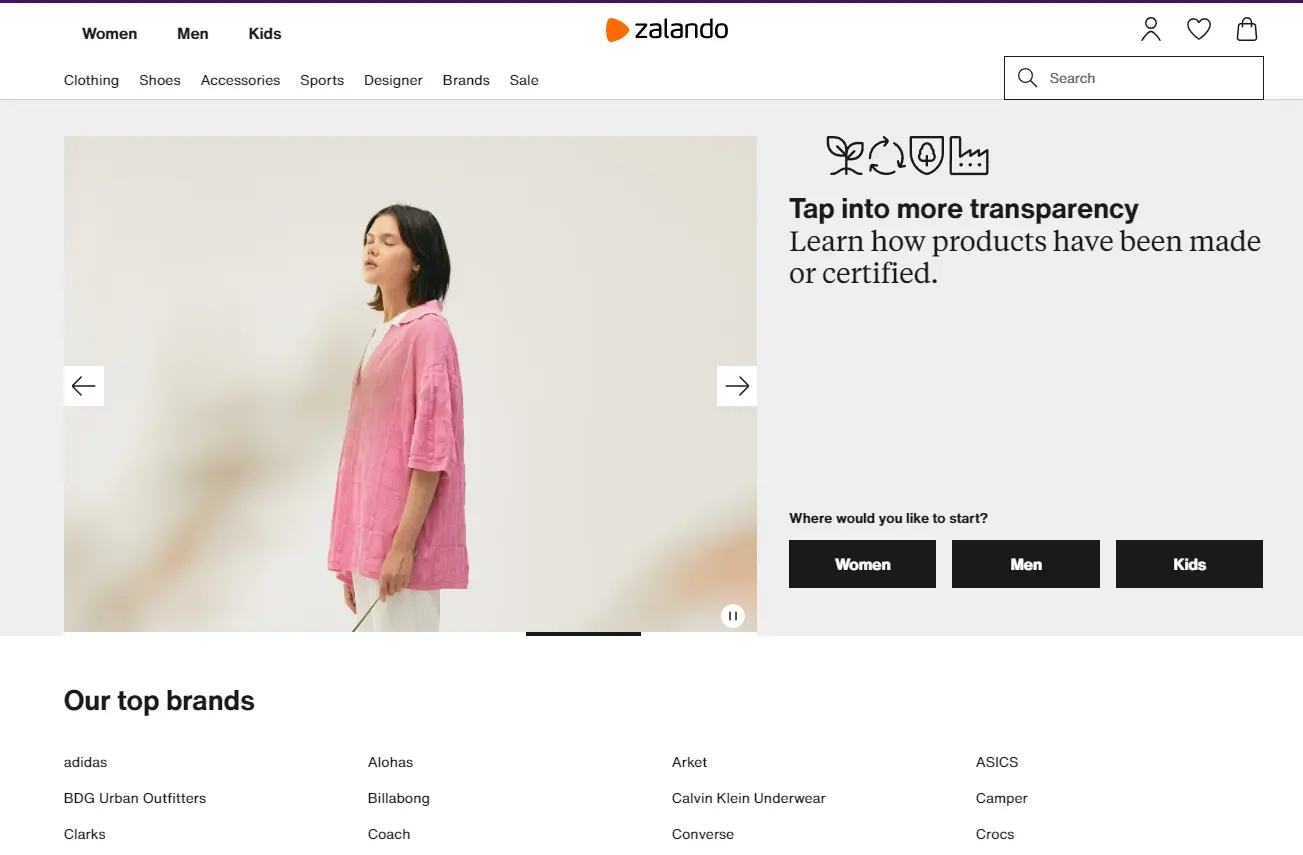 Categories: fashion.
Feature: site No. 1 in Germany and the Netherlands in the fashion segment.
One of the most well-known brands in Germany, this company has expanded its operations since 2017, establishing fulfillment centers in Belgium and Sweden. It offers over 250,000 products from 2000 brands and caters to approximately 22 million customers on a monthly basis. Its share in the fashion market of Western Europe stands at 7.4%.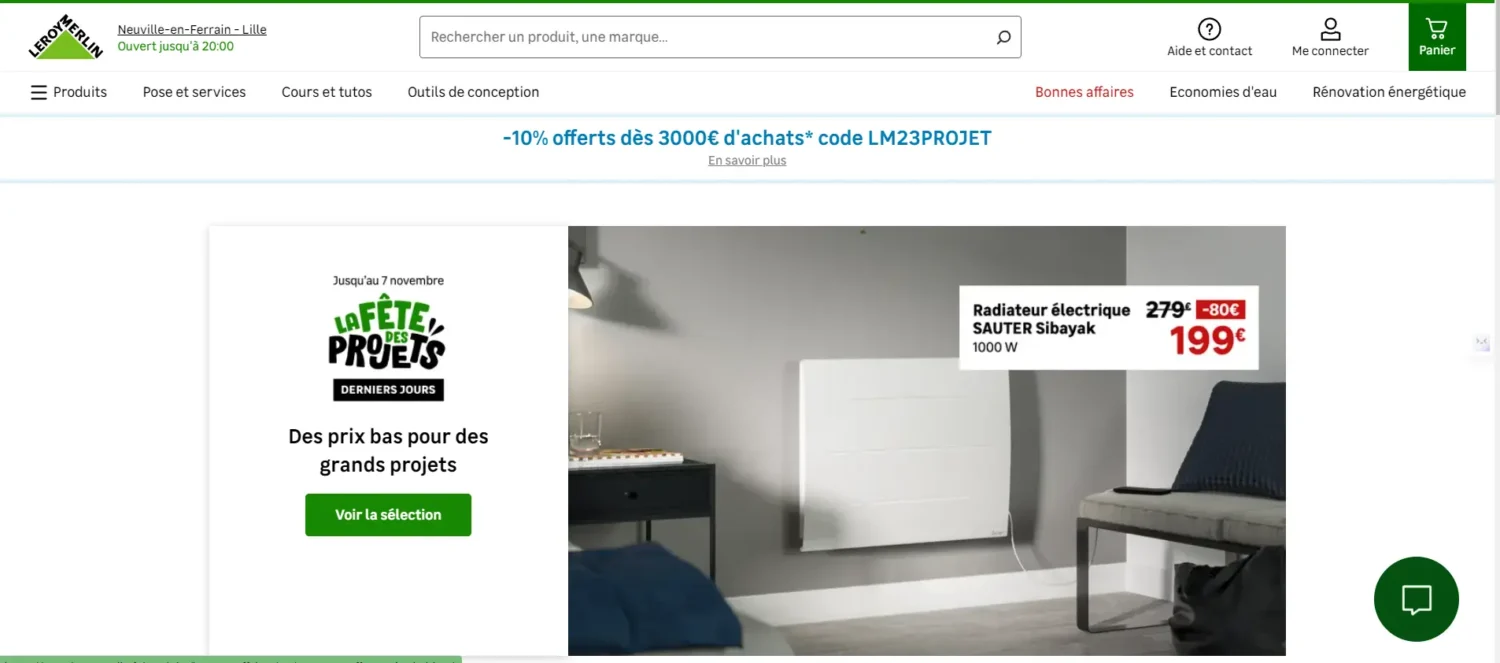 Categories: DIY.
Feature: site No. 1 in France in the DIY-segment.
With its widespread popularity, the platform attracts a substantial monthly visitor count from countries like France, Spain, and Italy, totaling approximately 57.9 million visitors. Additionally, its strong presence in Russia garners an additional 37 million monthly visitors, resulting in a potential overall visitor count of 94.9 million users.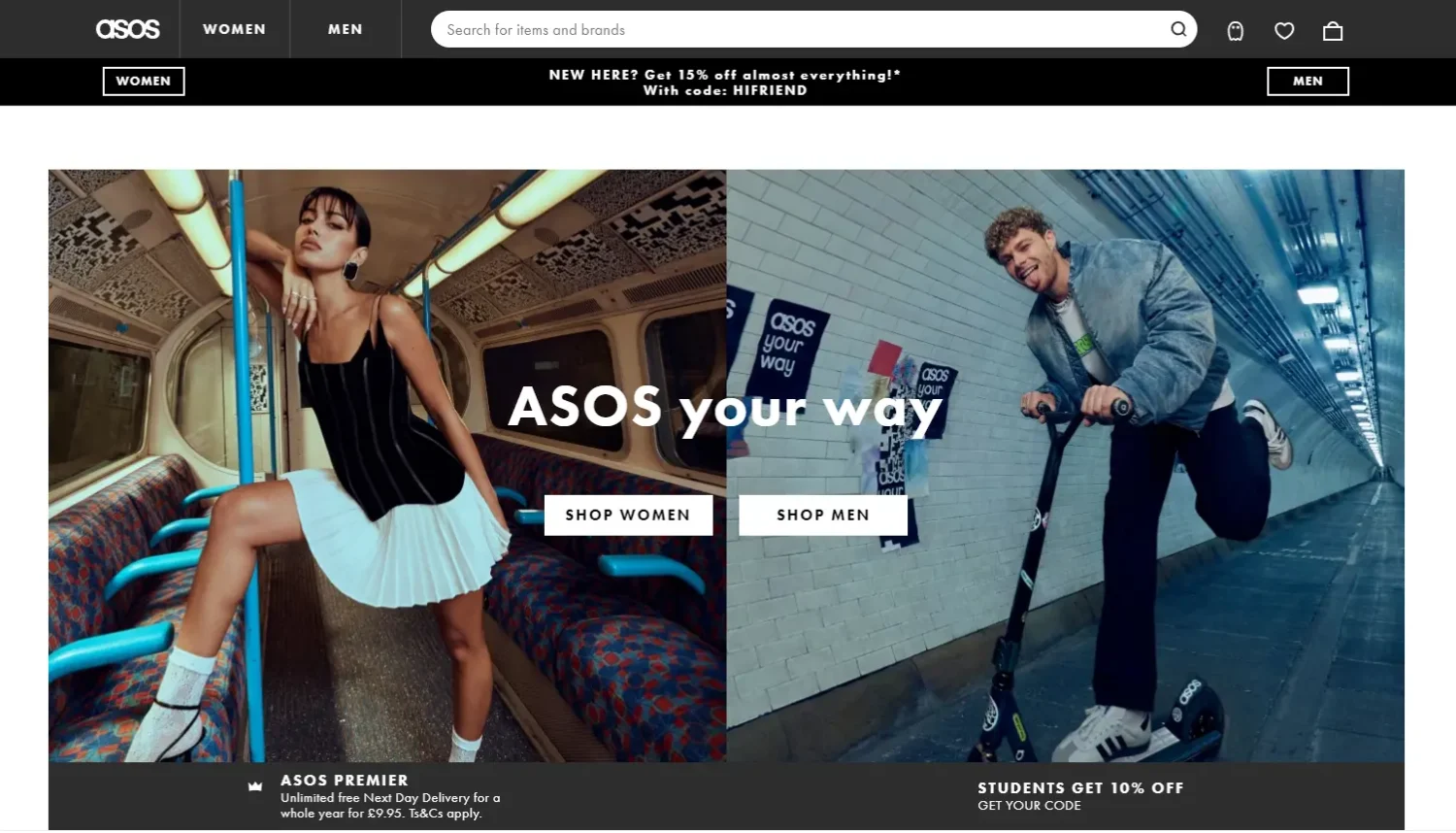 Categories: fashion.
Feature: site No. 2 site in the UK in the fashion segment.
Originating from the UK, this fashion marketplace has gained global popularity. It boasts a vast network of over 900 merchants, encompassing various boutiques. With a remarkable monthly visitor count of 82.8 million, the platform garners significant attention from fashion enthusiasts worldwide.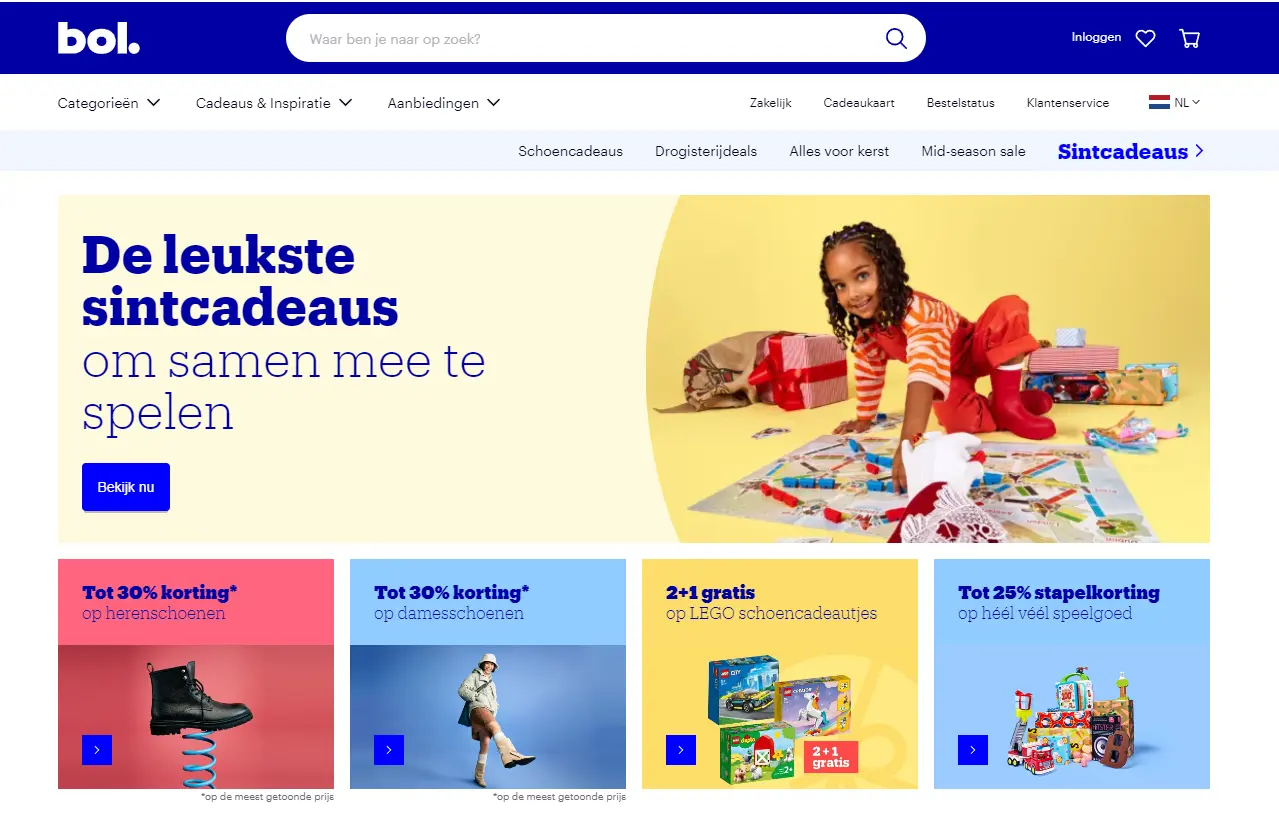 Categories: any categories.
Feature: site No. 1 in the Netherlands, Belgium, Luxembourg.
Shoppers in the Netherlands, Belgium, and Luxembourg exhibit a preference for the local Bol marketplace instead of Amazon. Bol.com attracts a monthly visitor count of 64.9 million individuals from these three countries, indicating its strong popularity and customer base in the region.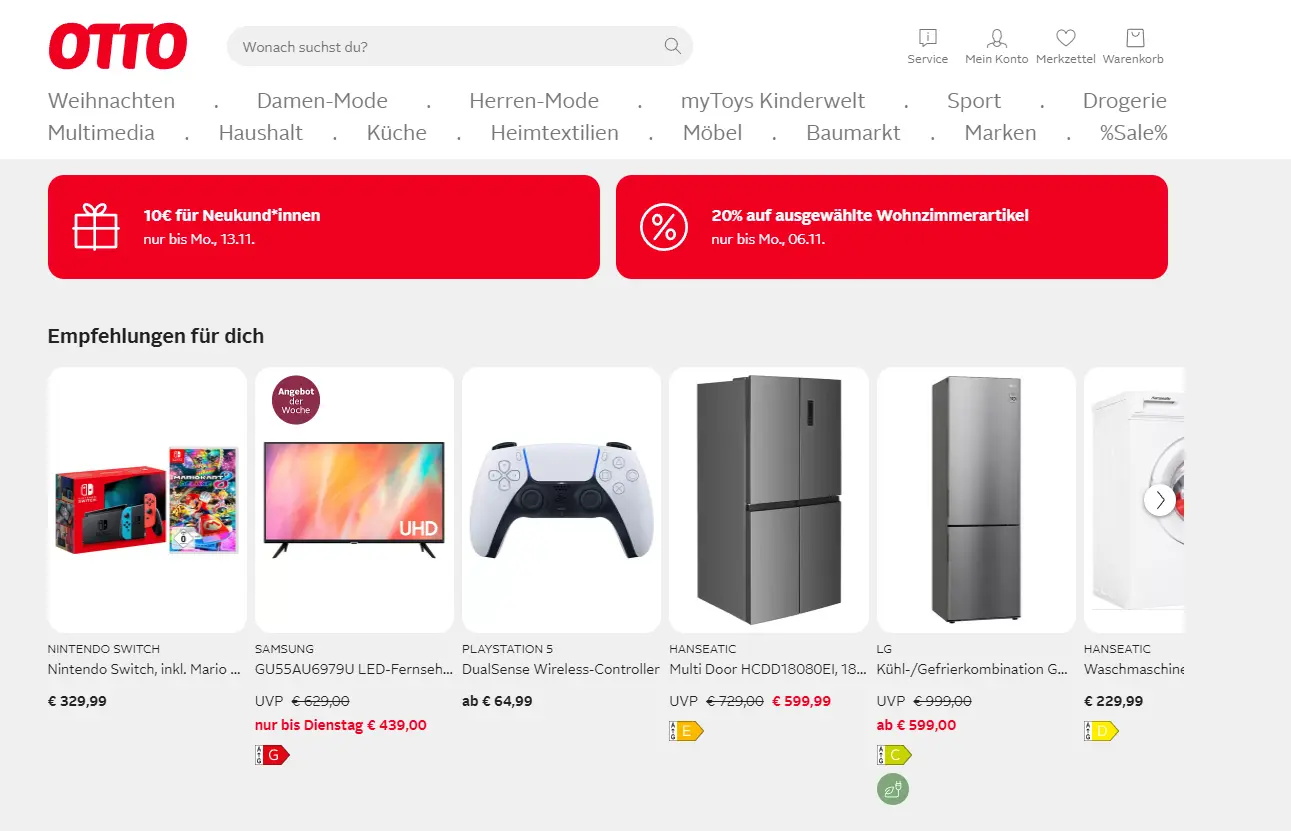 Categories: any categories.
Feature: site No. 3 in Germany.
OTTO holds a significant place in the hearts of German consumers, as the brand has a long-standing history in the German market. It initially began as a shoe retailer through catalog sales and transitioned to online trading in 1995. In 2020, OTTO further expanded its reach by launching its online marketplace, OTTO market. With a monthly visitor count of over 58.9 million, OTTO has established a strong online presence. The marketplace boasts a user base of over 11 million registered active users and impressively processes up to 10 orders every second.
Categories: any categories.
Feature: site No. 1 in the FMCG-segment in Germany.
With a strong affinity in its home country of Germany, this beloved European marketplace garners a robust monthly user base of 49.7 million.
Introduction of modern technologies.
One such technology is ChatGPT, which is being utilized in various aspects of marketing and customer service. It assists in tasks such as PR content creation, chatbot optimization, data extraction, and analysis. With the help of ChatGPT, online retailers can efficiently handle customer complaints and provide quick responses to their inquiries.
In the fashion industry, there is a growing trend towards the adoption of augmented reality (AR) technology to enhance the shopping experience and reduce return rates. AR tools like virtual fitting rooms and 3D product visualization allow customers to gather more information about a product before making a purchase. For instance, OTTO is currently testing a virtual size consultant provided by Fits.me. This tool allows customers to input their body measurements and then use a virtual model to visualize how a shirt will fit them, including details like sleeve length and tightness, helping to make more informed purchasing decisions and minimizing the chances of returns.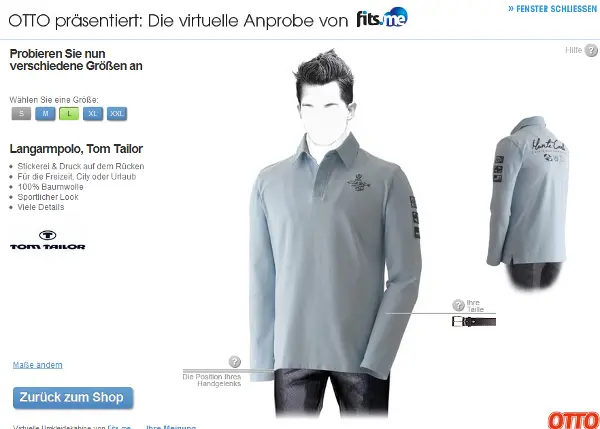 Amazon is currently in the process of trialing a virtual try-on system for clothing. In collaboration with the startup Body Labs, Amazon utilizes cutting-edge technology that captures multiple angles of a person's body and generates a 3D model. This virtual representation enables users to virtually try on clothes by overlaying them onto the digital model.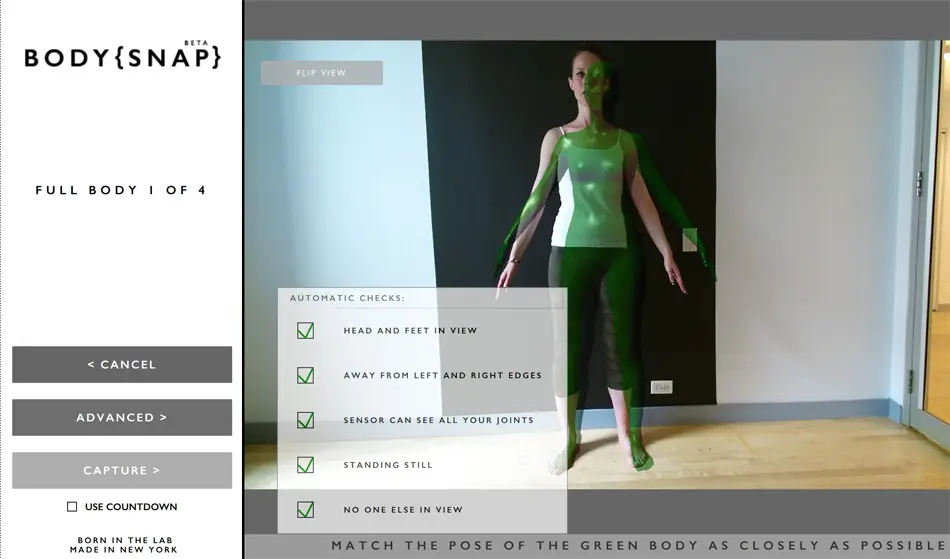 Impact of EU legislation.
EU countries, and also the UK, have focused on aligning their national legislation with pan-European requirements in e-commerce.
European-wide initiatives such as general product safety regulations, consumer directives revisions, the Data Law, the Artificial Intelligence Law, and changes to tax laws will significantly influence the future of the industry in Western Europe. Additionally, environmental regulations related to recycling, repairability, packaging, and disposal are particularly advanced in the legislation of France, Belgium, and the Netherlands.
The popularity of the "buy now, pay later" scheme.
Given the purchasing power crisis and high inflation, more online stores are offering installment payment options. This payment flexibility attracts more consumers and boosts sales. In the Netherlands, it is even enshrined in law that customers can pay for up to 50% of their purchases in installments.
Consumers are becoming more conscious of their purchasing decisions, leading to a rise in demand for reusable, repurposable, and repairable products. This trend also drives the growth of the consumer-to-consumer (C2C) and second-hand markets. Legislative support for conscious consumption is evident, with a preference for recyclable packaging and the emergence of closed-loop enterprises in the small and medium-sized business sector.
There is a strong belief in Western European e-commerce that returned products waste space, effort, and money. Consumers are increasingly aware that returns cannot always be free, and different countries address returns differently. Some online stores in the Netherlands charge for returns, while sellers in Belgium focus on providing high-quality and clear product information, aiming to resell or give returned goods as gifts.
Environmental friendliness.
The emphasis on environmental friendliness is a pan-European trend, particularly strong in Northern and Western Europe. Delivery methods with minimal CO2 emissions, such as electric cars and bicycles (including cargo bikes), are preferred. Governments are also subsidizing the purchase of clean-fuel vehicles. For example, Ireland aims to have a significant number of commercial electric vehicles and electric heavy-duty vehicles on its roads by 2030.
While online retail was initially seen as a threat to traditional businesses, a new trend has emerged where online retailers combine multiple retail channels as part of their expansion strategy. This is exemplified by large online companies like Amazon and Zalando opening offline retail stores while maintaining a strong online presence. A majority of retailers in Europe sell products through three or more channels, including offline, mobile, and social commerce. Offering an omnichannel experience caters to different customer preferences and increases competitiveness and long-term customer loyalty. Hybrid forms of retail, such as Click & Collect, have also gained popularity, especially during the pandemic.
Fashion and food will continue to lead the way.
Fashion and food continue to be leading segments in the e-commerce industry. Online fashion retailers offer complete stylish looks, free consultations with stylists, and virtual try-on options, increasing the average purchase value and stimulating sales. The growth of online grocery sales is driven by urbanization, as more young people opt for convenient food delivery to their homes rather than visiting physical supermarkets.
Partnerships between sellers and marketplaces.
Amazon, the largest marketplace in Western Europe, heavily invests in technology, logistics, and offline store development. As most of their sales come from third-party sellers, the marketplace seeks long-term partnerships to recoup its investments and continue developing the platform.
Economically conscious European consumers are increasingly engaging in cross-border e-commerce to find competitive pricing. A significant percentage of millennials and Gen Z in Belgium, France, the Netherlands, and the UK shop abroad several times a year, seeking great deals.
Impact of high inflation.
High inflation has emerged as the top social problem in Europe, as reported by a GfK Consult study in April 2023. This has resulted in reduced purchasing activity, both offline and online. Rising food prices have specifically driven interest among shoppers in discounters and private retailers, according to a survey by McKinsey & Company.
Declining customer loyalty.
Inflation has also had a negative impact on customer loyalty. A November 2022 survey conducted by Marigold and Econsultancy found that 38% of European consumers reported switching from or becoming less loyal to familiar brands over the past year.
Challenges in complying with EU laws.
Compliance with EU legislation poses difficulties for e-commerce market players. For instance, European regulations require packaging to have no more than 40% empty space or that 50% of all boxes be reusable by 2040. These requirements prove challenging to meet for items with irregular shapes, such as hockey sticks or soccer balls, and fragile products that require protective fillers. Additionally, the production targets for reusable packaging are demanding and require significant investment, particularly for small and medium-sized enterprises (SMEs).
Challenges for SMEs.
The adoption of new technologies for SMEs is a costly process, limiting their access to advanced services and features. Consumer expectations, however, continue to grow alongside technological advancements. This creates a risk that smaller players will struggle to remain competitive as technology continues to evolve.
Local taxation.
As of July 1, 2021, new VAT rules for cross-border e-commerce have been implemented across the EU Single Market. While designed to facilitate trade for residents, these rules may impose restrictions on non-EU residents.
In 2022, Western Europe's e-commerce market faced the challenge of rising inflation, leading local consumers to prioritize both quality and affordability in their purchasing decisions. This has resulted in an increase in the use of consumer-to-consumer (C2C) platforms and the popularity of sellers from other countries.
Consequently, the region's e-commerce growth is expected to slow down or potentially plateau in the coming years.
Internet access and digital device penetration in Western Europe are already widespread, with a high level of adoption across the population.
Conscious consumption, environmental friendliness, and health care have become significant factors influencing consumer behavior in the region.
Consumers are increasingly concerned about the ethical, environmental, and health-related aspects of products, which has led to a growing demand for sustainable and health-conscious options.
To thrive in the Western European e-commerce market, it is advisable to invest in automation, advanced analytics, artificial intelligence, and an omnichannel approach. These technologies and strategies will help businesses meet the evolving needs of consumers and stay competitive in the market.
It is important to note that EU legislative changes in the areas of e-commerce and the environment may present challenges for businesses operating in the region. It will be necessary to navigate and comply with these changes to ensure a smooth and compliant operating environment.
Subscribe to stay up-to-date!
I want to be notified about ecommerce events.
Subscribe to stay up-to-date!
I want to be notified about ecommerce events.