The Northern European countries are leading the world in terms of digitalization and were one of the first who introduced Internet technologies into trade. The pandemic has only increased the preference for online shopping in this region, so that their level remains consistently high, without booming. More features and trends of e-commerce in Northern Europe in the article.
Comparison to Other European Regions
Northern Europe is a region characterized by high levels of internet penetration, digital literacy and purchasing power. It includes the following countries: Iceland, Denmark, Sweden, Norway, Finland, Latvia, Lithuania, Estonia.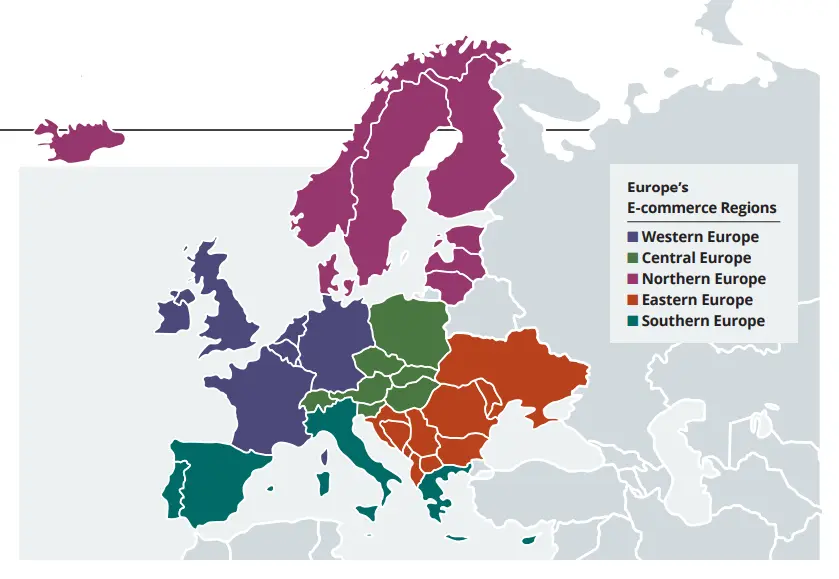 In 2023, the total turnover of e-commerce in Northern Europe exceeded 40 billion US dollars. By 2027, it is projected to reach almost 56 billion US dollars.
The share of Northern Europe in total European e-commerce turnover is 9%. But it does not reflect the level and quality of e-commerce in these countries and is associated with lower population density than in other regions of Europe.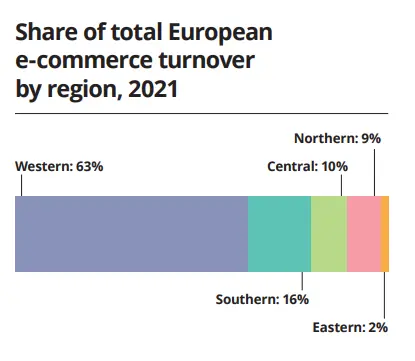 The recent European Ecommerce Foundation report of 2022 reveals that Northern European countries consistently excel in important e-commerce metrics across Europe. Denmark, for instance, ranks fourth in terms of ease of doing business and takes the lead in e-government development within Europe. Additionally, Sweden boasts the highest Internet penetration rate. Northern European countries, including Sweden, Denmark, and Finland, also demonstrate excellent performance in global logistics, securing spots in the top 10 of the logistics performance index.
Northern Europe emerges as a frontrunner in internet usage, with a significant share of the population, such as 97% in most countries. In Iceland, the internet adoption rate reaches an impressive 100%. Moreover, this region demonstrates the highest proportion of online shoppers, with approximately 86% of users engaging in online purchasing activities in 2021.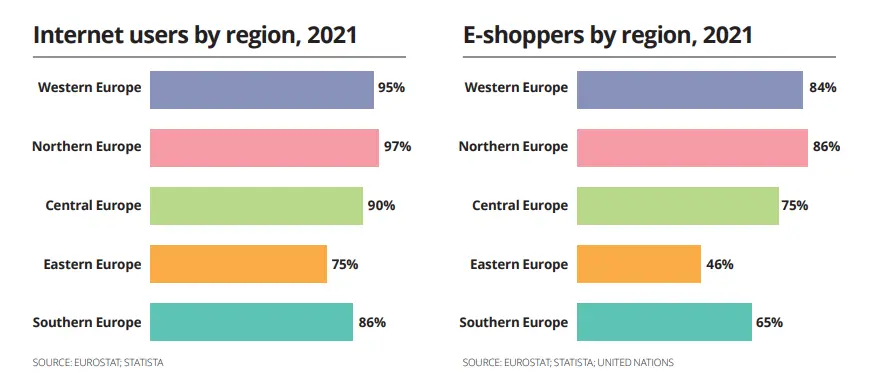 Northern Europe is notable for having the highest per capita spending among online shoppers. On average, individuals in these countries spend approximately 2045 euros per year. In contrast, the average expenditure of online shoppers across Europe in the previous year was €1,346 and is expected to reach €1,464 by the end of this year.
In the year 2022, Sweden stood out as the top performer in e-commerce revenue, generating a substantial amount of over US$13 billion. Norway followed closely, generating $8.7 billion, while Denmark recorded $8.1 billion and Finland achieved $6.8 billion in e-commerce revenue.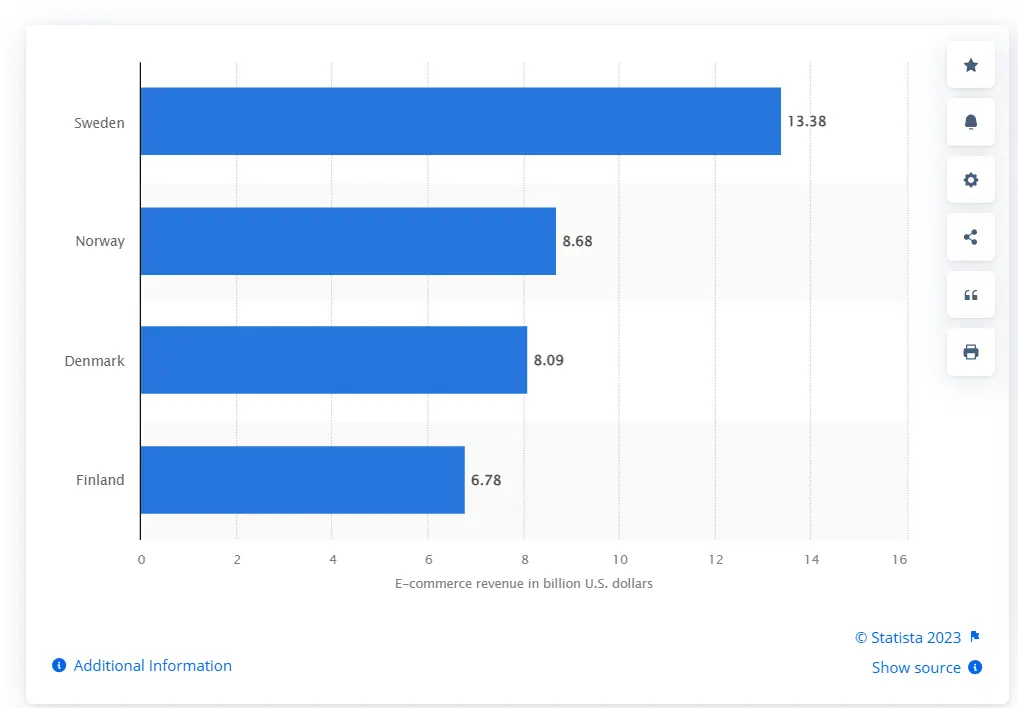 The highest frequency of online purchases is typical for buyers in Iceland, Denmark, Estonia and Sweden.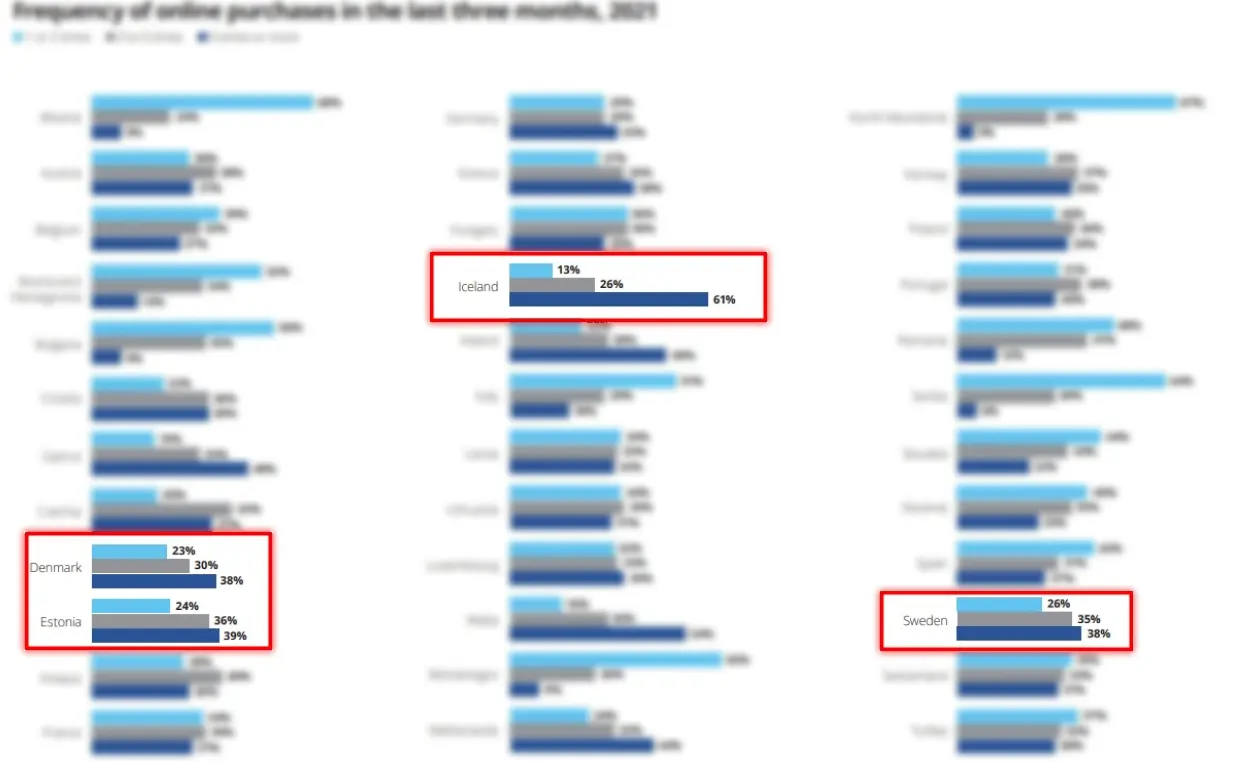 In Northern Europe, there is a preference for purchasing from local websites. However, an exception to this trend is observed in Iceland, where buyers are often compelled to show loyalty to sellers from other countries.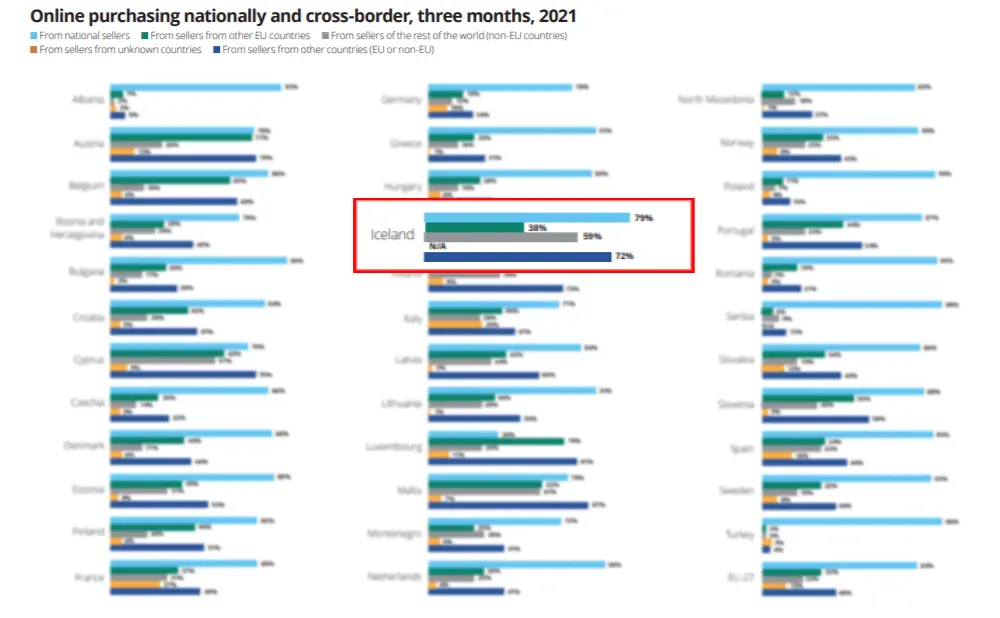 During the pandemic in 2020, all countries in the region experienced a significant rise in the proportion of online shopping, which was followed by a modest increase in subsequent periods.
If we evaluate all the e-commerce indicators in the region, the ranking of countries would be as follows:
Sweden.
Denmark.
Finland.
Norway.
Estonia.
Lithuania.
Iceland.
Latvia.
From 30 to 60% of consumers in Northern Europe prefer to use a bank card to pay for their online purchases. Electronic wallets come in second place as a popular choice. On the other hand, cash payments constitute a minor share, making up less than 1% of the total.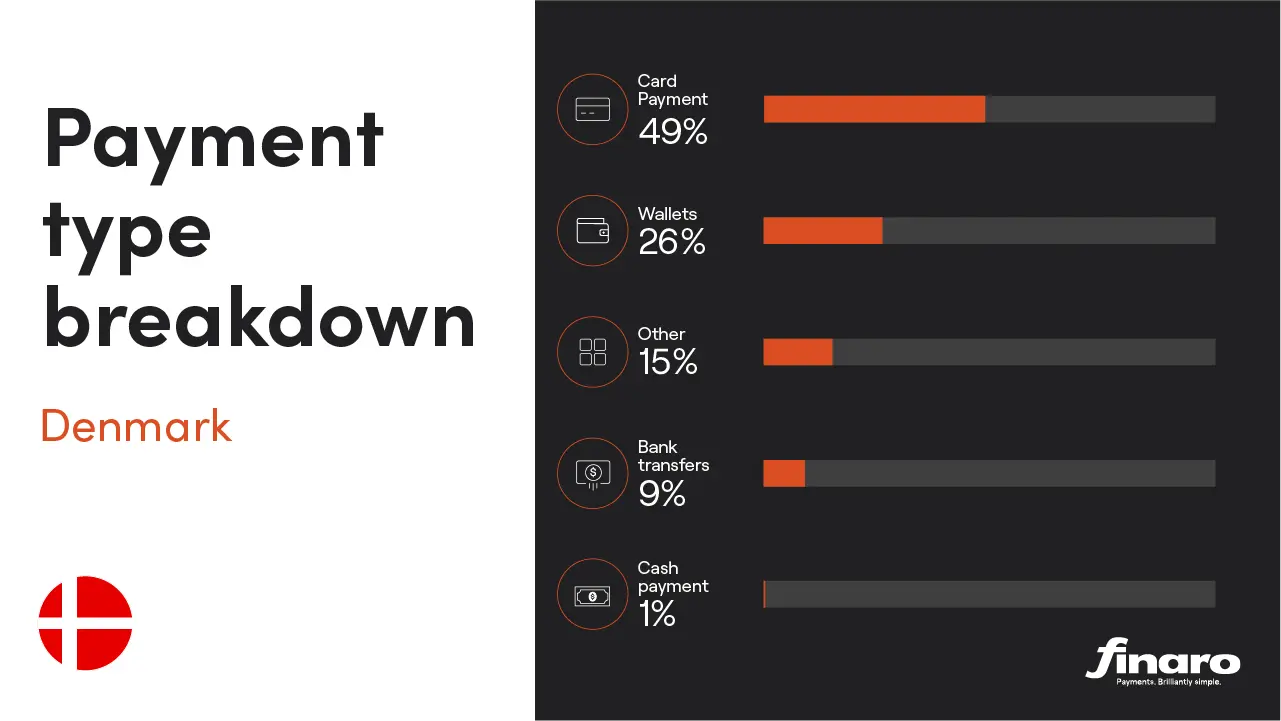 Over the past few years, in Northern Europe, cashless payments have become very popular among all age groups due to the development of payment systems. The most popular mobile applications for online purchases in 2022 were Swish, Vipps and MobilePay and payment systems Klarna, Trustly, Paysafecard, Zimpler.
Fashion. Leading in Denmark and Sweden and accounting for 31% of all online sales.
Electronics and media. Popular in Denmark (29%).
Toys, hobbies and household products. Popular in Finland (31%).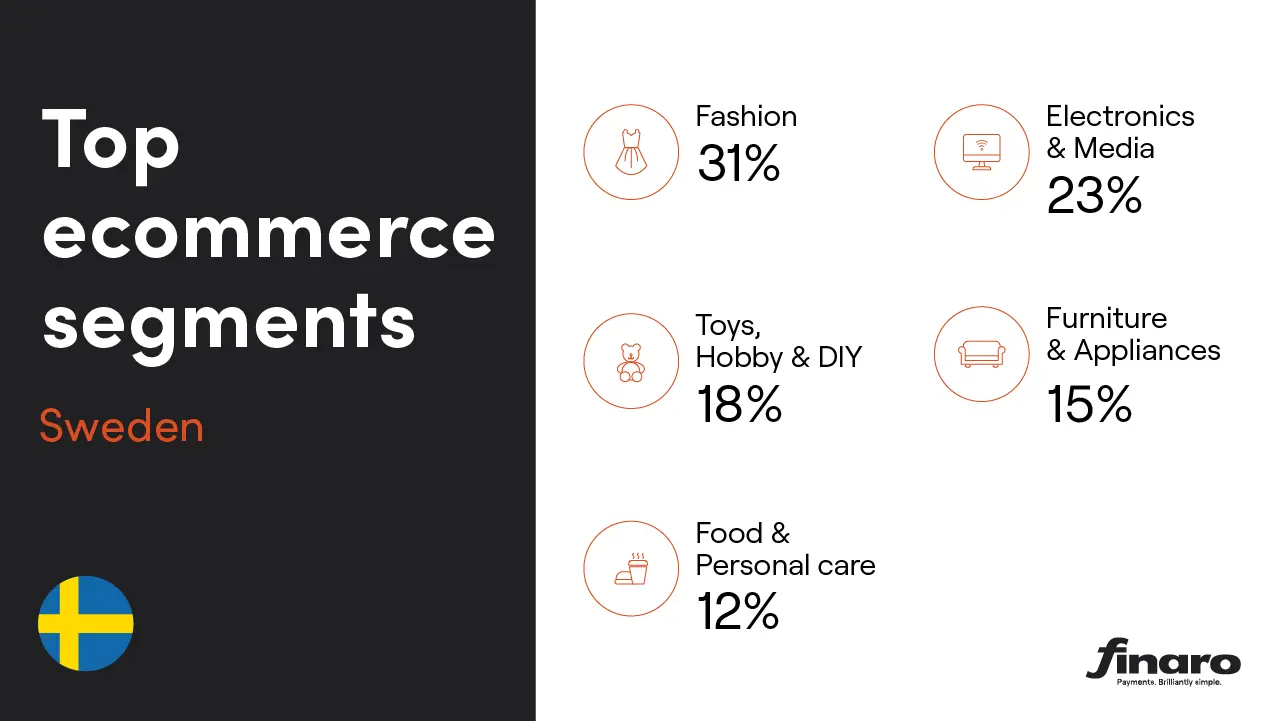 In 2020, Amazon extended its presence to Northern Europe by launching its first store in Sweden. Prior to that, online shoppers in this region mainly placed orders on Amazon in Germany and the UK. Amazon now has a significant user base in Denmark, Finland and Sweden. However, despite Amazon's presence, Northern Europeans still uphold a preference for shopping on their own respective e-commerce platforms.
As per eCommerceDB and Statista's rankings for 2022, the top-3 leading online platforms by countries are: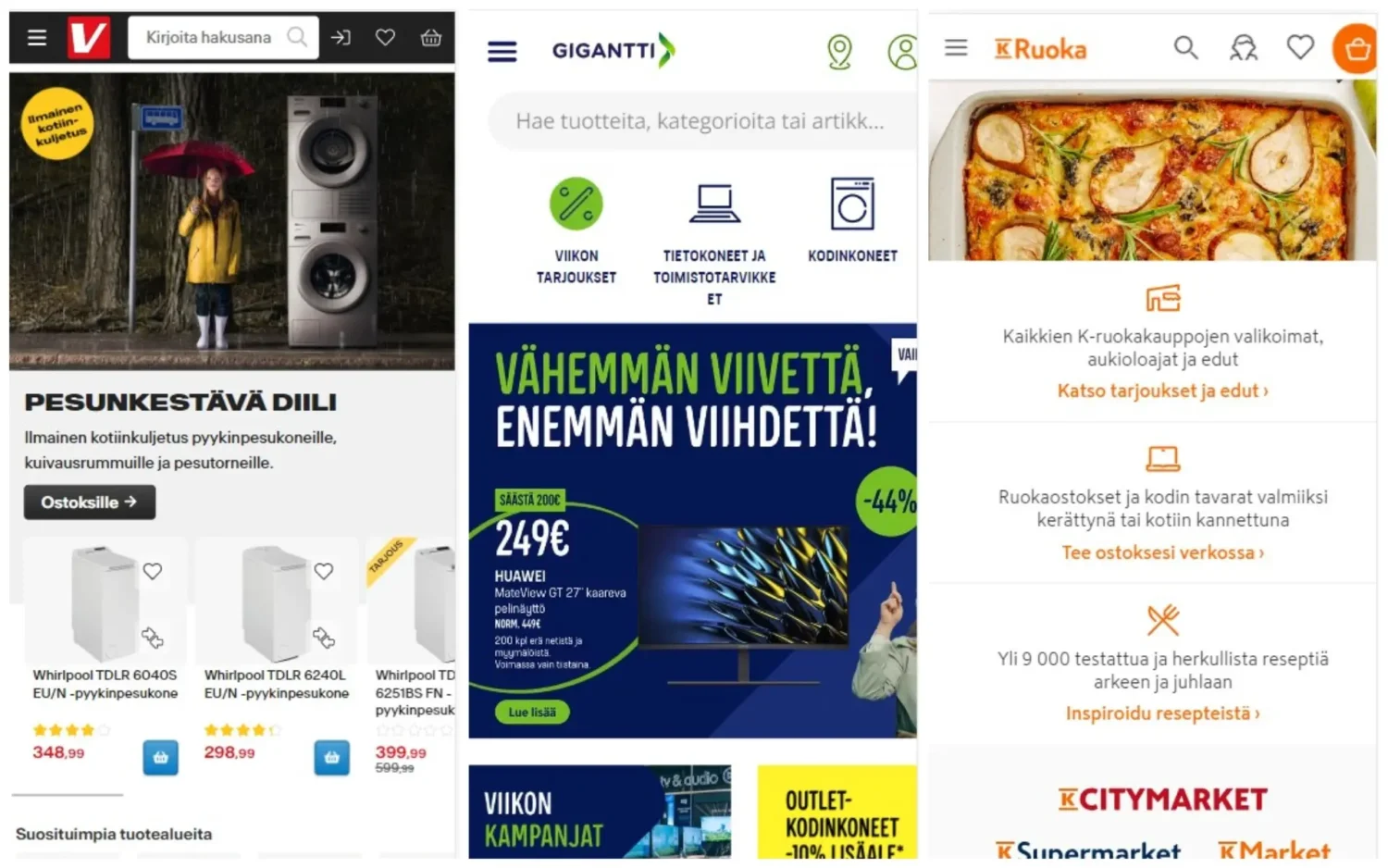 The region has a robust C2C (consumer-to-consumer) market, where C2C marketplaces are highly popular among online shoppers in terms of visitor numbers. In Finland, Tori.fi dominates the C2C marketplace, while Finn.no is the leading platform in Norway. In Sweden, Blocket.se holds the top position, and in Denmark, DBA.dk is the most prominent C2C marketplace. These platforms contribute significantly to the thriving C2C market in the region.
Mobile commerce. Mobile commerce is rapidly expanding in the region, with approximately 80% of Northern European shoppers using smartphones or tablets for online shopping. However, there is a significant problem of abandoned shopping carts in mobile versions of e-commerce websites. Out of every 10 orders, 8 remain unfinished, which is the highest abandonment rate among all devices. The abandonment rate for carts created on desktops and tablets is slightly lower, at around three-quarters of carts. This highlights the importance of thoughtful adaptive UX-design when entering the Northern European markets.
Cross-border trade. In terms of cross-border trade, thanks to major players like Amazon, 80 to 90% of consumers in Northern Europe engage in global e-commerce in some way. Cross-border online stores, including H&M, IKEA, Pandora, Lego, Zalando, Wish, Komplett, and Elgiganten, are also popular. In certain countries, products from China hold particular popularity, representing over 60% of international trade turnover in Lithuania and Latvia.
Social commerce. Facebook and Instagram dominate social shopping in Northern Europe in 2022. According to a Statista survey conducted in January 2022, Danish consumers were the most likely to shop on social media, accounting for 25% of all online shoppers in Northern Europe.
Home delivery. The preference for home delivery is widespread among Northern European shoppers by Statista. As of 2021, delivery to mailboxes is the most popular option in Norway (44%) and Sweden (31%), while home delivery is the preferred choice among Danish shoppers (34%). In Finland, delivery to order pick-up point holds the highest preference (34%).
Eco-friendly. Denmark, Sweden, Finland, and Norway are recognized as highly environmentally friendly countries. A study conducted by Descartes Systems Group in 2022, which included respondents from Sweden, Denmark, and Finland, found that 54% of online shoppers are willing to wait longer for environmentally friendly delivery with minimal CO2 emissions or pay more for green products with biodegradable and recyclable packaging. By embracing sustainable practices, companies can increase sales and enhance their brand reputation.
Localization. Localization of websites is important in Northern Europe. Market research indicates that consumers prefer to shop in their native language, even though they can navigate English-language websites. Major electronic platforms in the region have localized versions to cater to this preference.
New VAT. New VAT rules for cross-border e-commerce were implemented throughout the EU market from July 1, 2021. Online purchases from third countries now require customs declaration, payment of customs duties, VAT, excise taxes, and other taxes. Marketplaces registered in the Import One-Stop Shop (IOSS) are responsible for collecting, declaring, and paying VAT on behalf of buyers, rather than individual sellers.
E-commerce in Northern Europe is predominantly driven by Denmark, Finland, Norway, and Sweden.
Local e-commerce platforms are favored over global giants like Amazon and eBay.
Clothing and footwear emerge as the top-selling product category.
Mobile commerce is experiencing significant growth, and the region is expected to transition to mobile payments in the future.
Direct delivery to homes or mailboxes is the preferred option.
Cart abandonment rates, especially on mobile devices, remain a challenge.
Some Northern European shoppers exhibit a fondness for overseas shopping, particularly from the UK, Germany, China, and the US.
Subscribe to stay up-to-date!
I want to be notified about ecommerce events.
Subscribe to stay up-to-date!
I want to be notified about ecommerce events.