Africa boasts a youthful population, rapidly expanding urban centers, and a swiftly rising level of disposable income. With 54 countries, each at varying stages of economic development, the continent hosts diverse economic landscapes.
The annual online retail revenue in Africa is approximated at $20 billion, constituting merely 3.5% of total retail sales. Africa's population, standing at 1.35 billion, is comparable to China's. Importantly, unlike China, Africa's population is experiencing rapid growth, indicating that the demographic pyramid will continue to skew towards younger individuals for several decades.
Equipped with a burgeoning population and economic potential, Africa is primed for rapid expansion, both in its general economy and within the realm of ecommerce.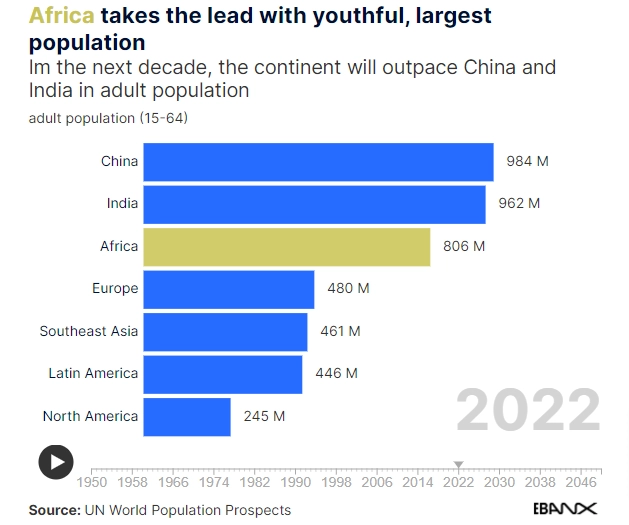 The key findings about Africa ecommerce market:
Africa's youth population is rapidly expanding, embracing technology and the internet at varying rates across the continent.
The adoption of technology, the spread of the Internet and payment tools is developing unevenly across the continent.
Notably, there's been a surge in funding for African e-commerce and retail tech startups, totaling 557 million U.S. dollars in 2022.
Micro, small, and medium-sized enterprises (MSMEs) actively use social networks as a platform for online sales.
Reasons and Growth Peculiarities
Between 2023 and 2027, the E-commerce market in Africa is projected to witness a steady rise in users, with a total increase of 174.7 million users.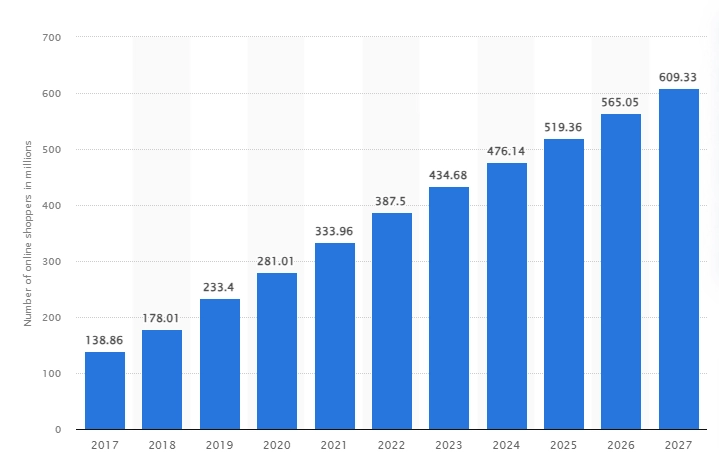 In 2021, the African continent surpassed other regions in mobile internet usage, exceeding the global average by 13% and boasting nearly 5% more mobile usage than the markets in the Asian region. This trend underscores the importance of adopting a "mobile-first" approach for any business seeking to engage with diverse African markets through online sales.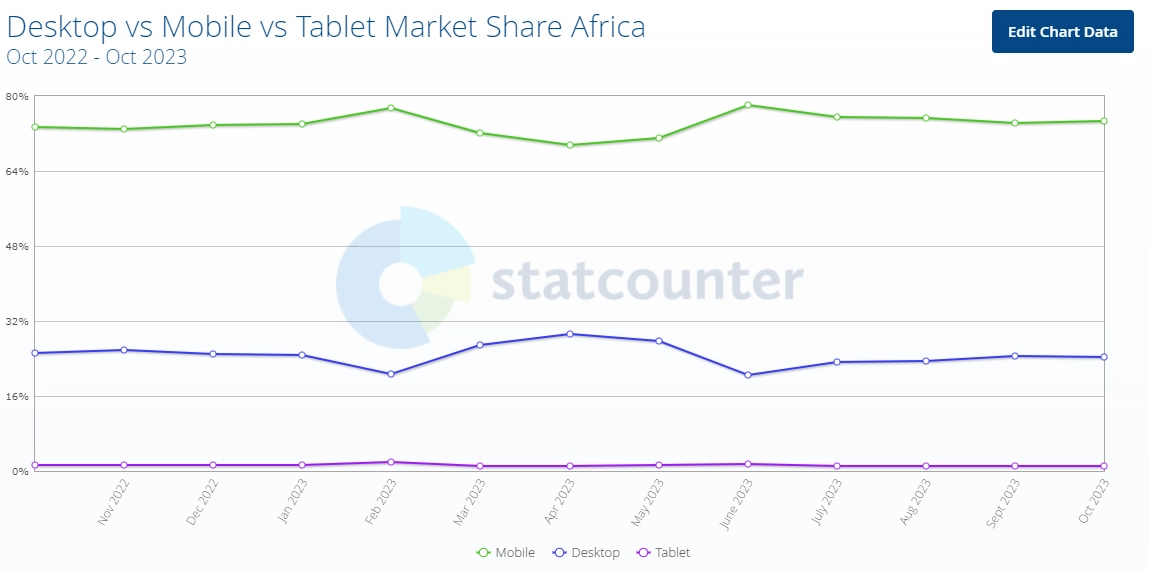 Social commerce for MSMEs
The research indicates that a notable proportion of micro, small, and medium-sized enterprises (MSMEs) in six African countries – Nigeria, Kenya, Ethiopia, Ghana, South Africa, and Egypt are increasingly adopting social media as their primary platform for engaging in e-commerce. It is contributing to the success of numerous small businesses across Africa.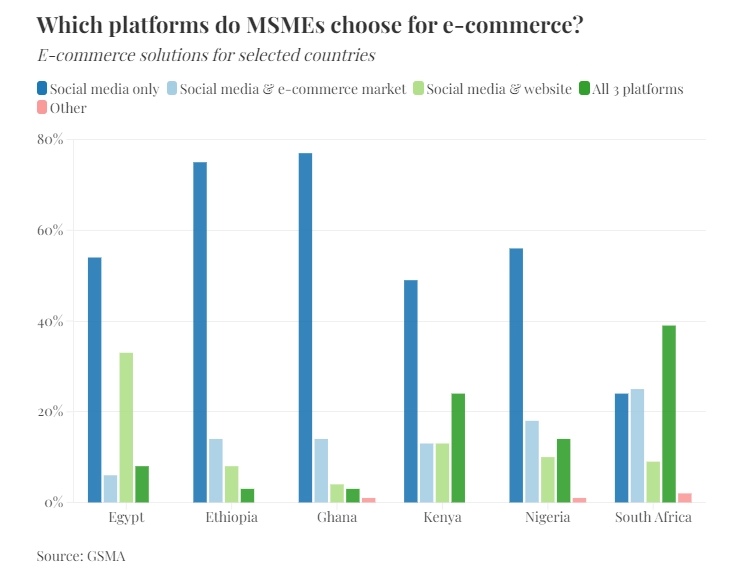 Only South Africa more relied on specific e-commerce platforms, despite the fact Egypt and South Africa have similar levels of digital literacy and thriving digital ecosystems. But this is explained by preferences in payment methods. The typical consumer in South Africa is more accustomed to making online payments, whereas cash payments are prevalent in Egypt.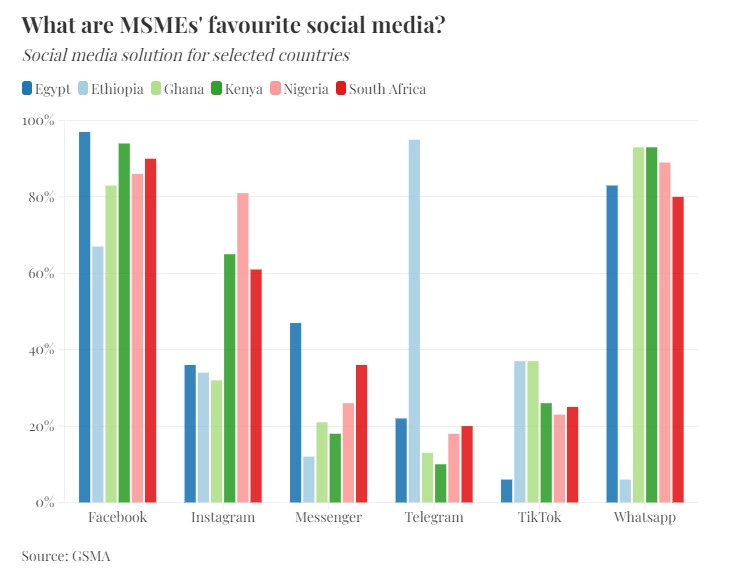 Social media serves as an accessible marketing tool for promoting goods without requiring extensive digital literacy, training, or registration processes. As people were already utilizing social media for communication purposes, they seamlessly integrated it as an initial step in their business sales process without additional investment.
In this region, buyers commonly engage in direct interaction with sellers. Social networks effectively fulfill this need, enabling buyers not only to communicate but also to gain deeper insights and immerse themselves in the seller's business.
A strong and stable economy boosts consumer confidence, leading to a greater willingness to participate in digital transactions. Assured by a thriving economy, consumers are more likely to increase their online spending on various products and services, spanning from essentials to discretionary items. Furthermore, economic stability often attracts heightened domestic and foreign investment. A robust economy captures the interest of both local and international investors seeking promising markets for investment. E-commerce platforms, valued for their scalability and lower operational costs compared to traditional retail, emerge as appealing investment prospects.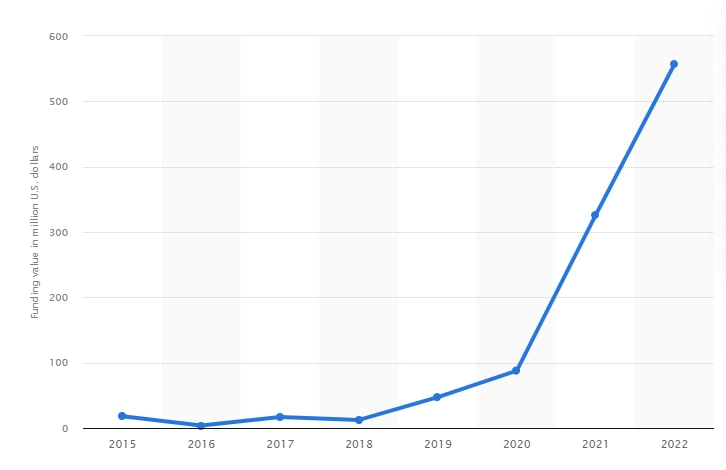 African e-commerce and retail tech startups secured a total of 557 million U.S. dollars in funding as of 2022, representing a notable increase from the approximately 326 million U.S. dollars raised in the previous year. Out of the 663 startups that secured funding in the continent during 2022, approximately 32.4 percent operated within the financial technology sector. Following closely were e-commerce and retail tech, each accounting for 16.7 percent of the total number of funded startups, with e-health at 8.4 percent. In total, African startups amassed over 3.3 billion U.S. dollars in funding in 2022.
Market Challenges and Issues
Throughout history, Africa's population has exhibited a preference for cash payments over electronic and online transactions, reflecting a widespread distrust in a region characterized by notably lenient government regulation. This skepticism is reinforced by low levels of computer literacy, limited bank account ownership, and a fragile telecommunications infrastructure, collectively exacerbating the issue.
According to Statista, in 2022, cash emerged as the primary payment method for online retail in Morocco, Egypt, and Kenya, constituting 66%, 57%, and 40% of the total, respectively. Conversely, cash was less prevalent in South Africa, where 44% of e-commerce payments were conducted by card, and 19% via bank transfer. In Nigeria, the majority of digital buyers favored card-based payments (37%) and bank transfers (26%).
Currently, the following online payment options are available in African countries:
mobile money
card payments
bank transfers.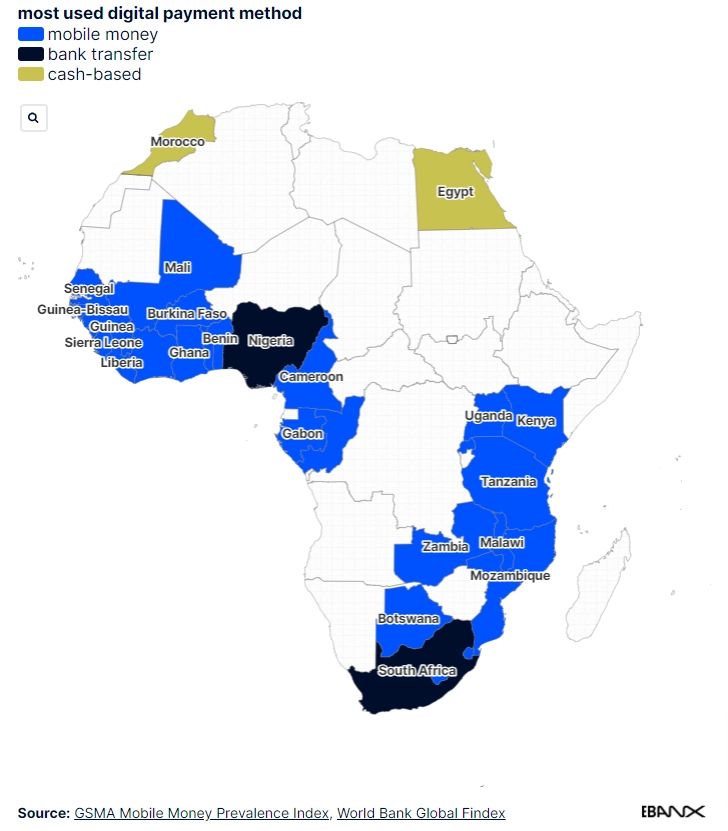 Despite consumers having access to a variety of payment methods such as e-wallets, mobile money accounts, and traditional bank accounts, the lack of interoperability remains a significant issue. This is compounded by the absence of harmonization in regulations across different countries, leading to a lack of connectivity both domestically and internationally within payment systems.
Market fragmentation in Africa presents a significant challenge for ecommerce due to the continent's diverse languages, cultures, and consumer behaviors. With 54 countries, each at varying stages of economic development, Africa's consumer landscape is incredibly varied.
The sheer variety of languages spoken across the continent requires businesses to localize their content, communication, and customer support to effectively reach and engage with diverse audiences. Moreover, cultural differences impact consumer preferences, purchasing habits, and perceptions of trust and credibility, further complicating the development of standardized ecommerce strategies for the entire continent.
Several African countries share similar rankings to nations facing significant logistical challenges, such as Afghanistan and Haiti, in terms of supply chain reliability, predictability, and resilience to disruptions. The ease with which goods and services can be transported is a critical factor in facilitating business operations. The Logistics Performance Index assesses the convenience, speed, and simplicity of transport within the continent, with African nations typically receiving ratings ranging between 1.77 and 3.43 out of a possible 5 points.
The Main Ecommerce Players in Africa
Online shopping in Africa has generated approximately $37 billion and is projected to potentially exceed $82 billion from 2022 to 2027. Specifically, in 2022, the revenue from online shopping in Africa was estimated to be about 37 billion U.S. dollars, a substantial rise from the approximately 13 billion U.S. dollars reported in 2017.
Ten countries in Africa dominate the online business landscape, collectively representing 94% of all e-commerce transactions. Nonetheless, nearly a quarter of the continent's countries lack a suitable transactional marketplace for direct online payments.
South Africa and Nigeria stand as Africa's largest B2C E-Commerce markets, boasting the highest E-Commerce sales values when compared to Egypt, Kenya, and Morocco. The majority of payments in South Africa and Nigeria were made via cards, in contrast to a larger portion of total payments stemming from cash-based transactions in Egypt, Morocco, and Kenya. In terms of local competition, Nigeria-based Jumia represents one of the foremost companies in these markets. Jumia and other regional players encounter robust competition from cross-border online shopping platforms, including AliExpress and Amazon, both of which are gaining traction among digital consumers in Africa.
Nigeria presently boasts 90.9 million e-commerce users. As indicated by a recent report, the Nigerian e-commerce market is anticipated to experience a substantial 12.24% CAGR from 2022 to 2027. Nigeria is emerging as a market propelled by advanced infrastructure, high internet penetration, and a growing number of card-based payment systems.
The pandemic has notably accelerated digital purchases and cashless transactions across the country, leading to a remarkable 30% increase in 2021. The Nigerian e-commerce market has contributed to about 29% of the global growth rate.
Egypt, with 55.7 million e-commerce users, has emerged ahead of South Africa as the largest marketplace, expected to achieve a revenue of approximately $7,909.9 million by the end of 2023. It is projected to maintain a compound annual growth rate (CAGR) of 14.7% and reach a market volume of around $13,677.5 by 2027. This growth is attributed to Egypt's large population and rapid internet penetration, with a population of about 99.3 million, making it the third most populated country in Africa.
Meanwhile, Kenya, with 22.6 million e-commerce users, has demonstrated vibrant activity in its e-commerce sector. The COVID-19 lockdown facilitated the establishment of more online businesses, resulting in promising growth. Although specific data may be unavailable, Statista suggests that Kenyan e-commerce has been on the rise and is projected to reach an estimated volume of $2 billion by 2024.
South Africa's e-commerce landscape, with 27.4 million users, experienced a 66% surge from 2019 to 2020, exceeding $1.8 billion. Notably, the clothing and apparel, online entertainment, and grocery categories witnessed substantial growth due to lockdown restrictions amid the pandemic. Additionally, the fast food category observed significant growth, propelled by heightened competition from both local and foreign platforms. South Africa has IT hubs all along the Western Cape province – among which is the city of Stellenbosch is known as the Silicon Valley of South Africa.
The Leading Online Platforms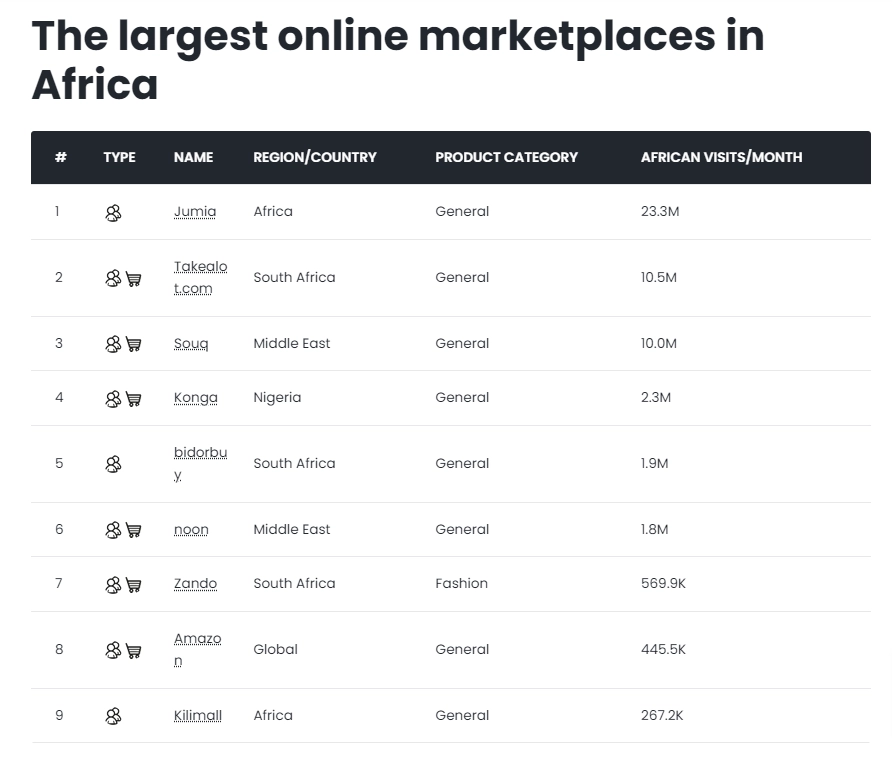 Jumia is a prominent e-commerce platform operating in several African countries. Often referred to as the "Amazon of Africa," Jumia offers a wide range of products and services, including electronics, fashion, home goods, and more. It functions as a marketplace where third-party sellers can list their products, reaching a large customer base across the continent.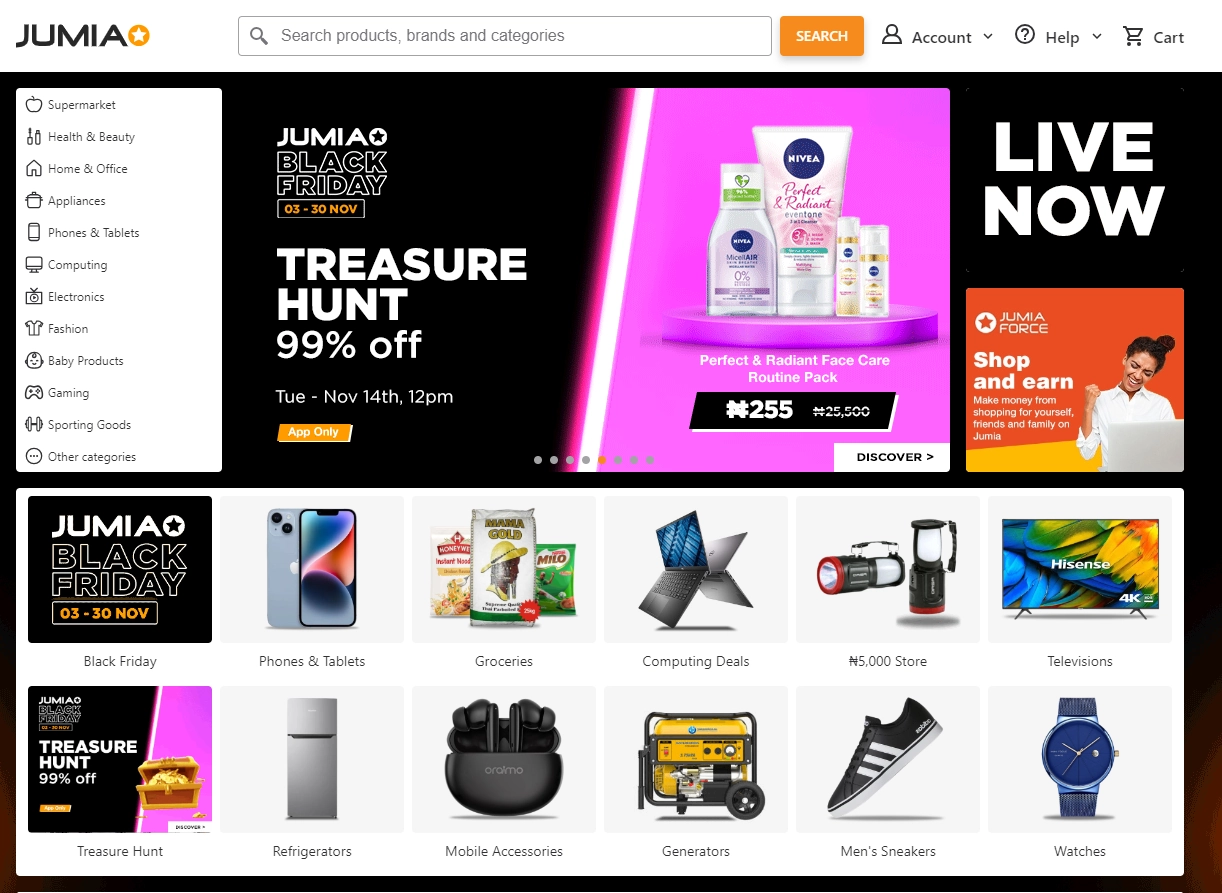 In addition to e-commerce, Jumia has expanded its services to include food delivery, hotel and flight bookings, and digital payment solutions. The company has invested in developing its logistics and last-mile delivery capabilities to overcome the unique challenges of operating in diverse African markets.
Jumia has also made strides in promoting financial inclusion by offering digital payment options and facilitating access to credit for both customers and sellers. The company has garnered considerable attention for its innovative approach to e-commerce in Africa and its efforts to address the logistical and infrastructural challenges associated with online retail on the continent.
Takealot is a leading South African online retail platform that offers a diverse range of products and services. Takealot provides a comprehensive marketplace for consumers, featuring categories such as electronics, fashion, home essentials, beauty products, and more. It serves as a platform where third-party sellers can list their products, giving customers access to a wide array of items from various sellers.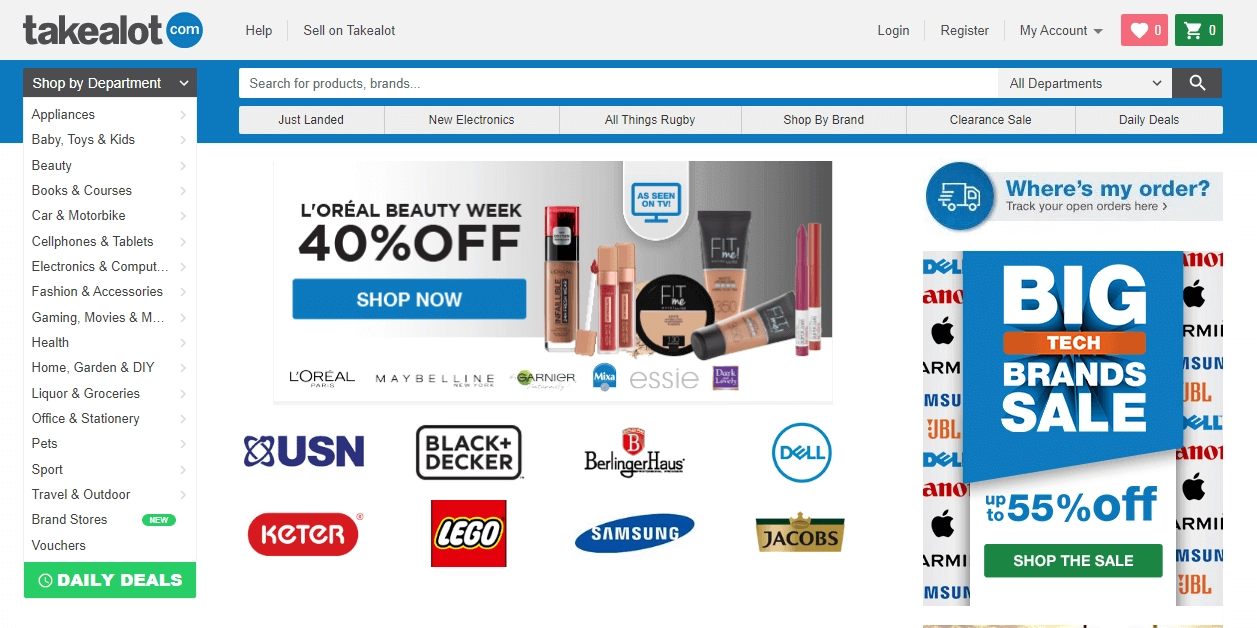 Beyond e-commerce, Takealot has expanded its offerings to include services such as food and beverage delivery, as well as digital entertainment and e-books through its subsidiary, Superbalist. The platform has made significant investments in logistics and last-mile delivery to ensure efficient and reliable delivery services across South Africa.
Takealot has been at the forefront of digital innovation in the region, offering multiple payment options and integrating various technological solutions to enhance the overall customer experience. With its widespread popularity and strong market presence, Takealot has established itself as a key player in shaping the e-commerce landscape in South Africa and adjacent regions.
Konga is a well-known Nigerian e-commerce platform that provides a wide range of products and services to its customers. Konga operates as a marketplace where customers can find diverse items, including electronics, fashion, beauty products, home essentials, and more. In addition to offering a platform for third-party sellers, Konga also operates as a direct retailer for certain products, ensuring a multifaceted shopping experience for its customers.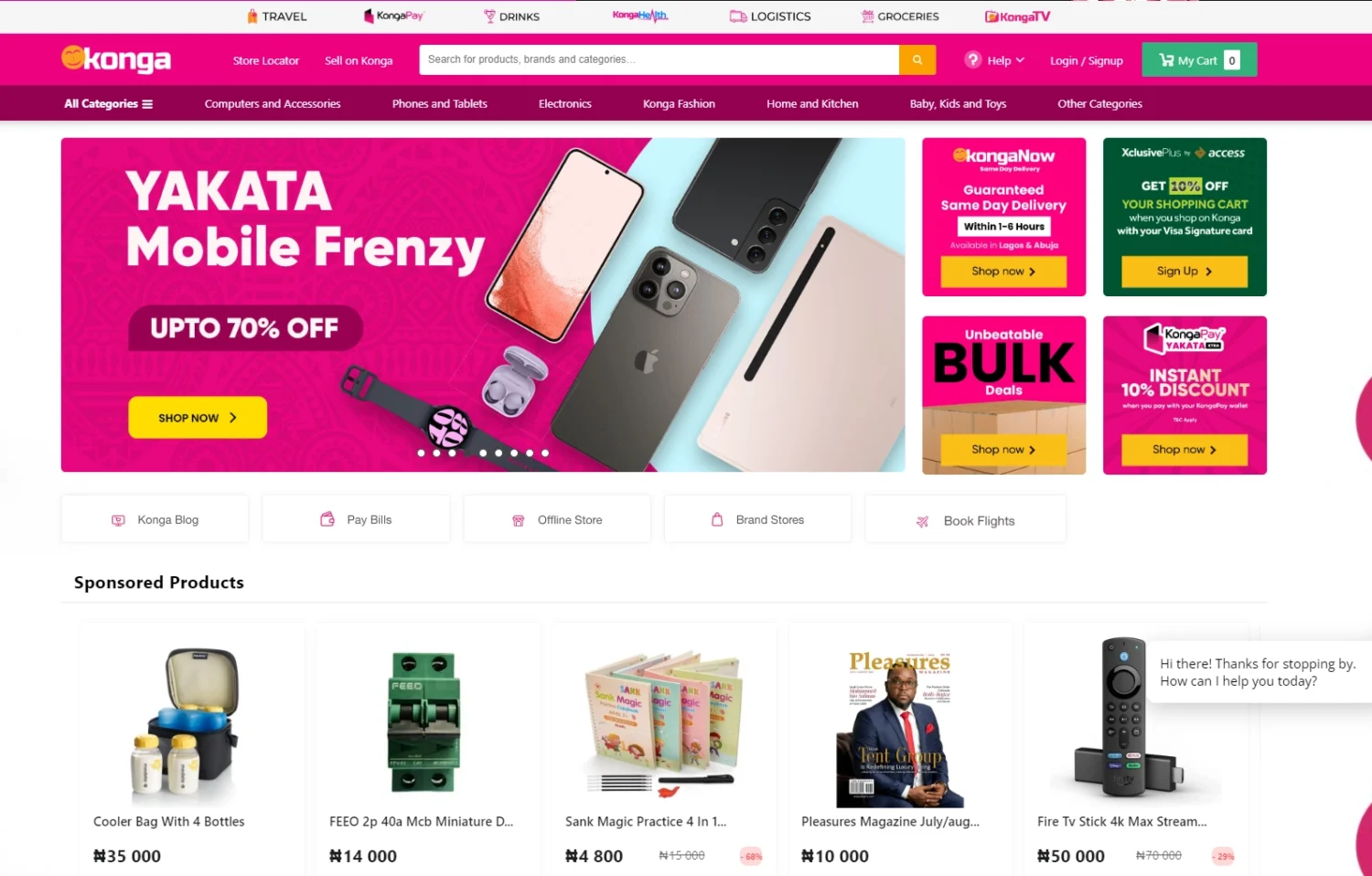 Konga has expanded its services to include digital payment solutions, food and grocery delivery, as well as travel and event ticketing. The platform prioritizes customer satisfaction and aims to provide a seamless shopping experience through innovative technologies and reliable delivery services.
Konga has expanded its services to include food and grocery delivery, enabling customers to shop for a variety of food items and have them delivered to their doorsteps. Besides this the platform facilitates the booking of travel tickets and event tickets, offering customers the convenience of making travel and event arrangements through its platform.
Souq, which is now known as Amazon.eg, was a leading e-commerce platform in Egypt, offering a diverse range of products and services to customers in the region.
In Egypt, the platform achieves nearly ten million monthly visits and offers a diverse array of products, encompassing electronics, appliances, homewares, groceries, fashion, books, toys, and fitness items. Souq operates as both a retailer and a marketplace, maintaining its distinct design and branding, which bears resemblance to Amazon's style.
It's important to note that Souq Egypt retains its separate seller registration system. All orders are fulfilled by Souq rather than the individual sellers. Consequently, businesses are required to furnish a warehouse or store address within Egypt for the courier to collect orders. Commission fees for sellers on the platform range from 5% to 20%.
Subscribe to stay up-to-date!
I want to be notified about ecommerce events.
Subscribe to stay up-to-date!
I want to be notified about ecommerce events.