Over the past decade, the e-commerce industry in Asia has experienced significant growth, with no signs of slowing down. This growth can be attributed to the increasing penetration of the internet and mobile devices, as well as the expanding middle class, which has created a vast market for online shopping. In this article, we explore statistics, key players, prospects and challenges of East and Southeast Asia ecommerce markets.
Do you have an idea? We have a solution!
We'll customize your online store for any needs
Currently, the leading role in global e-commerce belongs to the countries of East and Southeast Asia. This region accounts for 62.2% of the global market. The reason for this is China's leading role in world trade. According to Statista, China is the largest e-commerce player in Asia and the world in 2022, with a market size of US$1.4 trillion, and will reach US$1.6 trillion by 2025.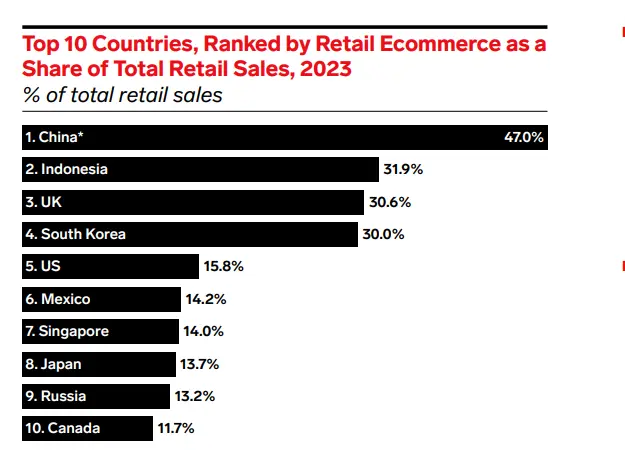 It also follows from eMarketer data that five of the ten largest e-commerce players by sales volume are located in East and Southeast Asia. At the same time, the top of the most dynamically developing ecommerce markets are the so-called "The Tiger Cub Economies": the Philippines, Indonesia, Malaysia, Thailand and Vietnam.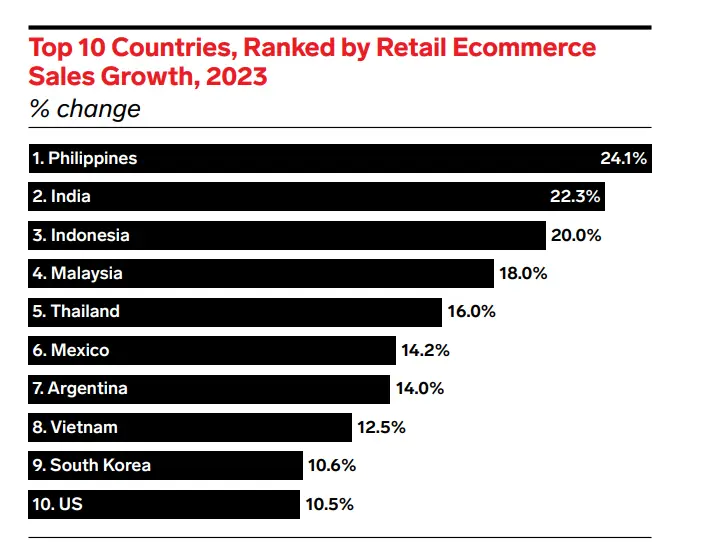 The most profitable ecommerce niches in the region are:
fashion,
electronics,
toys, hobbies and DIY.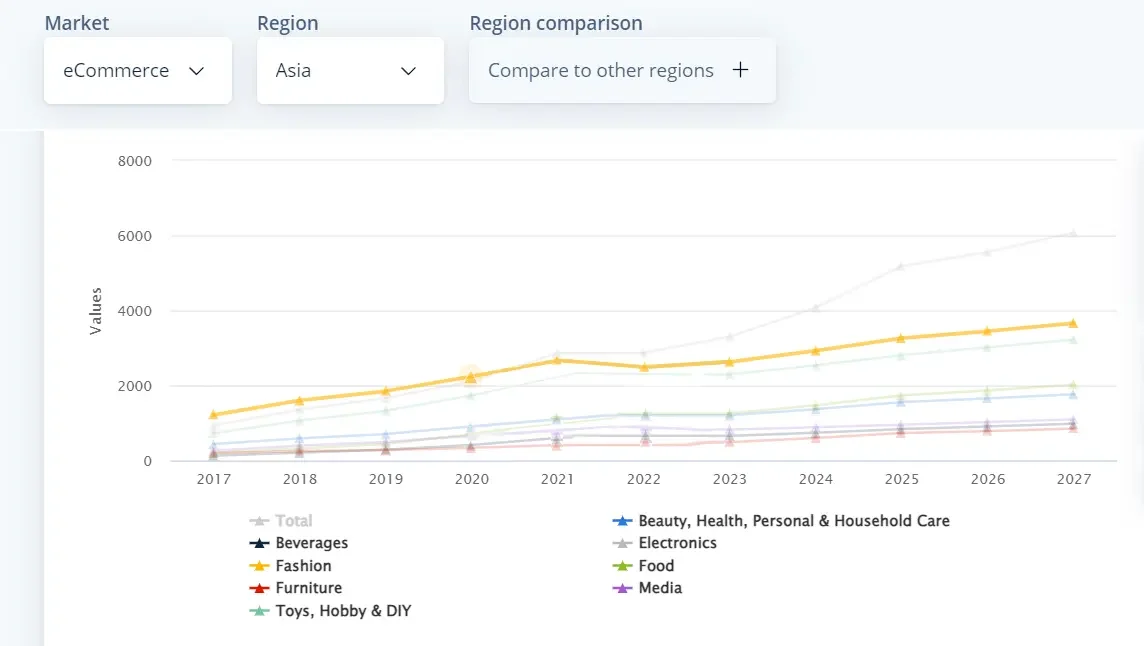 Chinese giants such as Alibaba Group Holding Ltd, JD.com Inc and Pinduoduo Inc continue to dominate global rankings thanks to their large consumer base in the domestic market, attractive prices and favorable conditions for promoting sellers.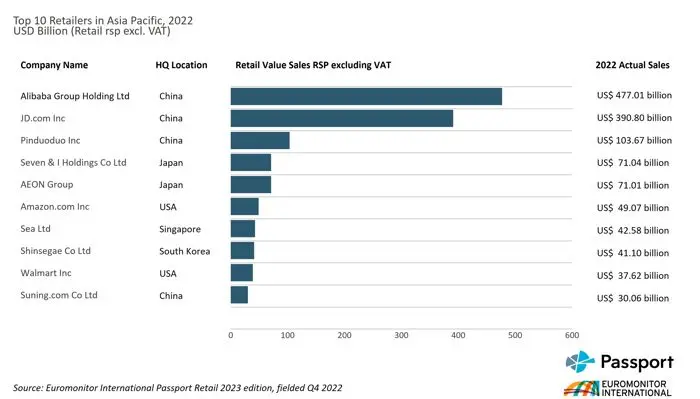 The growth of e-commerce in East and Southeast Asia is driven by several factors.
Expansion of Internet infrastructure. Increasing the penetration and speed of Internet in the region, as well as improving mobile coverage.
Fast growing user base. Asia is the world's most populated continent, making it a huge consumer market. A larger number of potential buyers means more opportunities for online trading.
Social commerce. The trend for 2023 in the Asian region is shopping via social networks. Platforms such as WeChat in China and Lazada in Southeast Asia help consumers easily find, research and make purchases through social media.
Growth of mobile commerce. Companies entering these markets should focus on simplicity and convenience for their mobile versions and applications.
Development of digital payment systems. Many Asian countries are seeing the development and spread of their own digital payment systems, such as AliPay in China and Paytm in India. This simplifies and speeds up the process of paying for products and services online. It is important to work with a competitive payment provider to offer the most suitable payment methods locally.
Infrastructure expansion. Improved logistics systems and delivery services are also contributing to the growth of e-commerce in Asia. Fast and reliable delivery of products is an important factor to meet the needs of customers.
Technology development. To ensure convenience and pleasure from shopping, companies are developing technologies such as augmented reality and virtual reality. Artificial intelligence will play a big role in the e-commerce industry: from supply chain management to fraud control.
Expansion of cross-border e-commerce. The global pandemic eliminated psychological barriers and people began to buy more products from foreign online stores. The cross-border trade of the Asian region is certainly dominated by China and the Alibaba group.
Internet fraud and cybersecurity. In 2020-2021, Asian companies were subjected to serious phishing attacks and ransomware attacks. This trend will continue.
Local legislation. Laws and regulations are constantly changing in accordance with the economic and political situation. It is necessary to adapt quickly.
Growing competition. Asia is the world's largest ecommerce region, where new players are constantly emerging. Ecommerce players have to look for new ways to get ahead.
At the moment, China is the largest and most developed online trading market in the world. It is almost impossible to enter it and promote products without using electronic trading platforms.
In China, more than 850 million people are already active participants in the e-commerce market, and this figure is expected to reach 1 billion people by 2024, according to J.P. Morgan. Thanks to its developed infrastructure, large number of sellers and buyers, omnichannel and growing mobile traffic, the Chinese market is considered the most technologically advanced and serves as a global reference point for retail e-commerce.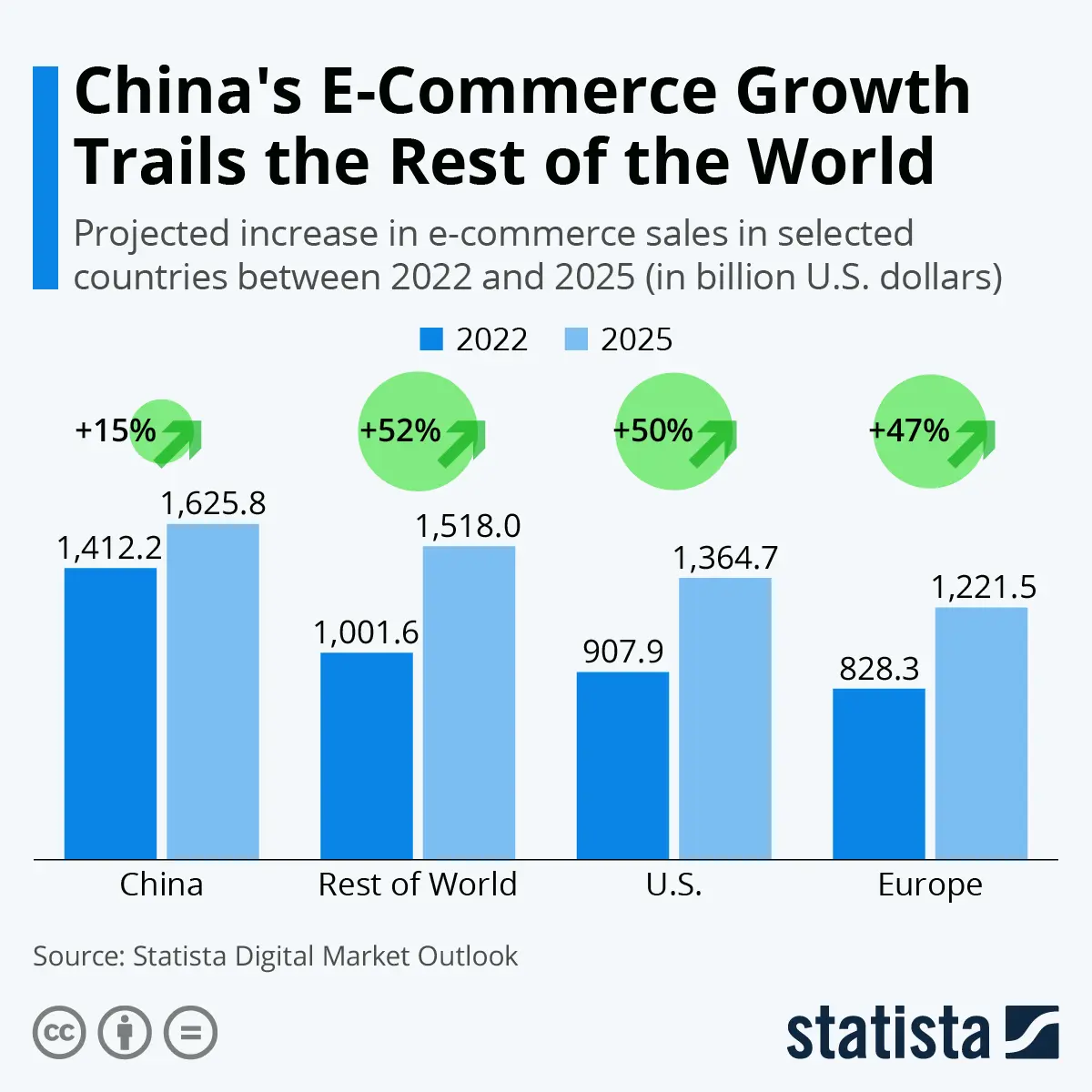 64% of purchases are made via mobile devices. 65% of these are using super apps like WeChat, Alibaba, Pinduoduo and Douyin. They allow users to communicate, make purchases, conduct banking operations and pay for goods within a single ecosystem.
WeChat and Alibaba Alipay account for 59% of all transactions made on digital wallets, such as WeChat Pay and Alibaba Alipay. Integration with these applications and payment systems is necessary for new sellers.
According to ECDB the most popular ecommerce categories in China:
Electronics and media – 27.3% of the market,
Food supplies and personal care products – 23.1%,
Toys, hobbies – 21.1%,
Fashion — 17,7%,
Furniture and appliances – 10.8%.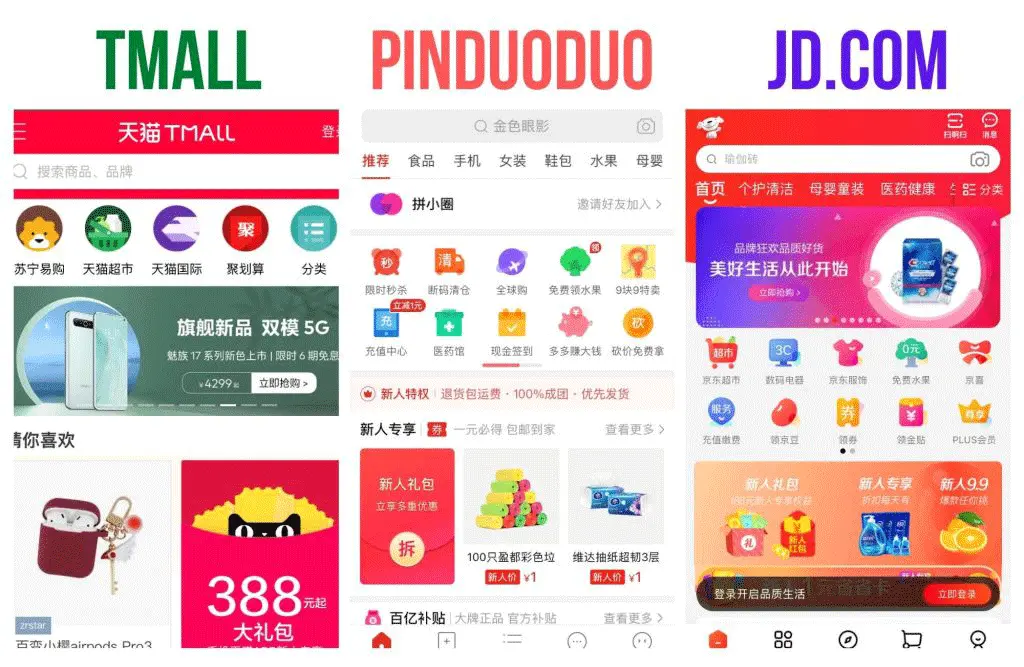 According to eMarketer, Tmall leads the e-commerce market with a market share of 50% to 60%. JD.com ranks second with a market share of 15% to 20%. Finally, Kaola, RED and other platforms split the remaining 20-35% among themselves.
Strong competition and aggressive marketing. Because of the huge competition, Chinese companies often use dumping, intrusive advertising, copying other people's ideas, and fake reviews.
Platforms are not suitable for small players. Major brands are welcome on Tmall or JD, but unknown brands and startups are refused to join.
Price wars. China's market is led by giants like Tmall and Taobao who offer millions of products with huge discounts to keep its market share. Because of this, smaller companies also have to offer discounts even at the expense of profits.
Only active sellers win. Due to the highest competition, you need to constantly work on optimizing your site or store. From time to time, it may be necessary to participate in special online conferences. Usually the Chinese like to ask questions via online chat, so they also need well-trained support representatives and sellers who quickly answer questions and encourage the consumer to make a purchase.
Despite the fact that China occupies a leading place in the world in the development of retail e-commerce, its potential is not fully exhausted. Only 59% of the total population makes purchases in online stores. But you need to remember about competition: the Chinese market gives you the opportunity to earn money, but half of the new market players do not achieve success and go bankrupt.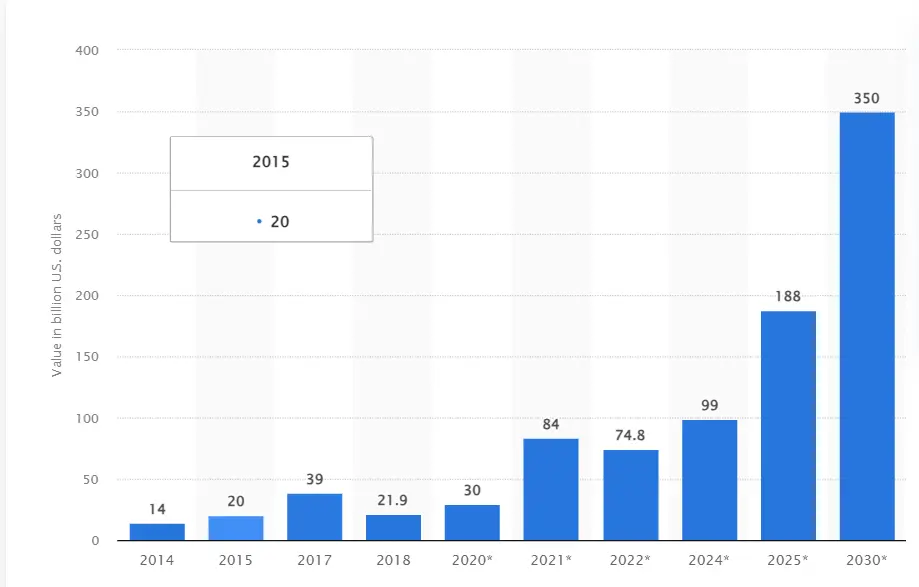 Strong government support. Since 2014, the Indian government has been introducing various initiatives aimed at supporting e-commerce and digitalization of regions. Tax preferences are provided to participants and foreign investors.
The highest share of purchases using mobile devices in the world is 80% of all online purchases. By 2025, about 87% of Indian households will have access to the Internet, while the duration of Internet access via mobile phones will increase by 21% compared to 2019.
Open network protocol for e-commerce in India (ONDC). ONDC will enable e-commerce platforms to sync search results, display products and services, and enable consumers and merchants to transact goods and services regardless of platform or application. It is currently available in 273 cities and has 35,000 sellers online.
Electronics and media — 34%.
Clothing and shoes — 27%.
Food and personal care products — 24%.
Toys, hobbies and DIY — 11%.
Furniture and household appliances — 4% of total online sales.
An active growth of online food trade is expected in India. According to PwC, the volume of online food sales in 2020 amounted to $ 800 million, and by 2024 this figure will increase to $ 1.5 billion.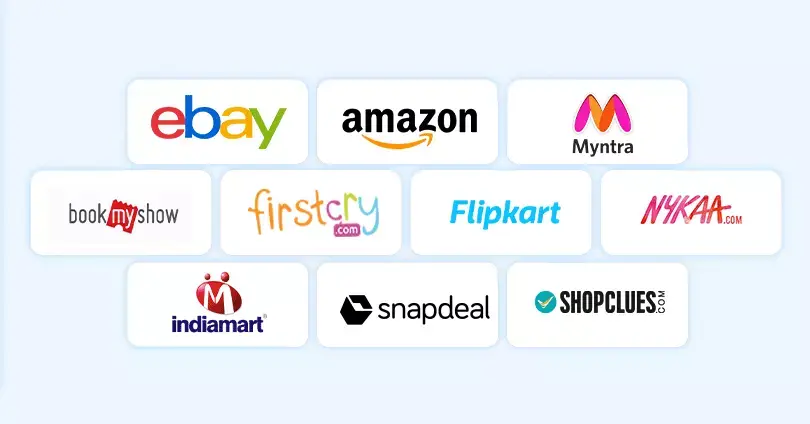 Distrust of online payments. In India, 13% of consumers still prefer to pay in cash after receiving the products. This is due to the low spread of bank cards in the country, distrust of online transactions and people's ignorance about the convenience of electronic wallets.
Low internet penetration. It is expected that this problem will disappear soon thanks to the efforts of the Government.
Lack of standardization in writing addresses. This problem is mainly faced by delivery services and couriers, so stores often call back and clarify the exact location of customers immediately after placing an order.
High percentage of refunds. Many customers buy products online for the first time, often become victims of intrusive advertising and regret purchases at the time of receiving the order. Returns are extremely expensive for online stores, especially in cross-border trade, when international delivery services are involved.
Logistics problems. Thousands of cities and rural settlements are located in hard-to-reach areas.
Strong competition due to large international investors. The prospects of the Indian market are so impressive that some players are ready to take any measures to capture market share. Because of this, it is difficult for small startups to stay in popular sectors of the economy.
By e-commerce penetration level Indonesia and Singapore lead the region. In these countries, about 30% of all sales come from the online sector. In the Philippines, Thailand, Malaysia and Vietnam, this figure averages about 15%.
The largest economy in Southeast Asia is Indonesia. Indonesia recorded the highest e-commerce revenue ever in 2020 about $59 billion, and this figure is projected to reach $95 billion by 2025.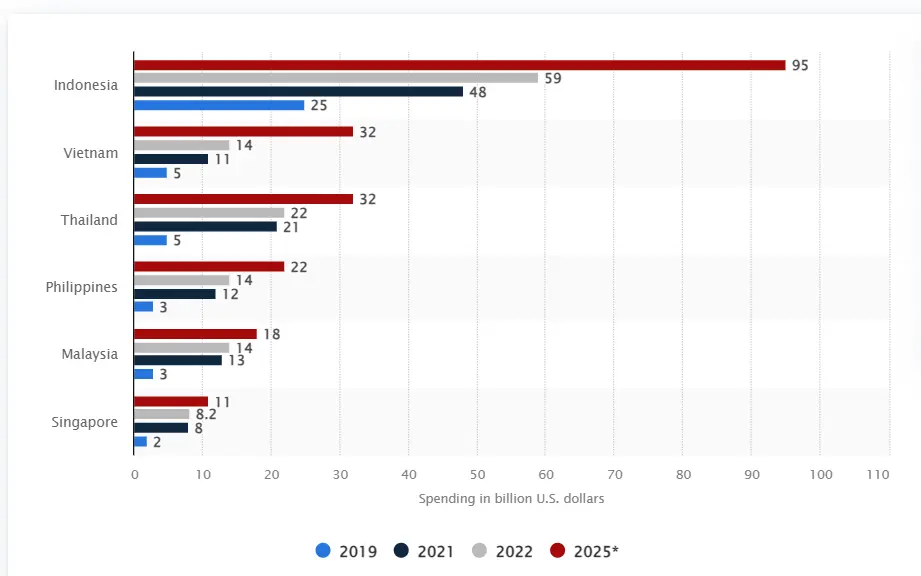 The total gross volume of Southeast Asia's top 9 e-commerce platforms for 2022 reached $99.5 billion, up 1.8 times from 2020, the first year of the pandemic.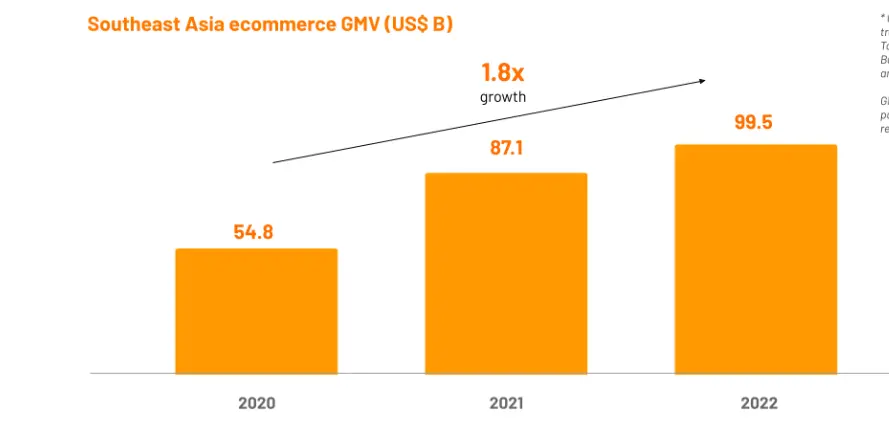 Drivers of growth in Southeast Asia: the gradual penetration of the Internet deeper into countries, a young population and the growing wealth of the middle class.
It's worth taking a closer look at the Malaysian market. It recorded the highest average bill for online purchases among all Southeast Asian countries in 2021 – $341. This figure is expected to rise to $530 by 2025.
Omnichannel and integration with social networks are the main trends in the region. Social networks have entered the top five e-commerce platforms along with marketplaces, so the promotion of goods and services is more influenced by opinion leaders than price.
The prevalence of the English language, launching an online store is easier. Interfaces and documentation of existing platforms are also more often in English, especially in Singapore, the Philippines and Malaysia.
The level of competition is still lower than in China.
Entering markets is cheaper both in terms of commissions on marketplaces and the necessary marketing costs when launching your own online store.
Tips for Effective Engagement
Indonesia and Vietnam. The low quality of fixed Internet connection in the country. Because of this, most of the population uses smartphones for shopping. Starting an online business it is better to think in advance about developing a mobile application.
Singapore. Almost every adult in Singapore has a mobile phone, and 89.5% of Singaporeans are active users of social networks. Omnichannel, social advertising and promotion through social networks will be an advantage. Entering the Singapore market is relatively easy due to the country's high dependence on imports and transparent legislative regulation.
Malaysia. High taxes in the B2C segment. Difficulties in logistics due to the geographical location of the country.
The Philippines. One of the highest rates of social media usage activity in the world, buyers often purchase products during streaming.
Thailand. Online stores must register with the Department of Business Development of the Ministry of Commerce of Thailand and obtain a license before entering the local market.
Food.
Beauty and health.
Household products.
Clothes and accessories.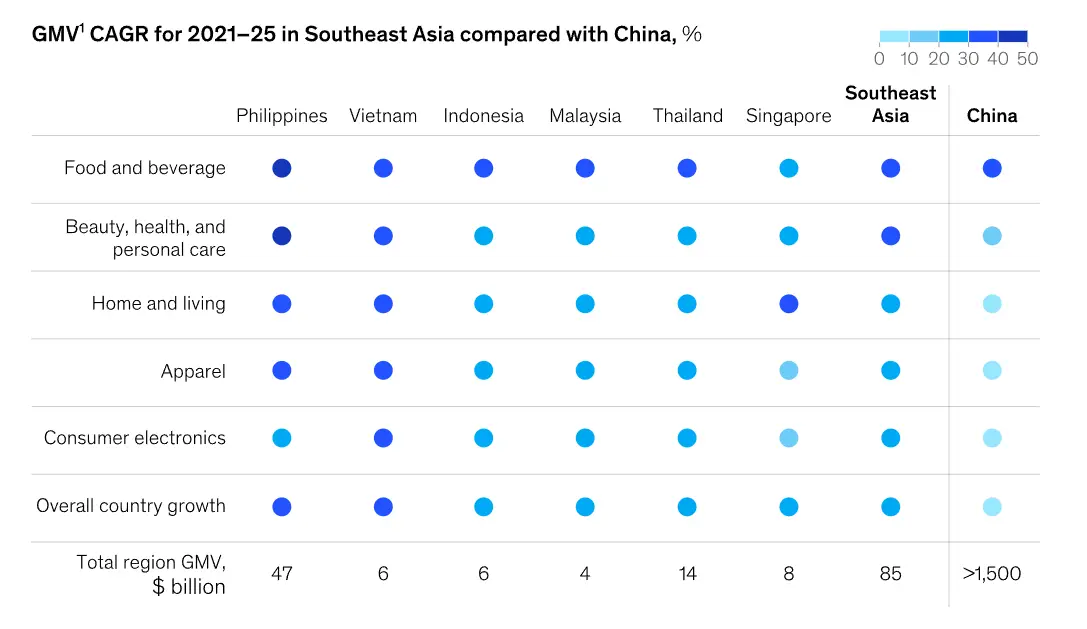 Most of the activity takes place in key marketplaces such as Shopee and Lazada, and also depends on Chinese imports.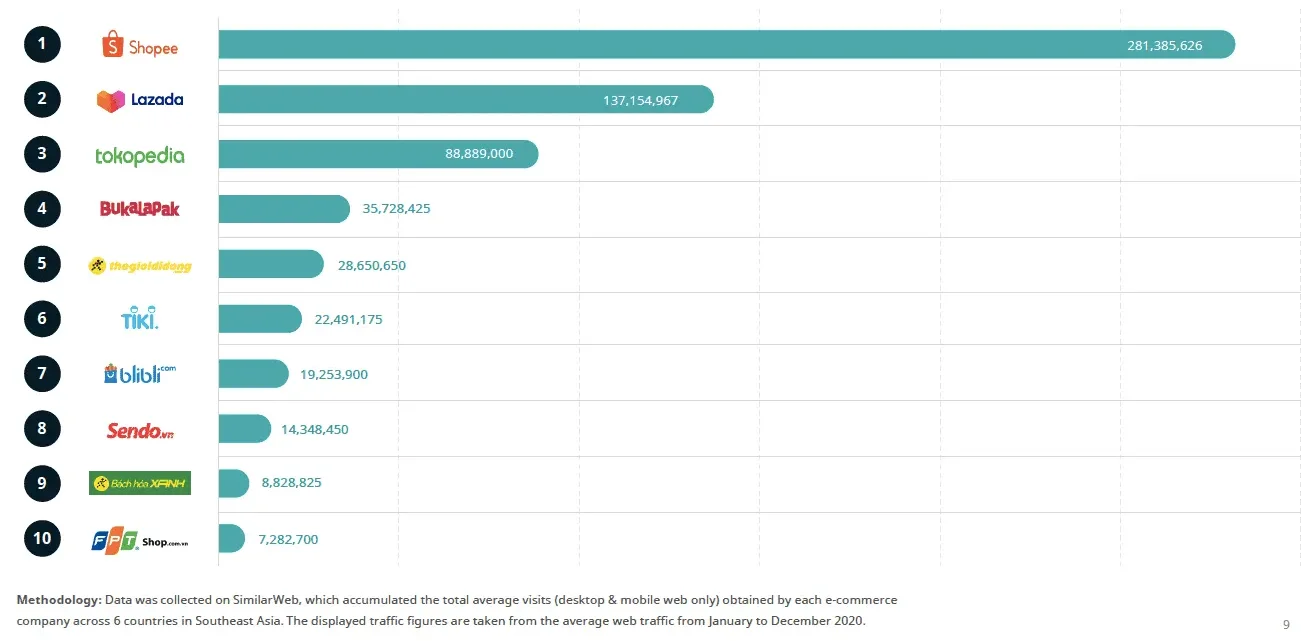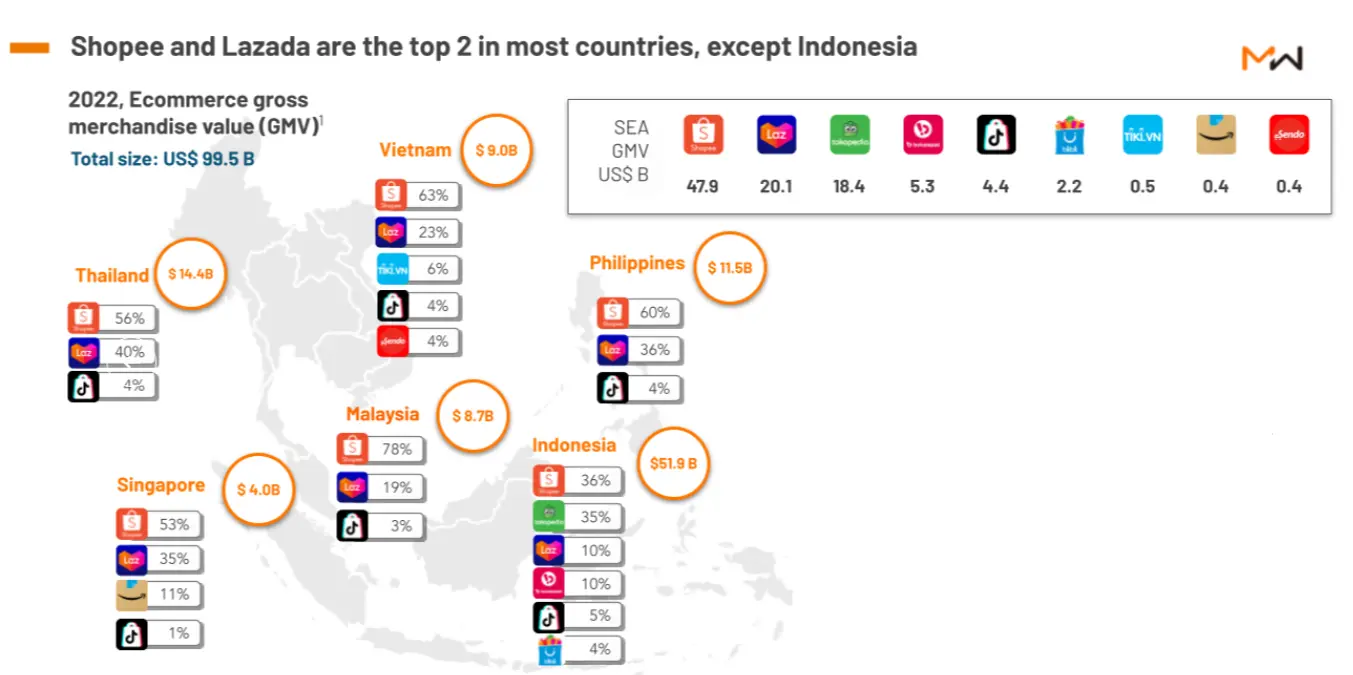 Distrust of online payments. Although digital payments take up the majority of e-commerce transactions, cash payments are still popular. In developing countries such as Thailand, Vietnam and the Philippines, the share of cash on delivery is on average 20%.
Logistics problems. There are 20,000 islands in Southeast Asia, the area of which is larger than the area of Europe. In addition, many mid-level cities are far from the main capitals. For the delivery of products, especially imported ones, it is necessary to use several modes of transport, which increases the cost and delivery time.
Heavy traffic in cities. Traffic jams remain a huge problem in most major cities in Southeast Asia. This increases the demand for online shopping delivery, but, accordingly, increases the delivery time. Traffic problems increase the risk that governments will impose restrictions and increase road usage fees, which will increase cost of delivery as well.
Do you have an idea? We have a solution!
We'll customize your online store for any needs
The intensive development of e-commerce in the last few years in East and Southeast Asia, as well as in the whole world, was influenced by the change in consumer behavior during the COVID-19 pandemic and the growth of digitalization of the region.
China and India have the greatest potential for e-commerce market due to their large populations. This huge market is attracting many new players, causing serious competition in the coming years.
The Southeast Asian eCommerce market presents several opportunities for businesses looking to tap into this growing market. Entering the Singapore market is relatively easy due to the country's high dependence on imports and transparent legislative regulation. Also the one opportunity is the potential for cross-border ecommerce, as the region has a large and growing middle class with a strong demand for international brands.
Subscribe to stay up-to-date!
I want to be notified about ecommerce events.
Subscribe to stay up-to-date!
I want to be notified about ecommerce events.