A mobile application is one of the ways to increase customer loyalty, make the user experience more personalized, and offer functionality that is only available through a mobile device. Today we will tell you why ecommerce needs a mobile application and what it should contain.
Why Does an Online Store Need a Mobile Application
While games, business services, and education are the most downloaded category of mobile apps, the growth of e-commerce through mobile apps is also on the rise. In 2021, ecom app revenue reached $3.56 trillion. This is 22% more than in the previous one. Downloads and usage of e-commerce apps have grown over the past two years since the coronavirus era.
Top popular mobile applications are led by Amazon, eBay, Wish, Wayfair marketplaces and on-demand services marketplaces.
In a world where convenience is paramount and shoppers are always on the go, a mobile app can add value to online shopping. Therefore, online businesses, by investing in a mobile application, gain a competitive advantage. This is an opportunity to increase customer satisfaction and loyalty and ultimately increase sales.
Mobile Development Options
Mobile application development has several options to choose from: native development, cross-platform or hybrid, web version of the site, progressive web application or PWA.
The first option is to develop a native application. It involves building an application specifically for a specific mobile platform using programming languages ​​such as Swift for iOS or Java for Android.
The second option is hybrid app development. In this case, it is supposed to create a single source code that works on multiple platforms. This is achieved using frameworks such as React Native or Flutter.
The third option is web application development. It is the creation of a mobile website that can be accessed through a web browser. In this case, the interface and the entire client part adapt to the screen size of the mobile device. We wrote earlier about how to make the mobile version of the site correctly.
Another option is a progressive web app (PWA). PWA visually and functionally transforms the site into a mobile application, but it works through a browser. Its icon can be installed on the phone's home screen and it will also send push notifications. But still, this is not a full-fledged application, but rather a hybrid of a site and an application.
Each option has its advantages and disadvantages depending on the requirements of the project. Ultimately, the choice of developing a mobile application depends on the goals of the project and its feasibility.
The Main Advantages of a Mobile Application for an Online Store
Mobile apps are taking online shopping to the next level. The app is becoming an indispensable tool for the ecommerce industry. The main advantages of a mobile application for an online store can be summarized in five points.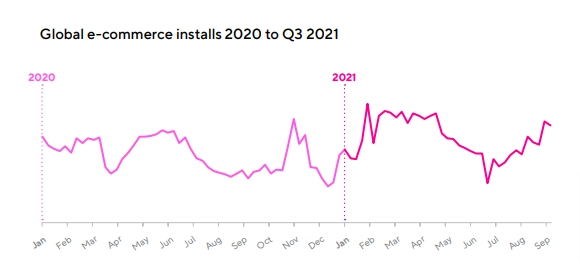 Easy and Convenient Access to the Store
First, mobile applications provide fast and seamless access to online shopping. Customers can shop, view and find products, leave reviews, and even virtually measure a product with just a few taps. The mobile application makes online shopping convenient anytime, anywhere.
Secondly, mobile applications create a personalized experience for every customer. The application saves the history of browsing, purchases, identifies and analyzes the preferences of buyers. These features allow you to provide more relevant search results and offer customized product recommendations.
Separate Loyalty Program for Users
Third, mobile apps help build customer loyalty by providing exclusive offers and discounts exclusively to app users. This incentive greatly increases the likelihood of repeat purchases and customer retention.
Own Communication Channel
Fourthly, mobile applications create their own unique communication channel between the online store and customers. And thanks to push notifications, communication is always prompt. For example, notifications about new offers and order statuses keep buyers up to date.
Finally, mobile applications allow you to analyze data for an online store. The app generates valuable insights into customer behavior that helps administrators make informed decisions about product placements, marketing campaigns, and offers.
A mobile app enhances user experience, increases brand awareness, and helps engage and retain customers.
Basic Functionality of the Mobile Application of the Online Store
The main task of the mobile application of the online store is to make the user experience so that it is easy for customers to interact and make purchases. To do this, it must have:
The registration/authorization process should be fast and efficient so that users can access the features of the application as soon as possible. The registration form should only ask for the required information and clearly indicate the required fields.
For the convenience of users, the application should offer registration options through social networks, Facebook, VK, Twitter, Google accounts, Apple ID, which will simplify the registration process. Be sure to have a clear and concise privacy policy that describes how user data is collected, stored and processed.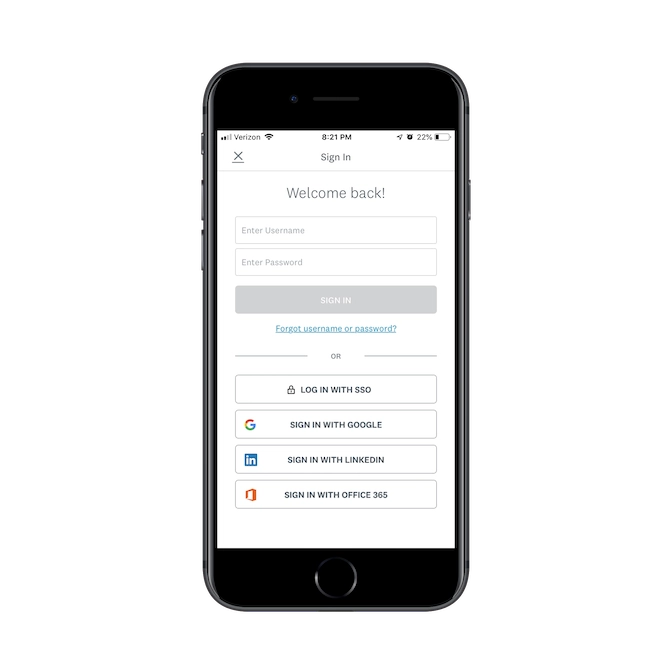 When designing a user's personal account, think about what information you will need for analytics and what information the buyer needs. The main goal is to make navigating, updating and setting up a profile as easy as possible, and interacting with the application's functions as easy as possible.
For example, access to the order history allows you to quickly make repeat purchases. And it will allow you to analyze the preferences of the buyer in order to offer recommendations and promotions.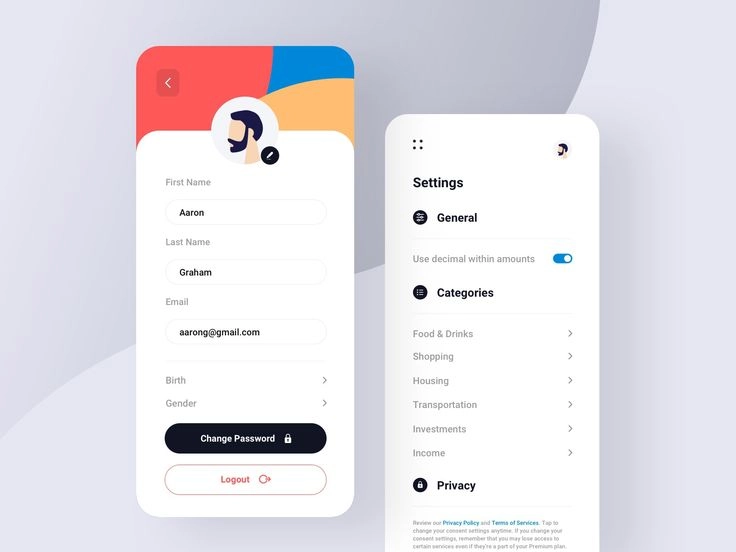 Product Catalog and Product Search
If the product range is large, catalog navigation should involve sorting and filtering products. The ability to quickly find the right product is an important advantage of a mobile application. Modern smart search should offer autocorrect, synonyms, hints, ignore characters. After all, entering the desired name of the product from the screen of a mobile phone is not always convenient.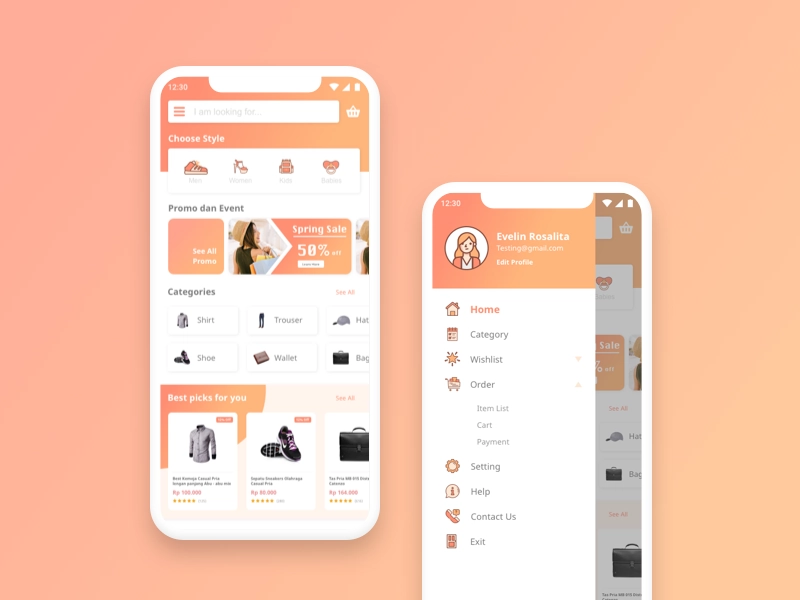 Buying in one click allows you to perform a minimum of actions to complete the conversion. This tool is suitable for making impulse purchases. But users should be able to add an item to their cart and return to shopping later. Auto-save items in your shopping cart. Then the buyer will not need to re-search for goods to continue shopping. This will help reduce the bounce rate.
In addition, the capabilities of a mobile phone make the payment process as convenient as possible. Offer different options: e-wallets, bank cards, QR codes, Apple Pay, Google Pay.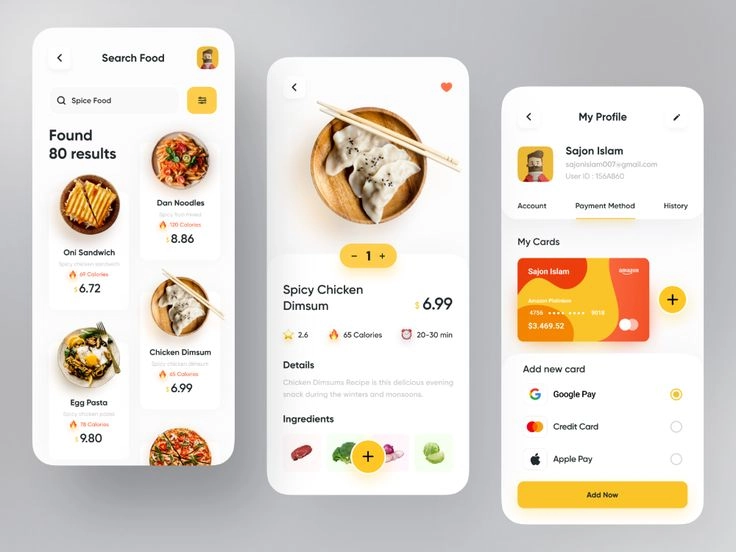 Product Recommendations and Push Notifications
Give buyers the opportunity to interact more with the application. Create wish lists and offer personalized recommendations based on added, viewed and purchased items. Keep engaged and notify via push notifications.
Chatbot and Communication Via Messengers
Automate communication with customers through chatbots. So you will be in touch with customers 24/7. Artificial intelligence technologies will allow bots to instantly identify customer data, anticipate questions, and accurately predict products of interest. All questions of interest, such as: deliveries, returns, payment methods, etc., transfer to the chat bot. You will save time and money for your administrators.
Use the advantages of the phone: call the manager, leave a review, go to instant messengers – all this can be done with the click of a single button.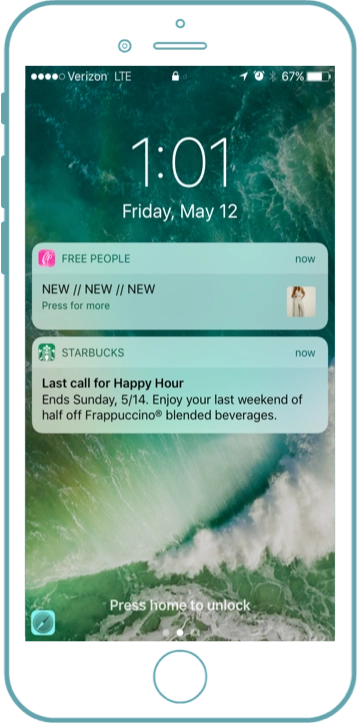 Cutting-Edge Features of a Mobile Application for an Online Store
According to research by Engine Creative, 76% of consumers are willing to buy more if AR product browsing is available. Many companies are already using this technology: IKEA allows you to try on furniture in your interior, you can try on Converse sneakers and sneakers, Nars and L'Oreal use social media filters so that customers can choose the right shade of cosmetics.
And that's not all that you can implement through AR technologies: interactive instructions, animated characters with previews of books, games, interactive portals and much more.

Voice commerce is a feature that allows you to order the goods you need with voice commands. In mobile applications, voice assistants are just starting to gain momentum. Assistants like Marusa from VK, Alexa from Amazon help to interact, enliven the shopping experience.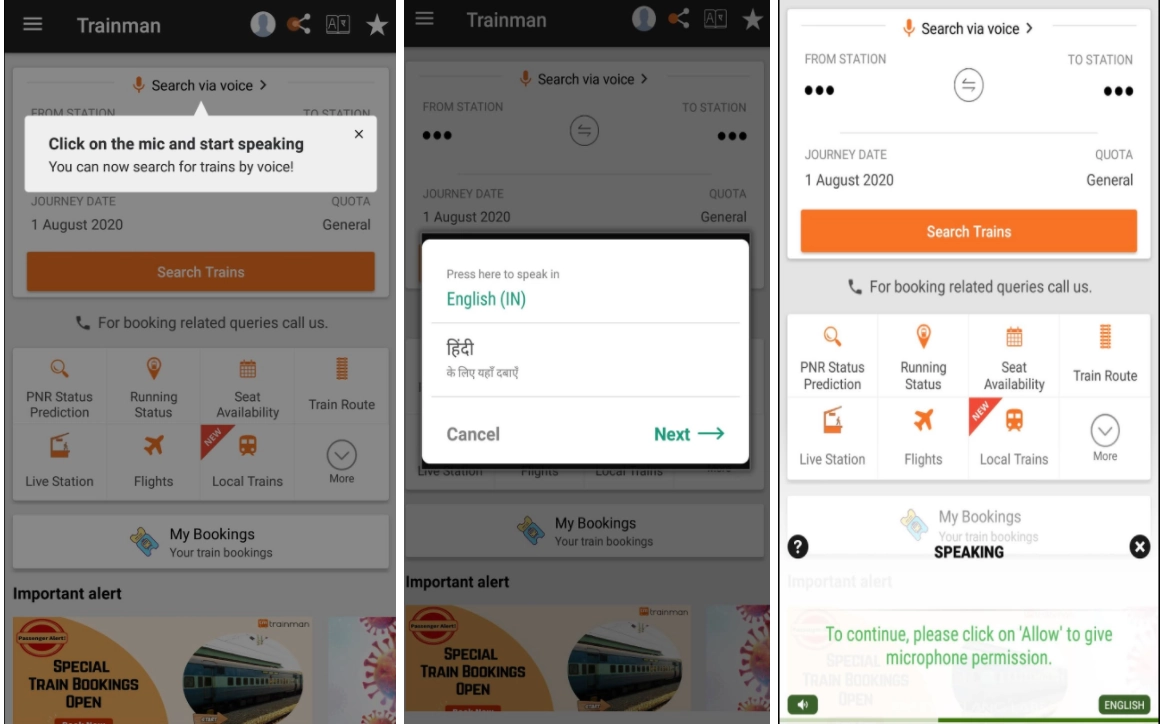 To diversify the experience of buyers and make shopping more interesting, add elements of the game, gamification to your application. In this case, the duration of the game or the characters do not play a major role. The main motivation for playing in an online store is to get a reward. Provide bonuses, discounts, coupons for completed tasks.
Creating your own rewards program incentivizes users to download your app to receive great personalized offers. Most offline stores are now refusing physical customer loyalty cards and transferring them to a closed club, creating a virtual card that can only be used through the application.
Do you have an idea? We have a solution!
We'll develop a mobile app for your online project
A mobile application for an online store gives a powerful competitive advantage to businesses and the ability to conveniently shop for consumers. When creating and designing an application, you should remember that the basic functionality should be distinguished by a simple logic of work.
Focusing on the convenience of users, keep in mind the benefits that the functions of a mobile device can provide: quick access to instant messengers, the ability to call at the touch of a button, registration through social networks, access to the phone's camera.
By creating a unique user experience through the application, an online store can expand the audience, form a loyal attitude towards the brand, and increase the chance of repeat purchases through modern features.
Subscribe to stay up-to-date!
I want to be notified about ecommerce events.
Subscribe to stay up-to-date!
I want to be notified about ecommerce events.