It is crucial for online business owners to have a deep understanding of their customers' preferred conversion methods and where they are more likely to convert. As mobile payments continue to gain popularity, the fintech industry is rapidly evolving and providing a diverse range of payment options through smartphones and other mobile devices. In this article, we will explore the strategies that business owners should consider to minimize the rate of abandoned mobile shopping carts.
Do you have an idea? We have a solution!
We'll develop marketplace for any needs
Popularity of Mobile Payments
Mobile payments provide a seamless and convenient way to make transactions. Gone are the days of carrying bulky wallets or rummaging for cash or credit cards. With mobile payment apps installed on their devices, users can make payments with just a few taps, whether it's in-store, online, or through peer-to-peer transfers.
Global mobile payments predominantly include digital wallets like PayPal, Apple Pay, and Alipay, although there are several other alternatives available. Approximately 50% of global e-commerce payment transactions were made using mobile wallets in 2022.
Well-known payment methods such as Apple Pay, Google Pay, and PayPal offer customers the convenience of a streamlined checkout process across multiple websites. Instead of repeatedly entering their payment details for each online purchase, customers can enjoy a more seamless and efficient user experience. By logging into their regularly used account, which is often already stored on their device, customers can swiftly complete their transactions without the hassle of reentering payment information each time.
Advantages of Mobile Payments
There are numerous advantages of opting for mobile payments, benefiting both consumers and businesses alike.
Enhanced Security. Mobile payments offer additional layers of security compared to physical cards. Utilizing features such as Touch ID, PIN inputs, and tokenization, they provide a higher level of protection against potential fraud or unauthorized access.
Peer-to-Peer Payments. With P2P payment apps, it becomes easier to settle payments among friends and family members. Mobile-to-mobile payments enable seamless transactions for cash gifts, splitting bills, and sharing utility expenses without the need to wait for checks to clear.
Swift Transactions. Contactless mobile payments can be completed within seconds, significantly faster than traditional methods like card swiping or cash transactions. This swift transaction process helps keep the queues moving smoothly, especially in busy stores or crowded environments.
Convenience. Unlike cash, which individuals may not always carry, mobile phones are almost always within reach. Mobile payments eliminate the need to dig through wallets or make visits to ATMs, providing a hassle-free and convenient payment experience for customers.
By embracing the benefits of mobile payments, individuals can enjoy enhanced security, seamless peer-to-peer transactions, faster payment processing, and the utmost convenience in their financial transactions. Similarly, businesses can cater to the evolving preferences of their customers while streamlining payment processes and improving overall efficiency.
Payment Methods via Phone
Digital Wallets. Digital wallets, such as Apple Pay, Google Pay, Samsung Pay, and PayPal, allow users to store their credit card, debit card, or bank account information securely on their mobile devices. To make a payment, users simply need to unlock their device and hold it near a contactless payment terminal. Some digital wallets also support in-app and online payments, enabling users to make hassle-free transactions.
Mobile Banking Apps. Many banks offer their own mobile banking applications that allow users to manage their accounts and make payments directly from their smartphones. These apps often provide features like transferring funds, paying bills, and sending money to other individuals through peer-to-peer payment services.
QR Code Payments. QR code payments involve scanning a unique QR code displayed by the merchant to initiate a payment. This method is commonly used in apps like WeChat Pay and Alipay, which are popular in countries like China. Users scan the QR code with their smartphone's camera, enter the payment amount, and confirm the transaction.
Peer-to-Peer Payment Apps. These apps, including Venmo, Zelle, and Cash App, enable users to send and receive money directly to and from their contacts or friends. Users can link their bank accounts or debit cards to these apps and easily split bills, reimburse friends, or make payments in various social or casual settings.
Mobile Carrier Billing. Some mobile service providers allow customers to make purchases and have the charges added directly to their monthly mobile phone bill. This can be particularly convenient for digital content purchases, such as mobile games, apps, or digital subscriptions.
In-App Payments. Many mobile apps offer their own integrated payment systems, allowing users to make purchases within the app itself. This is commonly seen in e-commerce apps or food delivery apps, where users can securely store their payment information and complete transactions with just a few taps.
Mobile Point of Sale (mPOS) Systems. With the advent of portable card readers that connect directly to smartphones or tablets, small businesses and individuals can easily accept card payments on the go. These devices, often provided by companies like Square or PayPal Here, allow merchants to process payments using their mobile devices, making it convenient for businesses that operate outside of traditional retail settings.
Cryptocurrency Payments. Some mobile wallets or payment apps now support the use of cryptocurrencies as a form of payment. Users can store their digital currencies in these wallets and make transactions using QR codes or other cryptocurrency payment methods.
Square service enables you to sell in various ways, including in-person, over the phone, online. Square also provides features to track customer preferences, feedback, and inventory management.
What sets Square apart is its versatility. You can process credit card payments using magstripe, chip cards, and contactless readers, as well as popular digital wallets like Google Pay, Apple Pay, and Samsung Pay. Additionally, businesses have the option to manually enter card details for virtual terminal payments, eliminating the need for a physical card reader.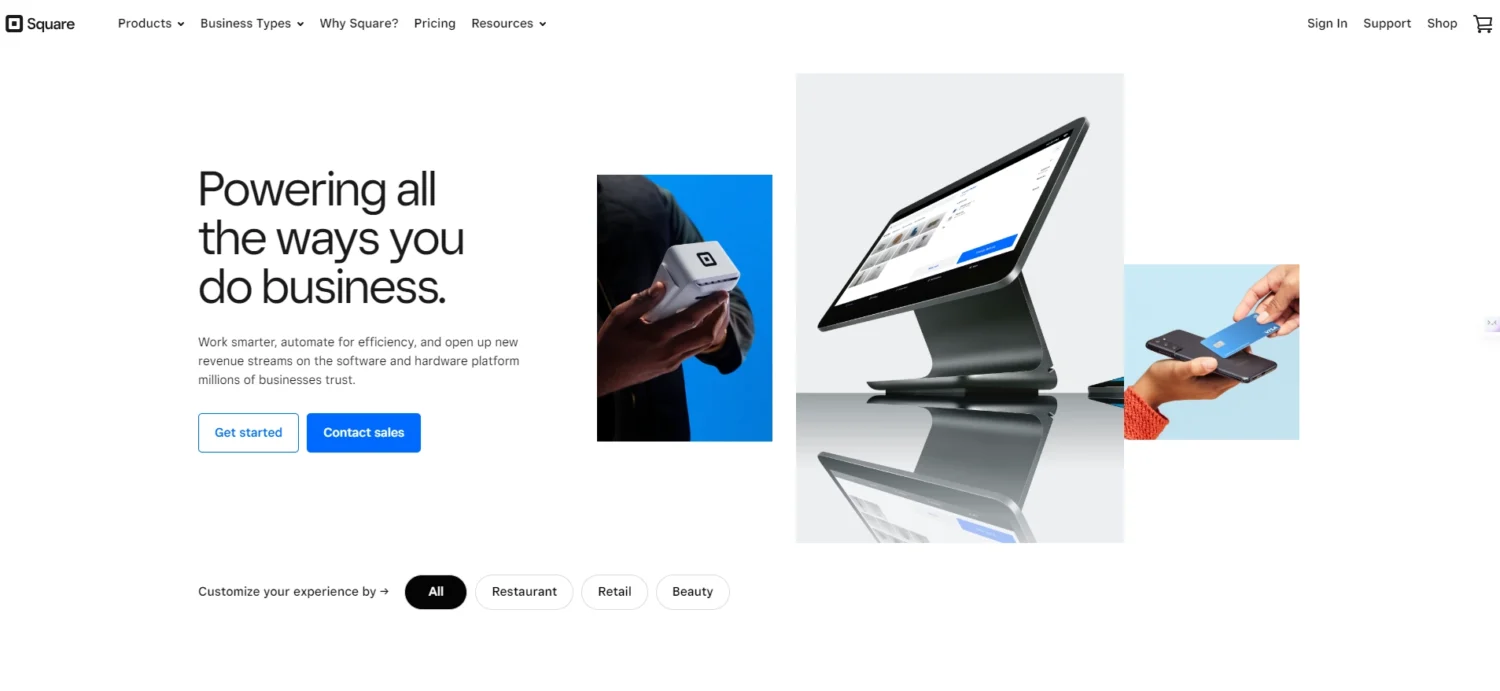 Square is designed to support both individuals and small businesses with user-friendly tools, while also offering customized plans for larger organizations. Some of the features provided by Square include a mobile card reader, near-field communication (NFC) capabilities, ACH payment processing, a point of sale (POS) system, fraud detection, bank transfers, electronic payments, subscription billing, reporting and analytics tools, support for partial payments, receipt management, offline access, and SSL security features.
Stripe is an online payment processing tool designed for internet businesses. It provides a platform for setting up marketplaces, accepting payments globally, and establishing recurring billing for customers.
One of Stripe's notable strengths is its technology-focused approach, which encourages developers to integrate with the system using real-time webhooks. This developer-friendly platform reduces the time spent on maintaining legacy systems and allows businesses to prioritize enhancing the customer experience.
As an online tool tailored for internet retailers, Stripe is highly scalable and suitable for businesses of any size. Its versatility enables business owners to accept payments in more than 135 currencies, facilitate global transfers, manage subscription services, and even create crowdfunding platforms. By utilizing Stripe, you can provide your customers with a wide range of payment options.
WePay is a payment processing service that allows businesses to accept payments online. It provides a platform for merchants to seamlessly integrate payment functionality into their websites or applications.
One of the key features of WePay is its ability to facilitate secure transactions. It employs sophisticated risk and fraud detection measures to ensure the security of both merchants and customers. Additionally, WePay offers KYC (Know Your Customer) and AML (Anti-Money Laundering) compliance tools to help businesses meet regulatory requirements.
WePay also focuses on providing a seamless user experience. It offers customizable checkout experiences and supports various payment methods, including credit cards, ACH (Automated Clearing House) transfers, and digital wallets. Merchants can easily set up recurring payments and invoice their customers through the WePay platform.
WeChat Pay is a mobile payment service offered by WeChat, a popular social media and messaging app in China. It allows users to make payments for a wide range of goods and services directly from the WeChat app.
One of the key features of WeChat Pay is its convenience. Users can link their bank accounts or credit cards to their WeChat Pay account and seamlessly make payments through the app. It offers a variety of payment methods, including scanning QR codes, quick response (QR) code payments, in-app purchases, and peer-to-peer transfers.
WeChat Pay also provides additional features to enhance the user experience. For example, it offers loyalty programs, discounts, and cashback incentives to encourage users to make payments using the platform. Additionally, WeChat Pay provides services like bill splitting and red packet gifting, which are commonly used for social interactions and celebrations.
Venmo is a mobile payment service that allows users to send and receive money through a simple and convenient app. It provides a seamless platform for peer-to-peer payment transactions, making it easy to split bills, pay friends, or request payments.
One of the key features of Venmo is its social aspect. Users can connect with their friends on the app, view and like each other's transactions, and leave comments. This social feed creates a more engaging and interactive payment experience, resembling a social media platform.
Venmo also offers split payment functionality, which enables users to divide bills and expenses among multiple people. This makes it convenient for sharing costs for group activities or splitting bills at restaurants.
A Swish service refers to various offerings related to Swish, a mobile payment system commonly used in Sweden. Swish allows users to transfer money directly from one bank account to another using their smartphones. Here are a few examples of services related to Swish:
P2P (Person-to-Person) payments: Swish enables individuals to send money conveniently and instantly to friends, family, or acquaintances. This can be done by selecting a recipient from the contact list and entering the payment amount.
Online and in-store payments: Many businesses, both online and offline, have integrated Swish as a payment option. Customers can make purchases using the Swish app, which is linked directly to their bank accounts, making transactions quick and secure.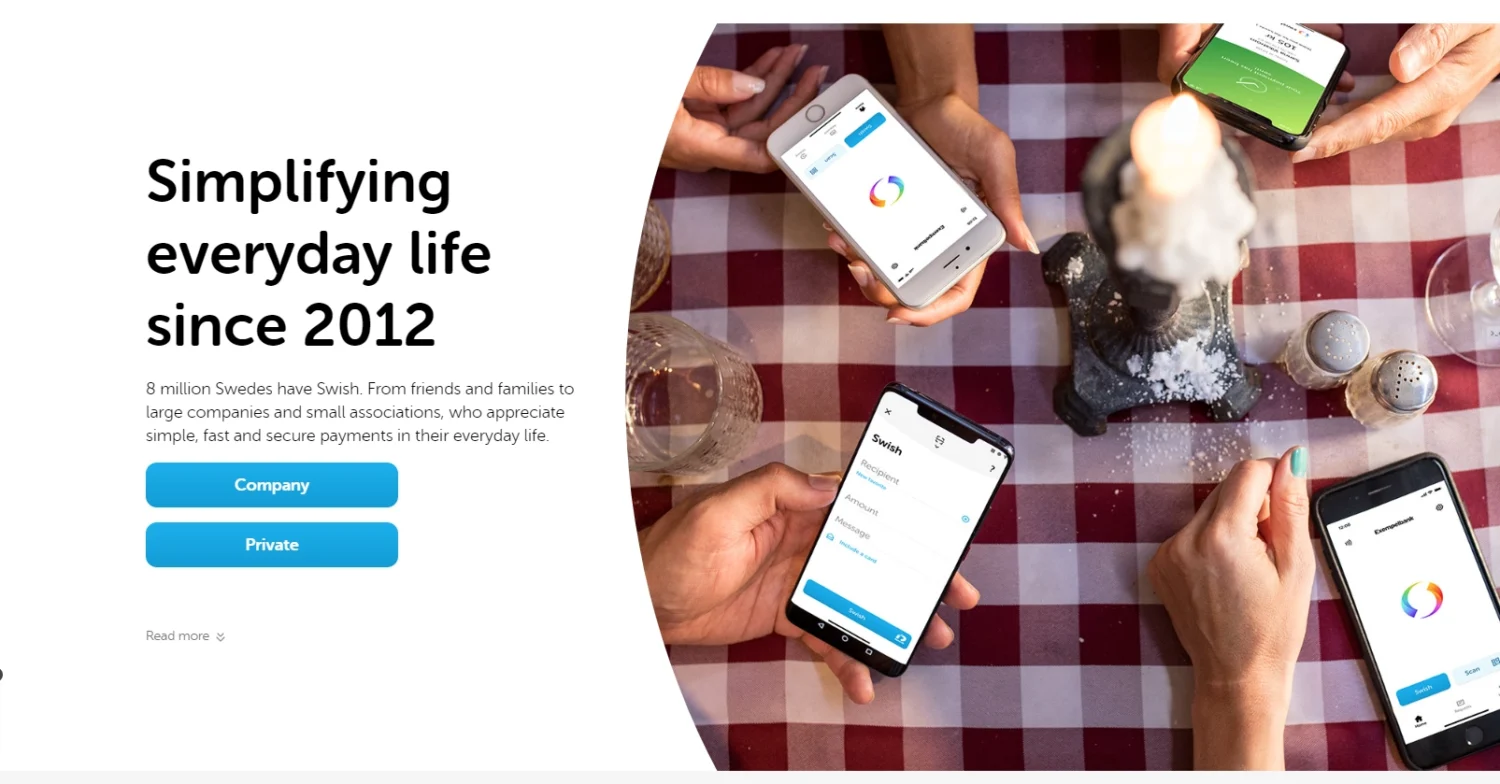 Charity donations: Swish is widely used for donating money to charitable organizations. Through Swish, users can easily contribute to various causes by sending money directly to the organization's designated Swish number.
Peer-to-business payments: Swish also allows for payments between individuals and businesses. This can be used for settling bills at restaurants, paying for services like haircuts or repairs, or making purchases from local vendors who accept Swish as a payment method.
Splitting bills: Swish provides a convenient way to divide expenses among a group of people. For example, if a group of friends dines together, one person can pay the bill and immediately receive individual payments from each person using Swish.
Alipay is a widely used digital payment platform in China, operated by Ant Group. It offers a range of financial services and is known for its convenience, security, and extensive features.
Alipay allows users to make cashless payments using their smartphones. It supports various payment methods, including scanning QR codes or barcodes, using NFC technology, or entering payment details manually.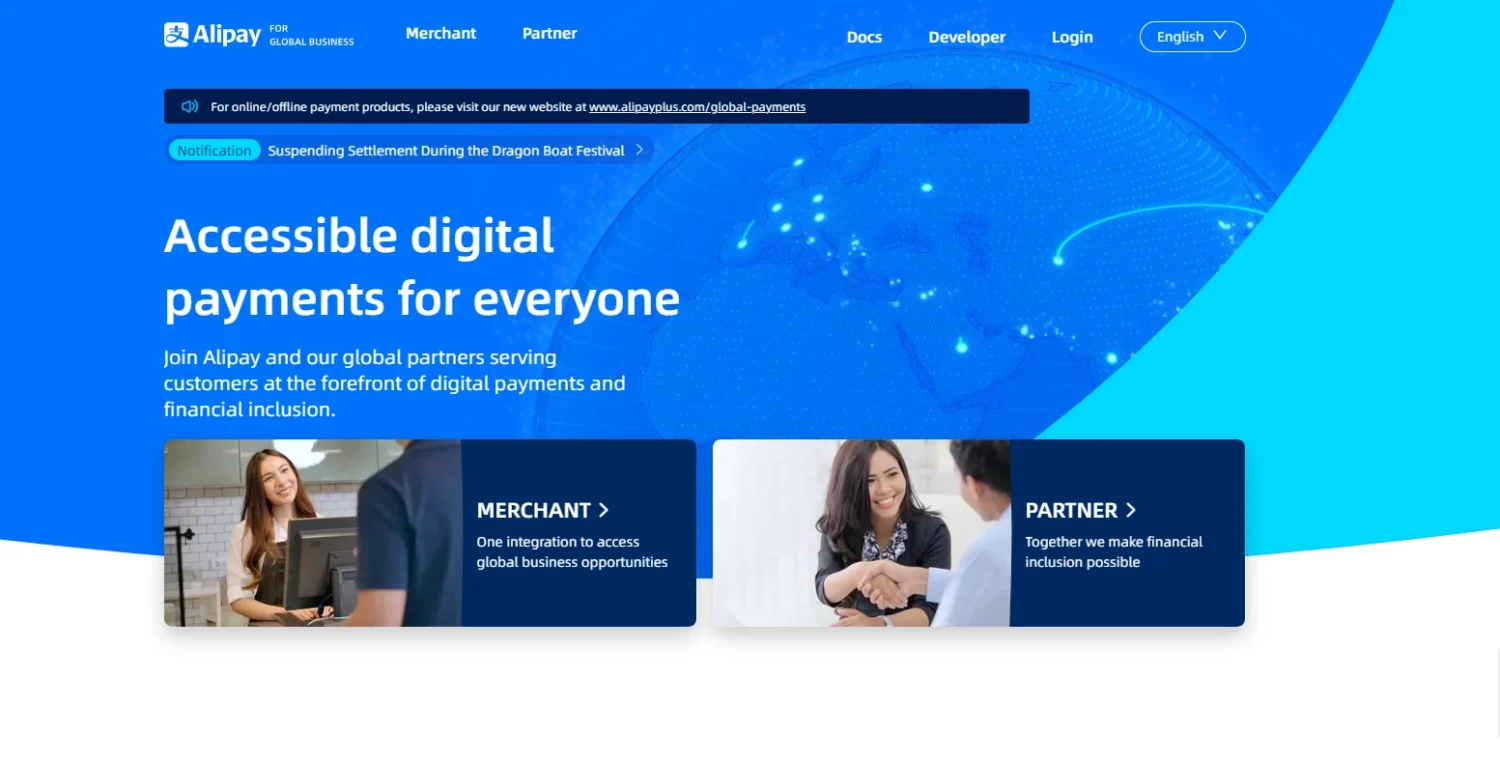 Alipay is integrated with numerous e-commerce platforms, enabling users to make purchases online easily and securely. It offers buyer protection and a streamlined checkout process for a seamless shopping experience.
It's important to note that while Alipay is primarily used in China, it has expanded its services in some international markets and can be used for cross-border transactions in certain regions. The availability of specific features may also vary depending on the user's location and the partnering financial institutions.
Payment Services for the CS-Cart Mobile Application
Paying through a mobile application is akin to paying through a mobile browser, but using a mobile app brings additional benefits as it provides a more tailored experience within a closed system. When users download a mobile app, they are often offered bonuses and incentives, creating an enticing environment for in-app purchases.
Furthermore, by saving payment information within the app, users gain the convenience of seamless transactions with just a few taps. Whether they're purchasing e-books, shopping online, grabbing a cup of coffee, or settling bills, the app simplifies the payment process and enhances the overall user experience.
When you purchase a CS-Cart license, you gain access to a native mobile application that seamlessly integrates with your store. This ensures that your store's design appears visually appealing on all mobile devices, and the overall performance is optimized for faster loading times compared to the mobile web version.
With this mobile application, data synchronization occurs in both directions. Any changes you make, such as adding or removing products or adjusting settings, will be reflected instantly in the application. This eliminates the need for duplicated settings and saves you from double-checking your inventory in both the desktop version and the mobile application.
In summary, the CS-Cart platform, coupled with the mobile application, provides an optimized and synchronized experience, allowing you to efficiently manage your store across various devices without the hassle of redundant tasks.
And if the delivery methods in the application are similar to the browser version, then the payment methods are different. The following payment options are currently available in the application:
PayPal Express Checkout;
Offline payments.
Our Experience in Developing Integrations for Mobile Applications on CS-Cart
Developing mobile applications is crucial for businesses in the e-commerce industry, and the demand for customized app development remains high. We understand the significance of meeting the needs of online business owners and ensuring a seamless shopping experience for customers. That is why we prioritize the development of our own integrations with various payment services. By doing so, we enable businesses to offer their customers a flawless and convenient payment process through our mobile applications.
This project is a high-volume marketplace operating on a B2B model, offering a diverse range of products. Sellers on this platform consist of manufacturers and wholesalers, while the buyers are retailers and resellers. Given the nature of B2B transactions, the average invoice value is typically substantial. Therefore, offering installment plans to buyers has proven to be an excellent solution.
By default, CS-Cart already integrates with the payment service provider Stripe, enabling installment options. However, this functionality was not initially available in the mobile application. To address this, we developed our own integration for the client. As a result, Gowholesale can now offer even more businesses and resellers the convenience of paying in installments through the Klarna and ClearPay systems provided by the Stripe aggregator. Whether using the desktop version or the mobile application, purchasing on installment is now just as easy and accessible for our users.
Elit is a specialized marketplace catering to medical organizations and doctors. With a network of physical stores, they offer a wide range of products, including medical equipment, consumables, furniture, and even customized medical clothing. Also Elit accepts corporate orders from clinics and dentists, serving both individual customers and legal organizations.
Considering the specific requirements of the Russian market, PayPal may not be the most suitable payment service. Offering multiple payment options is important not only for customers, but for business too. Therefore, we've developed integration with Robokassa to provide a diverse range of payment options within our application. Clients can now conveniently pay using various methods, including bank cards, QIWI, and Yandex Pay.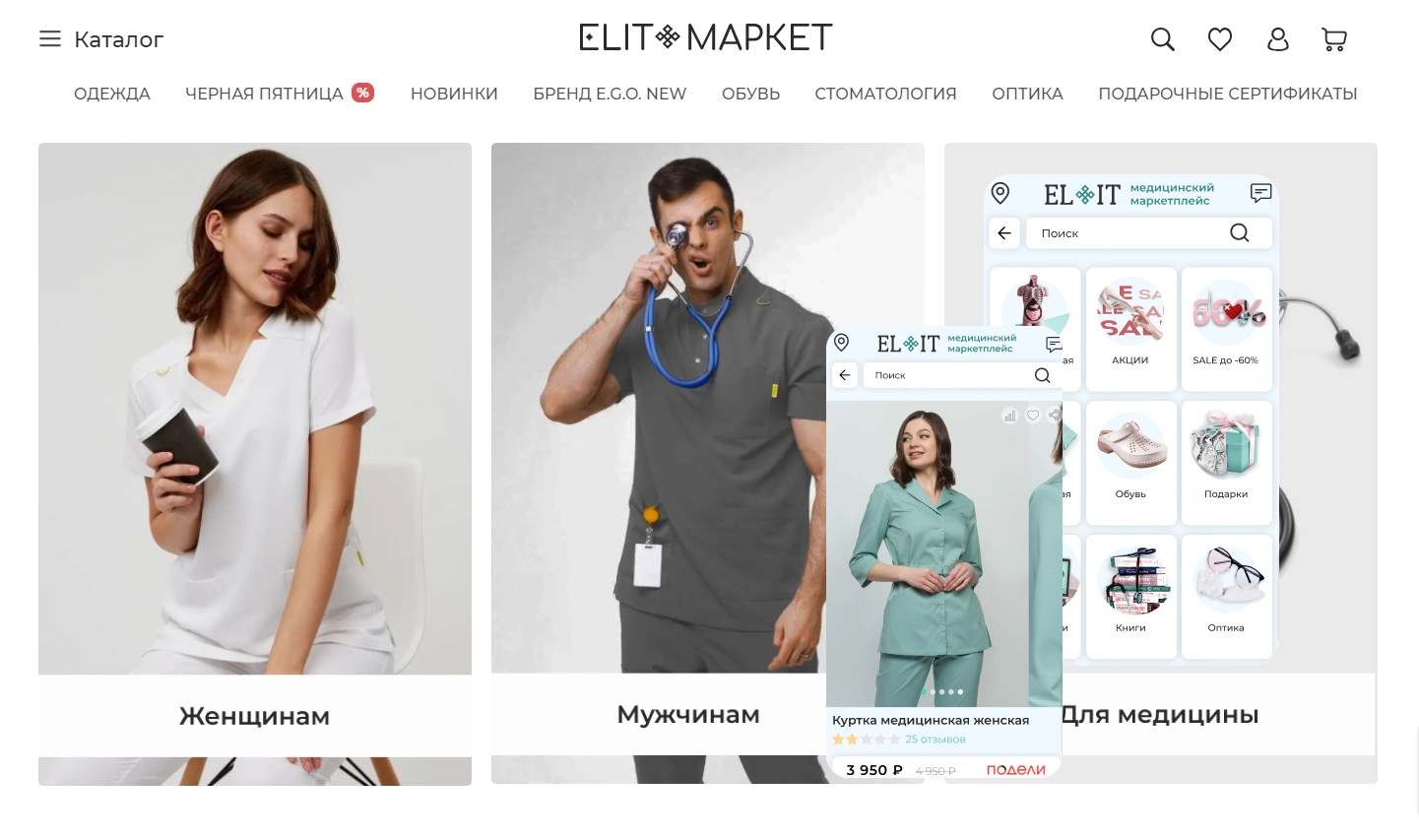 In addition, we have included integration with the Podeli service, provided by Alfa Bank. This allows Elit to offer installment plans specifically designed for corporate clients with significant transactions.
The Garage marketplace provides customers with an extensive range of car acoustics and audio equipment products and accessories. The Pay Keeper payment service has already been introduced on the site, and the company has established internal processes.
Since the introduction of a new service requires a new contract and new transaction processing procedures, it was necessary to extend this payment service to the mobile application as well.
Pay Keeper is an integrator that accepts and processes various types of payments, including bank cards, popular Pay services, as well as QR codes. Additionally, it serves as an integrator for most banks, allowing for a wide range of payment methods and bank connections.
By providing customers with as many payment options as possible, you increase the likelihood that customers will stay with you rather than leaving for competitors. Don't hesitate to connect us to making your business application better!
Subscribe to stay up-to-date!
I want to be notified about ecommerce events.
Subscribe to stay up-to-date!
I want to be notified about ecommerce events.