Central Europe presents a burgeoning market with promising prospects for online business expansion. This is due to the less underdeveloped state of e-commerce in comparison to Western European nations. As a result, numerous new enterprises are emerging, extending their operations beyond their domestic borders. In our upcoming review, we will outline the unique aspects of e-commerce in Central Europe and highlight the key trends deserving of attention.
Comparison to Other European Regions
The region comprises Austria, the Czech Republic, Hungary, Poland, Switzerland, Slovakia, Slovenia, and Liechtenstein.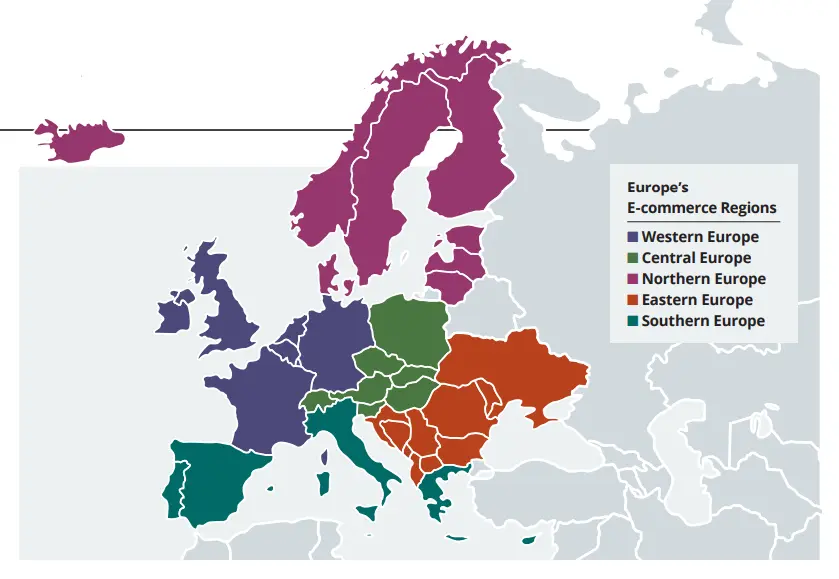 The European Ecommerce Foundation estimates that in 2022, 91% of Central Europe's population will use the Internet, with 77% making online purchases, aligning with the average across European regions.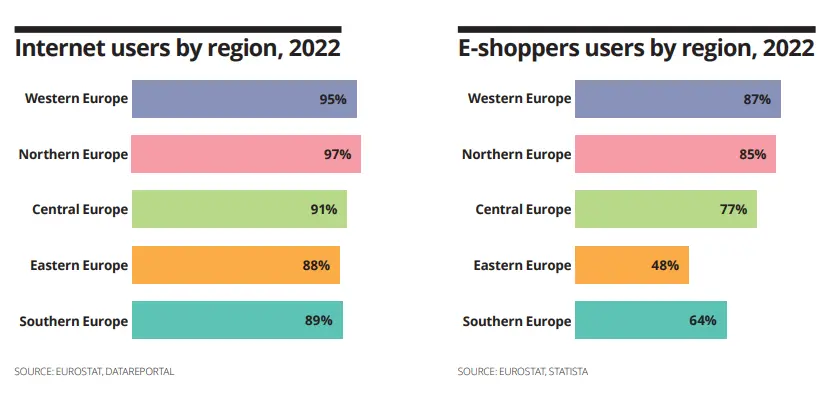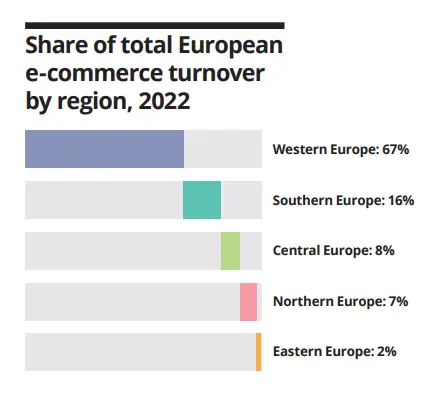 The gross e-commerce turnover in Central Europe experienced its first decline in 2022, attributed to several factors. Firstly, the surge in online trading during the pandemic in 2020 and 2021 tapered off, contributing to this decline. Secondly, consumer caution in light of the inflationary pressures in 2022 impacted purchasing behavior. It is anticipated that growth will recommence in the latter part of 2023, although it is expected to remain subdued even into 2024.
The population of Internet users in Central Europe is steadily increasing. Additionally, there was a rise in the proportion of online shoppers until 2022. Nevertheless, forecasts indicate a 2% decrease in this figure in 2023, linked to escalating inflation in Europe and a broader decline in purchasing power. The populace has become more prudent in their expenditure, extending to online transactions.

Switzerland leads the region in these metrics, with 100% of the population using the Internet and 90% engaging in online purchases. Online shopping is also prevalent in Slovakia (85% of online shoppers) and the Czech Republic (84% of online shoppers). The other countries in the region fall behind those in Western and Northern Europe in these aspects.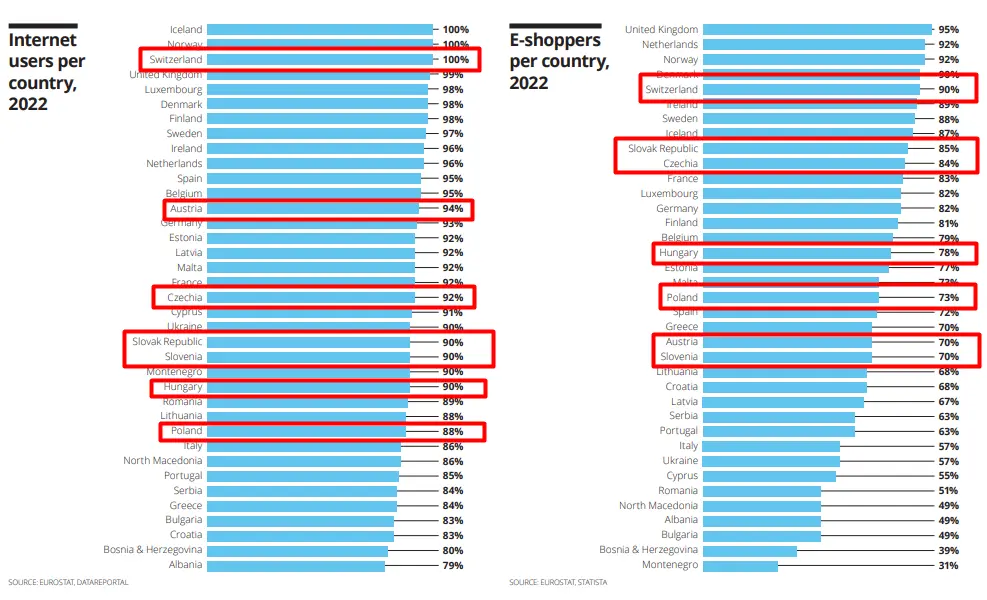 In Central Europe, consumers have traditionally favored national and EU sellers. Nevertheless, in 2023, there has been a shift as buyers are placing less emphasis on the origin of the seller and product, instead prioritizing better prices.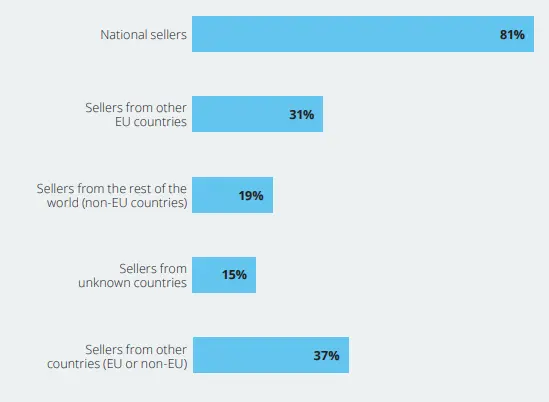 Features of Leading Countries
Cross-border commerce surpasses local trading due to shared language and cultural ties between Austria and Germany, leading many Austrians to favor German platforms like amazon.de. Additionally, products from Italy, Switzerland, and the Czech Republic are frequently purchased.
Emphasis on environmental sustainability is evident through the use of eco-friendly transportation for deliveries and a preference for recyclable packaging.
There is a notable trend of digitalization among small and medium-sized enterprises, with 84% having established their online presence and 30% actively conducting e-commerce. This is anticipated to drive substantial growth in Austria's e-commerce market in the near future.
The adoption of advanced technologies is also noteworthy, with 8% of retailers already utilizing AI-based solutions, and 23% planning to implement them in the current year. Furthermore, 2% have developed their own AI applications in collaboration with technical partners.
Direct-to-consumer (D2C) strategies are becoming increasingly popular, as major manufacturers strive for direct sales and the development of private labels.
Social commerce, especially through platforms like Instagram and TikTok, is gaining traction, particularly among Gen Z consumers.
Sustainability efforts include the reduction of packaging waste responsible for carbon emissions, along with initiatives for environmental certification and product labeling.
Logistics optimization initiatives are underway in urban centers such as Gdańsk, Poznań, Warsaw, and Kraków, involving the development of efficient delivery routes, including those facilitated by bicycle couriers, to minimize CO2 emissions and operational costs.
Efforts are being made to reduce returns by implementing Product Information Management (PIM) systems. PIM systems aid in generating comprehensive product descriptions and rectifying inaccuracies.
The legislative framework is also evolving, with the government formulating support measures for consumers and businesses. Consumers are being educated on safe online shopping through government-led programs, while small and medium-sized enterprises receive guidance on establishing online stores, digitalizing business operations, and engaging in online exports.
Data protection measures were strengthened in Switzerland in January 2023 with the introduction of a new data protection law, mirroring the regulations of the European Union. Companies are now required to disclose the involvement of third parties in the sharing of personal data, the duration of data storage, and its intended purpose.
The concept of "logistics of smart cities" encompasses a range of initiatives aimed at optimizing logistics, exploring sustainable and eco-friendly delivery methods, and minimizing partial deliveries and returns in Switzerland. Delivery services in the country are striving to achieve zero CO2 emissions.
Efforts to reduce returns involve implementing charges for most return transactions. Additionally, the introduction of AI assistants for selecting clothing sizes and providing prompt feedback on each return has been initiated.
Slow progression of digitalization. The digitalization of public services by the government is advancing at a sluggish and ineffective pace. Furthermore, the integration of technologies such as ChatGPT and AI has not yet had a significant impact on e-commerce, emphasizing the need for future prioritization in this domain.
Cross-border trade between the Czech Republic and Slovakia. The e-commerce markets of the Czech Republic and Slovakia are intricately linked in various aspects, including logistics, software and services, as well as corporate collaborations. The comparable consumer shopping behaviors and preferences in both countries render them well-suited for cross-border trade and mutual purchases.
Government assistance for domestic retailers primarily pertains to the FMCG (consumer goods) sector, where regulations and specific taxes create complexities for foreign retail chains.
Some delivery services are prioritizing environmental sustainability by utilizing electric vehicles and bicycles for transporting goods to city centers.
A surge in inflation is evident, with Hungary experiencing its highest average inflation rate since 1998, at 14.5%. This has spurred an increased demand for more affordable and substitute goods.
The implementation of AI is being leveraged to enhance product descriptions and automate marketing processes.
Cross-border trade is expanding, with an increasing number of online stores entering the Hungarian market from neighboring countries such as Slovakia, the Czech Republic, Poland, and Romania. To support Hungarian companies in cross-border trade, the Hungarian Digital Retail Alliance has been established, with significant investments from prominent entities including Google, DHL, and Mastercard.
The preferred payment methods in the majority of Central European countries include bank cards, PayPal, digital wallets, open banking, and mobile payment systems. For example:
EPS
Sofort
Przelewy24
BLIK
PayU
Paysera
Appe Pay
Google Pay
Switzerland exhibits variances from regional patterns with:
53% of consumers favor bank transfers through payment platforms like SUPER, Powerplay, Available and Trustly.
24% of consumers opt for credit or debit cards such as Visa, Mastercard, and My one.
20% of consumers select digital wallets including Apple Pay, Google Pay и PayPal, Twint and Skrill.
Insurance coverage constitutes over 50% of payments and encompasses more than 30% of all Swiss payment providers.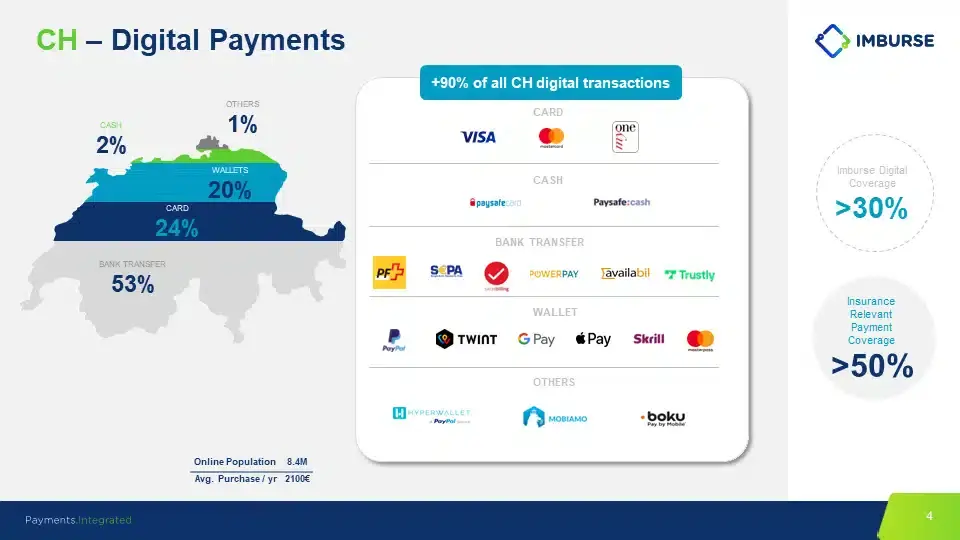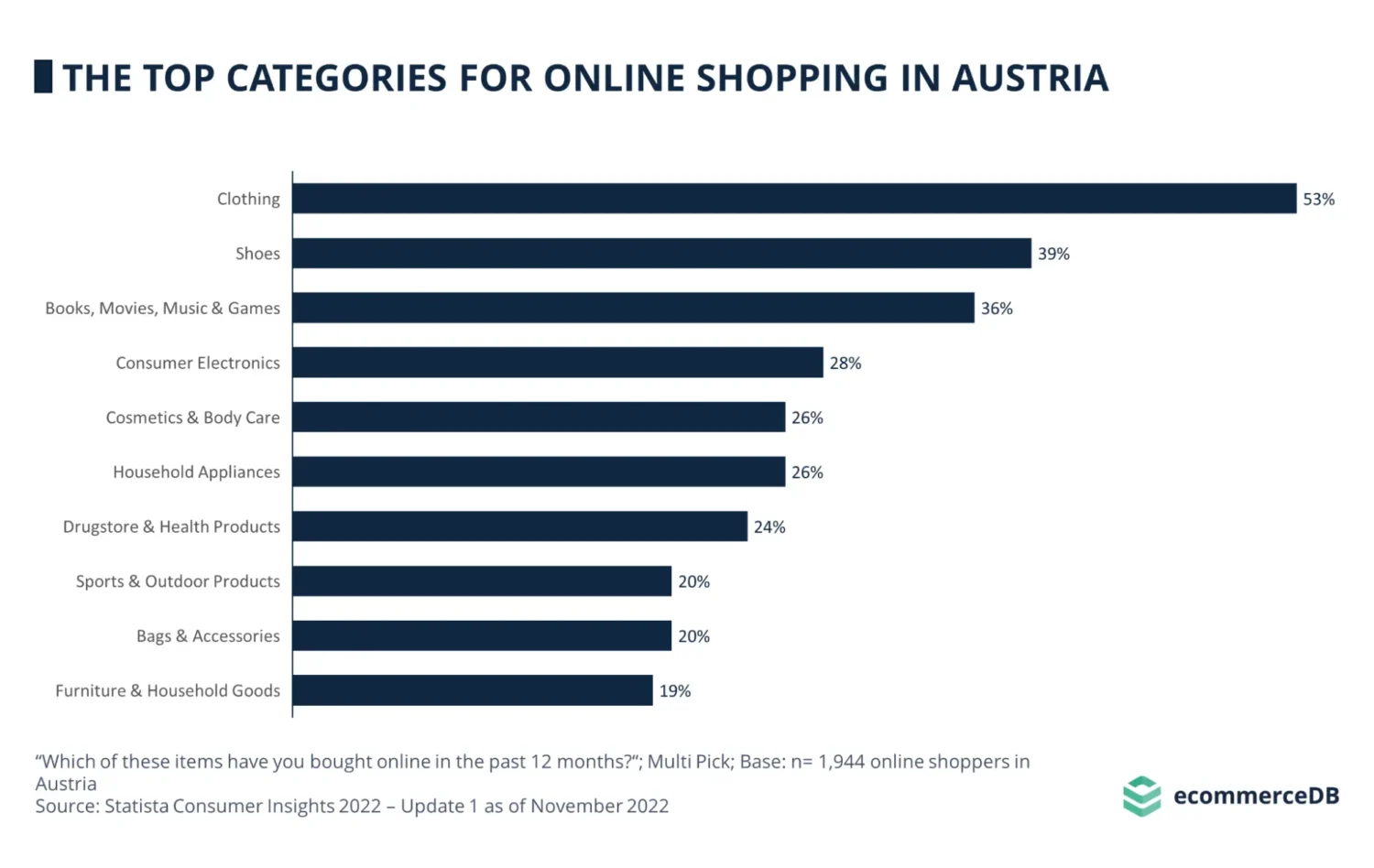 Central European markets are largely dominated by marketplaces, aligning with a global trend outlined in The Marketplace World 2022 study, which projects that over 40% of global e-commerce revenue will be attributed to marketplaces by 2024.
Kaufland.de ranks among the top 15 largest European trading platforms based on visitor count. Its substantial brand recognition also contributes to its popularity in Central European countries such as Austria, the Czech Republic, and Slovakia.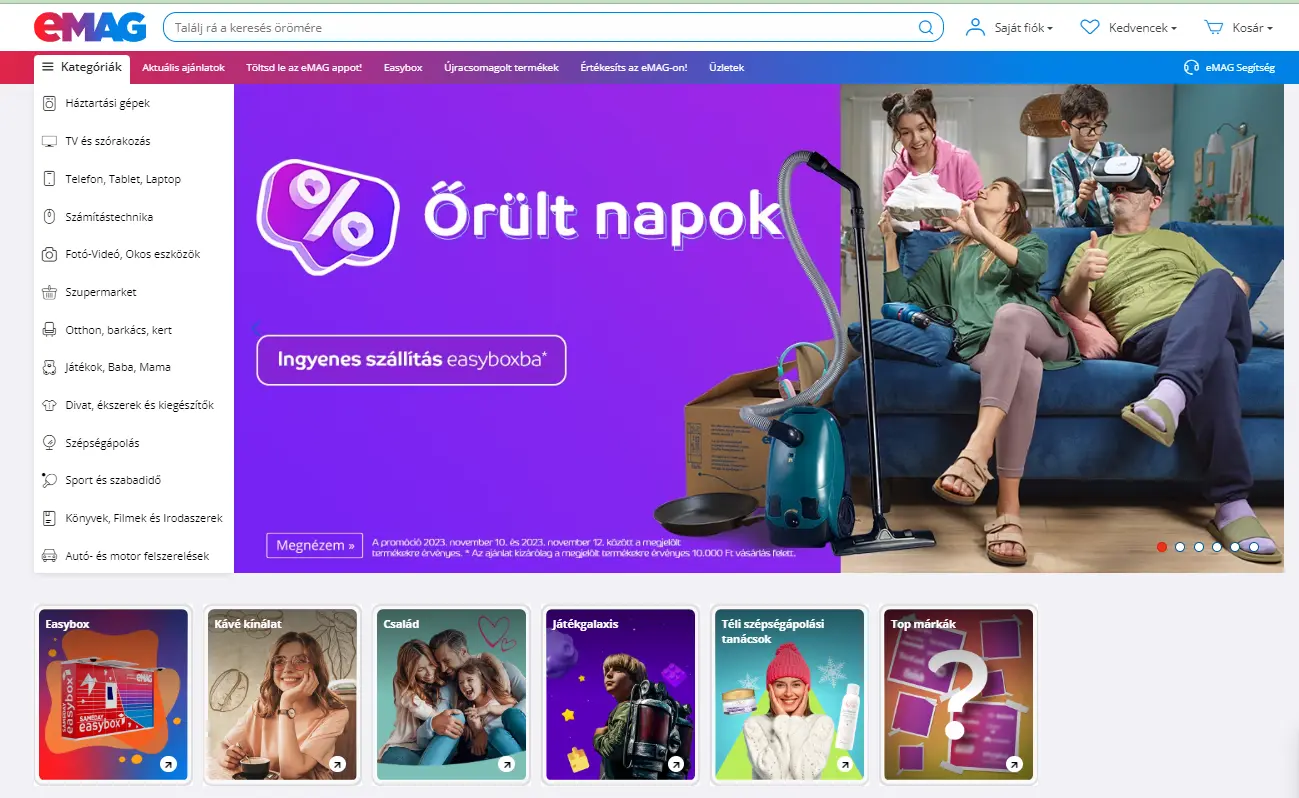 The online store offers a wide range of categories including electronics, household appliances, food, and more, attracting 6 million monthly visitors to the platform.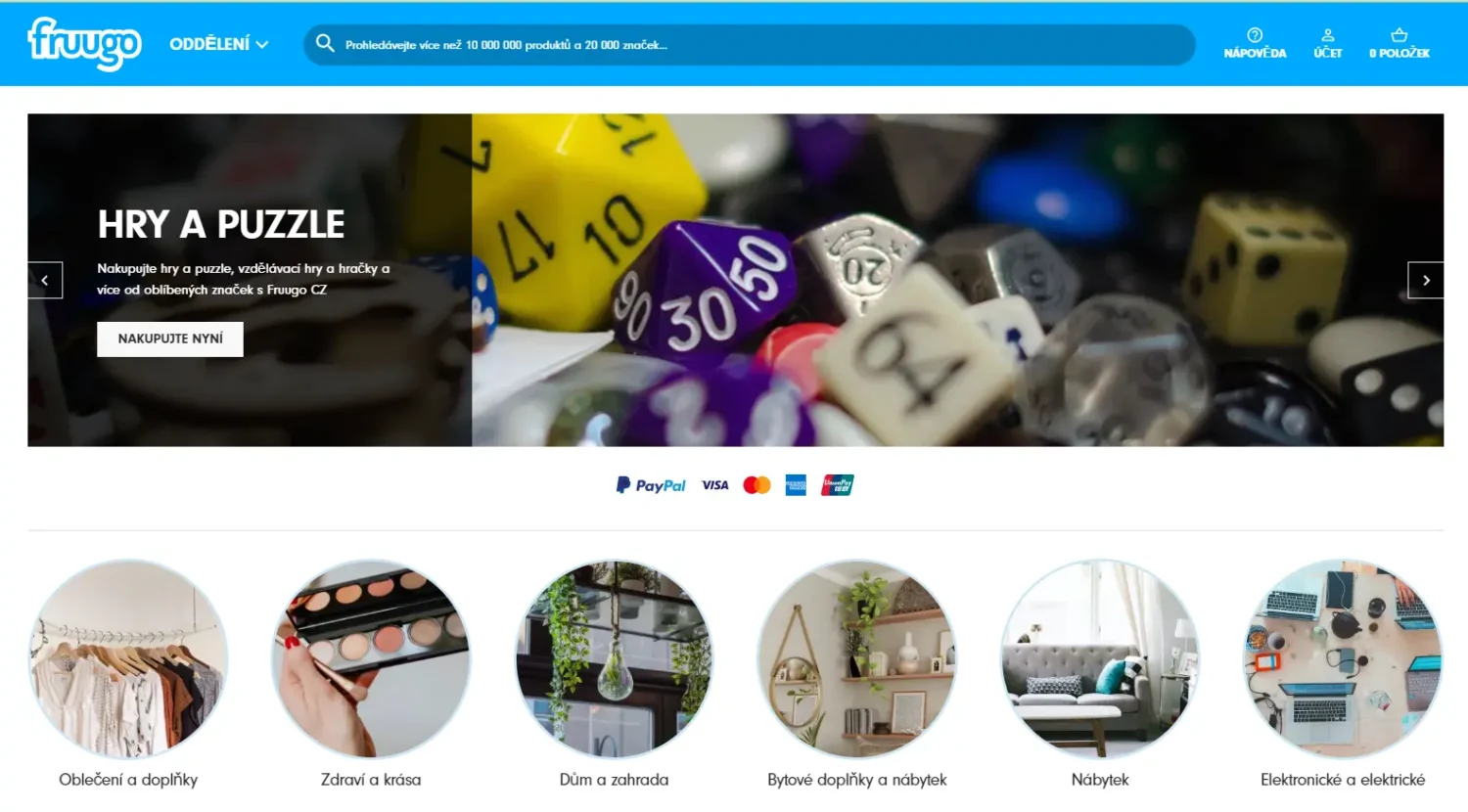 A diverse marketplace that operates in 46 countries, the platform utilizes an algorithm to translate product descriptions into 28 languages.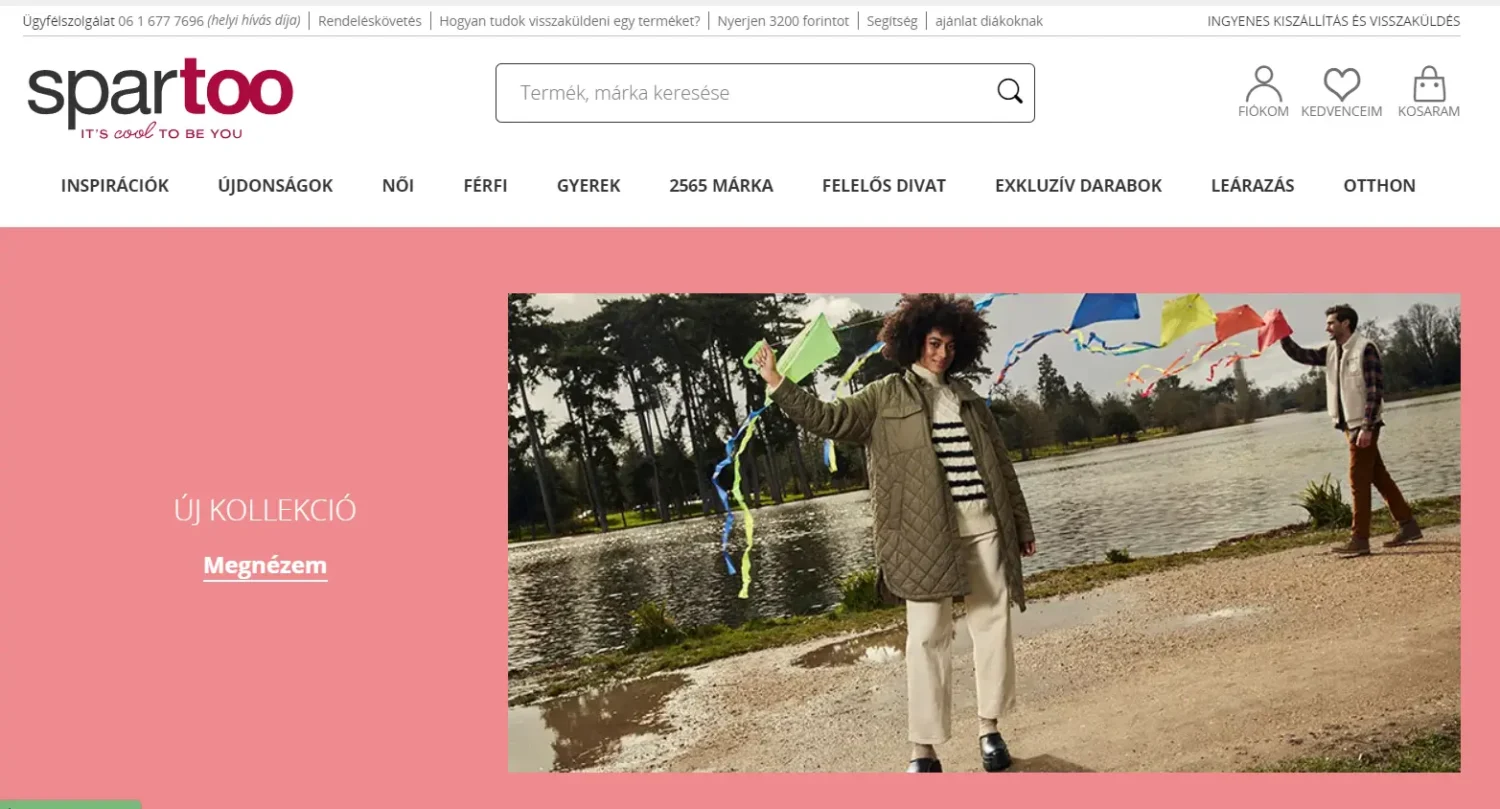 A platform based in France offering branded clothing, shoes, and leather accessories sourced from across Europe.
A platform with an international reach, Euronics connects independent retailers of electronic goods across Europe and caters to over 600 million customers.
Rising inflation.
According to a GfK Consult report for April 2023, inflation has emerged as the primary social concern in Europe, exerting a negative influence on consumers' purchasing behavior both online and offline. In Austria, for instance, 21% of the populace can only afford essential goods, leading to a nearly 8% decline in e-commerce sales, marking the most significant downturn in Austrian history.
Reduced brand loyalty.
Inflation has also impacted customer loyalty levels, with a November 2022 survey by Marigold and Econsultancy revealing that 38% of European consumers have either switched from or reduced their loyalty to previously favored brands over the past year.
Challenges in adhering to EU regulations.
In Poland, trading platforms are now required to provide consumers with more comprehensive information about promotions, in compliance with EU mandates. This necessitated revisions to documentation and frequently required online store redesign. Further limitations relating to EU legislation are detailed in our review "E-commerce in Western Europe: Trends and Best Practices".
Local tax implications.
As of July 1, 2021, new VAT regulations for cross-border e-commerce took effect in the EU. These changes are intended to streamline trade for EU residents, but may induce constraints for non-EU residents.
Restrictions on direct delivery to Austria.
As of January 1, 2023, all sellers lacking a presence in Austria but supplying goods to end consumers in the country are required to appoint a designated authorized representative. This representative must ensure that goods are packaged in compliance with waste recycling legislation, presenting a substantial entry barrier into the Austrian market along with additional costs. Experts anticipate that this will result in reduced cross-border sales.
Central Europe contributes approximately 8% to the total e-commerce turnover in Europe.
In 2022, the region experienced a decline in gross e-commerce sales due to the inflation, but a recovery is anticipated in the second half of 2023.
Switzerland, Slovakia, and the Czech Republic are home to the most active online shoppers.
The primary market players are German trading platforms.
Significant cross-border trade has been established, particularly between Germany and Austria, the Czech Republic and Slovakia, owing to historical ties, shared consumer habits, and language.
The region aligns with pan-European trends, emphasizing environmental sustainability, combatting returns, and harnessing AI.
The D2C market is also undergoing development in the region.
Subscribe to stay up-to-date!
I want to be notified about ecommerce events.
Subscribe to stay up-to-date!
I want to be notified about ecommerce events.