Latin America holds great promise as an e-commerce market. The pandemic has significantly accelerated this growth and fostered new habits, particularly the preference for online shopping, among the population. In 2020, Latin America experienced remarkable progress in e-commerce, with a staggering 37% growth rate, making it the fastest-growing market in the world.
Despite starting with a relatively low level of online shopping penetration, the region has already achieved remarkable success by 2022, with online retail sales amounting to a substantial 168 billion US dollars.
According to Mordor Intelligence, the Latin American e-commerce market is the global leader in growth. It is expected to grow by another 19% between 2022 and 2027.
Brazil, Mexico and Argentina are the countries with the highest percentage of e-commerce growth in Latin America. According to the latest 2022 report from We Are Social and Hootsuite, the ecommerce industry in these countries continues to grow, with an increase of 21-27% in 2021.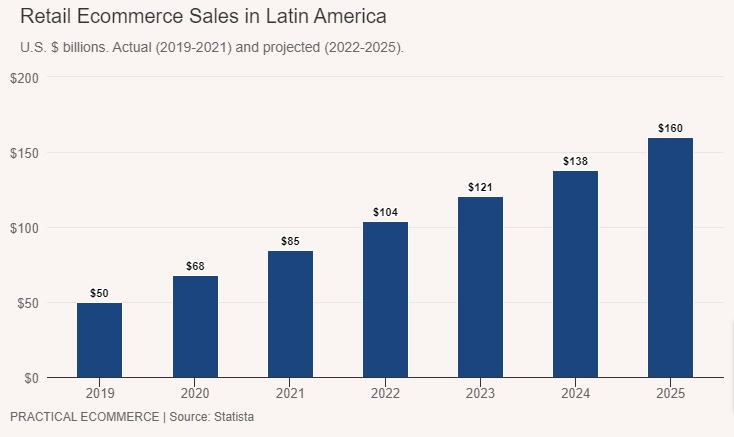 Internet penetration in South America has reached 75%, indicating widespread Internet access in the region. This factor plays an important role in stimulating e-commerce and increasing the number of online shopping users. The number of digital shoppers is projected to increase from 172 million to 435 million by 2031, while spending per shopper is expected to increase by approximately 3.5 times.
Following the pandemic, there has been a notable shift in attitudes towards smartphones, as they have emerged as the preferred method of shopping in Latin America. According to research conducted by GMSA, a significant 57% of the population actively utilizes mobile Internet services. In 2021, mobile devices accounted for nearly 60% of all e-commerce sales in the region, indicating their increasing prominence in the online retail landscape.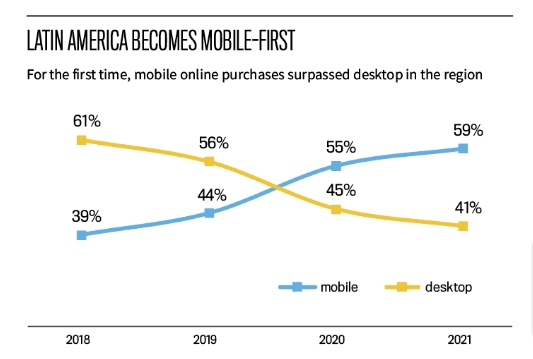 Social commerce tools are also becoming increasingly popular in Latin America.
According to a 2021 study by All in Social Miner, 76% of consumers already use social media to research products they want to buy, with Instagram being the most visited network (62%), followed by Facebook and Google Shopping (both with 61%) and WhatsApp (37%).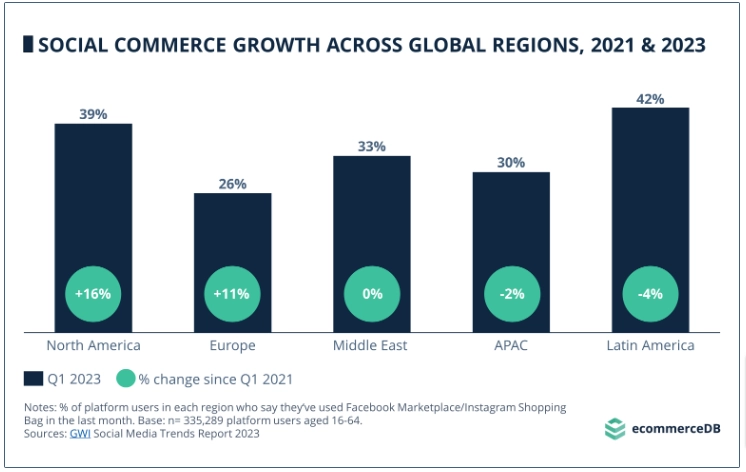 Popular Ecommerce Categories
Electronics. Demand for smart accessories, smart home devices and other smart home technologies is growing, especially in countries such as Mexico, Brazil and Argentina. For the period 2022 to 2027, the compound annual growth rate (CAGR) is projected to be 8.4% (Mordor Intelligence).
Toys and games. One of the main reasons why this category is popular is the large number of children and young people in the region. In Latin America, the percentage of people aged 0 to 14 years is 23.8%, while in the US it is only 18.2%. Also, countries such as Mexico and Argentina have a high percentage of young people – 25%.
Household Appliances. According to Globaldata, the region saw a 9% increase in home appliance sales in 2021, bringing the market size to $13 billion. Brazil, Mexico and Argentina are the top countries for growth, with Brazil alone accounting for half of the Latin American market in this category.
Beauty products. In the first half of 2022, the cosmetics, personal care and fragrance market in Brazil saw sales growth of 10%. Online searches for perfumes and skin care products have shown significant growth in 2023, according to Google Trends.
Apparel. A lot of preferences are still given to offline purchases in this category. Although 46% of total sales in this category come from marketplaces and online stores.
Buy Online, Pick Up in Store
Despite the impressive growth in online sales, shopping malls and physical stores continue to be integral to the lives of Latin Americans and remain a popular destination for families across different income levels. As a result, the concept of omnichannel plays a crucial role in the region.
A study conducted by the International Council of Shopping Centers revealed that shoppers who utilize multiple channels, known as omnichannel shoppers, tend to shop more frequently and spend more money on average compared to those who solely rely on a single channel. To optimize the retail experience, the region has embraced the BOPIS (Buy Online Pick up In Store) strategy. This allows customers to make purchases online and collect their items at the mall. Additionally, customers have the convenience of being able to exchange items purchased online at a physical brick-and-mortar store.
Preferred Payment Methods
International (Visa, Mastercard and American Express) and local (Naranja, Cabal, Tarjeta Shopping, Argencard, Amex and Diners) payment cards are the most popular payment methods in Latin America and account for the majority of online transactions in the region.
E-wallets such as Mercado Pago, PayPal and PicPay are used for an average of 11.5% of e-commerce purchases across the region.
Alternative payment methods such as Boleto Bancário (Brazil), OXXO (Mexico) or RapiPago, PagoFacil (Argentina) allow customers to use cash for e-commerce purchases. These are a kind of vouchers that work as follows:
1. At the checkout stage, the buyer selects one of the cash payment methods and receives an online voucher with a barcode.
2. He can pay for the voucher at the branch of the payment company, which are often post offices and local stores.
3. The seller receives payment and ships the products.
Payment by installments (BNPL, Buy-Now-Pay-Later) is another method that has literally grown into the culture of the Latin American population. Moreover, buyers who can pay in one payment still prefer to pay in installments. And the installment period can be up to 48 months. More than 60% of all electronic payments in Brazil are made in installments.
Latin American countries face unique challenges in terms of cargo delivery, which are specific to their local conditions:
Poor infrastructure. Many rural areas have inadequate or underdeveloped infrastructure, including dirt roads, which can make it challenging for cargo to be transported efficiently.
Challenging terrain. Regions such as the Amazon rainforest or the Andes present difficult terrain for cargo transportation, adding to the complexity and cost of delivery.
Inconsistent addressing systems. There can be issues with missing addresses on maps, as well as inconsistent postal codes and address systems. These inconsistencies can result in delivery errors and make it more difficult for packages to reach their intended destinations.
Cargo theft. Certain areas in Latin America have high crime rates, thus posing a risk of cargo theft. This can impact the reliability and security of deliveries in these regions.
In addition, delivery requirements vary by country. In Argentina, for example, a logistics company must provide a Remito (transport and financial document) to the local government of each Argentine province through which the cargo passes. Suppliers in Chile must either provide an invoice on which the products will be delivered or have a real-time signed electronic bill of lading called a Guia de Despacho.
Local postal services, such as Correios in Brazil, can deliver orders throughout the country at a relatively low cost, but delivery times are often unpredictable and long.
For cross-border trade, international transport companies such as EMS, USPS, AIRMAIL, FEDEX, UPS and DHL are more often used, but the delivery costs will be higher than local ones.
Ecommerce leaders and large marketplaces are fighting to provide better delivery conditions and rely on last-mile services. The region is opening more of its own distribution centers. And the leaders here are Mercado Libre, Amazon, Shopee, Fatabella.
Delivery apps and services have historically developed slowly due to low funding. As a result, such large services as iFood in Brazil, Rappi in Colombia, Delivery Hero in Central America, stopped competing with each other and focused their efforts on specific markets (countries) or niches.
Let's take a closer look at who is actively contributing to the development of ecommerce in Latin America, and in which countries the growth is growing more actively.
Marketplaces play a key role in e-commerce, accounting for more than 80% of total e-commerce sales. By limiting yourself to one or two marketplaces, you can expect to capture only 10-25% of the massive ecommerce market share.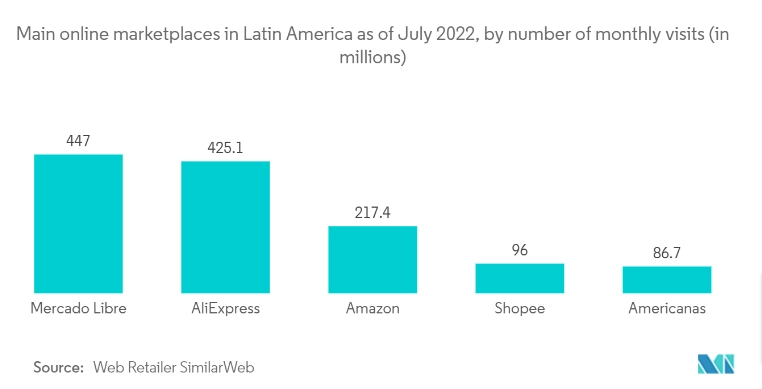 Mercado Libre
Mercado Libre is the leading e-commerce platform in Latin America, present in 18 countries and receiving more than 668 million visits per month. The strongest markets are Brazil, Mexico, Argentina and Colombia.
The platform has over 100 million active buyers and receives over 668 million monthly visitors. The majority of users are from Brazil, which accounts for more than 55% of total sales. Argentina and Mexico also represent a significant portion of Mercado Libre's sales: 25% and 15% respectively.
Americanas
With more than 130 million monthly visitors, Americanas is the group's largest B2W marketplace and the second largest online marketplace in Brazil. Americanas offers over 40 million different products spanning multiple categories. Some of the most popular categories are electronics and media, toys and games, fashion, and furniture and home appliances.
Amazon Brazil
Amazon Brazil, launched in 2012, offers more than 50 million products in 30 different categories. It is one of the most popular trading platforms in Latin America, with a growth rate of 100% year after year. In 2019, it launched the first fulfillment centers, and in 2020 expanded the network of cities with two-day delivery to 1000 for Premium clients.
Amazon Mexico
Amazon has been operating in Mexico since 2013, initially selling only e-books, but in 2015 it began operating as a retailer of various product categories. It is currently one of Amazon's fastest-growing markets in the world, with nearly 100 million visitors per month.
VIA Varejo
The second largest united group of trading platforms. VIA Varejo was born from the merger of Casas Bahia, Ponto Frio and Extra and today they receive more than 200 million visitors a month.
Casas Bahía is Brazil's largest retail chain with 857 stores, specializing in furniture and household appliances.
Ponto Frio is a Brazilian retailer operating in both physical and online markets. Offers a wide selection of products across multiple categories including electronics, home appliances, furniture and fashion.
Extra has over 38 million active users and over 70,000 registered merchants. Key verticals include electronics, home appliances, toys and games, and furniture.
Magalu
Magalu, also known as Magazine Luiza, is a Brazilian marketplace. Initially, Magalu operated as a regular store, and later became a marketplace, one of the most popular in Brazil. Today, it attracts more than 100 million visitors per month and offers a wide range of products in various categories, including electronics, home appliances, fashion, beauty and furniture.
Leading countries for ecommerce development
Brazil
The number of e-shoppers in Brazil increased from 87.7 million in 2021 to 108.9 million in 2022. This is due to many factors such as greater convenience, attractive prices and impulse purchases. Brazil has a young and tech-savvy population with a growing middle class with disposable income for online shopping.
Categories with lower average checks accounted for the largest share of e-commerce growth in 2022. Apart from the Electronic Products category, which grew by 9.8% in 2022, the Home & Decor, Health, Beauty & Cosmetics, and Food & Beverage categories also contributed greatly to Brazil's e-commerce expansion.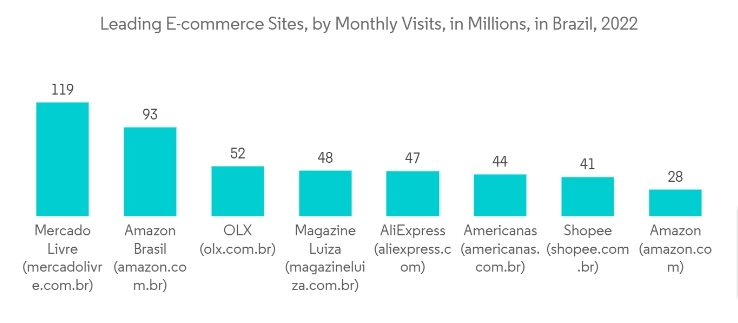 Argentina
Argentina ecommerce market is expected to grow at a CAGR of 20.69% between 2022 and 2027. Despite the unstable economy and high inflation.
MercadoLibre is one of the main online platforms in Buenos Aires, promoting the development of ecommerce in Argentina. According to eMarketer, MercadoLibre holds a similar position in Latin America as "Amazon does in the US" or "Alibaba does in China."
Argentina has the highest percentage of Internet users in Latin America. Almost 60% of Argentina's population uses a mobile device to access the Internet.
Credit cards are used for the vast majority of online purchases. According to CACE, 78% of ecommerce purchases were made using a credit card, either through a payment platform (56%), payment gateway (21%), or in-store (1%).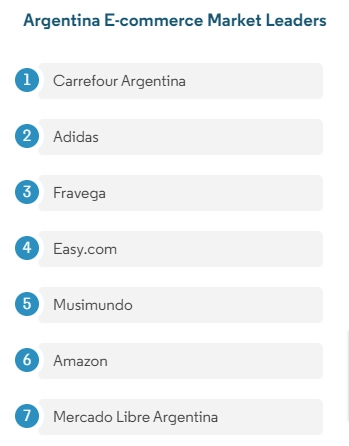 Mexico
According to Mordor Intelligence, Mexico's e-commerce market size will grow from US$25.56 billion in 2023 to US$47.65 billion by 2028. In Mexico, social networks are widely used and social commerce is actively developing. It is expected that by 2025, social commerce will account for 40% of all ecommerce in Mexico. The most popular social network is Facebook, followed by WhatsApp and Instagram.
Debit cards and personal credit cards are the most popular payment methods. In addition, the option of paying for cash through vouchers is widespread.
Popular online marketplaces in Mexico include Mercado Libre and Amazon Mexico, with more than 50 million monthly views.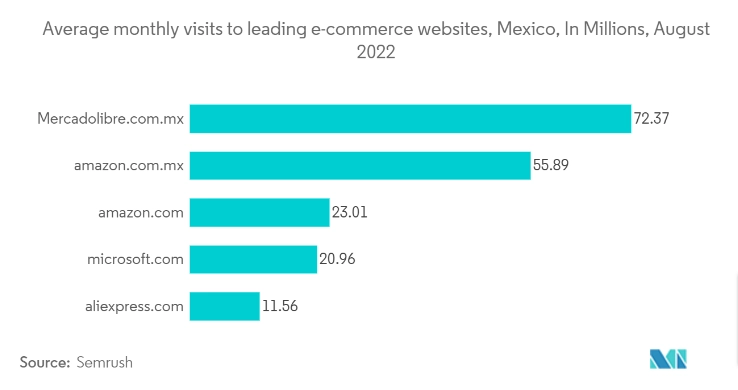 Challenges and Growth Areas
Sellers who decide to enter the Latin American online market may face the following problems:
Difficulties in delivering goods are one of the main problems. Some regions of Latin America have shipping restrictions, poor infrastructure, and limited reliable logistics services. This may result in delivery delays and high costs.
Most logistics service providers do not use technologies for route optimization, order processing, tracking or inventory management. And delivery by companies such as DHL, FedEx will cost more for the end consumer.
In many areas of Latin America (Colombia, Mexico, Brazil) crime rates still remain high. And this can also cause problems with finding a delivery provider. But even in safe areas there is a risk that products will be stolen, especially from a pick-up point.
Some countries in Latin America have strict customs procedures and restrictions on the import and export of products. According to IADB research, importing products into Latin American countries takes about 8 days. Customs duties are not always predictable and the decision as to whether a product is taxable or not is left to the discretion of customs agents. Some products are prohibited for import into the country, for example, Barbie dolls cannot be imported into Mexico, and jewelry and food cannot be imported into Brazil and Argentina.
Product returns are one of the main problems for international trade. Consumer protection laws allow you to reject a product and request a full refund (up to 7 days in Brazil and up to 10 days in Argentina). Moreover, you are obliged to return the money within this period, otherwise the buyer may complain to the consumer protection agency. And since logistics are expensive, the seller loses profit on return shipping, or the product is simply disposed of.
Localization for local language and culture
Spanish is the official language of 20 Latin American countries, but in Brazil the official language is Portuguese. Large marketplaces, such as Mercado Libre, provide sellers with content localization tools, as well as all management tools in English. But if you are opening your own online business, then keep in mind that in order to effectively communicate with clients it is important to adapt your website. 75% of buyers prefer to buy on platforms with their native language.
In addition, as we mentioned above, each country has its own preferences and habits regarding payment methods. Also, do not forget about national holidays, which affect buyer behavior.
Key Points to Sell Online in Latin America
The Latin American e-commerce market is called a blue ocean and for good reason:
Digitalization of shopping is becoming more commonplace in people's daily lives, even after the pandemic. Ecommerce in Latin America began to show strong growth in 2020, with online retail sales amounting to $168 billion in 2022.
Internet penetration continues to grow along with mobile technology. The population prefers mobile phones for electronic purchases, and the share of social commerce is growing.
At the same time, the fintech sector is developing. Electronic payment systems and e-wallets help expand opportunities for online shopping.
Last mile service and the development of distribution centers have revolutionized delivery, but still remain a weak point in Latin American e-commerce.
Despite the popularization of online shopping, shopping centers and brick-and-mortar stores continue to occupy an important place in overall retail sales. Therefore, omnichannel plays a significant role in the profitability of online business.
These factors may lead to a focus shift of international companies from already saturated markets such as China and the United States to Latin America.
Subscribe to stay up-to-date!
I want to be notified about ecommerce events.
Subscribe to stay up-to-date!
I want to be notified about ecommerce events.