The global crisis of 2020 has changed traditional retail practices and has made e-commerce an integral part for many market players. This is the reason why e-commerce has begun to develop rapidly in the countries of Central Asia such as Kazakhstan, Uzbekistan, Kyrgyzstan, Tajikistan and Turkmenistan. Let's check whether the Central Asia e-commerce markets have prospects and what problems affect their development.
Do you have an idea? We have a solution!
We'll customize your online store for any needs
Central Asia E-commerce Overview
Central Asia attracts attention as an emerging market with high growth potential and opportunities, due to its geopolitically and strategically important location between Asia, Europe and the Middle East. According to KPMG analysts, the regional retail turnover in 2021 amounted to more than 60 billion US dollars.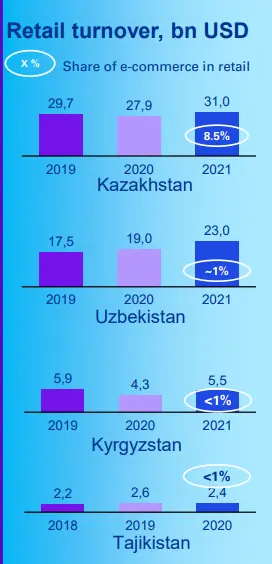 is the leader of the region in terms of growth rates. It is expected that the combined average annual growth rate of e-commerce in 2022-2026 will be 40% (according to KPMG and Statista).
is the leader of the region in terms of sales. It accounts for 10% of the share of e-commerce in the total sales volume.
Kyrgyzstan, Tajikistan and Turkmenistan
are markets with limited potential due to the low level of digitalization.
The most popular ecommerce category
is household appliances and electronics, as well as clothing and shoes according to ImarcGroup research in 2022.
The market players from Kazakhstan and Uzbekistan set e-commerce trends in Central Asia.
Ecosystems. Companies are striving to develop their own support services, such as logistics, payment systems, applications and social networks, merging them into an ecosystem.
Omnichannel. Omnichannel strategies enable customers to choose how to purchase, for example online, offline or through the app, as well as pay for purchases in any convenient way. Omnichannel helps to form deeper relationships with customers.
Ways to build trust. The local level of trust in online shopping is still insufficient, so the companies offer customers a free fitting in pickup points, develop a return policy, shorten the delivery time of goods, and give the possibility of installments payments.
Personalization. Companies personalize communication with customers based on the purchase history, wish lists and the loyalty programs. Artificial intelligence and chatbots help to do this.
Gamification. For example, awards, quizzes, arcade games, interactive games and many other activities on the website, in the app, e-mail and social networks.
Interest in the region's small business from the international community. The Ready4Trade Central Asia project, the Silk Road hub and the Artisans Connect online store were created in 2023 with the support of the EU. These projects are designed to help small businesses enter international platforms and popularize the rich regional traditions, passed down from generation to generation.
Limited access to infrastructure and the internet in Central Asian countries. This is especially true for Kyrgyzstan (37% Internet penetration) and Tajikistan (40% Internet penetration). High Internet prices and low internet download speeds.

Undeveloped domestic and cross-border logistics. It's that high costs and long delivery times.
Unformed consumer habits. Commitment to offline channels, distrust of online shopping, low digital literacy.
Internet fraud and cybersecurity issues. Digitalization and the growth of online transactions provide opportunities for businesses, but at the same time they also bring with them problems such as bank card fraud and theft of personal data.
Local legislation. E-commerce requires a strong regulatory framework to protect both buyers and sellers. In this regard, the countries of Central Asia are developing unevenly.
Kazakhstan is significantly ahead of other countries in the region in terms of e-commerce development. The main drivers are a developed legislative system, openness to international investment and enough digitalization in cities.
The overall volume of the e-commerce market grew by 69% during the COVID-19 pandemic. The positive dynamics will continue and by 2025 will amount to 19% according to KPMG.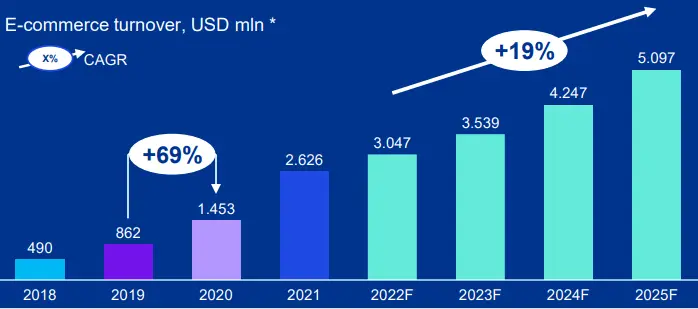 The main drivers of growth are the wide access to the Internet, widespread use of smartphones and a developed banking system. All mentioned enables Kazakhstan to reach about 10% of the share of e-commerce in total retail trade.
Growth of mobile traffic. In the beginning of 2020 57% of traffic came from mobile devices. By the end of 2020 it was already 73%. This forced market leaders to adapt website pages for mobile and make changes to checkout. As a result, the conversion of visitors to an order increased by 27% per month according to Leroy Merlin Kazakhstan research.
Average check growth. Analysts explain this by the fact that people started to trust more in online shopping.
Сhallenges and risks (according to KPMG)
The e-commerce market volume of Uzbekistan has not been significantly impacted by COVID-19. Instead, it has been steadily increasing over the past few years and reached USD 168 million in 2021. The e-commerce market in Uzbekistan will grow on average 40% annually and by 2026 it will be equal to $1 billion according to the KPMG forecast.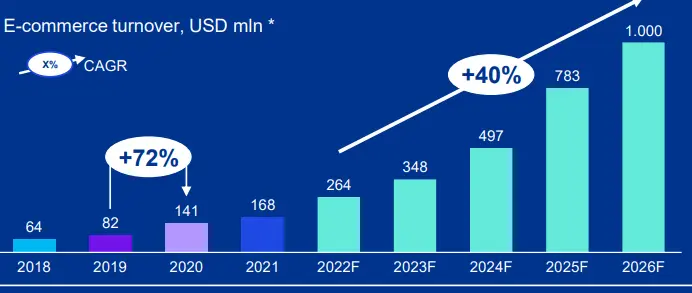 In the structure of e-commerce for 2022, more than a third of purchases were for electronics and household appliances, and another almost 20% for fashion goods.

The e-commerce market in Uzbekistan also includes some well-known international platforms. For example, Wildberries is actively promoting itself in the local market, opening its first bonded warehouses. And AliExpress reduces delivery times using the pick-up point of the Uzum market.
Сhallenges and risks (according to KPMG)
Despite the risks, the Uzbekistan e-commerce market has potential and an attractive business environment, supported by the government.
Kyrgyzstan and Tajikistan
The E-commerce market both in Kyrgyzstan and Tajikistan is still in its early stages of development and shows a low economic activity. One of the key reasons is a lack of digital connectivity in both countries, with the overall internet penetration of 37% in Tajikistan and 40% in Kyrgyzstan.
Сhallenges and risks (according to KPMG)
Governments in Kyrgyzstan and Tajikistan are trying to solve these problems step by step. For example, in 2021 Kyrgyzstan signed a special law and an e-commerce development strategy until 2026, as well as a special tax regime was developed for e-commerce participants. A transparent legal field which opens up prospects for business appears in these countries.
The successful development of e-commerce in Central Asia requires the further development of infrastructure:
further digitalization;
the launch of 5G networks;
improving digital literacy;
improving the quality of logistics;
expanding financial accessibility;
increasing the speed of payments;
the development of e-commerce government regulations. 
However, many online business opportunities have already been created in Central Asia and there are some potential niches. Companies that can take advantage of them and adapt to the changing situation in the world will have a great chance of success in the coming years.
Subscribe to stay up-to-date!
I want to be notified about ecommerce events.
Subscribe to stay up-to-date!
I want to be notified about ecommerce events.