With the increase in the volume of online orders, the expectations of buyers are growing. Delivery is a key component that creates a positive or negative online shopping experience.
According to statistics, 58% of buyers will stop buying from a brand if they encounter one or three delivery delays.
Marketplace sellers should have their own tools and methods for delivering goods on time, without unnecessary transaction costs. Fulfillment on the marketplace is one of the ways to make life easier for sellers.
What is fulfillment and how does it work
With the advent of the fulfillment service, sellers and online stores have freed up time to focus on more important processes. Fulfillment is the organization of storage, collection, packaging and delivery of the goods of the seller through the operator. The marketplace can conduct these processes itself or organize them through an outsourced company. The seller only needs to transfer the necessary goods to the marketplace. The marketplace charges sellers for storage and delivery.
Do you have an idea? We have a solution!
We'll develop marketplace of any complexity
By providing a fulfillment service, a marketplace offers a more comprehensive service for merchants. Working not only as a showcase for sale, but also providing warehouse and delivery services. Sellers save on site development, on setting up SEO, connecting a CRM system, attracting traffic, and renting a place to store goods.
What is the difference between fulfillment and regular delivery?
For the seller, normal shipping includes the following steps:
Acceptance of a placed order on the marketplace.
Appropriate product packaging.
Call a courier or transfer to a delivery point.
Shipping by transport company.
Delivery notice to the customer.
Fulfillment services include:
Storage of goods in the warehouse of the operator.
Assembling and packing goods for shipment.
Packing as required.
Order marking for shipment.
Sending by transport company or marketplace transport.
Customer delivery notice.
Organization and processing of returns if the product did not fit.
In what cases is fulfillment suitable for a seller?
For novice sellers, when the budget is small, there are no or not enough resources to invest in a warehouse rental and logistics.
Small and medium businesses that do not have their own warehouses and couriers.
Foreign sellers who do not have their own representative office in the country, region.
Sellers who have a high volume of orders and need to reduce the time to process and ship orders.
How fulfillment works in the marketplace? CS-Cart example
For marketplaces based on the CS-Cart Multi-Vendor, you can connect and set up default "Fulfillment from Marketplace" delivery. Since you will have additional costs for arranging delivery, the cost of fulfillment can be included as a unique option in advanced tariff plans for merchants.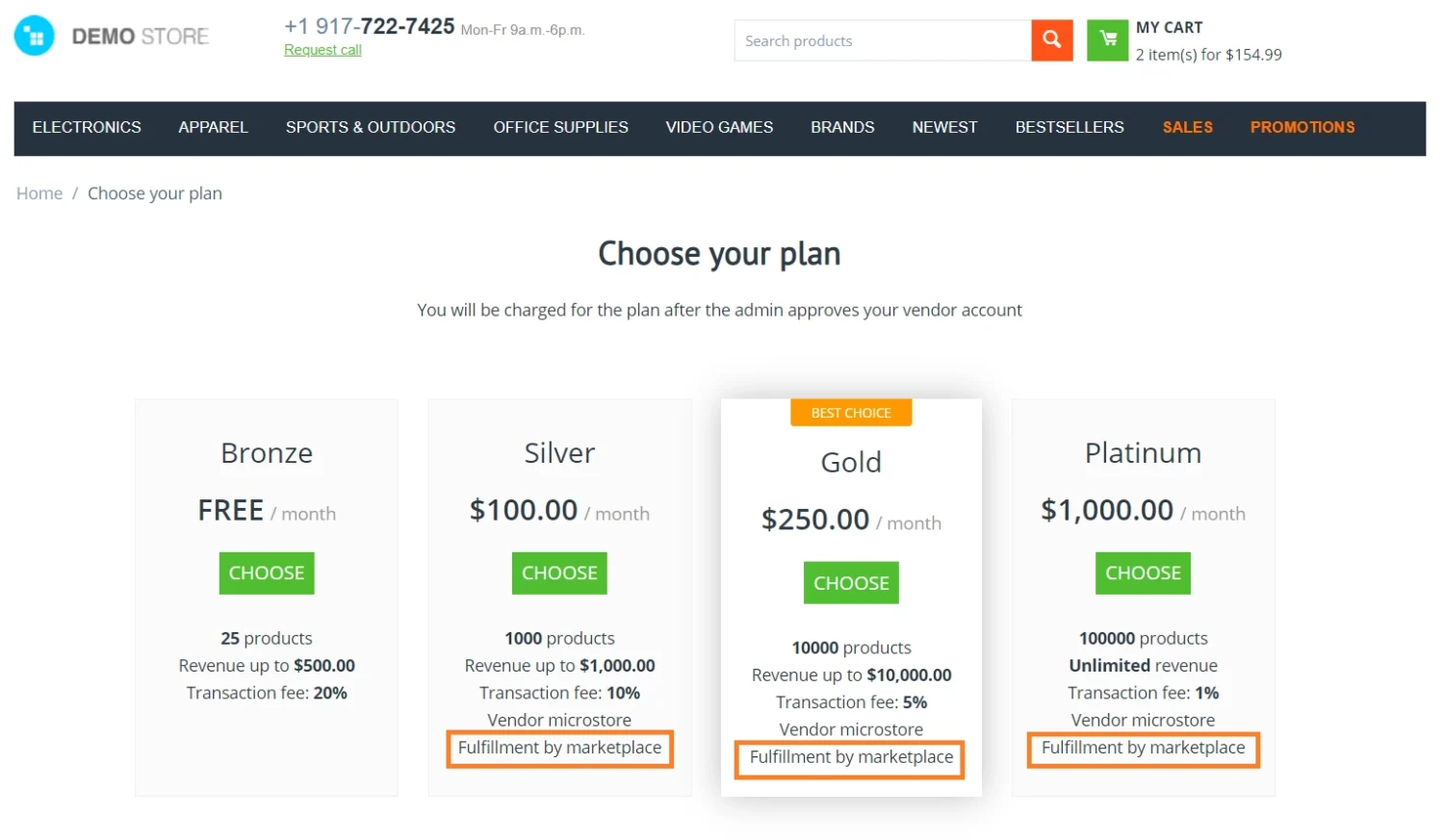 The advantage of fulfillment for a marketplace is that buyer orders from different sellers are first collected and then sent in one delivery. For the buyer, this is much more convenient, since he will receive his entire order at once.
But on your marketplace, there may be sellers with a lower tariff plan, where they carry out the delivery themselves. How will the delivery be carried out in this case?
There will be at least two deliveries: one from the marketplace and one more from each seller without fulfillment.
Learn how to move to CS-Cart and not lose positions in the search in our article.
Fulfillment types: FBM vs FBS
The relationship between sellers and the marketplace in terms of fulfillment can be built according to two schemes: FBM and FBS. Vendors and their products can be very diverse, for beginners the FBS scheme may be convenient, and for someone it is convenient to work with FBM. Consider the advantages and disadvantages of each scheme for sellers and offer different options on your marketplace.
FBM - Fulfillment by Marketplace
The marketplace acts as an operator. And most often for this scheme you can find such abbreviations: FBA (Fulfillment by Amazon), FBY (Fulfillment by Yandex), FBM (Fulfillment by Marketplace). At the same time, the essence does not change – with this model, delivery occurs from the warehouse of the marketplace. The seller only needs to replenish the warehouse with goods on time.

The marketplace operator sets its own requirements for packaging, storage and arrangement of goods, in boxes or on pallets. As well as a separate cost for storage, transportation, sometimes for receiving goods at the warehouse.
Operators can set restrictions on the storage of goods by size (for example, no more than 220 lbs), by type of goods (for example, building materials), by characteristics (for example, mirrors will not fit).
Benefits for sellers:
Delivery times are faster, since the goods are already in stock, it only needs to be sent. Timing is important because customers pay attention to price and delivery date when choosing between sellers.
Wide geography of sales. The ability to store goods in regional warehouses will allow you to quickly send orders to different parts of the country.
Processing returns without the participation of the seller. This reduces the time for operational work.
Savings on stock is a controversial benefit. Here you need to specifically consider what goods the seller has. For example, large household appliances will not be suitable under the terms of the marketplace, and for small goods, storage in the seller's own premises may be cheaper.
Flaws:
The seller does not fully control the presentation of the goods. In some cases, substandard goods arrive due to the fault of the marketplace because bad packing.
The total costs of storage, receiving, shipping, returns can be more expensive than with the FBS model.
If things are not going well on the marketplace, then picking up the goods from the warehouse can be problematic and expensive.
FBS - Fulfillment by Seller
With this model, the seller stores goods at his place, processes incoming orders on the marketplace, packs and delivers to the marketplace warehouse. And the marketplace undertakes only to deliver the goods to the buyer through parcel terminals, couriers or pickup points. In this case, the marketplace acts as a showcase and transport company for the seller.

In order to comply with delivery times and not spoil the reputation, the marketplace sets its own requirements for the order processing time. If the seller did not manage to bring the goods to the marketplace warehouse on time, then the delivery cost may be increased, the rating lowered, or other penalties applied.
Benefits for sellers:
The commission is lower than with the FBM model, as part of the fulfillment costs is covered by the seller.
One warehouse for all marketplaces. Thanks to this, you can save on the costs of paying for warehouses of different marketplaces.
Full control over the trade dress. In the event of a return, the seller receives the item and can prepare it for the next buyer.
The ability to test the demand for the product on the marketplace.
Disadvantages for sellers:
More operational work to process returns. This wastes the seller's time, and with large orders or high turnover, additional resources will be required.
In some cases, a warehouse may be required and in this case, you still have to pay for rent.
Offer different fulfillment options and describe their conditions in a way that is easy to understand. Be sure to clarify all the rules for the packaging of goods so that they are easy to accept, complete according to orders and quickly send to the buyer.
What you need to organize in-house fulfillment on the marketplace
Fulfillment is built around storage and logistics processes, but the basis of all processes is a powerful CRM system. For a warehouse, the more accurate name is WMS (Warehouse Management System) . It should allow:
Work with multiple SKUs.
Work with special equipment (scales, barcode scanner, QR codes, etc.).
Organize address storage.
Assistance in preparing goods for shipment.
Ability to integrate with the marketplace CMS.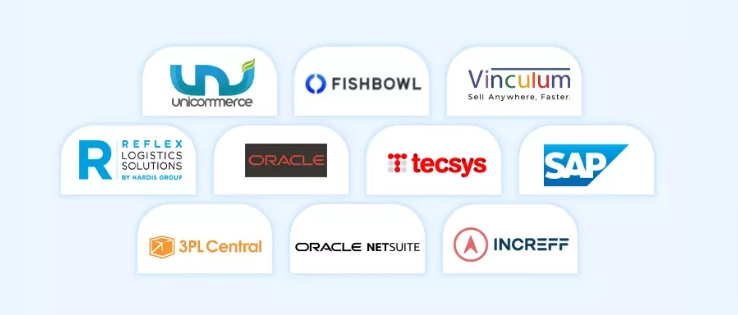 The second no less important point is the availability of storage facilities. It must meet the parameters of temperature and humidity, and also allow zoning the room for:
Reception of goods
Buffer zone
Long term storage
Completion and packaging
Shipment
Working with returns
Let's go through the main processes to find out all the needs. In addition, at all stages you will need personnel, preferably trained, machinery and special equipment.
Receiving goods from sellers. In order to make it easier to recognize the product in the future and control each SKU in the warehouse, you will need to mark the product with a unique number. And also enter the weight and dimensions of the goods, with the SKU, into the accounting system. This will allow you to quickly pack the goods in the future and calculate the cost of delivery.
Storage. We mentioned above that zoning plays an important role in warehouse logistics. But even in the long-term storage area, there may be completely different goods that will require: pallets, racks, hangers for vertical storage of clothes. Some products require specific storage conditions. In the cross-docking zone, when long-term storage is not required, dynamic cells of different sizes can be located. The route for picking goods should be as convenient as possible; according to statistics, when picking an order, warehouse employees spend about 50% of their time moving between racks.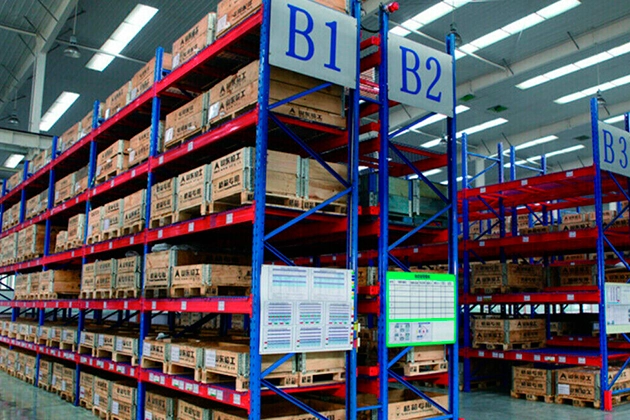 Equipment. The order picking is tied to the order data from the CMS marketplace, the WMS system binds the goods to each order, which must be transferred further to the packaging. Also at this stage, accompanying and shipping documents can be generated through the WMS system.
Package. A lot of consumables are spent here, depending on the type of product: shrink film, vacuum, bubble wrap, cardboard boxes, etc. But if the packaging is not suitable, the product may be damaged due to the fault of the marketplace.
Delivery. For delivery, you can establish partnerships with logistics companies, you can organize on your own, depending on the coverage area. To do this, you will need transport, equipped parcel lockers, pickup points, if this is not delivery to the client's door.
Returns. For operational work with returns, you also need a room, analytics of the reasons for returns, in some cases an examination, accounting for goods in order to synchronize them with specific orders in the marketplace CMS and WMS warehouse system.
Fulfillment companies for outsourcing
Organizing your own fulfillment system with the storage of goods for the marketplace is not easy and very costly. Roughly speaking, you have another business. But you do not have to do everything yourself, you can outsource the entire function or part of it.
What to look for when choosing a fulfillment company?
A range of services to fully cover the needs of the FBM model.
Availability of suitable warehouses if you have a niche marketplace or will have goods from sellers that require special conditions.
Geography of presence, so that you do not have to search for individual operators for different regions.
Delivery times, fast express delivery options.
The cost of services provided in relation to quality.
The ability to integrate the WMS system with the CMS of your marketplace.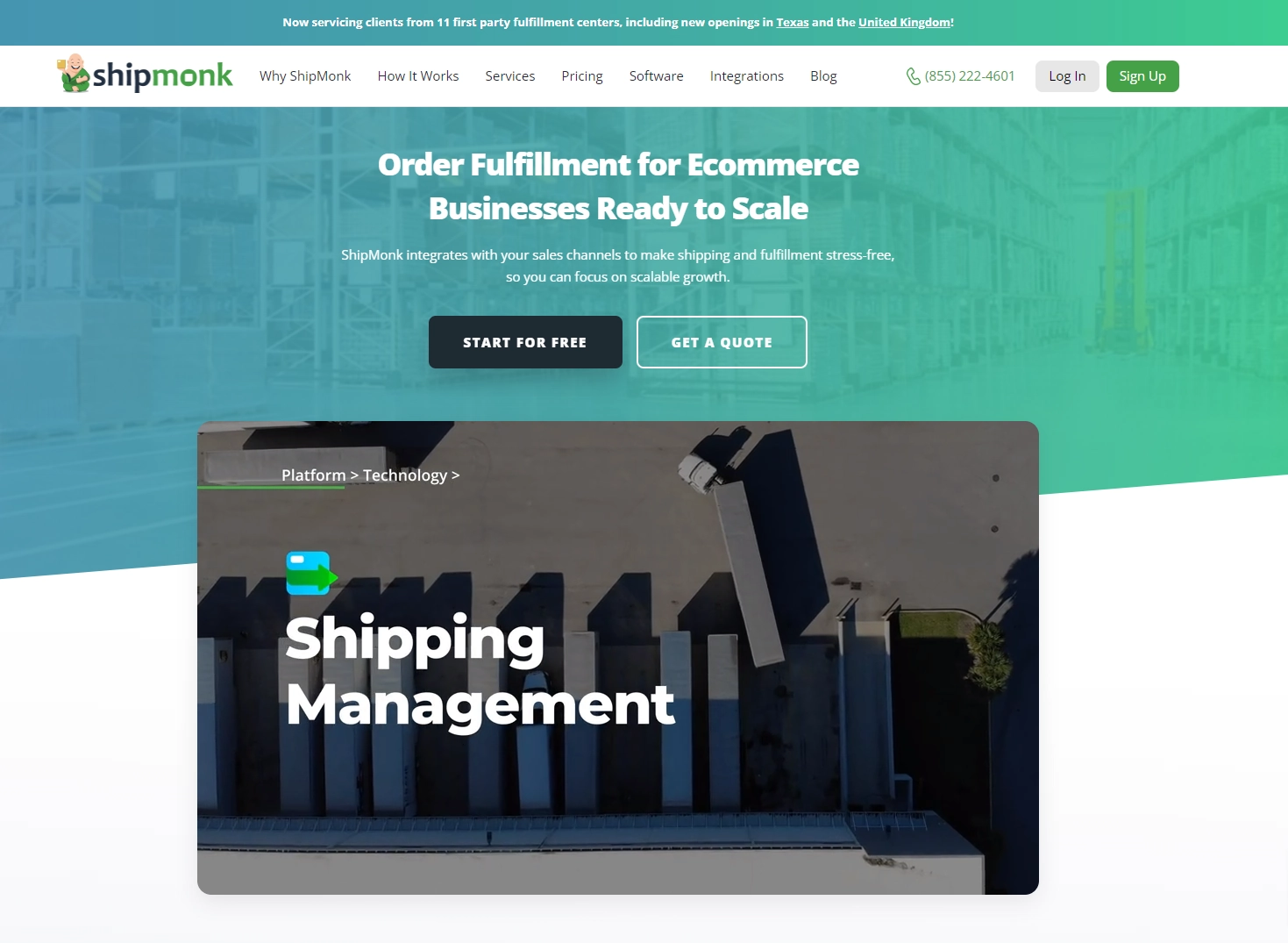 ShipMonk has 11 locations for warehouses, 4 countries. In Europe it will open in 2023 They offer 3pl fulfillment, ecommerce fulfillment, retail fulfillment, storage, packaging and repackaging, returns management.
Advanced cloud based WMS that allows to manage inventory, orders, shipping, warehouses.
ShipMonk's fulfillment software syncs directly with over 75 eCommerce shopping carts, marketplaces, and solution providers for seamless order, inventory, and warehouse management, among them is a CS-Cart.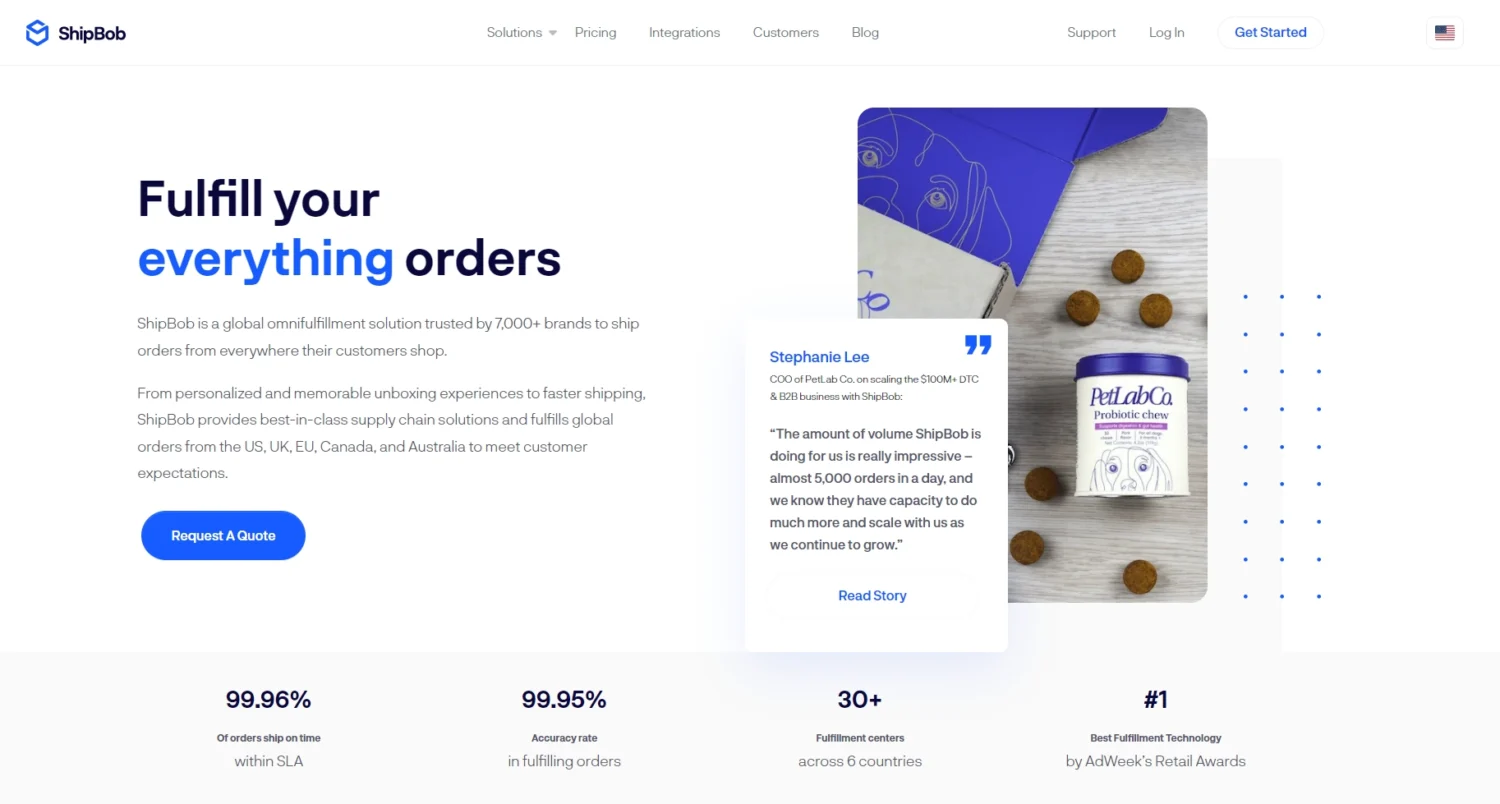 ShipBob is a global omnifulfillment solution and fulfills global orders from the US, UK, EU, Canada, and Australia. Wide range of fulfillment services from storage to express delivery. ShipBob's proprietary fulfillment platform lets you manage, edit, and customize orders, track real-time stock levels from any location, and receive notifications when you need to reorder inventory.
You can use one platform for multichannel inventory and order management on channels like Amazon, Walmart, Facebook, Google, Etsy, eBay, and others. Ready made integrations with a lot of services or platforms.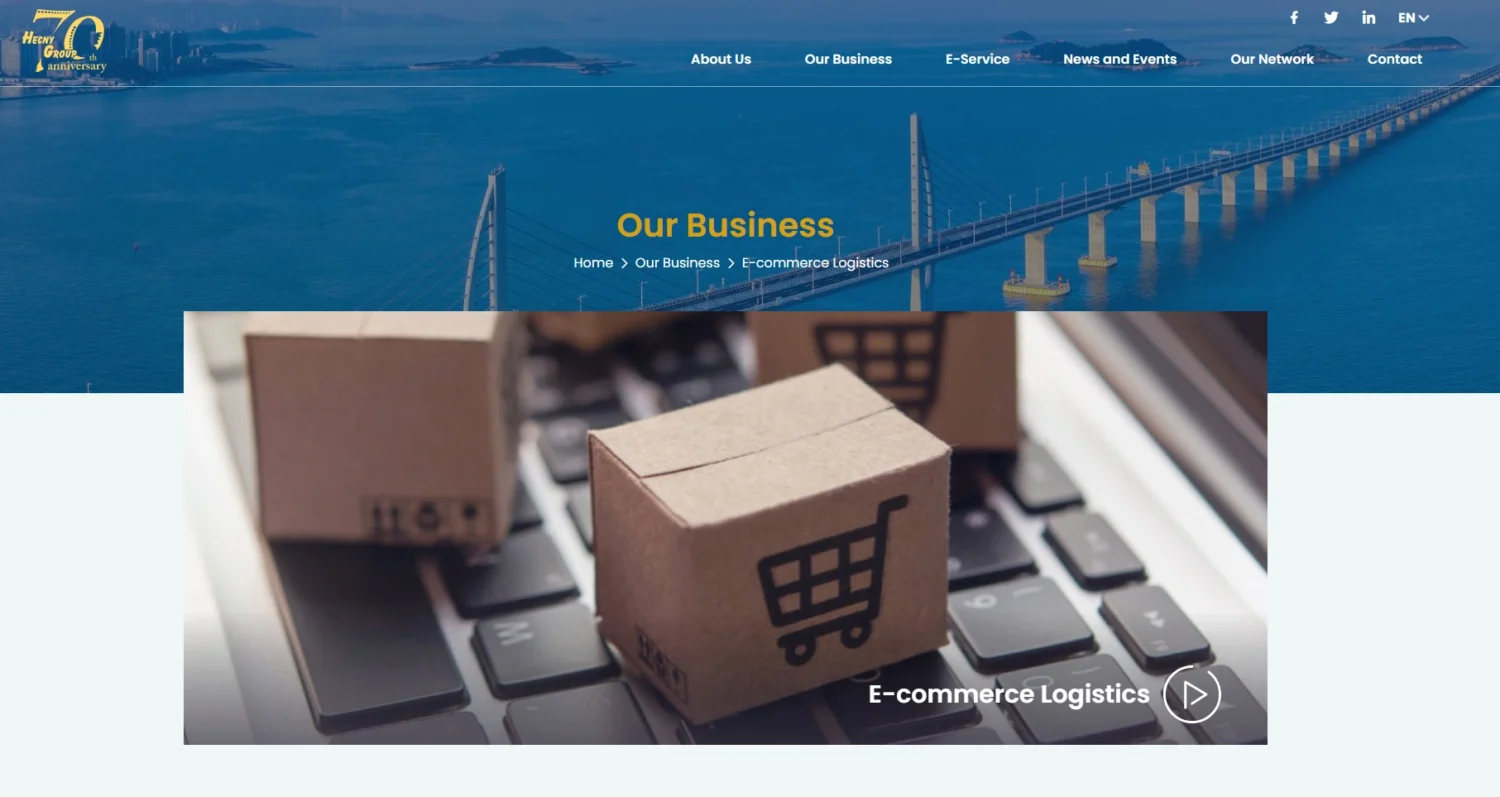 Logistics company Hency Group provides a full range of storage, logistics, certification and customs clearance services, including fulfillment. Worldwide, the total area of ​​warehouses is more than 150,000 square meters.
Services:
Reception, storage, marking, packing, delivery, work with returns.
Cross-docking.
Delivery by all means of transport, including emergency delivery.
Cargo insurance.
Customs clearance.
Own WMS system, with the ability to easily integrate and process orders via e-mail.
Fulfillment is a convenient service for sellers on the marketplace. But its organization requires a lot of investment from the marketplace. In order to simplify this task, different fulfillment models can be offered. Some of the functions should be outsourced.
The Cart-Power team will help you set up the fulfillment process on the online platform, adapt the addon to your requirements and carry out all the necessary integrations with third-party services.
How to work with sellers, how to monetize the site? Read all about marketplaces in our article "All you wanted to know about marketplaces"
Do you have an idea? We have a solution!
We'll develop marketplace of any complexity
Subscribe to stay up-to-date!
I want to be notified about ecommerce events.
Subscribe to stay up-to-date!
I want to be notified about ecommerce events.