According to Forbes and Statista, the sales and orders of the largest marketplaces continue to increase year on year. Producers continue to go online. The number of sellers on marketplaces is growing. Marketplaces continue to be a simple and fast way to start selling online.
But today we will talk about why you need your own online store if you can sell on marketplaces. How much does it cost to create an online store and why is it important.
Most marketplace sellers are manufacturers and distributors.  At the same time, in addition to the marketplace, many sellers have their own online and offline store. As additional sales channels, sellers choose social networks, instant messengers, aggregators and classifiers.
At the same time, 46% of sellers noted an increase in sales in 2022 in their online store, in addition to growth on the marketplace.
That is, if you have your own online store, then with a general increase in sales, your benefit will be doubled.
Risks of doing business only on marketplaces
Everyone has long known about the advantages of selling on the markets. Their main advantages are:
Quick access to online. Registration on the marketplace and placement of goods can take from one day to a week.
Ready search promotion. Marketplaces "mothballed" the top positions in the search results, since the assortment on them is wider than in the online store.
For stable operation, programmers are not needed. You use the services of a platform that is itself interested in constant work.
Entry on a global market. Depending on the region, you can find universal or niche ones.
But if you look from the other side, selling only through marketplaces, you face the following disadvantages and risks:
High competition. Marketplaces strive to attract as many sellers as possible. The products are often the same, and the top lines are the cheapest, most popular and with the fastest delivery. There are very few tools to win in the competition.
Commission and unfavorable terms of cooperation. Depending on the type of goods, storage and delivery conditions, the commission can reach up to 50%. For example, Lamoda does not disclose the size of the commission before the conclusion of the contract. It will depend on the popularity of the brand, the cost at which goods will be sold or are already being sold. But, according to sellers, the commission can vary from 30 to 70%.
Fines, sanctions. On most marketplaces, there are fines for incorrect registration of the product card, for indicating direct contacts with the seller, for the lack of necessary documents, for prices above the market average, for refusals and returns. Penalties can be expressed both in monetary terms and in restrictive measures on the part of the marketplace (blocking some goods or completely blocking the seller on the marketplace).
Forced actions. Marketplaces may require mandatory participation in promotions and discounts. Perhaps the most scandalous in forced actions is Wildberries. On the Internet you can find many stories about voluntary-compulsory actions on the WB, where penalties followed in case of refusal.
It is difficult to work with repeat sales and upsells. Due to the fact that the competition between sellers is high, it is difficult to win the loyalty of the audience. Direct contacts are not allowed. So, most likely, you simply will not be remembered. The next time the customer buys the same toothpaste from another seller, not from you.
Competition with the marketplace itself. Many sites sell goods under their own brand, setting a more attractive price, like Amazon.
Changing the conditions of the platform. The marketplace can change the working conditions in its favor. And often you can not even guess about the changes. The new version of the agreement is loaded automatically in your personal account, and you must familiarize yourself with the new terms of the agreement.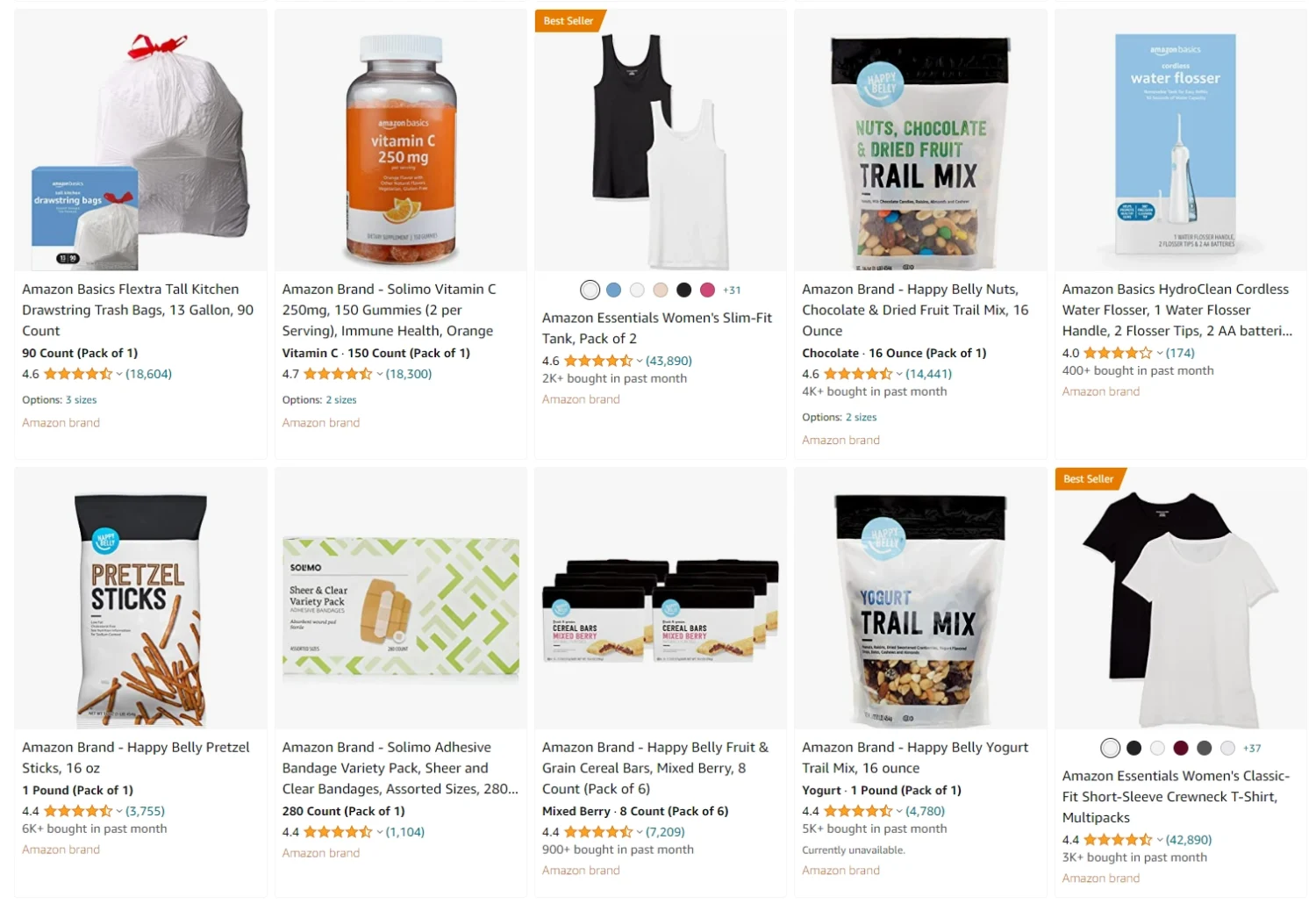 Alternative sales channels
In order not to be a hostage of one platform, many sellers use different sales channels: several marketplaces, social networks, offline sales. On average, each seller uses 2 marketplaces. Most often it is Amazon and eBay.
According to Statista's data the most popular social media platforms are: Facebook, YouTube, WhatsApp. 
Many people think that creating and developing their own online store is expensive and difficult. In addition to choosing a platform, designing the structure of pages, sections, categories, you need to think about search promotion, advertising settings, ways to attract and retain an audience.
However, about 40% of sellers use their online store as a separate sales channel. Most experienced sellers will say that marketplaces are good for starting and testing a hypothesis with selling a product. But in the long run, staying only on marketplaces is unprofitable.
How much does it cost to create your own online store?
To find out how much it will take to create your online store, we will analyze step by step what is needed for this.
1. License for an online store
When choosing a CMS for your store, functionality plays an important role. It should provide convenient management of orders, products, a storefront, and also be suitable for small extensions in the future.
On the basis of CS-Cart, you can open a store that meets all the necessary functions: Ready storefront, Unlimited number of products and categories, Flexible product import, Membership levels and access permission rules. A clear and intuitive admin panel will allow anyone to figure it out, even without programming experience. CS-Cart is already optimized for search engines and contains SEO tools for additional customization.
For a store on CS-Cart, you can find many extensions and ready-made solutions. Only on our website there are more than 140 add-ons for any task – from design to additional control functions.
Due to the prevalence of the platform, it will not be difficult to find programmers for support and updates.
The cost of a domain name starts from $2 per year. Depending on the national, international or thematic area, you may need different domain names. The most famous registrars are godaddy.com, domain.com.
Hosting for commercial projects must be reliable, provide stable operation and cope with high server loads. It can be a cloud solution specialized for a specific CMS. On average, the price can start from $7 per month, with the possibility of scaling in the future.
3. Design theme and add uniqueness to the appearance of the store
To make your online store stand out from your competitors, you can choose a suitable design theme. It will allow you to customize the store pages for your niche, add beautiful banners, change the appearance of the menu, sections, and so on. Each theme contains different styles that you can customize.
The minimum price per theme is from $156 (the price is indicated at the time of publication of the article).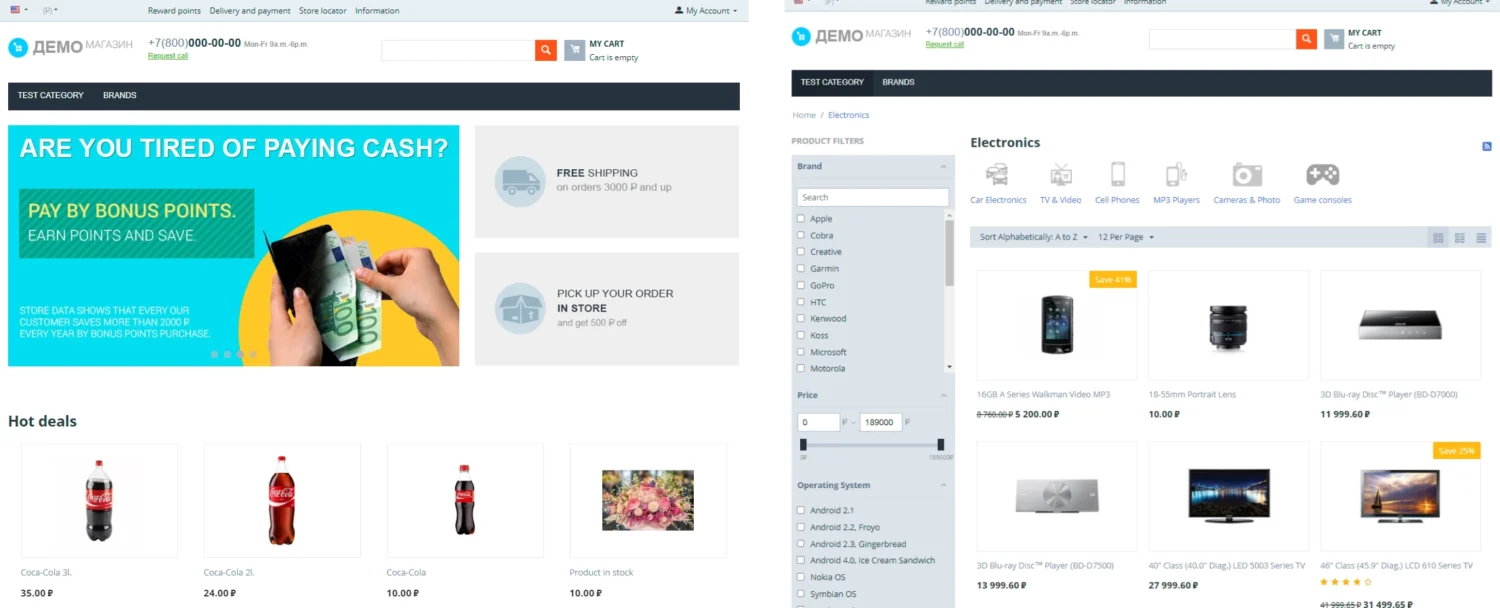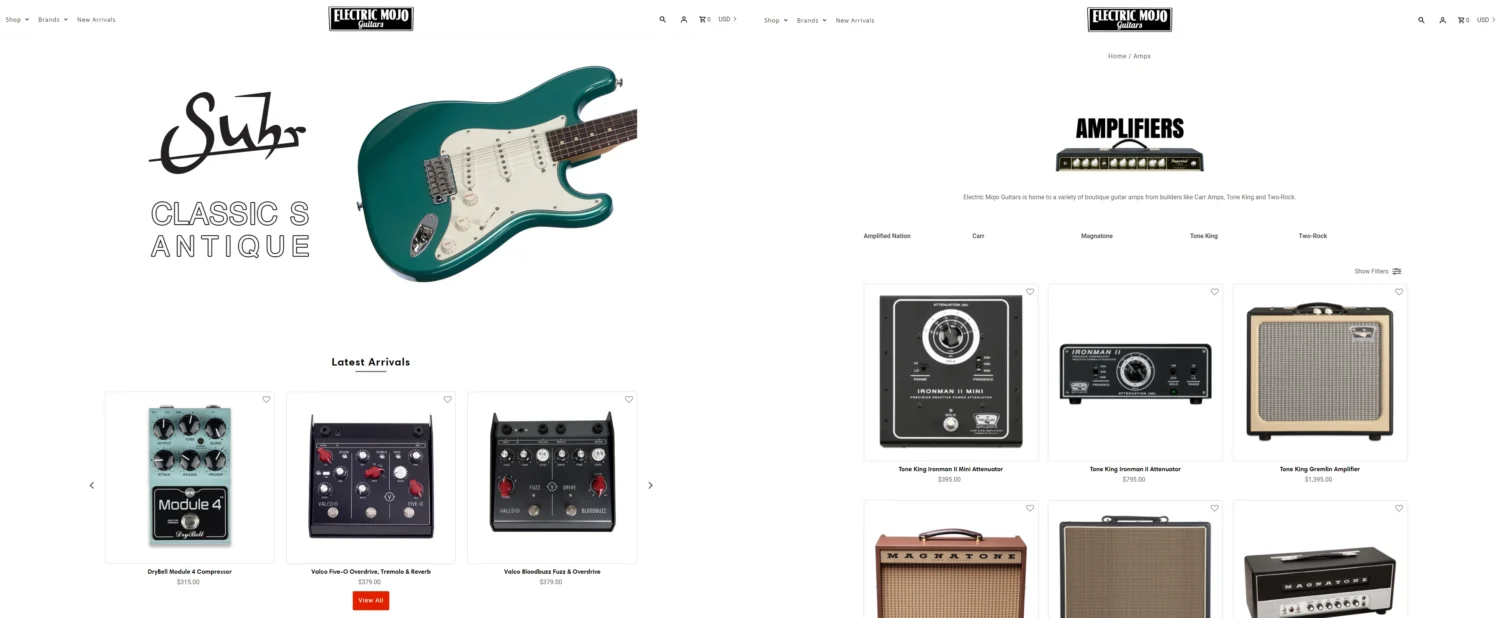 If a ready-made theme is not enough to emphasize the individuality of an online store, you can order a custom revision of individual design elements. In this case, the services of a designer and front-end developer will be required to implement changes to the site.
The cost of an hour of a designer's work starts from $40 per hour, the cost of an hour of work of a frontend developer starts from $45 per hour. For example, a client wants to develop a logo, as well as adapt the site to his corporate identity and brand book. In terms of time, the development of a logo can take from 7 hours, and to implement all the changes to the site - from 2 to 5 hours.
4. Individual modifications or modular solutions
The easiest way to expand the functionality of an online store is to use add-ons or modules. Compared to custom modifications, it is cheaper and much faster, and you can find a module for any task: tools to increase sales, increase the speed of the store, integrate with external services, and much more.
If ready-made solutions are not suitable, but the functionality of the site needs to be adapted to business goals, you will have to use the services of developers.
The cost of an hour for a backend developer starts from $50 per hour. For example, to add additional fields to the unloading of goods coming from ERP, it may take 8 hours of development. Connect the chat widget to the site - 1-3 hours. Add the "Write to Whatsapp" button to the product page – 5-6 hours.
If custom development is not required, but you want to expand the functionality, the cost of add-on solutions starts from $30. Add-ons are aimed at solving a specific problem. For example, "Live Search" makes searching for products on the site functional, fast and convenient. This is an alternative to cloud search services, only without a subscription fee. "Advanced Email Marketing" contains all the necessary tools for remarketing via email newsletters: customizable notification templates, subscription management, coupons and promotions for newsletters with analytics.
As a result, according to rough preliminary calculations, the cost of developing an online store starts from $2,142. As a result, you get an independent sales tool. You can:
build a sales system;
use customer retention tools;
stand out so that your brand is remembered and customers come back again;
fully manage the pricing policy;
manage promotions, sales, discounts at your own discretion;
test sales and promotion strategies, choose the right one for you.
At the same time, while continuing to sell on the marketplace, but reducing the risk of loss of profit.
Subscribe to stay up-to-date!
I want to be notified about ecommerce events.
Subscribe to stay up-to-date!
I want to be notified about ecommerce events.