New online stores face various challenges that cause them to lose conversions and fail. Maintaining and growing an online business requires constant effort. A surge in requests occurs in the first weeks, and then orders decline. The wide possibilities of the platform on which the online store is built optimizes efforts.
In this article, we will study common problems and suggest possible solutions that exist on the CS-Cart platform.
About seller challenges on marketplace read in this article.
#1 Challenge. Site traffic and product promotion in search engines
In order for the traffic of the online store to increase, you need to try to cover the search demand as much as possible and engage in promotion. For this you can:
Run ad campaigns and paid ads.
Engage in SEO optimization of the store.
Lead positioning and develop in social networks.
Launch promotions, discounts and sales.
Create compelling visuals and product descriptions.
Work on content marketing.
Due to the fact that stores on CS-Cart have basic SEO settings, you can reach the top positions in the search in 2-3 months after opening. The store creates human-readable URLs, micro-markup for rich snippets in the search, canonical page addresses are generated for products and categories, as well as meta tags for product pages.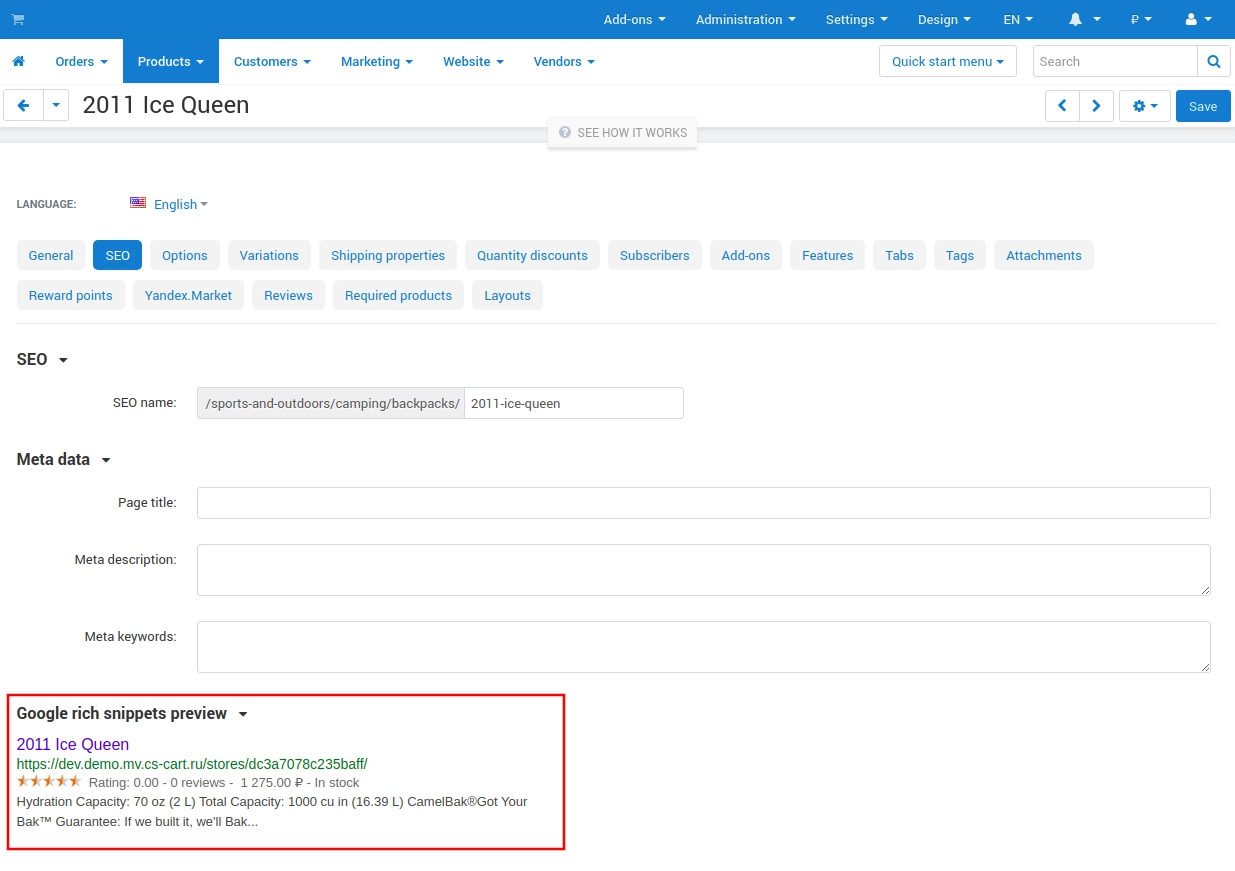 You can create your own blog and add pages with unique content (articles, video reviews, etc.) to better rank in the search results.

Thanks to the Facebook Pixel module, you can create effective advertising campaigns on Facebook. Site events about customer behavior are captured by the pixel and sent to Events.Manager.

The CS-Cart platform provides ample opportunities for creating promotions, discounts, gift certificates, bonus points and gifts for orders, mailing lists for e-mail marketing.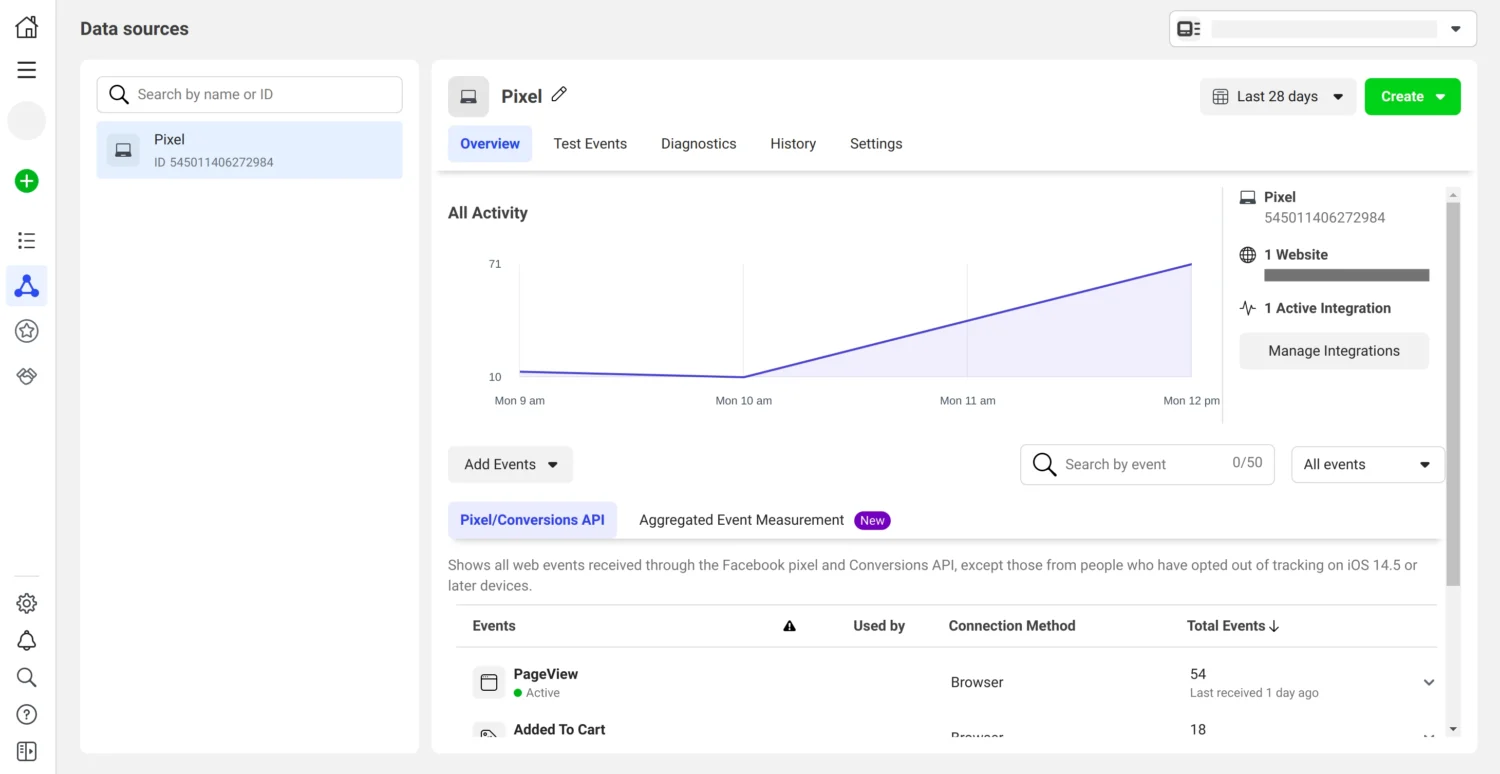 #2 Challenge. Shipping Features
Customers are motivated by fast and reliable delivery. About 30% of visitors will refuse a purchase if they are not satisfied with the delivery. At the same time, it is optimal if the store offers several methods: courier, express delivery, through parcel terminals and pickup points. 
Also, not every client wants to use a calculator to check the cost, so automatic checkout calculation would be ideal.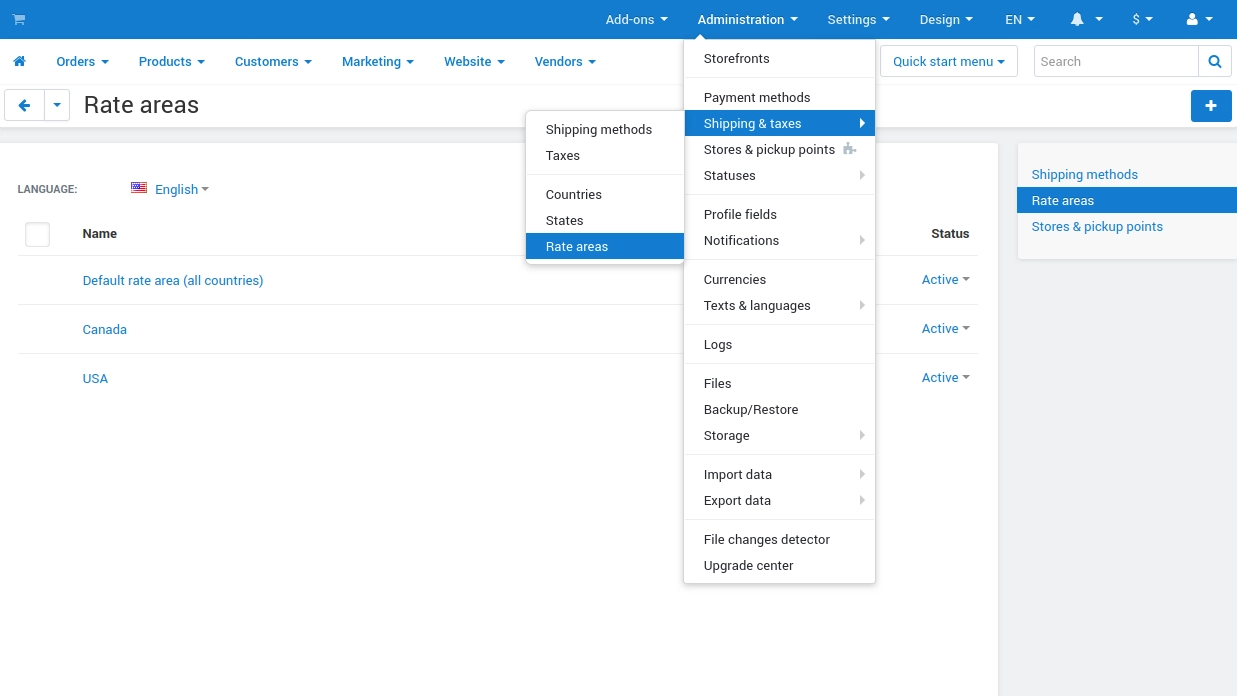 Refunds are part of retail life. Approximately 30% of goods purchased online are returned. However, in most cases, the sellers themselves are to blame for the returns. To make this process less painful, you need to simplify the procedure for returns as much as possible and reduce their number.
Returns are managed through a separate add-on "Return of goods". Here you can specify for which products this option is possible, the number of days during which you can return the product, set up requests with an indication of the reason.
To reduce returns:
Work on a product card. In CS-Cart, you can fully customize the card, add a description, features, and real reviews in separate tabs, add dimension grids.
To make the process painless:
Create a return policy page. 83% of buyers read the return policy before buying. Thanks to the visual content editor, adding informational pages is not difficult at all.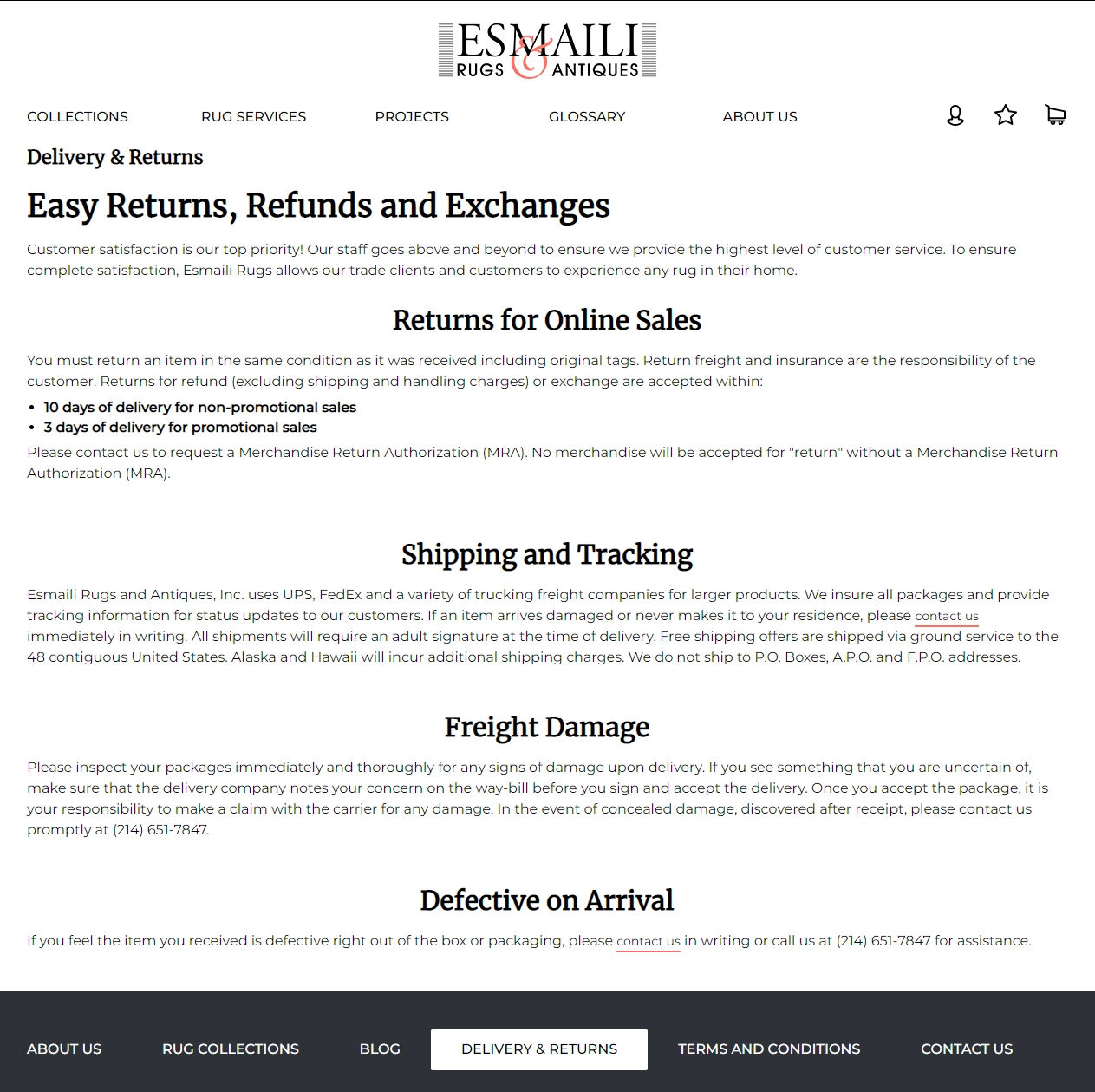 Display the desired status in your personal account. Delete, change or add new statuses for your business processes is not a problem in CS-Cart.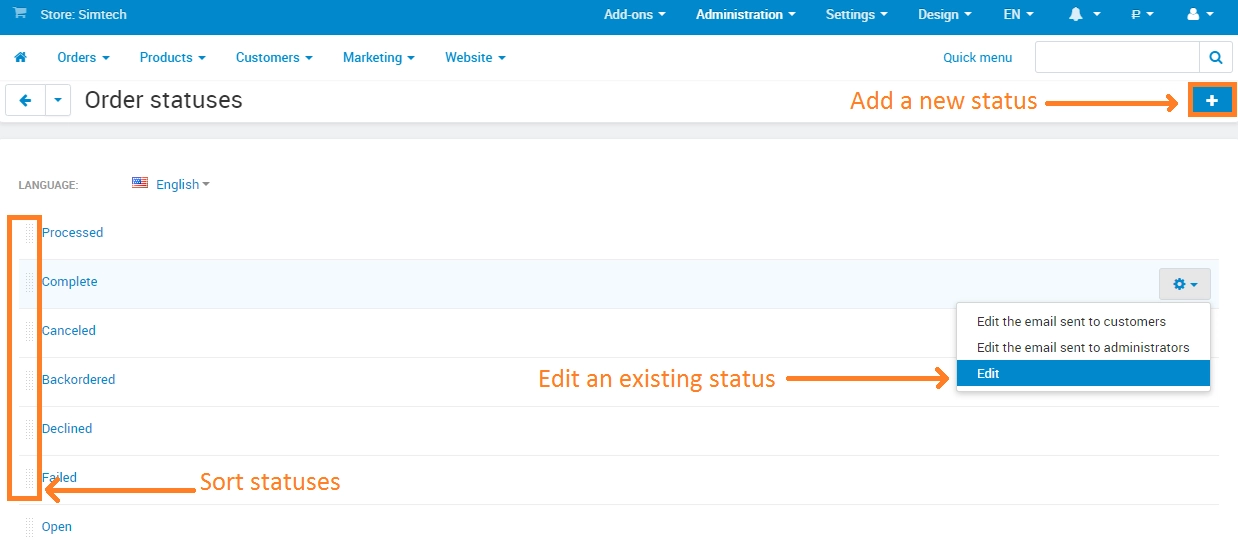 For operational feedback, there is a module "Telegram Chat", "Message Center" and integration with the RetailCRM system.
#4 Challenge. Trust of visitors to the site
By nature, it is easier for people to buy or order something if others have already bought it and are happy with the purchase. New online stores can gain trust if the site have: optimized navigation; simple checkout process and secure payment methods; detailed product descriptions and feedback available.
For convenient payment, CS-Cart integrates with over 70 payment gateways. Of the available payment methods, there are: payments by credit cards, electronic money, generation of invoices for payment, as well as the creation of your own payment methods (for example, cash upon receipt).

Detailed product reviews and ratings are available in CS-Cart. 

This tool will increase the credibility of the site and encourage visitors to purchase.

Incentivize leaving questions and comments on products to reduce decision time.

Blogging a site is another way to build trust. 

Talk about products, about production, about your store, so that relationships with customers are more transparent.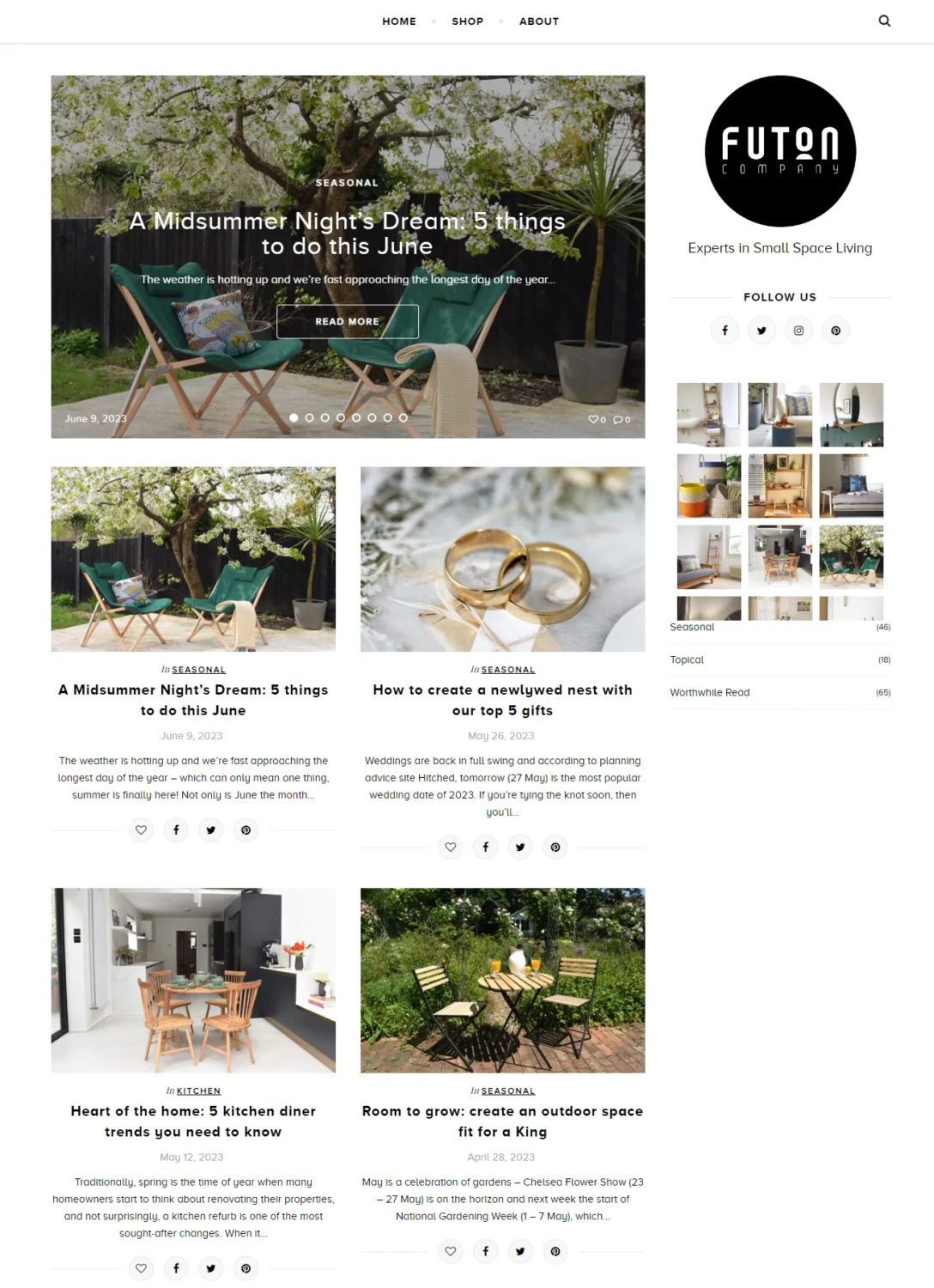 #5 Challenge. No registrations on the site
After the "Order" button, the client needs to go through a long registration path, which increases the bounce rate. Ideally, the online ordering process should be reduced to three simple steps and should not take more than three minutes. The same goes for registration. It should be as simple as possible, with a minimum of required fields and encourage leaving your data.
The store, made on CS-Cart, has the functions "Buy Now With 1-Click" and "Call Request". Customers do not need to spend time placing an order, just leave their phone to discuss the terms of the transaction. The administrator can place an order for the buyer to quickly convert customers.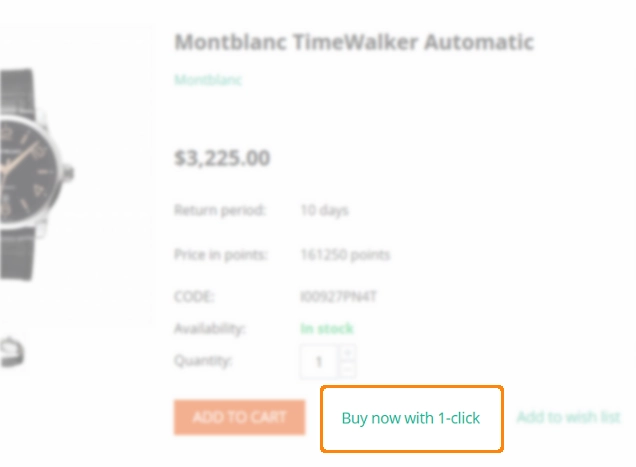 A convenient personal account with privileges for registered users will encourage visitors to become a regular customer. To do this, you can create user groups in the admin panel. For them, you can offer expedited shipping, lower prices, special payment options. Be sure to mention this when you ask to register.

And in the personal account of the store, visitors can log in through social networks and mail services (Twitter, Facebook. Google)
#6 Challenge. The system of communication with clients is not thought out
In the context of a variety of choices and lack of free time, customers do not want to spend resources searching for the necessary information, to understand the details. If there is no one to ask a question about a product or problem on the site, the visitor will most likely go to another resource.
To promptly respond to messages from buyers, CS-Cart developed the "Message Center" add-on. Buyers can communicate with administrators through the "Ask a question" button, clarify information about the product, order status.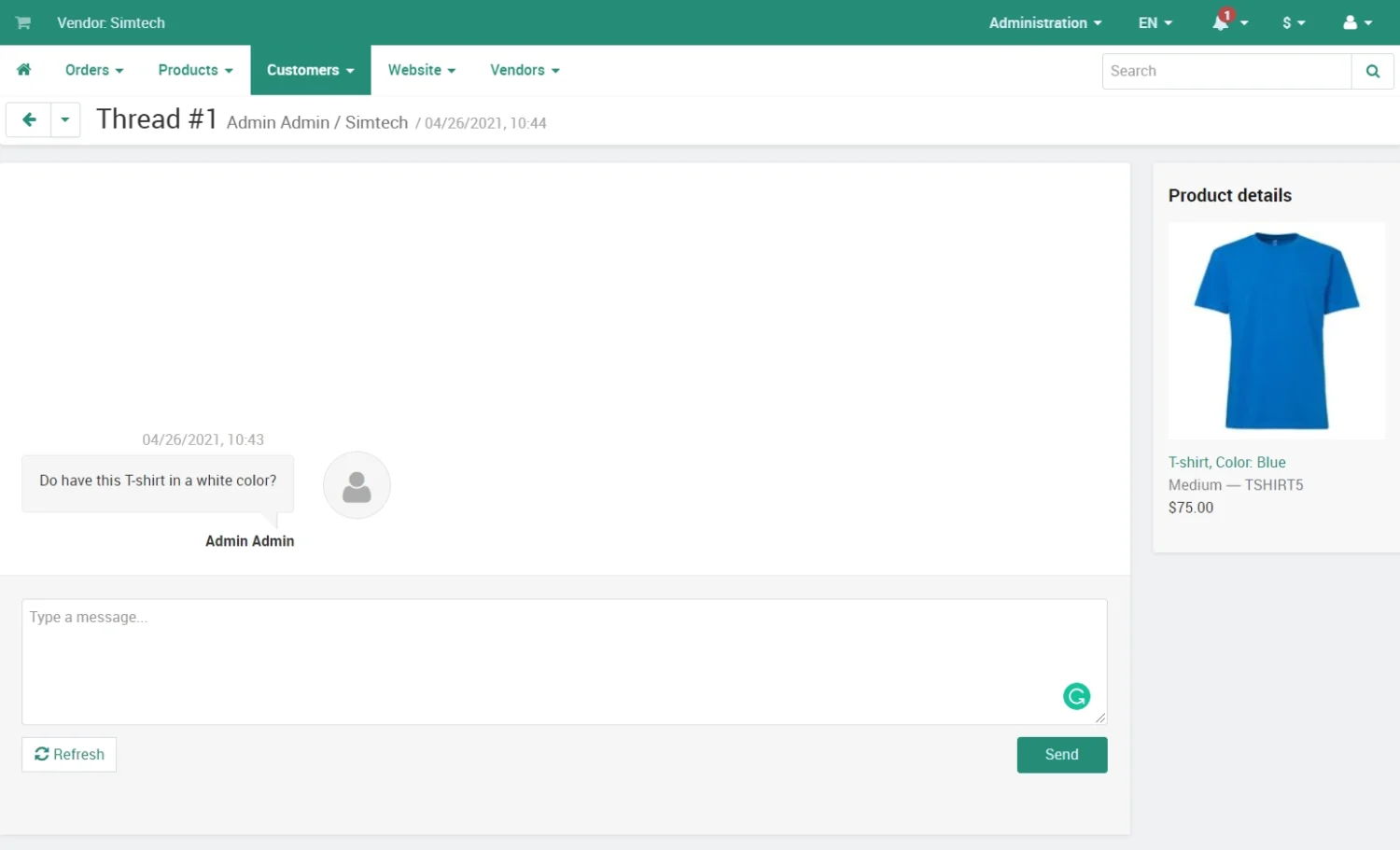 Create trigger message chains through email marketing. You can use ready-made templates in CS-Cart or create your own.

Items left in the cart will wait for the buyer, even if he left the site. And ready-made email templates will help remind you of them.
#7 Challenge. Poor usability and irrelevant content
If it is convenient for the user to search for information on the site, he studies the necessary products, fills in the required fields and makes a conversion. If it is not convenient or the information is not relevant, then the user leaves the resource and returns to the search results, that is, to competitors.
The storefront is responsive and adapts to any device. And thanks to a simple layout editor, changing the look, adding a visual, updating information is not difficult.

For better customer usability CS-Cart offer a mobile app for iOS and Android.

The page layout editor will allow you to create new pages without layout designers and programmers. You can manage and customize the appearance of the store even from the storefront. This will give you an immediate idea of ​​what your changes will look like.

Create personalized landing pages in Tilda and add them to your CS-Cart store.

The problem of irrelevant content is solved by mass export / import and editing of goods. It will take no more than a couple of minutes to update the supplier's price list, add new characteristics to products, update images. Product information will always be up to date.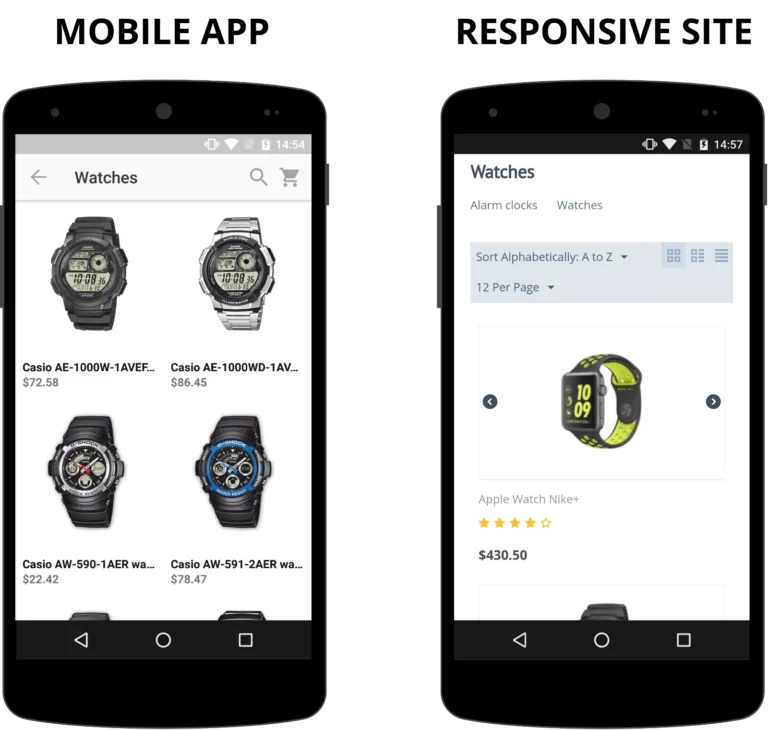 #8 Challenge. Long checkout times
The concept of fast and convenient is very different for different customer groups. A lot of fields to fill out at the checkout stage can confuse, scare away customers and reduce the conversion of an online store. In addition, there is a human factor on the part of store administrators, which can also delay order processing.
The checkout page in CS-Cart stores is customizable. Add the required number of steps and fields, make required and optional fields. The client will see at what step he is, the amount and composition of his order.

The functionality of access rights differentiation will allow you to reduce the risk of mistakes by your employees, improve the level of control over them, and transparently evaluate the effectiveness of their work.

Each employee manages sections only in his area of ​​responsibility. And you can view their activities. This fact, according to CS-Cart research, increases their responsibility and improves the speed of response to incoming orders.

Customize order status to your liking and notify customers and employees. Notifications will come automatically after the order status changes.

To speed up the order processing time, you can set up SMS notifications for administrators in CS-Cart. Not a single order will be left without attention.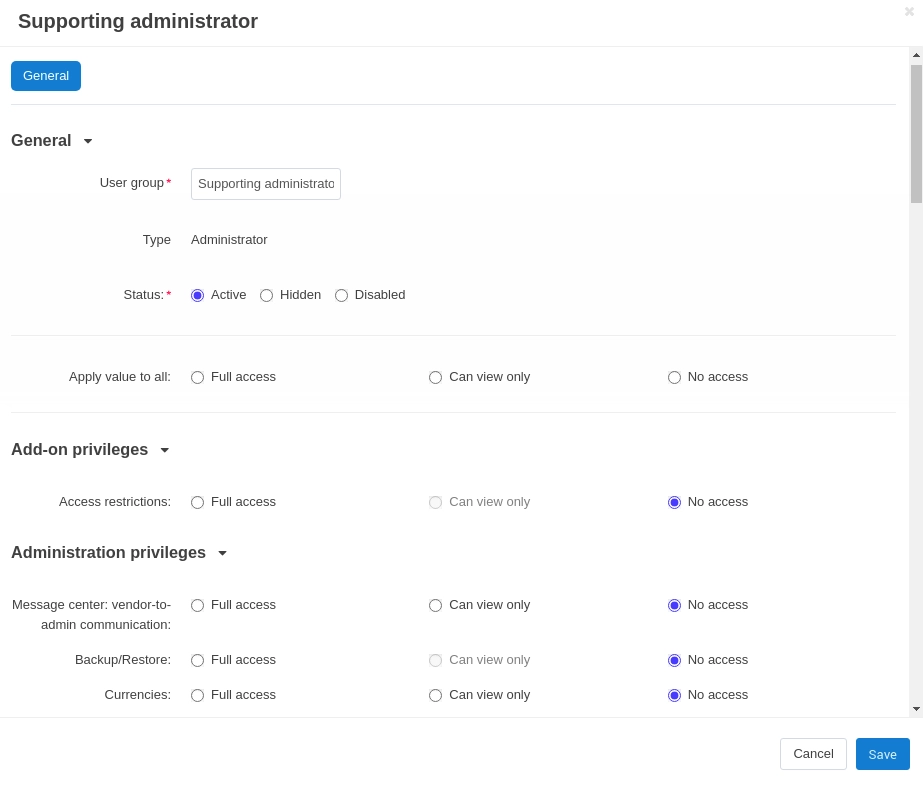 #9 Challenge. Competition with other sites
New online stores can face many challenges, including building brand awareness and building a loyal customer base. Increasing your online presence, segmenting your audience, and creating a unique value proposition for each will help you stay ahead of the competition.
Integration with eBay will allow you to sell products on a popular marketplace and increase the likelihood of a purchase through your online store.

To choose the right marketing positioning or sell different groups of products, CS-Cart allows you to create different storefronts for your online store. For each showcase, you can customize your design, prices, currencies and languages. And the control will be from one admin panel.

You can embed your storefront as a widget on third-party sites to further promote your products.

For those who have a store on Shopify, it is possible to exchange and operate in parallel. With the help of the "Import from Shopify" module, you can quickly place products in a new online store.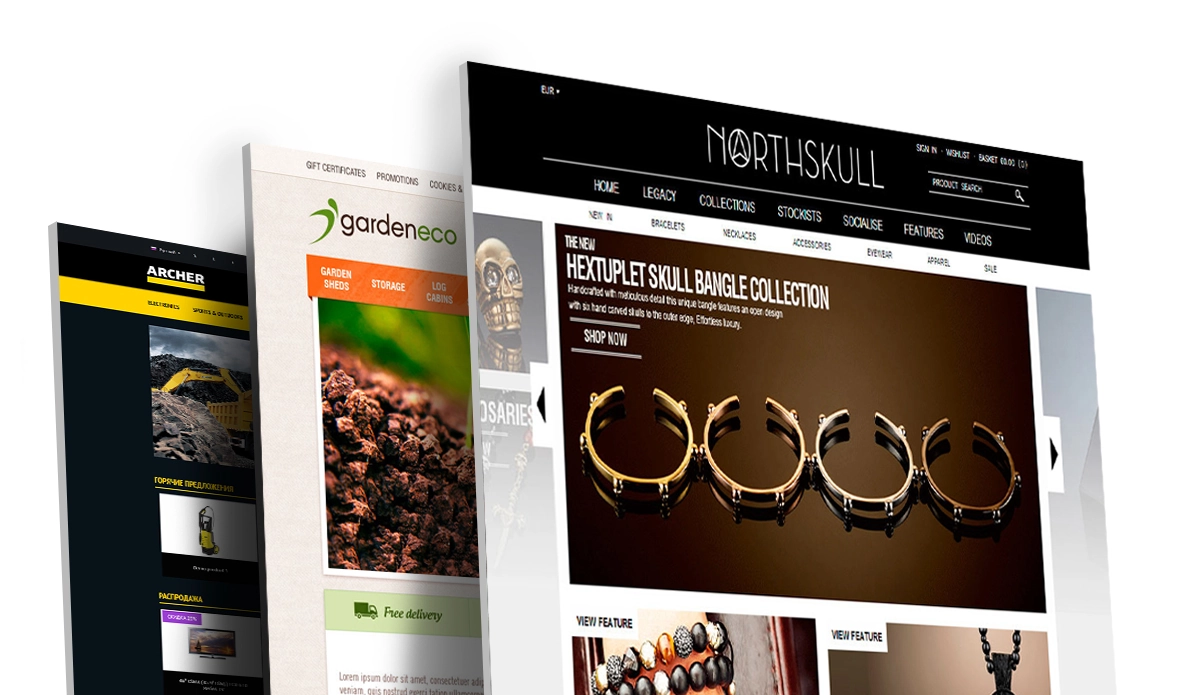 #10 Challenge. Creating a cross-selling system
Many online stores make the mistake of selling one product to one customer. You can increase profits by building a cross-selling system. In this case, the store offers to purchase additional goods in addition to the main purchase. Thus, the average check of the client increases.
Modify products using the "Product Options" functionality. For example, it can be additional printing or engraving on the product.

Create sets of goods, for example, phone + headphones, bed + mattress and so on. Discounted packages are beneficial for customers and increase the average check of the store.

Think over the chains of goods and add the blocks "They buy with this product", "This product complements well".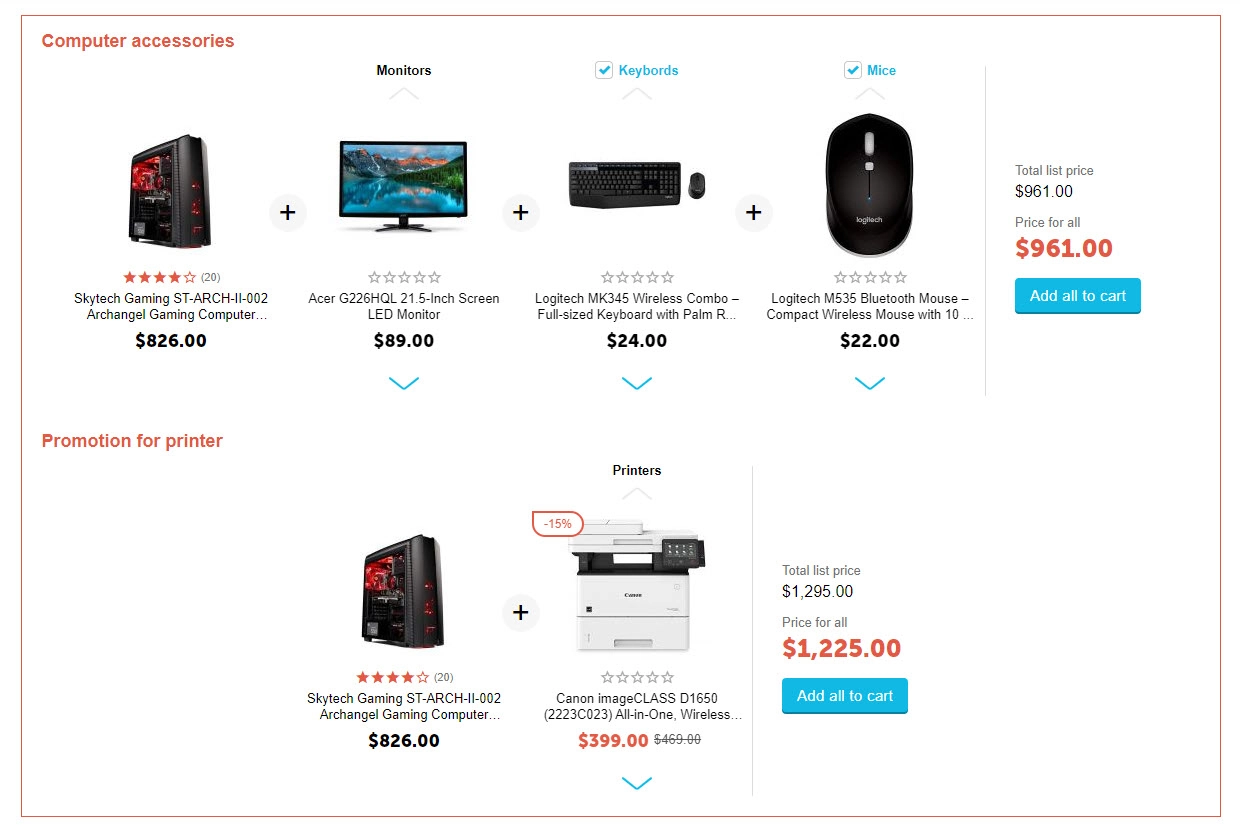 The CS-Cart platform is well-equipped to solve the main problems that new online stores may face. It combines ease of management, maximum settings, convenience for search engines and functionality through integration with various services.
See what a store might look like in our article " 50+ Amazing Online Stores Build on CS-Cart ".
Subscribe to stay up-to-date!
I want to be notified about ecommerce events.
Subscribe to stay up-to-date!
I want to be notified about ecommerce events.