Marketplaces are booming. According to Statista revenue is expected to show an annual growth rate 11,35%, and will reach US$6.10tn by 2027. The main reason why marketplaces are growing so rapidly is that the owners do not need to have the actual product (product or service) in order to launch. For example, Amazon does not have its own products, but the company is considered the largest marketplace in the world by capitalization. Airbnb doesn't have its own hotels or apartments to rent out, but it's one of the most popular companies in the short-term rental niche.
Looks promising, doesn't it? If you are thinking about launching your own marketplace or want to transfer your existing business to this model, our article will come in handy. In it, we have collected all our knowledge about marketplaces: we will talk about the main features of this method of e-commerce; let's break down all possible classifications of marketplaces; show how you can earn money and organize sellers; and in the end, we will discuss whether it is so easy to enter the market and compete with Ozon and Aliexpress.
What is a marketplace
Marketplace is a trading platform that helps sellers and potential buyers find each other online and interact with each other. The marketplace resembles a shopping center: there are different sellers on the same square, and buyers can shop in any department without leaving the building. The marketplace model is used, for example, by international companies Amazon, eBay, AliExpress, Airbnb, Uber. The marketplace model is suitable for many industries (we will look at this in the Types of marketplaces section).
The marketplace acts as an intermediary between the buyer and the seller. Its goal is to ensure effective interaction between them, make the search for goods or services convenient for users and increase sales of sellers. The marketplace is also a guarantor of the security of the transaction: the buyer is sure that he will receive his goods, and the seller that he will receive money for the order.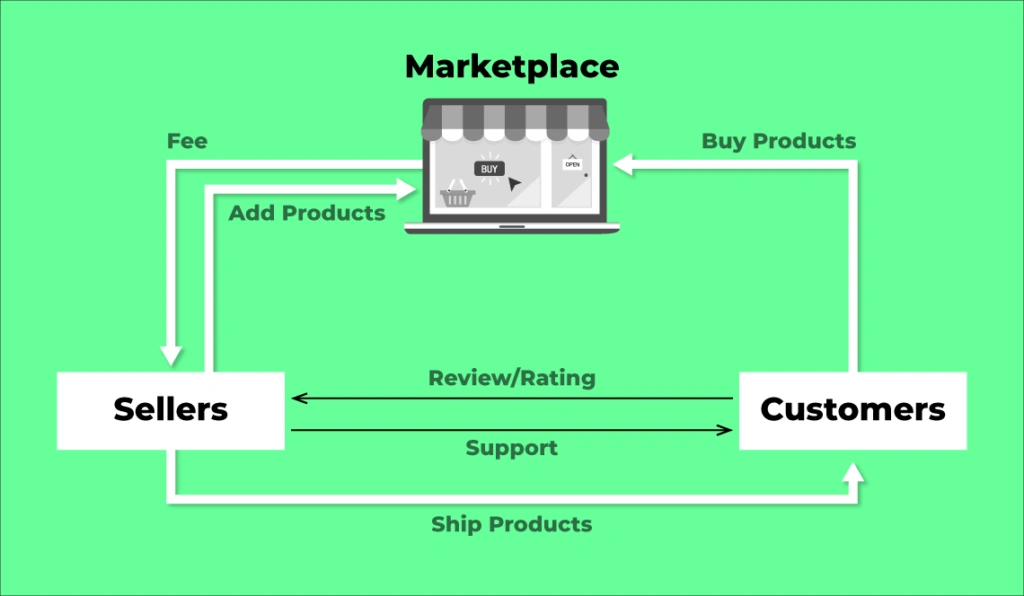 This form of e-commerce is beneficial for all participants:
1.Beneficial to the buyer.
It is convenient for him that you can choose the most advantageous offer of a product or service. No need to go to different online stores and compare prices – a wide range of products is already collected on one site. You can order goods from different sellers, but pay for shipping only once. The seller can be selected based on the rating and reviews of real buyers, which gives confidence in the safety of the purchase.
2. Beneficial to the seller.
Sellers save on attracting traffic, maintaining an online store and employees.
3. Beneficial for the marketplace.
The marketplace makes money: the more sellers came to it, the more buyers bought the goods, the greater the profit of the marketplace owner.
In any marketplace, in addition to its owner, there are at least two more parties involved: a buyer and a seller. The scale and specifics of this interaction may vary depending on the relationship of the parties, the product being sold and the status of the participants.
Each marketplace is based on one of three basic models:
1.C2C. Both parties are individuals who interact with each other on an equal footing. They are united by common interests, they cooperate on mutually beneficial terms and can easily change roles: today you are a buyer, and tomorrow you are a seller. Examples: Etsy, Airbnb.
2. B2C. The buyers are individuals and the sellers are companies. Examples: AliExpress, Wallmart, Amazon.
Sometimes B2C and C2C models are mixed on the same site. For example, Airbnb presents offers for rental housing not only from individuals, but also from individual entrepreneurs or agencies. Some of them started cooperation with the marketplace as an individual, but then decided to turn additional income into a full-fledged business.
3. B2B. Such a marketplace connects entrepreneurs on one trading platform and helps them find successful business solutions. For example, there are buyers who are looking for wholesale suppliers or large contractors, and sellers who need new markets. Examples: Alibaba, BookingB2B, Capterra. There are also many niche B2B marketplaces focused on a narrow market segment such as trade in industrial equipment, seafood, paint and varnish products, etc.
Marketplaces can be divided into several types depending on what type of product they provide:
Products. Such a marketplace looks like a set of online stores united on one site. The buyer can shop from different sellers. Examples: AliExpress, Wallmart, Etsy.
Services. Companies that provide the same service are collected on one site. Examples: taxi ordering services (Uber, Gett) or hotel booking services (Booking, Trivago).
Investments. These are platforms where users receive collective funding for creative, scientific, social and entrepreneurial projects and reward the most active investors. Examples: Russian Boomstarter and Planeta or foreign Kickstarter and Indiegogo.
Information. The main function of such a site is to provide users with important information for them. Examples: TripAdvisor, Craiglist, freelance exchanges (Freelance, Upwork and others).
There are three types of marketplaces depending on the variety of product categories presented:
1.Niche
On such sites, goods of the same segment are presented, but from different sellers. For example, the TrueFacet marketplace sells watches and jewelry. Each product comes with an individual number confirming its authenticity.
An example of a  pharma niche marketplace is the Pipelinepharma,  which sells only pharmaceutical products.
2. Industry. 
Such a site hosts different goods or services that have a common global characteristic. For example, "Fair of Masters" or Etsy. These marketplaces sell different products, but what they have in common is that they are all handmade. On the platform, you can not only sell and buy, but also communicate and read useful articles on needlework. 
Another example is the Kwork exchange. The services of various sellers (programmers, advertisers, designers, etc.) are collected here, but all of them are united by freelancing.
3. Multicategory.
Such marketplaces sell goods from various categories: from food to electronics. Amazon, eBay, Aliexpress, Wallmart and many others work on this principle.
Another of the parameters by which marketplaces differ from each other is the type of relationship with sellers. The ease of scaling the business, the ability to set your own rules and the degree of responsibility to customers depends on it.
1.The marketplace provides a showcase and fulfillment.
What does it mean? The marketplace has its own warehouse where the seller delivers the goods. The marketplace stores goods in this warehouse, forms orders, packs, delivers – everything is done on its own behalf. This is called fulfillment – when the marketplace is engaged in full support of the product from the moment it is issued to the issuance.
This is how Amazon works according to the FBA (Fulfillment by Amazon) scheme.
Read more about fulfillment in the article "Fulfilment for marketplaces: how it works, who will suit, how to make".
2. The marketplace provides a showcase and organizes delivery.
The seller stores the goods in his own warehouse. After receiving the order, it prepares it for shipment, packs the goods and transfers them to the sorting center of the marketplace. Delivery is further handled by the marketplace on its own behalf.
This is  FBS (Fulfillment by Seller) scheme.
3. Combination of schemes of work.
Let's analyze this model on the example of Amazon.
Amazon has three options for working with sellers: Fulfillment by Amazon (FBA), Fulfillment by Merchant (FBM), and Seller-Fulfilled Prime (SFM). That is, some small goods that the seller does not want to deal with due to labor intensity can be sent to the Ozon warehouse. Something more expensive and voluminous – leave it in your warehouse and trade on FBM. This combination is beneficial for the seller: it allows you to optimize the place in the warehouse, since part of the goods is in the warehouse of the marketplace. And it is beneficial for the marketplace: you can flexibly manage stocks in your warehouse and not clutter up those goods that are more convenient to send immediately from the seller's warehouse.
4. The site provides only a showcase.
In this case, marketplaces do not have their own warehouse and delivery service. Orders are received by the seller, who sends the goods from his warehouse and on his own behalf. He can do this on his own or through delivery services connected to the marketplace. Marketplaces act as arbitrators in case of conflicts between the seller and the buyer, all responsibility for low-quality goods or delivery lies with the seller.
This is how, for example, Aliexpress and the VKontakte Store work.
5. The platform is an aggregator of offers
The marketplace only collects offers from sellers on its showcase. The buyer compares them, clicks on the offer of interest. Then either goes to the seller's website, where he makes a purchase, or receives the contact details of the seller and communicates with him personally. Such sites can grow rapidly, adding more and more new members, but they do not have the ability to control the activities of each seller or freelancer.
This is how C2C platforms and product aggregators like YouTube work.
How to make money: monetization models
To create a sustainable and successful marketplace, you need to find a business model that will be profitable. The marketplace owner has different monetization options.
1. Commission
The most popular business model for modern marketplaces is to charge a commission on every order. The buyer on the marketplace pays for the order, and the platform takes either a fixed fee or a percentage for mediation from this cost.
This scheme is convenient for both marketplace owners and sellers. The seller pays the service only at the moment when it is guaranteed to receive a profit, and the marketplace controls all payments that go through the platform.
This model is used by most marketplaces on the market. Among them: Airbnb, eBay, Fiverr, Etsy, TaskRabbit and Uber.
However, there are conditions in which this monetization model will be difficult to implement:
If complex schemes of mutual settlements with sellers are used. Especially if they are conducted in third-party services (for example, through 1C). Then the commission is not deducted immediately when paying for the order, but later through a third-party service (manually or automatically).
If orders are not paid online, but upon receipt or at pickup.
If payment is made through bank accounts. This is typical for B2B marketplaces and for some B2Cs.

Under these conditions, it is not clear how the marketplace will eventually receive money from the seller for paying for the transaction outside the site. You will have to choose a different monetization model.
2. Subscription fee
This model means that all or some users regularly pay a fixed amount to access the marketplace. Unlike the commission model, the monthly fee will suit those who sell luxury goods or services. And for buyers, the subscription fee will be beneficial if they regularly use the same marketplace.
The Traderb2b trading platform operates on a monthly fee . Moreover, the subscription is paid for both buyers and sellers. The organization of the auction is similar to the tender. The buyer places a request for the purchase of goods, and the sellers report within 8 hours how much they are ready to sell it for. Of these, the buyer chooses the best offer.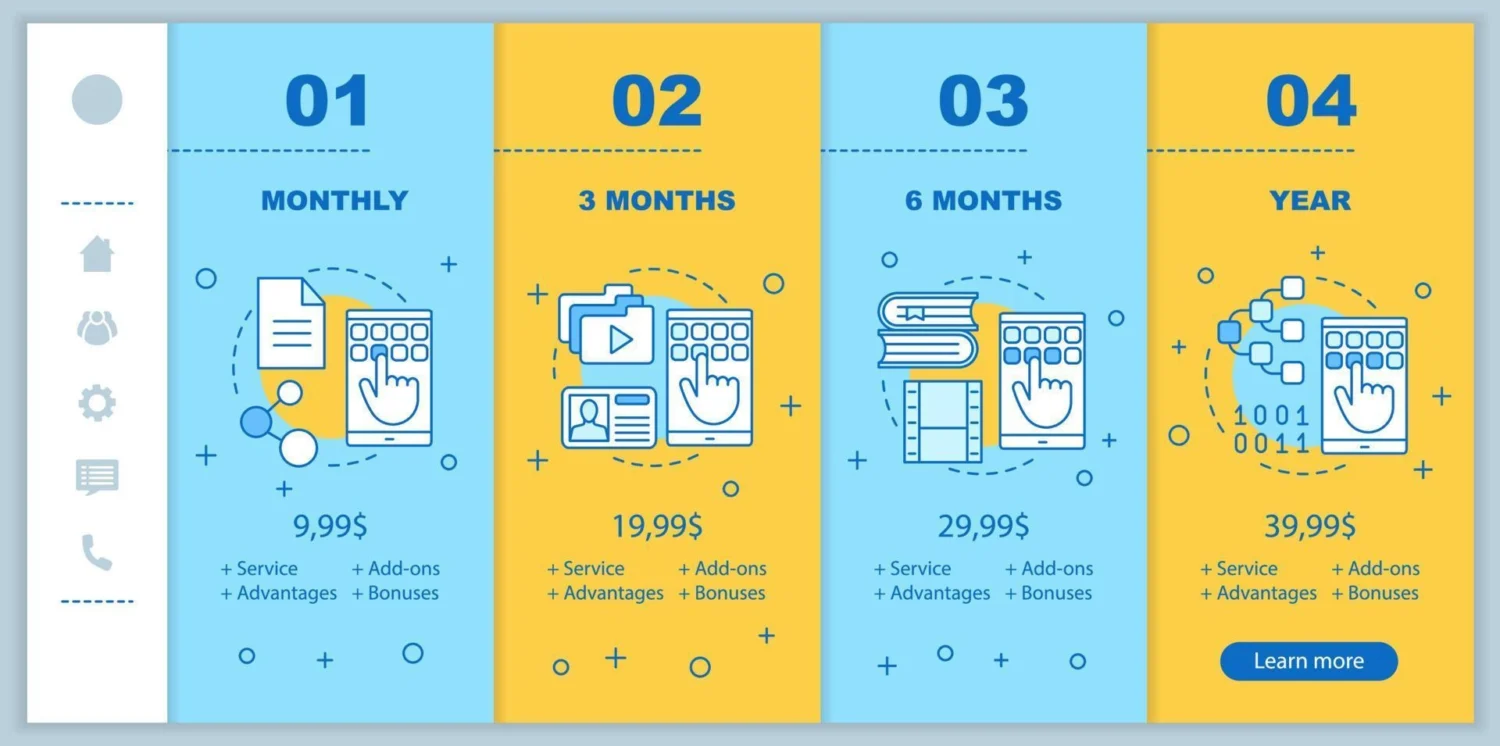 Among C2C marketplaces, such an example is the Home Exchange home exchange service , where, for a separate subscription fee, the user receives advanced options for finding housing.
In the B2C sphere, the personnel search site hh.ru uses a monthly fee , where employers pay to gain access to job seekers.
The subscription fee, as a marketplace monetization model, has a problem: sellers will not pay for placement on a marketplace where there are no visitors, and those who do not come to shop in a marketplace where there are few sellers. There is a way to overcome this vicious circle. When launching a marketplace, you can offer discounts to the first participants or completely cancel the subscription fee. It will be possible to enter it later, when the marketplace collects a sufficient base of sellers.
For example, the Russian B2B service Sdelki.ru first allowed free placement of goods. Sellers only paid if they wanted to boost their listing in search results. When the service became popular, its owners launched several tariffs with a monthly subscription fee.
3. Payment for accommodation
This is a fee from sellers for publishing new positions. For example, a seller can place ten products on your site for free. For an additional fee, he will be able to expand the range, as well as increase the position of the store or a specific product in the search results.
When a seller doesn't need your marketplace all the time, they'll be more willing to choose to pay for hosting rather than a subscription fee. He will sell certain goods and leave without spending any extra money. Therefore, this model is most often used by bulletin boards. For example, on Avito, paid ads are added to a separate block marked VIP or placed at the top of the feed.
The first problem with placement fees is that they do not guarantee the seller that he will be able to sell his product. This means that in order for the seller to want to be placed on your marketplace, the amount of this payment cannot be too high. The second problem is that the pay-per-placement model requires a large stream of new ads. Otherwise, you simply will not be able to recoup the costs of the marketplace.
4. Pay per lead
The marketplace can also earn on lead generation, that is, sellers will pay the owner of the site for each new client. The pay-per-lead model only works when the cost per lead is high. Therefore, it is not common on C2C marketplaces. Most often, this model is used in B2C or B2B markets, where each new sale builds a long-term relationship with the buyer. Using this model (as in the case of the commission), you need to think about control options so that the supplier and the buyer do not start making transactions bypassing the platform.
This is how Thumbtack implemented this model, a B2C service that collects offers of all types of professional services, from foreign language teachers to locksmiths. At the beginning, when the flow of new customers was active, the service made good money on lead generation. But then contractors built relationships with clients outside of the platform and began to use it less frequently. Now Thumbtack is developing tools to control its participants: invoicing and payment only through the service, hiding customer contact details, etc. Most likely, in order to benefit more from the transactions that the marketplace helps to make, its owners will move to a commission monetization model.
5. Freemium
Freemium means that there is a free basic plan for marketplace users, but after the seller finds a buyer, you offer them additional features for a fee (VIP status, premium service, free shipping, insurance, etc.).
The problem is that these paid features should be useful to the majority of users. If only 1% of users are interested in a premium offer, and everyone else is using the site for free, this will not be enough for a stable profit.
Here's how the Peerby marketplace works. It is a C2C platform where people can borrow things from each other. The basic tariff is free for all users of the platform. To monetize a business, the marketplace offers users additional services:
Insurance. The owner of the item may require the customer to pay an insurance premium that guarantees the replacement of the item if it is damaged or stolen;
Delivery. In the basic tariff, the client had to personally pick up the item from the owner. For a fee, you can order delivery to your door.
Coming up with value-added or premium services that appeal to a wide audience can be tricky. Therefore, freemium is most often used as an additional source of marketplace income.
6. Hybrid model
Sometimes it can be useful to have multiple business models on the same site.
For example, take a commission for the sale of goods, and provide VIP status with additional services for a monthly fee. For example, Amazon has an Amazon Prime program for shoppers. By paying a subscription fee, you get free US shipping on all items in this program. Etsy also works on a hybrid model: sellers pay a commission on sales and for posting ads. This is beneficial because the marketplace receives income from both popular and not very popular products.
Which model to choose
In our experience, the best option for most marketplaces is a commission-based monetization model. By charging a fee for each order, you can flexibly manage your business and scale it easily. If payment for orders occurs outside the marketplace and cannot be calculated, test alternative business models and you will definitely find a suitable one. Over time, as the marketplace expands, it's best to combine multiple sources of income. Remember that a marketplace, like most sites, can also make money from advertising and selling traffic.
Why the marketplace is not for beginners
You should always remember that a marketplace is primarily a service. For sellers, this is a service to attract buyers. For buyers, this is a convenient search for the best deals. It is extremely high risk to waste money and not recoup the invested costs if the owner of the marketplace does not know:
how to make this service convenient for participants;
how to attract sellers and buyers;
how he will earn.
Before starting to develop a marketplace, these questions must be clearly answered.
Another difficulty is if you want a marketplace "like Ozon or Aliexpress". Even an experienced businessman will find it difficult to compete with such large market players without investment. These giants firmly hold their market segment, occupy the top of the search results and squeeze out weaker players due to the huge assortment, free shipping and user coverage. Instead of unsuccessfully competing with such giant retailers, you can focus on a narrow niche: for example, unite manufacturers of industrial machine tools, auto parts, etc. on the site.
We want to inspire you with this example: if you have developed the right marketing strategy, if you are ready to invest in the development of the project both financially and in time, then you can try to move Amazon off the pedestal. The path will not be easy, but anything is possible. If you are not sure that you can competently conduct preliminary analytics or draw up a promotion strategy for the marketplace, contact Cart-Power.
We have been designing and developing marketplaces on the CS-Cart for 10 years. Our biggest projects:
Gowholesale. A high-load marketplace with a wide range of products available for resellers.
Krasnostop. Our case "Development of the marketplace of Russian wines "Krasnostop"" received the Tagline Awards in the nomination "Best Marketplace" .
Do you want to launch a marketplace? Leave a request, we will call you back, clarify the details of the project and offer a suitable solution.
Do you have an idea? We have a solution!
Start your business with Cart-Power
Subscribe to stay up-to-date!
I want to be notified about ecommerce events.
Subscribe to stay up-to-date!
I want to be notified about ecommerce events.