In the previous article , we talked about what a marketplace is, what types there are, and most importantly, how to make money on a marketplace. Recall that a marketplace is a trading platform where anyone can register to sell or buy any goods or services. Examples of marketplaces are known all over the world – these are Amazon, Alibaba, Aliexpress, eBay, as well as the Uber taxi service, Airbnb accommodation search, TripAdvisor travel website and others.
Today we will talk about the CS-Cart platform for marketplaces and why it is the best option for launching a marketplace.
The CS-Cart platform has been known on the international market of e-commerce solutions for 15 years. There are several versions of the platform: for a classic online store (CS-Cart Russian version), for a multi-store store (CS-Cart Ultimate) and a special solution for marketplaces (formerly called CS-Cart Multi-Vendor, and now CS-Cart for marketplaces). ). More than 35,000 companies around the world have trusted in the high level of technology and experience of developers and have chosen CS-Cart for their online business. 
How does CS-Cart for marketplaces work?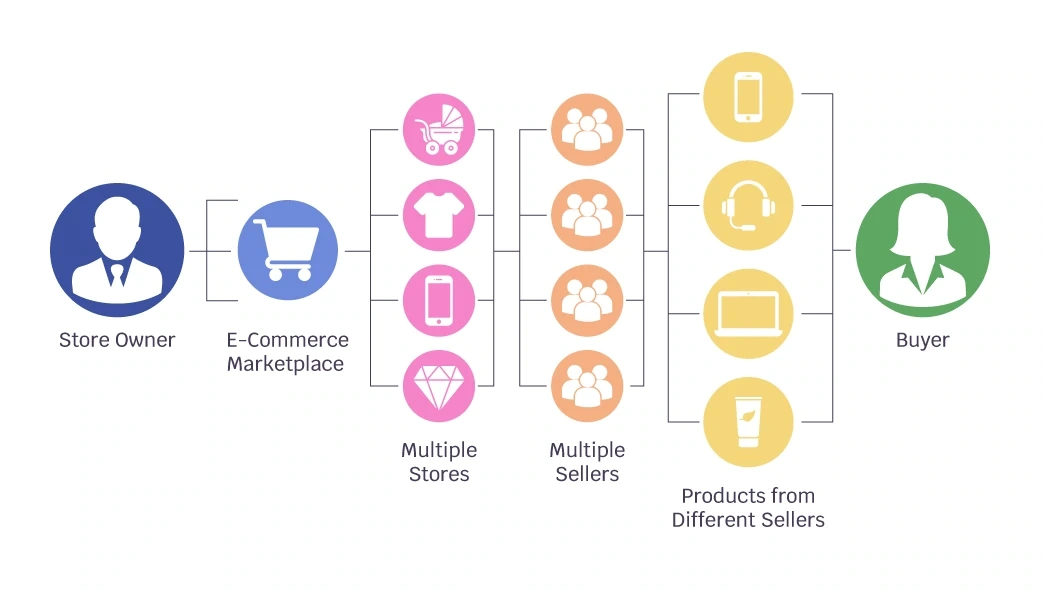 The CS-Cart platform for marketplaces will allow you to create a marketplace where several sellers (also called vendors) can work at once. A common marketplace catalog is formed from the goods of all sellers: the buyer can switch between categories, sort goods by filters or use a general search. 
Here is what the general product catalog looks like on the MODE marketplace: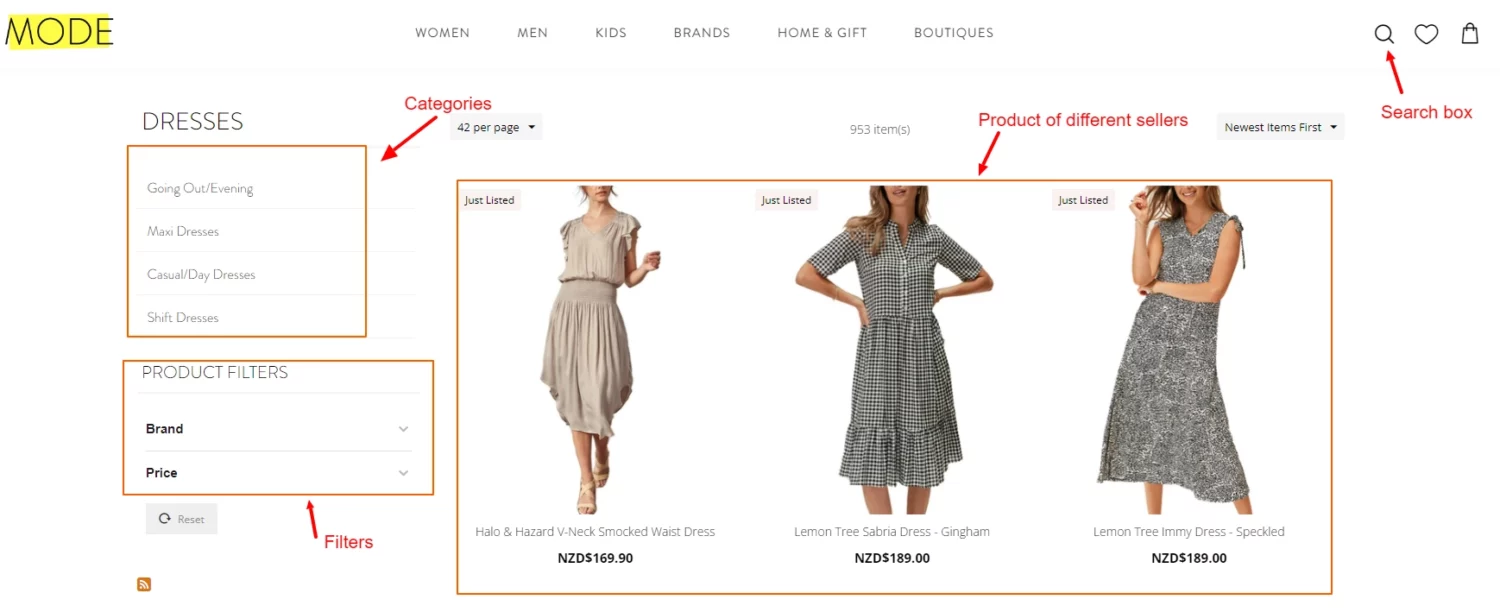 At the same time, each seller inside the marketplace has a separate mini-shop (seller's showcase) with its own logo, description, products, filters and internal search. The buyer will be able to enter the showcase of the seller he likes through the card of his product or through the main menu.
Let's see how vendors store looks on the MODE example: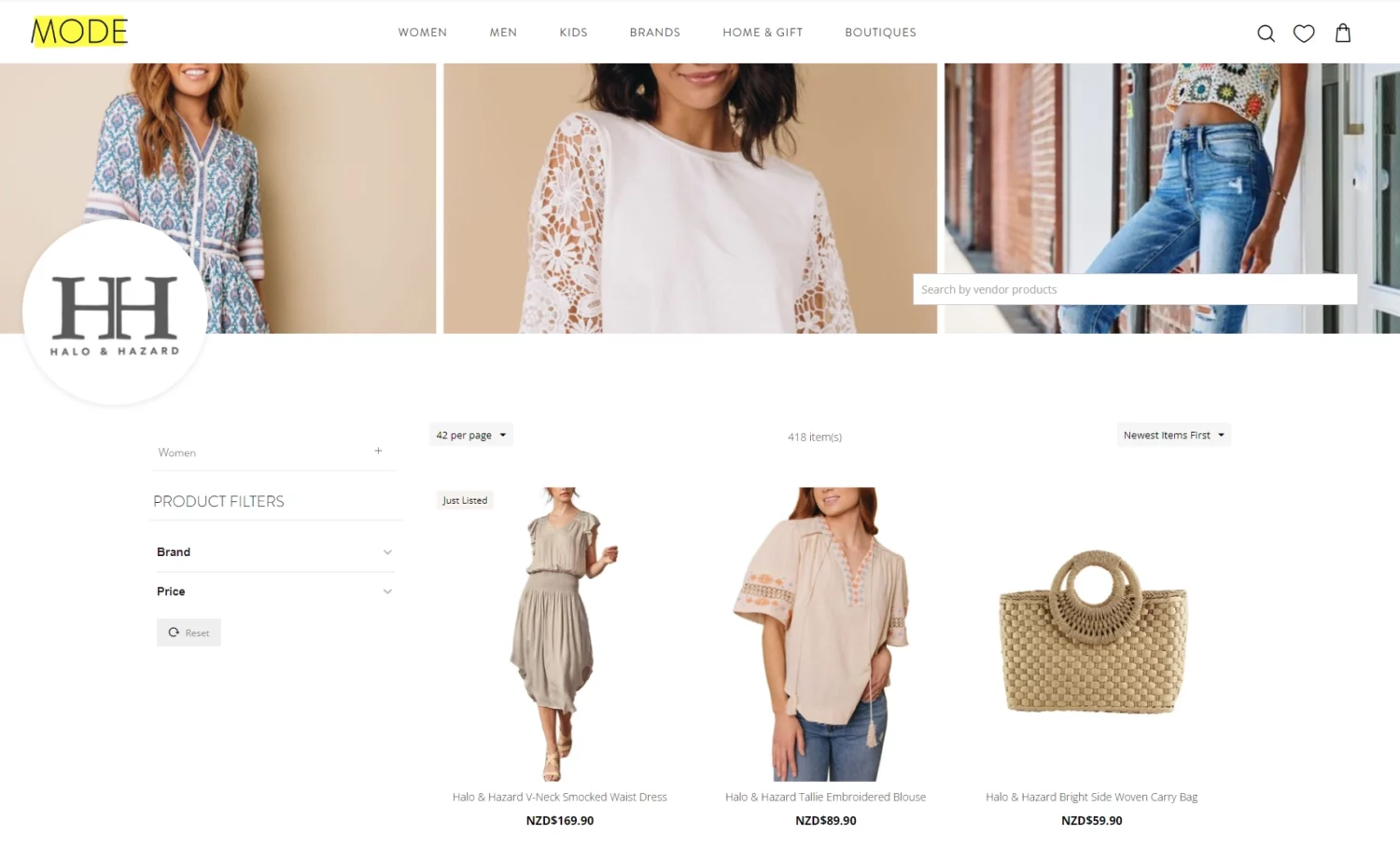 Sellers themselves will be engaged in order processing, delivery, communication with the buyer. On your part, you need to develop a marketplace, engage in promotion and advertising to attract customers.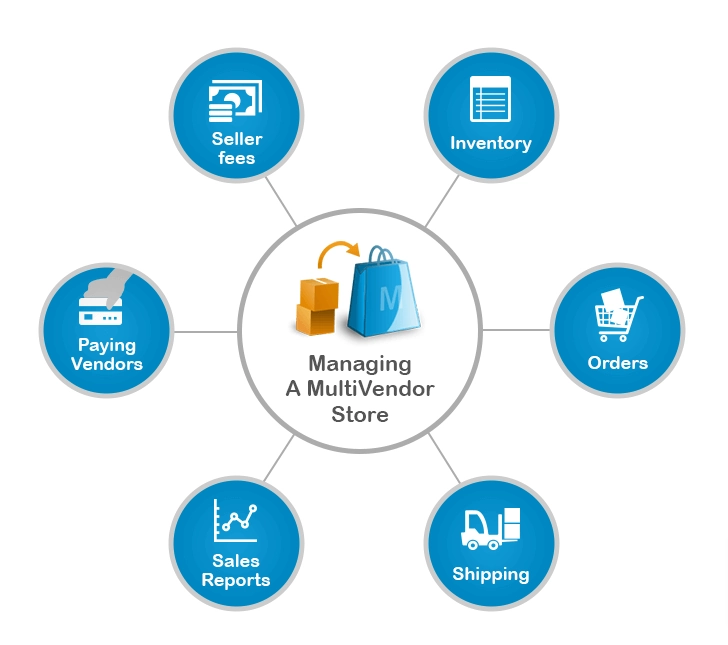 A simplified scheme of how CS-Cart works for marketplaces consists of six steps:
Sellers fill out an application form to join the marketplace.
The marketplace owner decides whether to approve or reject the application.
Sellers load their goods, indicate the terms of delivery.
The marketplace administrator checks the products, publishes or rejects them.
The buyer selects the goods in the window, places an order, pays for it.
The money is distributed between the seller and the marketplace depending on the chosen monetization model. You can do this manually or automatically. We will tell you more about this in the section "Management of financial flows". 
Why you will like CS-Cart for marketplaces?
It is convenient to distribute payments.
Managing cash flow manually requires a lot of your time and attention. The more orders and sellers you have, the more difficult it is to remember to whom and how much money you should transfer. In CS-Cart for marketplaces, you can automate payments to sellers. For overseas sellers, you can use PayPal for Marketplaces or Stripe Connect. For Russian – there are several modules, you can choose the most convenient scheme of work. 
It has the ability to automatically distribute money between the owner and sellers using Yandex.Checkout. So far, CS-Cart for marketplaces is the only marketplace solution in Russia integrated with Yandex.Checkout.
Merchant plans are easy to set up.
In the last article, we talked about different models of profit monetization. So, it is with the help of tariff plans in CS-Cart that you can set up a hybrid monetization model: for example, combine commissions from each order and a subscription fee for the right to place products on your marketplace.
There is another option for setting tariffs depending on the size of the seller's business. For example, for small businesses, you can set a tariff with a commission for each order, and offer large partners a tariff with a subscription fee for placing a catalog. That is, in CS-Cart for marketplaces, it is possible not only to create and configure tariff plans, but also to offer each seller the most convenient tariff for him.
The seller can get their own mini-shop with a unique design inside the marketplace.
In CS-Cart for marketplaces, sellers can not only display their products on a common showcase, but also organize their own mini-store, making it different from others. It fully works in the editions of CS-Cart for Plus marketplaces and CS-Cart for Ultimate marketplaces and depends on the seller's tariff plan. If the tariff allows, the seller will have access to the theme and layout editor: they will be able to change the logo, colors, fonts, background and arrangement of elements of their mini-store, even if its style differs from the general style of the marketplace. The ability to make the design of the store unique will attract more sellers. 
You can create an unlimited number of administrators and give them different levels of access.
You can be sure that, for example, a content manager or accountant will not "break" the marketplace with incorrect actions. With configured rights, each user will have access to only those elements that he can edit. In the versions of CS-Cart for marketplaces Plus and CS-Cart for marketplaces Ultimate, you can set up different levels of access rights, even for seller administrators.
Buyers and sellers can work directly with each other.
Visitors will be able to contact the seller directly through the product page. If it is possible to ask about the product directly from the seller and get a quick answer, visitors trust such a marketplace more and become more willing to become buyers. This is also a plus for you: you do not have to delve into the features of the posted goods and spend time advising visitors.
Import / export of goods can be automated.
Sellers can create products not only manually, but also upload them in bulk using a CSV or XML catalog. This will make it as easy as possible for sellers to manage goods. It will be easy and pleasant to work with the marketplace, which means it will become even more attractive for sellers to enter.
Detailed reports and statistics are available.
It is impossible to manage a marketplace without a convenient tool for data analysis. For the marketplace administrator, CS-Cart for marketplaces has Google Analytics integrated, interaction with Yandex.Metrica is supported, and a detailed sales report is automatically generated.
Each seller can create their own promotions.
Each seller will independently manage their promotions, which means they will receive a powerful marketing tool to stimulate sales. The more sales, the more attractive the platform for sellers and the greater the profit of the marketplace.
Promotions for sellers work in the editions of CS-Cart for Plus marketplaces and CS-Cart for Ultimate marketplaces, subject to separate ordering.
The buyer can place orders separately for sellers.
This is good in two cases:
Customers on the shopping cart page will see which of the items they have selected belong to which merchants. They will be able to choose whether to place an order with one seller and delay the purchase of other goods or pay all at once. 
If, for example, one of your merchants prefers to receive payments through Sberbank, and the second one prefers through Qiwi, then they will be able to create their preferred payment methods. If the buyer places an order separately, he will choose the payment method created by this seller, and if he orders all at once, he will choose one of the payment methods configured for the entire store.
In CS-Cart for marketplaces, this function can be enabled using the "Checkout by vendor" add-on. In the editions of CS-Cart for Plus marketplaces and CS-Cart for Ultimate marketplaces, separate checkout is included in the box, the add-on is not needed.
You can give sellers access to a single product catalog.
By default, each seller must add their own products to the site and fill in their description. To unify the filling of product cards and facilitate the work of sellers, CS-Cart for marketplaces has the "Common products for sellers" function. It allows sellers to select products from a general catalog. When setting them up, you will only need to specify the price, quantity, and delivery options. "Common Products for Vendors" adds a comparison table to the product card. If the product is available from several sellers, the buyer can choose the most advantageous offer without extra clicks. 
"Common Products for Vendors" is also convenient for standardized products. For example, you are a manufacturer of goods and you have distributors in different cities. You create your marketplace, upload a catalog of products, and distributors simply add them from the catalog to their showcase. Another example is when there are many stores with a similar assortment and identical articles on the marketplace. This is typical for electronics: goods are purchased at the same warehouses, sellers differ from each other only in prices and delivery terms. And since the sellers have the same products, it makes no sense for each of them to waste time and upload their own catalog.
"Common Products for Vendors" works in the editions of CS-Cart for Plus marketplaces and CS-Cart for Ultimate marketplaces.
You can set a different commission for different categories of goods.
Popular product categories (household chemicals, cleaning products, food, toys) have low margins. You can attract sellers who sell such products by setting a low commission on orders. And on categories with high margins, you can set up an increased commission and get more profit from them. This feature works in the editions of CS-Cart for Plus marketplaces and CS-Cart for Ultimate marketplaces.
You can change the seller control panel based on your needs.
Hide unnecessary interface elements from the seller panel (vendor panel), leaving only those that the seller often uses. For example, a seller of digital goods can disable shipping settings to avoid loading the panel with unnecessary items.
---
We have listed only the main useful features of CS-Cart for marketplaces. Even in the boxed version of the platform (without modifications) there are many more interesting features. You can learn more about them at a personal consultation with Cart-Power managers. 
Before moving on to the most interesting part – how to distribute profits – let's outline the main idea: CS-Cart for marketplaces has everything you need to launch your own marketplace as quickly and easily as possible and make a profit. 
Financial flow management
There are various ways to manage finances in CS-Cart for marketplaces. 
Accounting
By default, all money in CS-Cart for marketplaces first goes to the marketplace owner, after which he must transfer it to sellers in any convenient way. The "Accounting" page helps to track the balance of sellers and manage money.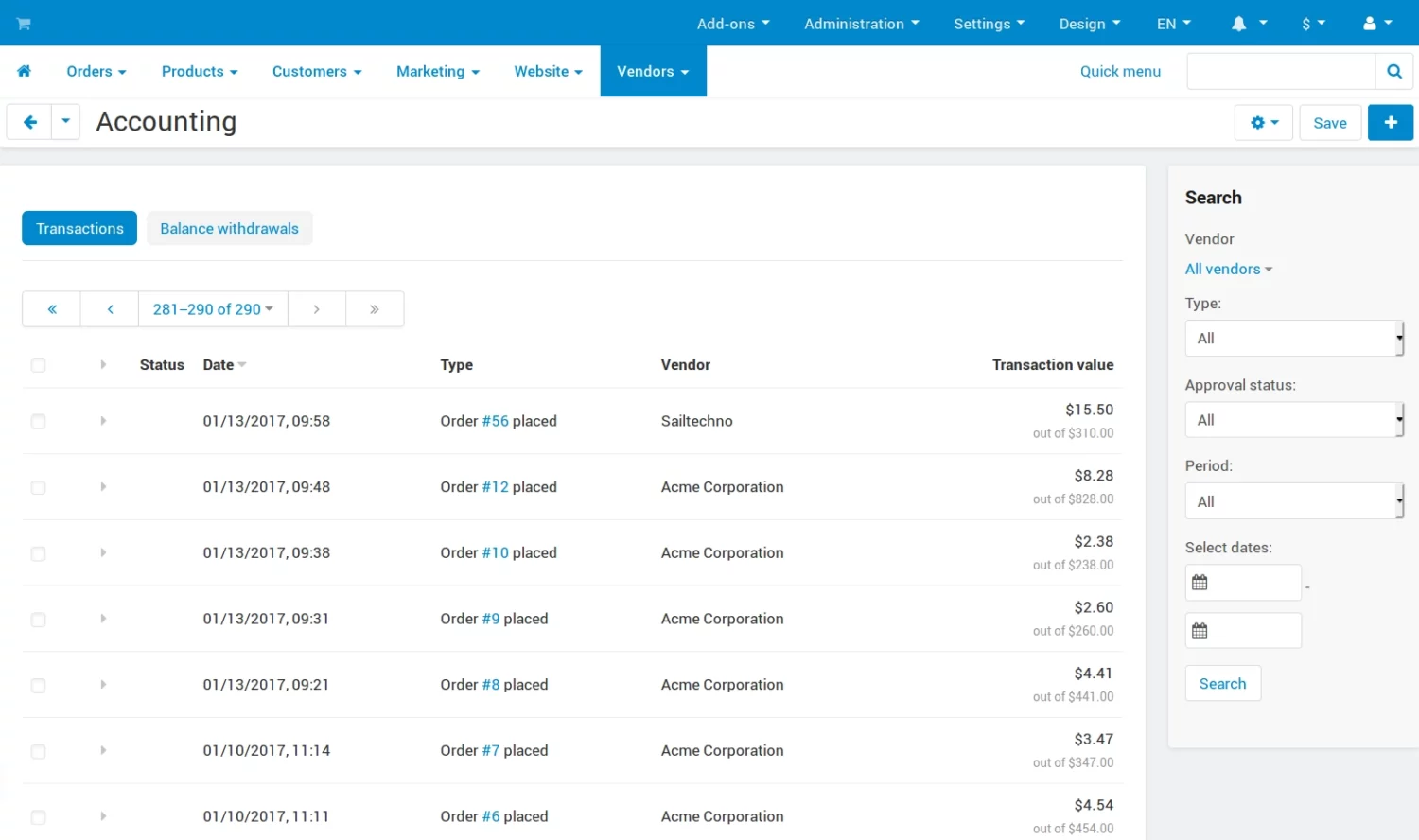 CS-Cart for marketplaces has standard add-ons with which you can more flexibly configure cash flow management. They are free and are already included in the boxed version of the platform: all that remains is to enable and configure the features you need. Let's take a closer look at these add-ons.
To set the size of the marketplace commission, you will need the Vendor Plans add-on.
Vendor Plans add-on
It allows you to set up a marketplace monetization scheme: for example, a monthly fee for sellers (a fixed payment once a month or a year) or a commission for each order (a flat rate in the marketplace currency or a percentage of the sale amount), or a hybrid model. 
Each tariff can be linked to certain categories (or storefronts in the CS-Cart edition for Ultimate marketplaces). This will allow the administrator to set a different commission for different categories of goods, depending on their marginality. 
By itself, the "Tariff Plans for Merchants" module does not automate the distribution of money. It simplifies accounting by automatically adding records of one-time and recurring payments, as well as commissions from orders.If you want to automate the distribution of money between sellers, then two more standard add-ons will help: Vendor Debt Payout and Direct Customer-to-Vendor Payments. 
Direct Customer-to-Vendor Payments add-on
Remember, we wrote that by default, all the money for orders goes to the marketplace, and from there it is distributed among the sellers? So this module offers another way to distribute finance from buyers: money for orders first goes to sellers. From the commission due to the marketplace, sellers' debts are formed, which they are obliged to repay. To insure against non-payment of debts, the add-on Vendor Debt Payout will help. If sellers do not pay, they will lose access to their vendor panel completely.
Vendor Debt Payout add-on
It allows you to automate the collection of debts from sellers. The seller pays the debt in the same way as the buyer pays for any order: you can use any payment method available on the marketplace. This add-on is convenient because you do not need to keep track of sellers' balances and remember which of them paid and who did not. If the seller does not pay, then he simply will not be able to use the vendor panel: manage the catalog, view orders, etc.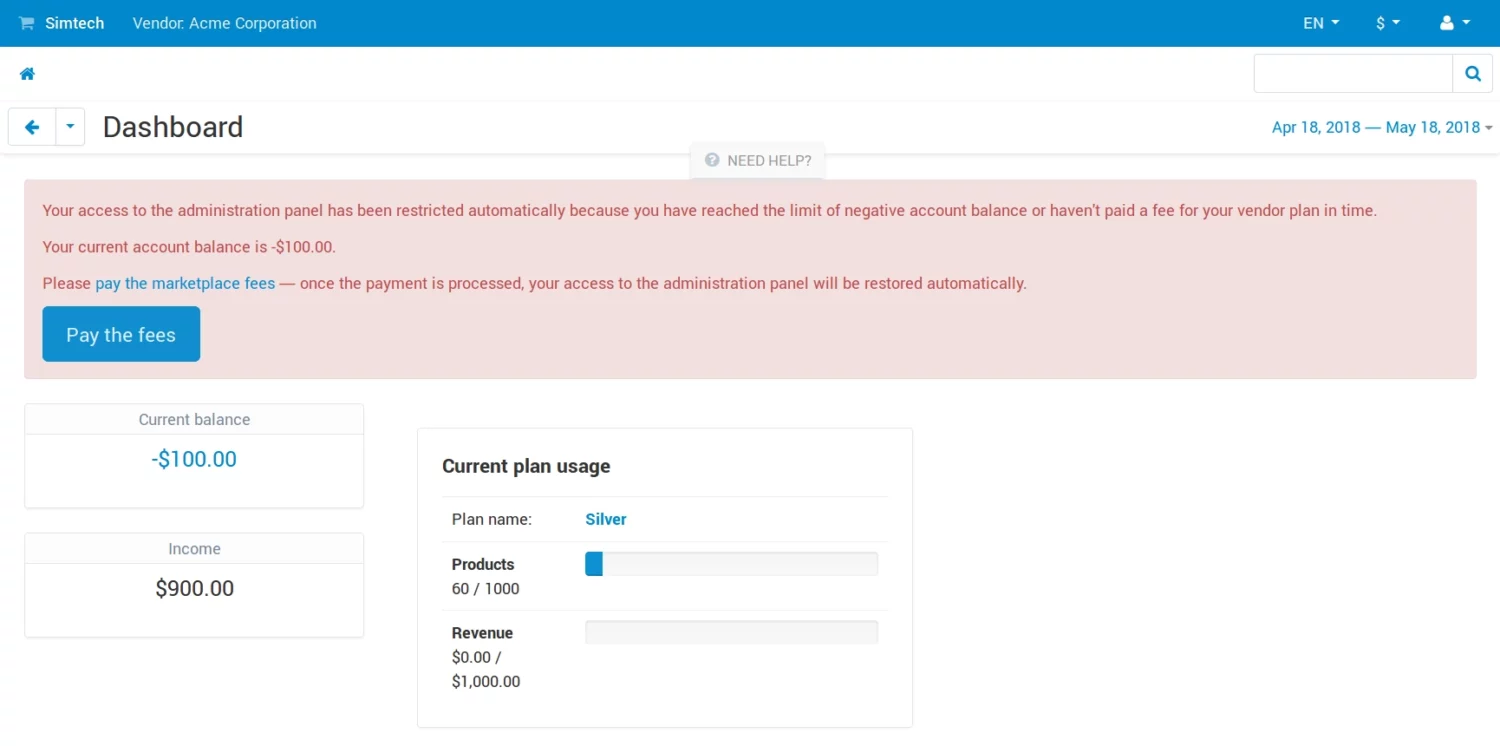 Payments directly to vendors work best with all the modules listed above: in this way, each module will have its own area of ​​responsibility, and you will get an automated and convenient cash flow management tool in the marketplace. Both you and the vendors are guaranteed to receive their money for orders.  
What else do you need to know about CS-Cart for marketplaces?
CS-Cart for marketplaces is a universal solution that will allow you to launch almost any online business. But there are a few limitations that are important to keep in mind.
The universality of the platform leads to the fact that improvements will be required to implement non-standard ideas, and unnecessary functions will have to be disabled. The situation is similar with external services. The boxed version of CS-Cart for marketplaces already includes integration with the most popular payment systems, delivery services, ERP and CRM systems. But if you use any external service that is not available in the standard CS-Cart, you will need to order custom development.
The next thing to keep in mind is hosting resources. At the start of a project, you may not feel any restrictions. But with the growth of the marketplace (when there are thousands of sellers and tens of thousands of products on the site), you will need more hosting resources and will have to optimize the speed of the site so that it does not freeze and lose customers. 
You must understand the work of the marketplace, have a development plan and clear requirements for the project. You should define the rules for monetization and interaction with sellers in advance. If necessary, we will help you formulate this at the stage of pre-project analytics.  
Examples of marketplaces that we launched on CS-Cart for marketplaces
GOWHOLESALE
The marketplace presents products and operates on a business-to-business model, where vendors are manufacturers and wholesalers, and buyers are retail companies and resellers.
The site presents more than 300K products of a wide range. See case.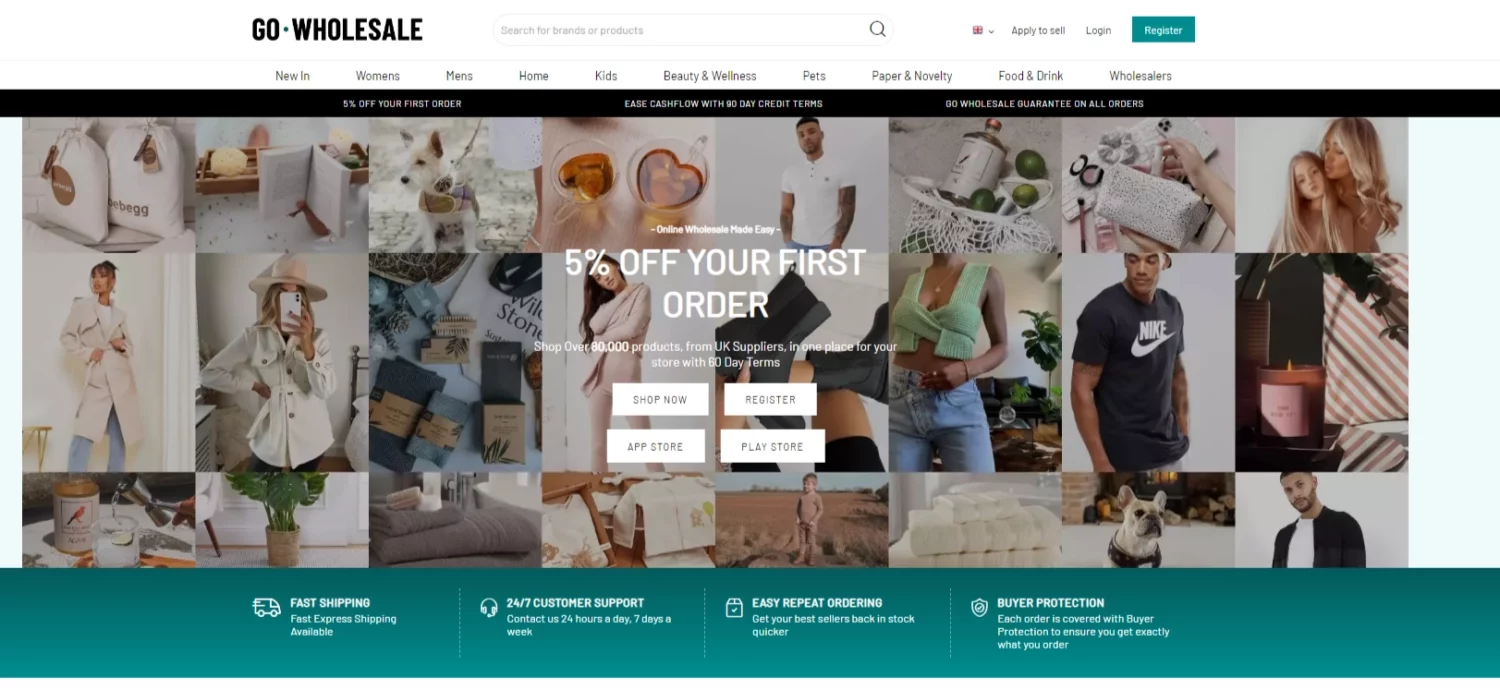 ---
Krasnostop
A marketplace with a system for booking and paying for orders, which takes into account both the specifics of the wine market and the legislation of the Russian Federation. See case.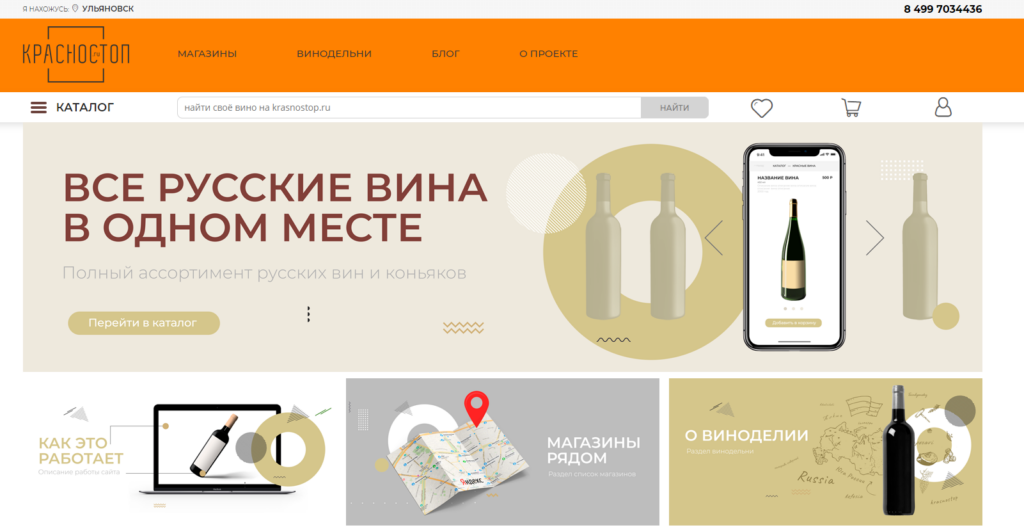 ---
Avocado
Belarusian marketplace for the sale of consumer goods: environmental friendliness of goods and ease of sales management. See case.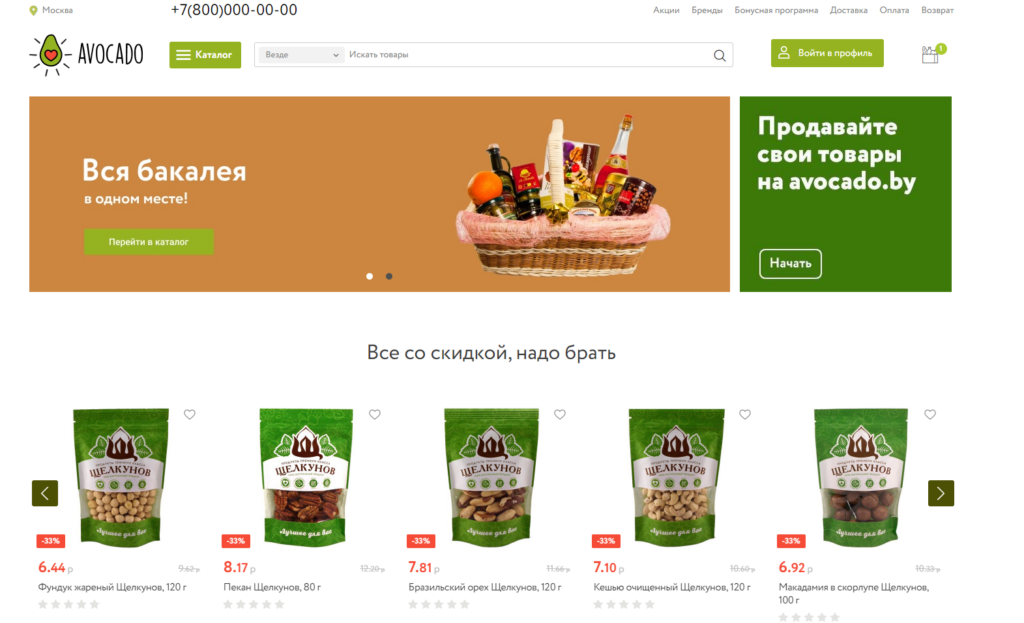 The CS-Cart platform for marketplaces is used by 1300 marketplaces around the world. Do you want the same? Leave a request, we will call you back, clarify the details of the project and offer a suitable solution. We have been developing marketplaces and online stores on the CS-Cart for 10 years, so we know how to make the project bring you maximum profit.
Do you have an idea? We have a solution!
Start your business with Cart-Power
Subscribe to stay up-to-date!
I want to be notified about ecommerce events.
Subscribe to stay up-to-date!
I want to be notified about ecommerce events.