E-commerce is a big part of our daily life today. Every year new services, shops, platforms and marketplaces appear that save us time and make life easier. When creating a new product, one of the main issues for business owners is the choice of an IT solution on which to implement the idea. If you are about to launch your website, then this article is just for you. Here we will tell you how to make a choice between custom development and a ready-made solution.
Do you have an idea? We have a solution!
We'll provide a free consultation on your online project
To manage the site, you need a system, or rather, a content management system (CMS). With its help, you create a website without programming skills. It allows you to add, change images, text, graphics (content) on the site.
CMSs make layout easier because page creation is done through blocks.
Thanks to intuitive editors, it is easy to manage and use.
It's easy to work with code. Most of the methods and functions are written by CMS developers.
CMS can be template or professional, free, shareware and paid, open-source or closed system. All ready-made solutions, platforms are about CMS. Let's take a closer look at what options there are for creating a website on a CMS.
Website builders contain everything you need: block design for pages, their location, fonts. You have the ability to add and change their location as you wish. Most often, designers offer ready-made templates for websites for various niches.
In order to create a website on the constructor, you do not even need to download and install anything. It's a software as a service (SaaS) and in most cases, this is a cloud solution. You control the content and appearance of the site, and the developer or distributor of the finished solution is responsible for the server part.
Examples of popular cloud builders: WIx, Tilda, Shopify, BigCommerce.
In most cases, payment occurs for each month of use. Website creation subscription plans start at $8 per month. You can use the free version, but the functionality will be significantly limited.
If you need a site with a small number of pages. For example, an online store with a small catalog of goods, a business card site, a one-page landing page for announcing and registering for an event.
The out-of-the-box solutions also contain everything you need to create a website: templates for creating and designing pages, the necessary functional add-ons for connecting payment methods, delivery. But for this you need to download a license, install, connect and configure the site. But unlike SaaS solution, out-of-the-box solutions is fully managed. It can be paid and free, with advanced functionality and with minimal functionality for creating simple websites, online stores.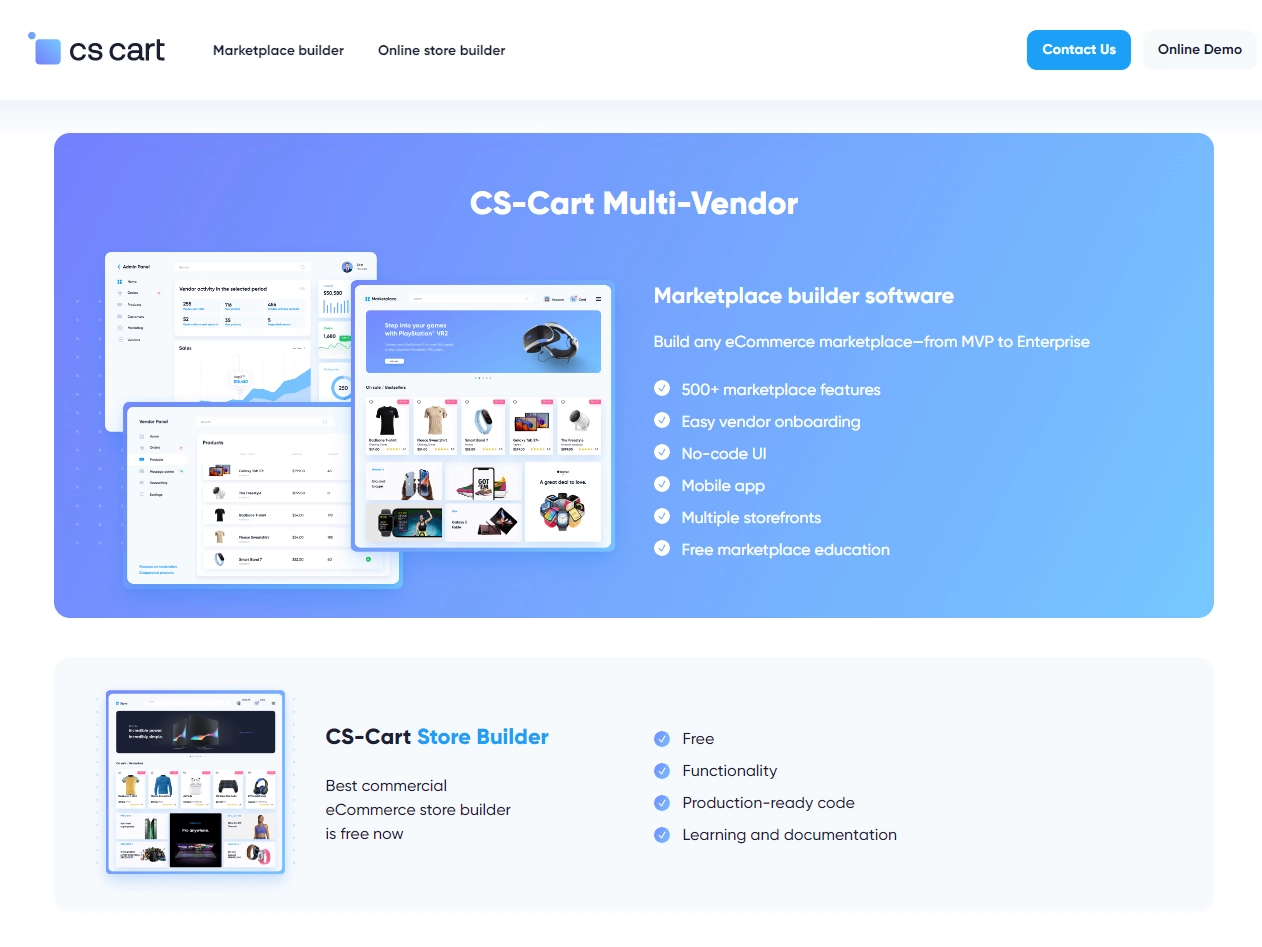 Examples of ready-made popular CMS: WordPress, CS-Cart, Magento, Bitrix.
At the same time, for most ready-made solutions, many extensions are available in the form of additional functionality add-ons. For example, for a website on CS-Cart, you can find more than 2,000 add-ons that will allow you to integrate your website with various systems, complement marketing tools, analytics, expand the functionality for creating content, site administration, and much more.
The cost of a license for a turnkey solution varies greatly. It depends on the goals and functionality that you need to create on the site. Many popular CMS provide free solutions, but most likely you will have to invest in add-ons, plugins in order to further expand your business. Their prices start at $10.
The CMS license can be sold by subscription or as a lifetime.
On ready-made solutions, you can create almost any website: from a corporate portal to a marketplace. It is necessary to pay attention to the functionality that is offered in the box, the speed of work, the availability of technical support.
What is Custom Development
Custom development is an approach through which you can either completely create a product from scratch or modify something on a finished CMS.
Unlike ready-made solutions, individual development allows you to create a unique product that fully meets the needs of your business. As a result, the client receives a website that meets the requirements as much as possible, which competitors do not have.
You can order individual development for any functionality for which you are willing to pay.
In this case, the system is developed from scratch for the client's tasks. Amazon, eBay, VKontakte are made on completely self-written CMS. Most often they are ordered by large businesses for non-standard tasks or large systems that combine several services, products into one brand. For example, the VKontakte network has long ceased to be just a social network. Now on this platform you can create podcasts, host applications, make calls, sell goods, NFTs, and much more.
Self-written CMS are created by programmers from scratch in any programming language (PHP, Node.js, Java and others) or framework (Laravel, Yii, Symfony2 and others), which has a certain set of ready-made code to save time.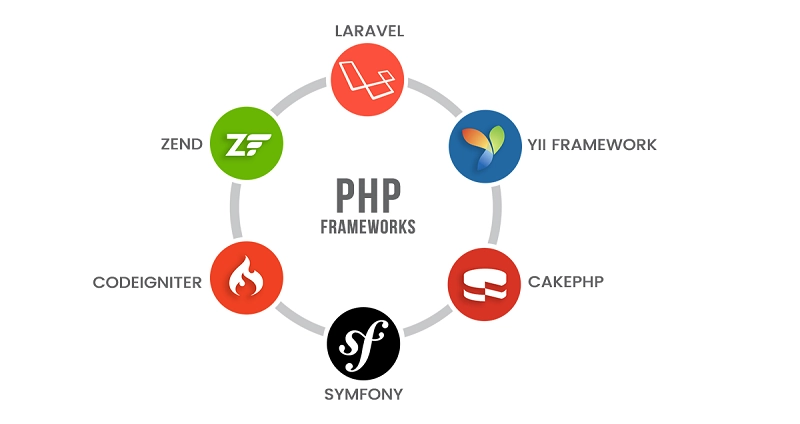 The main advantage is that businesses pay for the development of only the functionality that they need.
And this is the main problem of self-written CMS. For any additional functionality, whether it's an additional checkmark in the product card or sending the product to the cart, you need to create a code from scratch. There are no additional add-ons or plugins either. Therefore, self-written CMS is considered the most expensive development method.
This approach to website development is suitable for large businesses, but, in addition, the idea must be proven and mature. For example, the creation of an internal corporate portal with many integrations, a complex site with a system of services, a non-standard large marketplace.
Custom Development on a Ready-Made CMS Platform
In this case, you purchase a license for the platform you need and, on its basis, refine the functionality that is necessary to achieve business goals.
The advantage of custom development on a ready-made platform is that it offers solutions tailored to the specific needs of each client. At the same time, you pay for the development of not all functionality, but only the missing part of it.
Custom solutions help you scale quickly and provide flexibility, allowing businesses to easily adapt to changing market conditions. Overall, it provides a strategic approach to technology that helps you stay ahead of the competition.
The price will include the price for the platform, the services of developers, QA-specialists for the implementation of individual functionality. At the same time, backend developers can be found on the freelance exchange, and their cost will start from $10 per hour of development. Or contact the partner agency of the selected CMS. In this case, the cost of an hour of specialists will be higher. But at the same time, the quality of development will also be better.
When the default functionality of the platform is not enough and the required add-on or plugin is not available. For example, creating a website with a full-fledged internal CRM system, integration with new services on the market.
Pros and Cons of Ready-Made Solutions and Custom Developments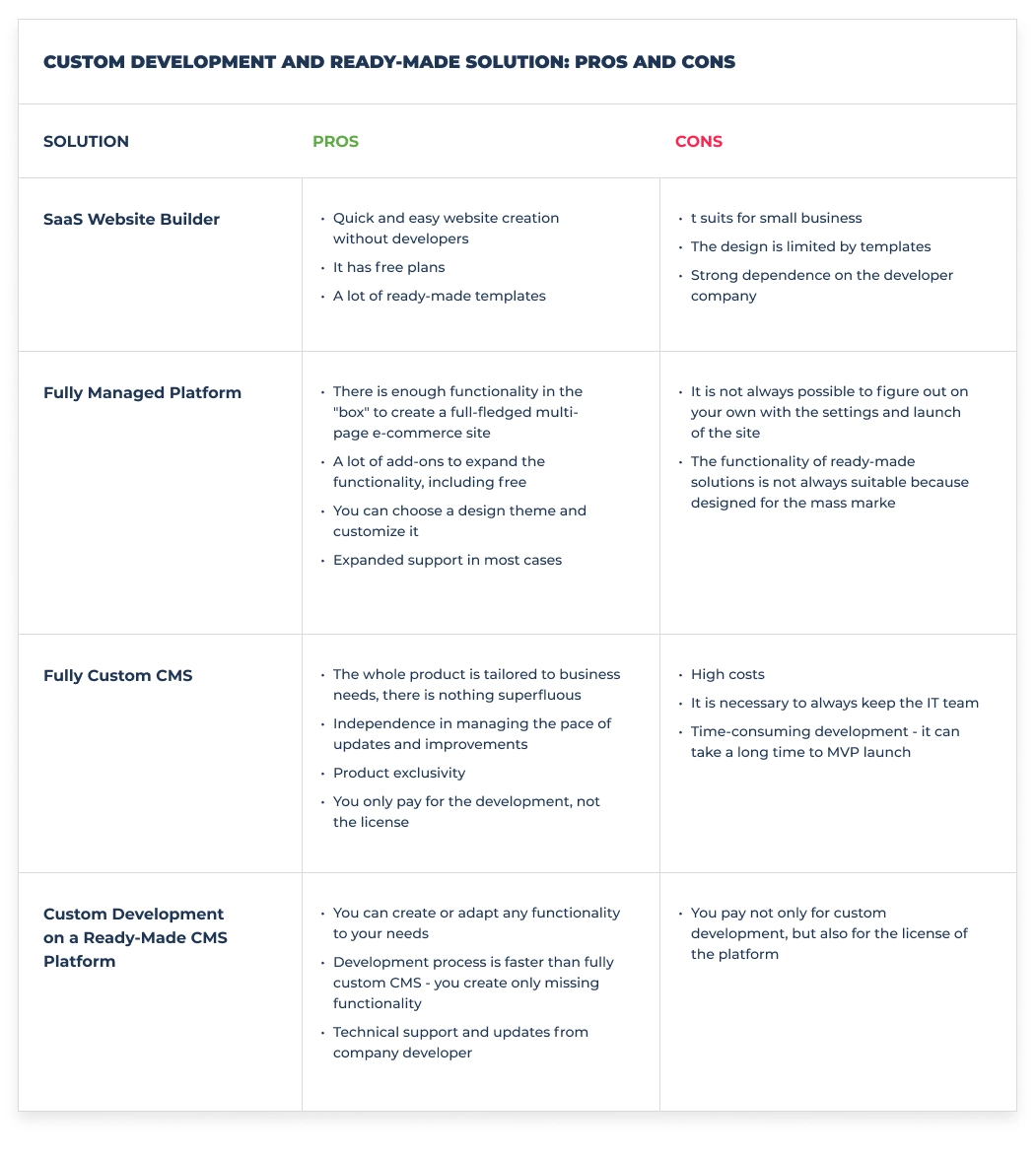 How Do You Decide Which is Right for You?
When choosing between custom development or a ready-made solution, you should rely on goals and business requirements. Many ready-made platforms are already tailored for the creation of certain sites. For example, an e-commerce site will be easier to open on the CS-Cart platform, since even its basic functionality contains the necessary functions for quickly launching ecommerce projects.
If your project requires specific functions, then custom development will be the only solution. It will allow you to create a unique product that meets the modern requirements of a business niche and audience.
But this approach can end up being both time-consuming and costly.
In order to make the right choice, it is necessary to evaluate the following factors:
Goals and objectives. The simpler and more standard the tasks that an online business has to solve, the simpler the solution should be. For an online store with a small number of products, a simple constructor may be suitable. And for a site that combines different services and sellers, you should carefully choose a platform or evaluate the development of a custom CMS.
Timing. If time is strictly limited, then self-written products will definitely not work. For a quick start, you can turn to designers or ready-made platforms.
Budget. Ready-made solutions are usually cheaper than custom development, since they are already created and do not require development time. However, a custom solution can be more cost-effective in the long run, as it adapts to specific needs and can be infinitely scalable.
Scaling. If you think that your business will grow and the needs of the site will change, then the best option is a platform suitable for custom development or full custom.
Questions to Help You Choose a Right IT Solution
How confident are you in your business idea? Do you need to test the idea first and collect data on a cheap solution?
How much will the business change in the next year or two? Do you plan to increase turnover, expand goods and services, etc.?
How much are you willing to invest in an e-commerce solution today? How much per year?
When do you plan to launch the site?
How important is UX and store design to you?
What products/services will you sell/offer? Can you sell them online? Are they physical or digital?
How wide a range of products and services do you want to offer and how do they differ (for example, color, size, etc.) to determine the need for system flexibility?
Do you plan to offer product bundles, related products, or any other additional features?
How will goods/services be loaded: manually or automated? Do you need automation with accounting systems?
What is the expected volume of orders? Do you plan to process orders yourself? Are they manually controlled or do they need to be automated?
What payment solutions do you want to use (bank links, credit cards, commission, installments, PayPal, etc.)?
What delivery options are needed?
What marketing solutions need to be involved? (newsletter, social media support, promotions, coupons and discounts, various announcements and much more)
Will there be partners/vendors on the site? Is there a separate section for partners with specific pricing and features?
How will settlements with partners take place?
The choice in favor of one or another solution depends on the tasks that need to be solved. Each option has its own advantages and disadvantages. At the same time, your development strategy for creating an e-commerce site can consist of several stages:
1. Quick start on a free online builder to test a hypothesis.
2. Creation of a full-fledged site on a ready-made solution.
3. Custom development works for individual tasks.
To make the right choice, our experts will help you figure out the most suitable solution and provide a free consultation. We will evaluate, determine the time and scope of work to create the perfect site.
Do you have an idea? We have a solution!
We'll provide a free consultation on your online project
Subscribe to stay up-to-date!
I want to be notified about ecommerce events.
Subscribe to stay up-to-date!
I want to be notified about ecommerce events.