The opportunity to rent not only apartments, but also cars, is becoming an urgent request not only among residents of large cities. In the current economic situation, renting a car is more profitable than buying, especially if the car is rarely used. Let's find out how the car rental site works and what kind of audience you should count on.
The main difference between a car sharing service and a car rental is that the rental implies use for a long period, sometimes even for months. While carsharing is a short-term rental. This is the per-minute use of the car, usually for short trips within the same city.
Car rental assumes that there are certain offices that you need to contact in order to issue a car. And you can leave the car not in any place for parking, but at the rental office.
The car sharing infrastructure is wider, the car can be picked up or left at any place allowed for parking.
Car sharing involves making a trip entirely through a mobile application. You just download the application, select an available car on the map and fill in the required fields in the order form.
Not all rental services can offer mobile design.
Do you have an idea? We have a solution!
We design online booking and rental marketplace
As a result, we can conclude that carsharing is an independent project that has grown out of a car rental service. We have reflected the main differences in the table.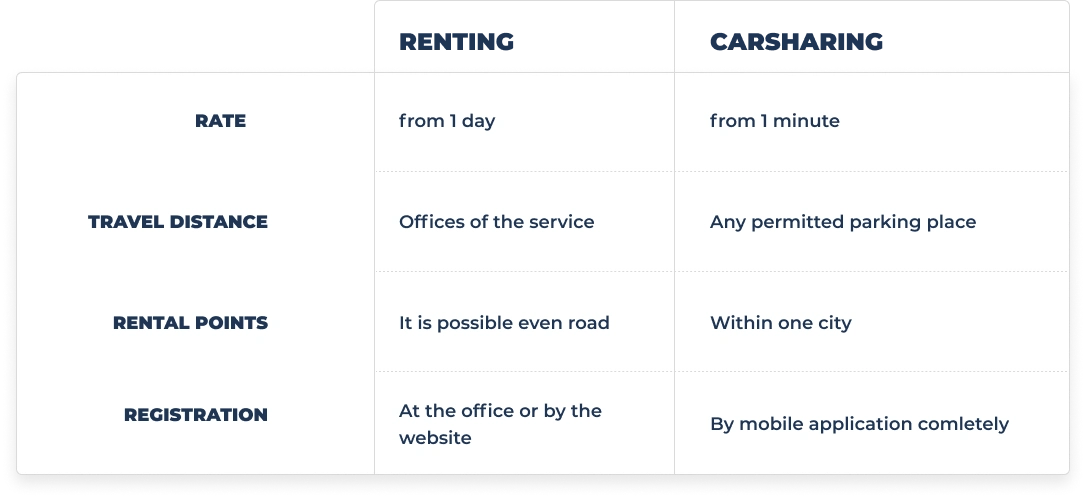 Who uses car rental services?
The volume of the Russian carsharing market has increased and by the end of 2021 is 68 billion rubles. The largest projects are still concentrated in the central cities: Moscow, St. Petersburg, but the popularity and coverage of cities is gradually growing.

What motivates people to use car rental services?

Cheaper than your car. Undoubtedly, the main incentive is the price. If buying your own car is expensive, then renting a car for short trips is an alternative to public transport. In addition, many companies use carsharing services to serve their customers.
Development of domestic tourism. Until the time of Covid, it was common for many to rent a car and explore a foreign country. Such an active way of traveling made it possible to independently plan a trip and visit the most interesting places that could not be reached by public transport. 
An opportunity to try something new. The car fleet can be very diverse, and this is an occasion to test a certain brand before buying, use the services of a "smart" car, or find special vehicles for special occasions: weddings, photo shoots, etc.
According to the Russian Academy of Transport, car rental services are most often used by men aged 25-34, residents of megacities, with driving experience. Most have their own car. Every tenth driver uses carsharing services once a week. Most activity of trips on carsharing falls on the weekend.
If we segment the target audience in detail, we will get several groups of potential customers:
middle-class residents use cars for short trips as an alternative to taxis or their own transport;
tourists, for independent travel planning – rent for several days and the ability to take and leave a car in different places;
corporate clients, companies, taxi services that need their own fleet of vehicles for employees;
young people from 25 to 35 who are looking for an exclusive for a short time, diversity and uniqueness are important to them.
Pros and cons of car rental service
The undoubted advantages of a car rental business are:
The demand for services continues to grow. In small towns there is no competition at all. And even in megacities, each operator has its drawbacks, which can become your competitive advantage.
Affiliate network instead of buying cars. To start a business, it is not necessary to purchase a fleet of cars in order to provide a service. You can follow the path of foreign companies by developing a partner network, and thereby expand the geography of coverage.
Investments from the state. According to statistics, one car sharing car can replace 10 personal cars, which means less traffic and traffic jams. Therefore, the authorities are interested and develop programs of benefits, subsidies, etc.
Taxi competition. As the users of carsharing cars themselves note, during peak hours it is much faster to use car rental services, moreover, you always know the exact price.
Among the shortcomings can be noted:
Volume investments in case of purchase of cars. If you buy cars for service, then do not forget about the cost of repairs, maintenance, washing.
Low awareness of the service. This is especially true for small towns. The lack of awareness is followed by the risks of a weak consumer culture, and these are: vandalism, accidents, hijacking, hacking of work applications.
Examples of car booking sites
Consider what popular services for booking and car rental offer.
Aggregator Rentalcars, which brings together large car rental companies. A wide coverage network includes about 6,000 cities around the world, with various rental points: airports, railway stations, city centers.
For customers, there is technical support in 40 languages. For partner companies – the ability to independently set rental rules. For example, one vendor may offer rental without a deposit, another may require additional documents, and a third may establish mandatory conditions for insurance.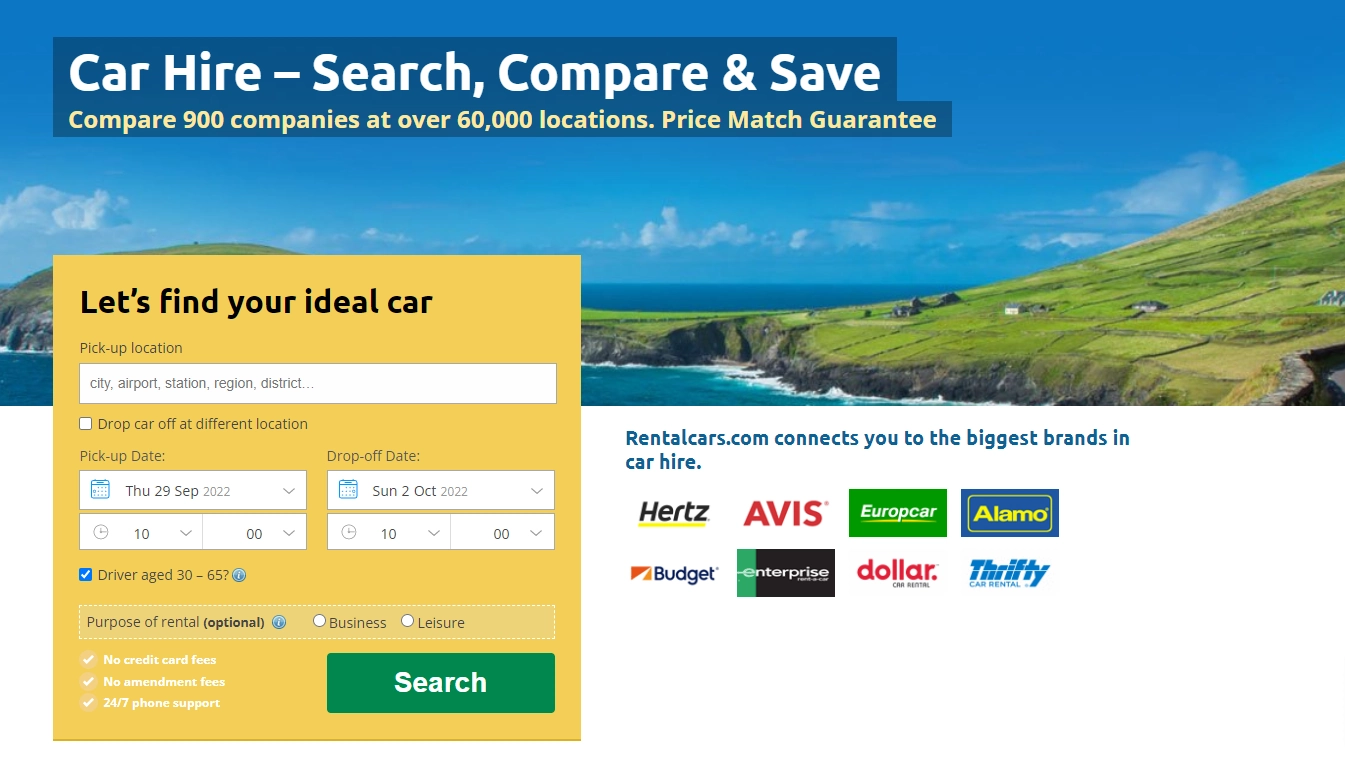 It also unites rental vendors. The site has been operating since 2008 and offers services in 130 countries around the world. Due to the fact that they work with local and small companies, the client can find a suitable price for his request.
To make a reservation, you must specify: dates, make of car and place of booking.

The site has some features:
if you rent a car in one place and rent it in another, the price will be more expensive;
if the age of the driver is less than 25 years, not all companies can rent a car;
the terms of the contract may include: a mandatory type of card (debit or credit) with which you can receive the service;
the amount of gasoline with which you need to return the car.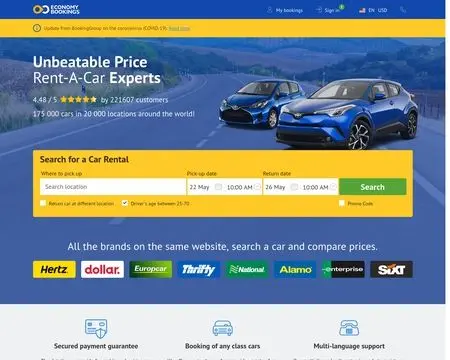 Popular broker with 15 years of experience. The company has more than 1500 partners and is constantly expanding its network around the world.
With a customer focus, Economycarrentals provides:
zero deductible insurance. This means that in case of an accident for any amount, this is an insured event;
if plans have changed, cancellation of the reservation will cost 2 euros;
in many cases, the "co-driver" option is provided free of charge.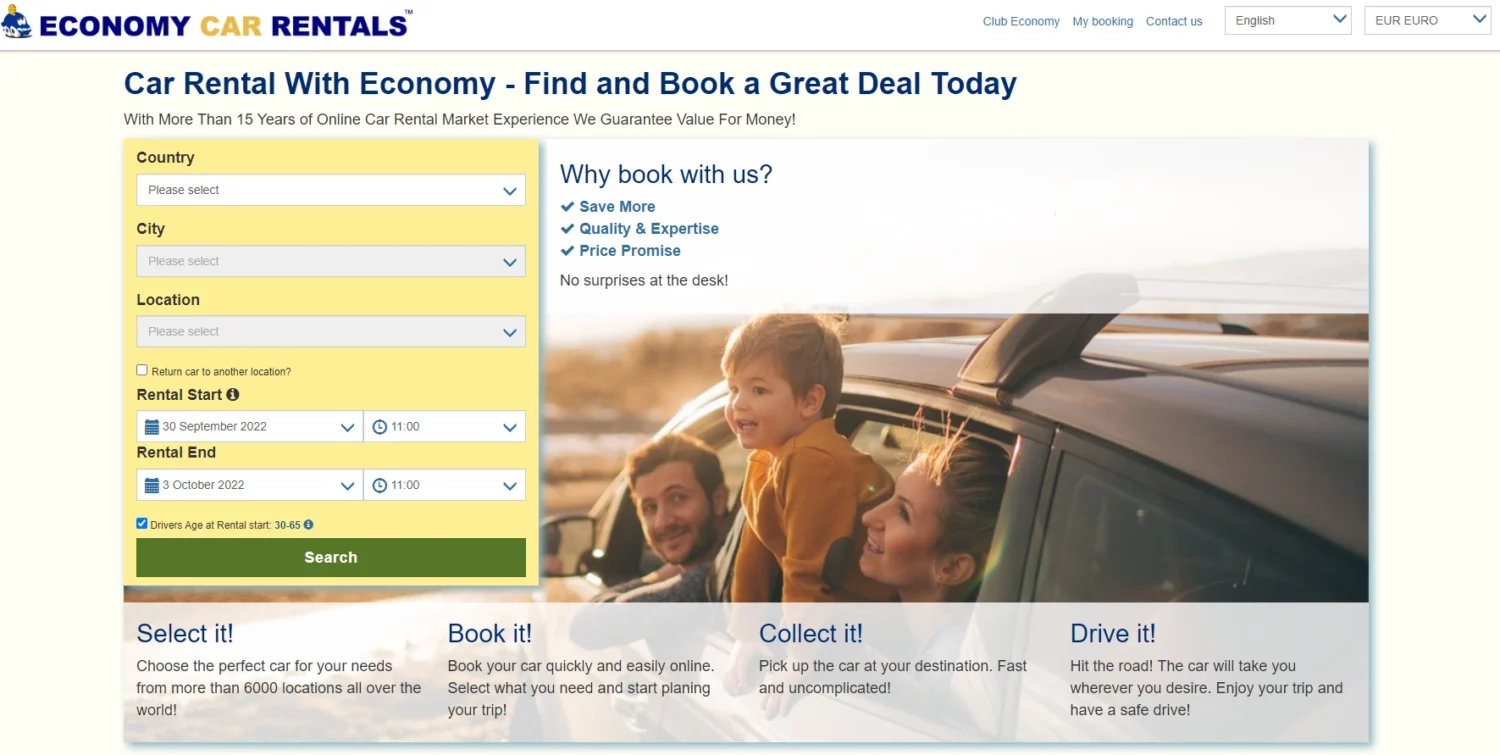 Large Russian car sharing, has more than 17,000 cars in 10 cities of Russia. All order management is carried out through a mobile application, and you can find an available car on an interactive map.
The service provides per-minute rental payments, which is very convenient in big cities for short trips when a car is not needed for the whole day.
Different tariffs are available for customers, depending on the day and time of day. And how on public transport you can buy a "Travel Card" for several hours or days. In this case, the cost of one minute is fixed.
The company plans to expand the network of partners and provide cargo car sharing services.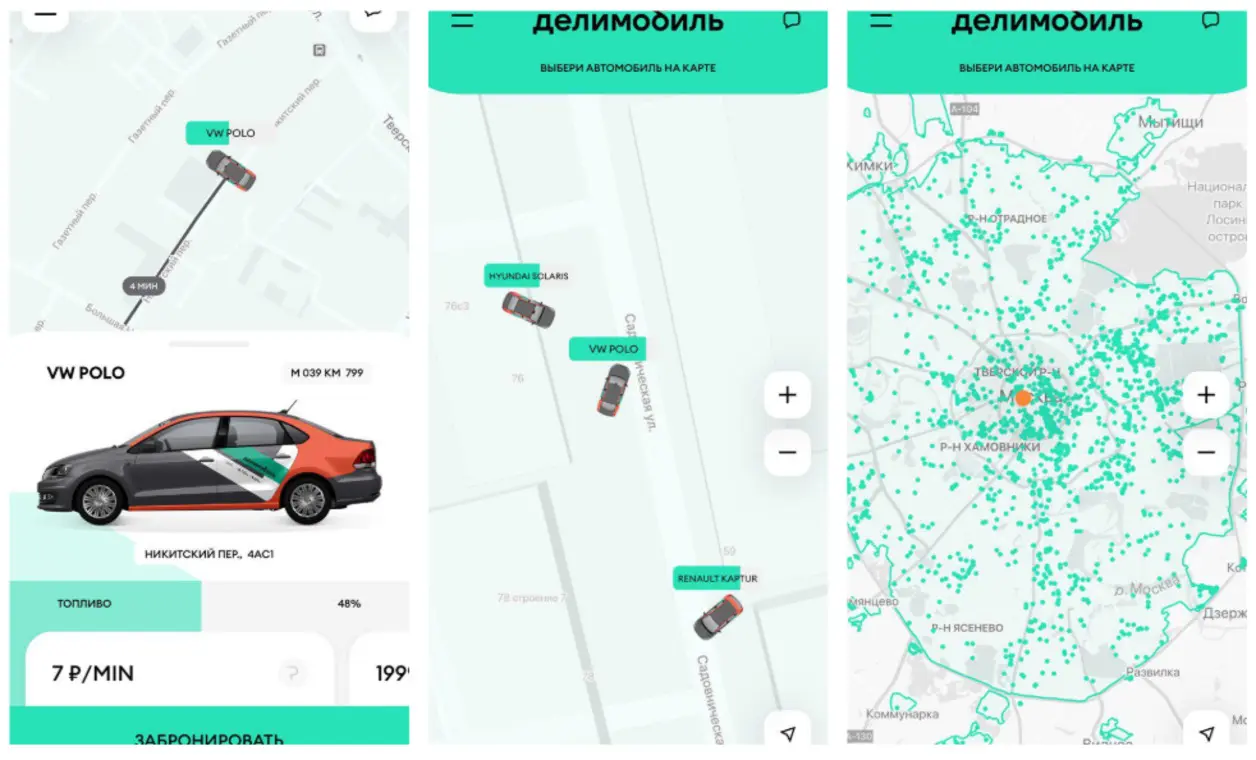 The service is very similar to Delimobil – services are also provided through a mobile application, with an interactive map and per-minute billing.

Main differences:
carsharing operates in the cities: Moscow, St. Petersburg, Sochi;
customer loyalty program includes: discounts for the first trip, cashbacks and payment with bonuses, multi-level status for regular customers;
affiliate program with VK, Halva.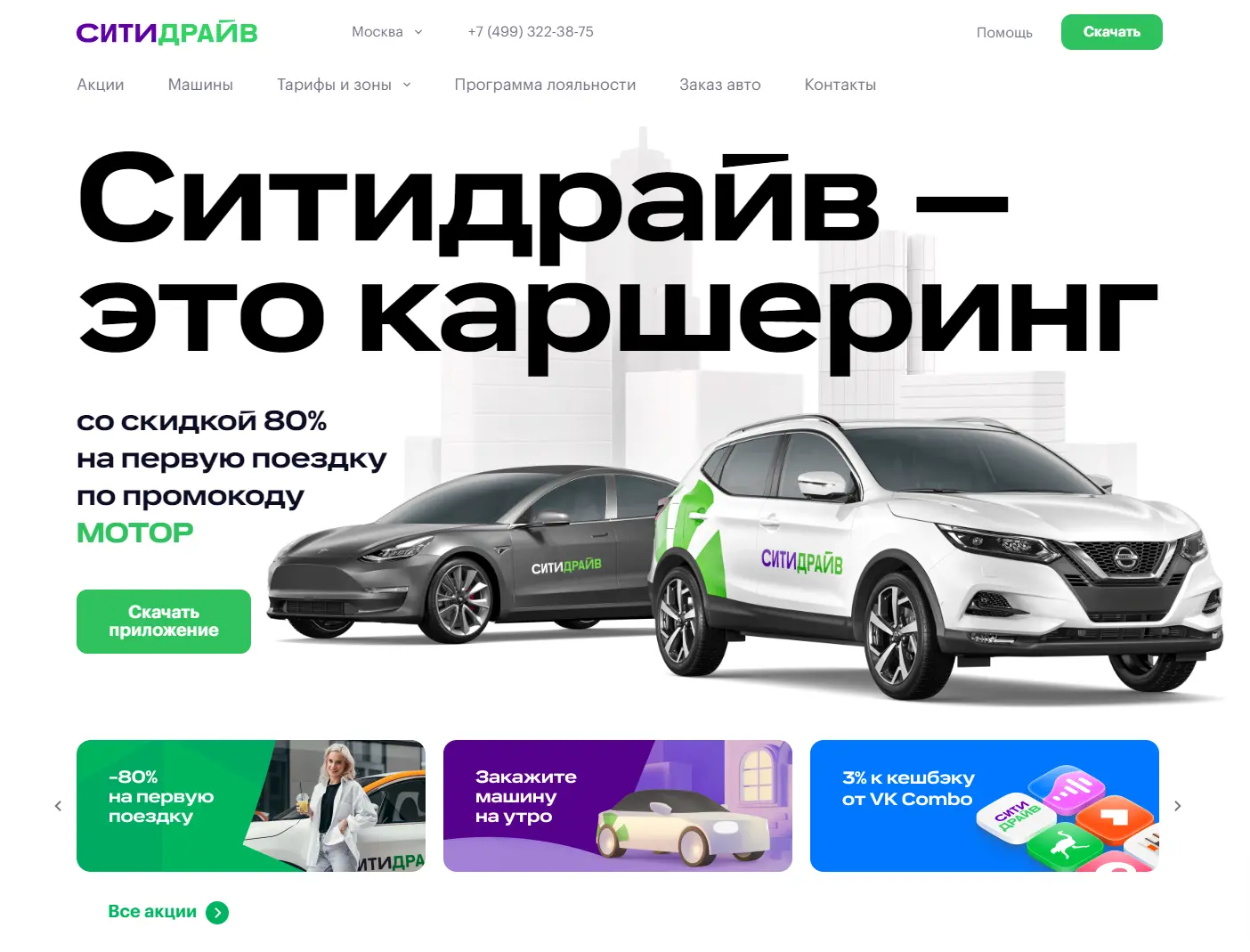 Website structure on the example of ComfortCar rental service
The ComfortCar car rental service has grown into a business in 12 years with a fleet of more than 500 cars in 8 cities in Poland. In order to provide a full-fledged rental service, we have worked out the structure of the site, main sections and features. We united all cities on one CS-Cart Multi-Vendor site, developed the booking functionality from scratch, and as a result received a full-fledged online rental service.
The main blocks of the rental service:
The main task of the main menu is to reflect and make available all the important information for the client on the main page.
It represents:
Selecting a branch for rent. Here are the cities where you can rent a car. One of the important advantages is that ComfortCar does not limit the route to one city. You can rent a car in one place and rent it in another, or even go abroad.
The choice of cars by category. Depending on the segment of the target audience, 8 categories of cars are available for selection from economy options to luxury brands.
Useful information. It contains all the necessary information about the rental conditions, promotions and discounts, useful tips and, of course, information about the company.

In the catalog, the view of all machines can be configured by a list or a tile. In all cases, the necessary filters by price and gearbox will be available.
The most necessary fields for selection have been created in the car card: the place and date of receipt and return, whether a foreign trip is planned. Anything that affects the final cost.

Moreover, to promote the service, we added reviews and ratings about the car. But as you can see from experience, many customers leave feedback on the service itself.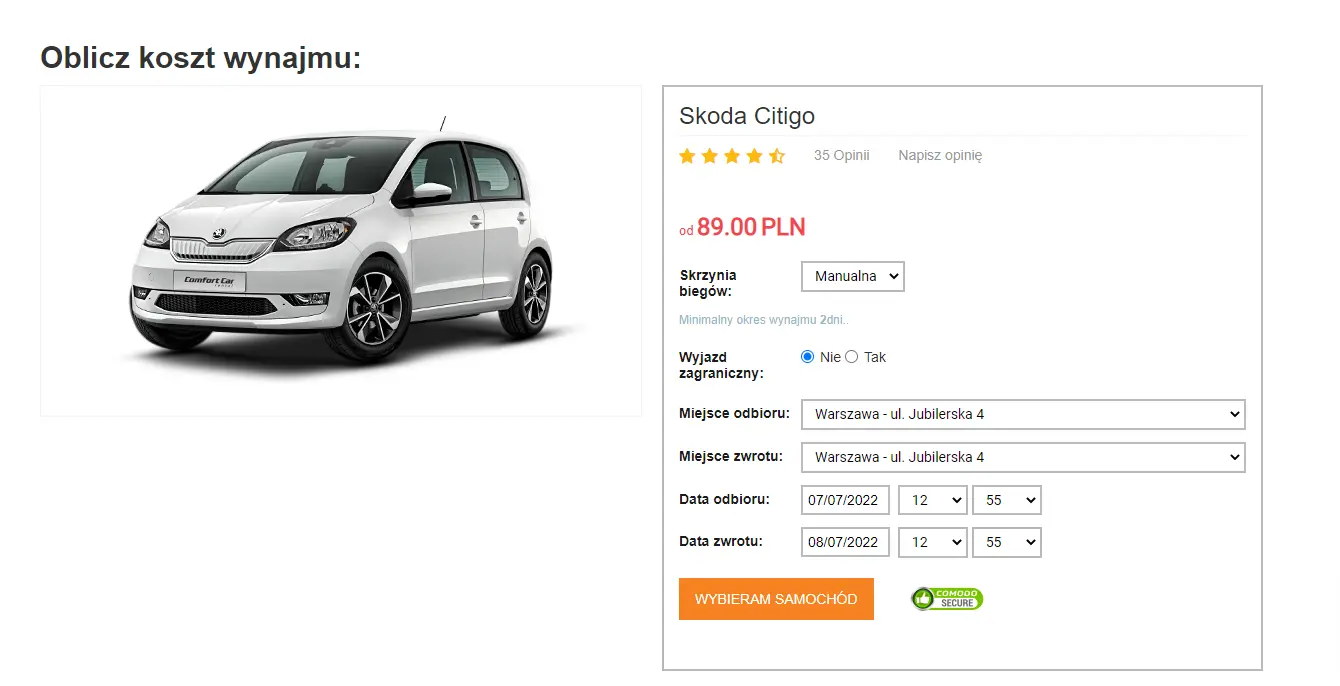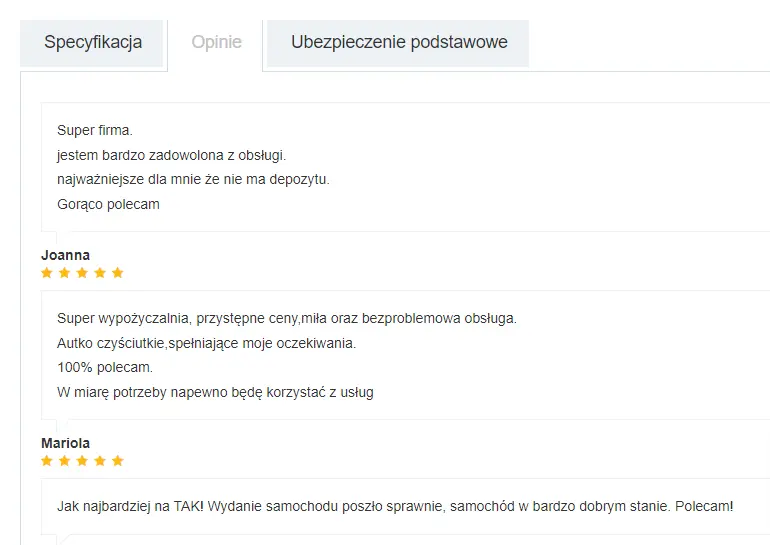 In the users account, you can check the information about the booking, if necessary, cancel the booking. The client can use the service of delivering the car to the desired location. For example, you arrive at a certain airport, and a rental car will be waiting for you at a certain time, in the right place.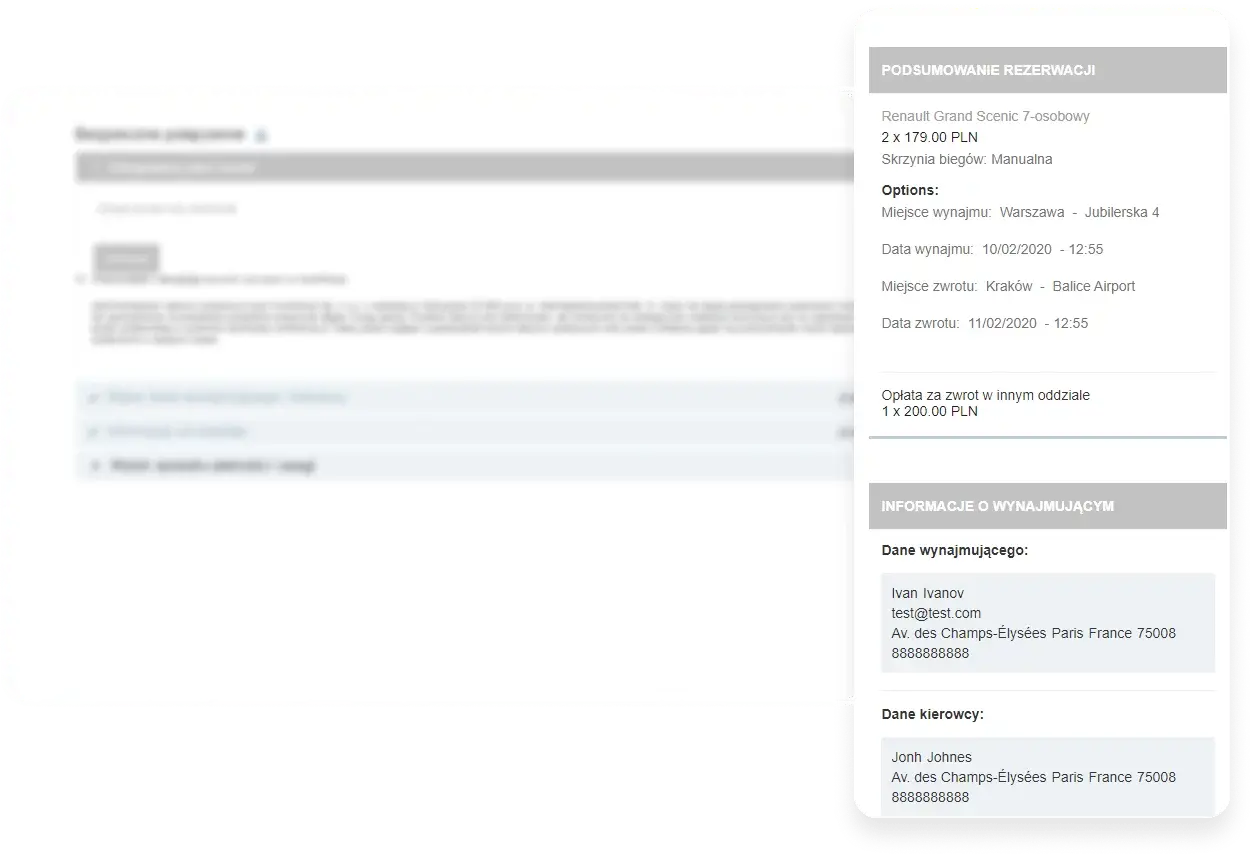 Cities act as vendors for ComfortCar. That is, each city has its own manager-administrator, for whom we have developed a wide administrative panel. It is a complete internal CRM system for the entire project.
The functionality of the admin area allows you to: manage orders, track cars, monitor the loading of cars, check payments, assign drivers for car delivery, add available cars, pay salaries to drivers, and much more.
Booking information is interactively generated in the availability calendar.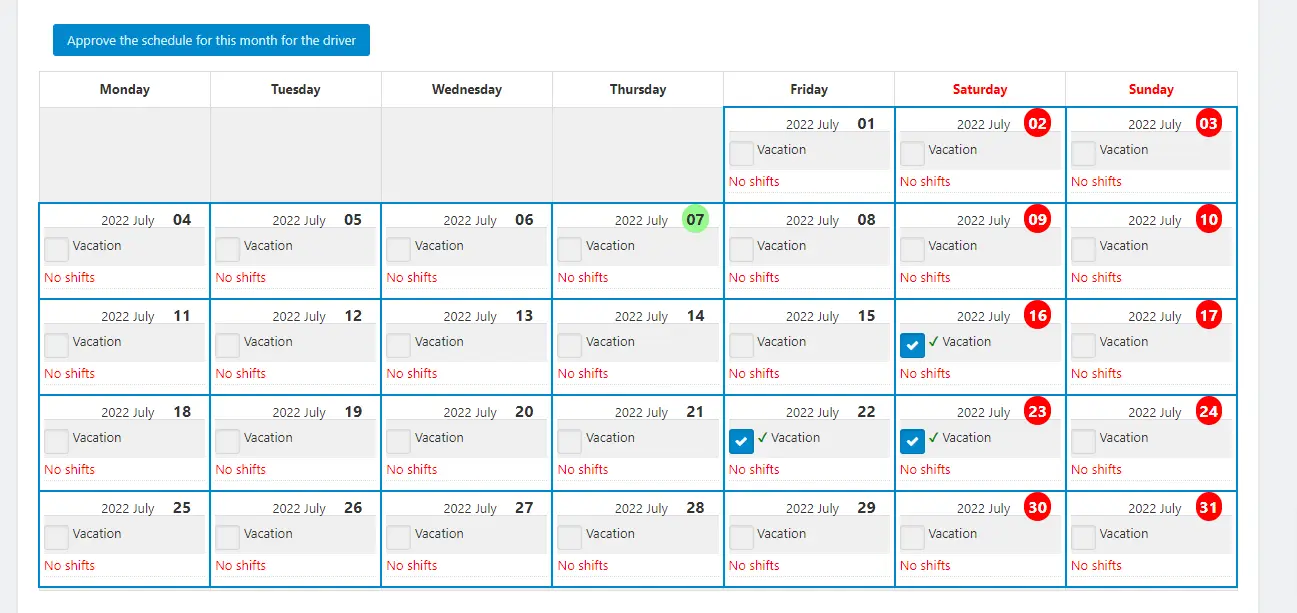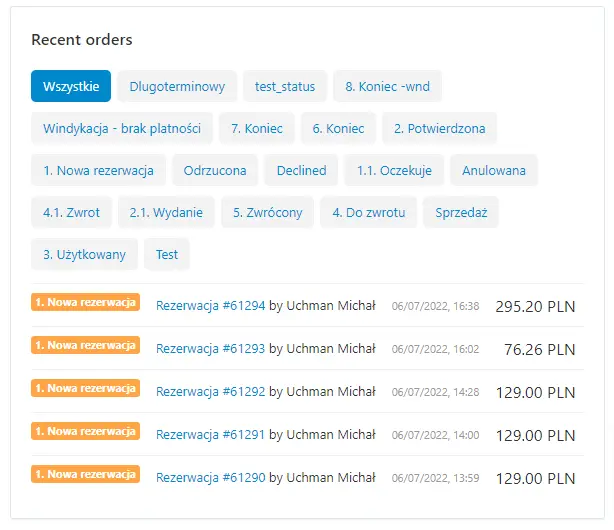 ComfortCar works not only with individuals, but also with legal entities. As we said above, corporate clients can act as the target audience of carsharing services. It is logical for them to provide a different checkout so that the client fills in only the required fields.

What was included in the solution for the development of a car rental website:
Add ons: Frequently Asked Questions — customers have the same rental questions, the answers to which are conveniently grouped in one place. Power blog to create a variety of content and get additional traffic;
Set up hosting, domain;
Responsive mobile version. Most customers are looking for rental services through a mobile application, a simple and understandable way to place an order will help increase sales;
Custom improvements. For ComfortCar we have developed:
1. Functional rental and booking unit;
2. A full-fledged internal CRM system: from tracking a car (its location, technical characteristics, etc.) to paying employees;
3. Integration with GPS system to track mileage.
We can modify and adapt any ecommerce project on CS-Cart to the required functionality. The project form of work may include both a FixedPrice payment, if the customer clearly understands the needs. So is the work on Time & Materials, when in the process of customization additional needs may arise that cannot be foreseen in advance.
Subscribe to stay up-to-date!
I want to be notified about ecommerce events.
Subscribe to stay up-to-date!
I want to be notified about ecommerce events.